Wizard of Odd: 1965 Inter-Mark Cipher Valor
Learn the history—and hype—behind the flagship guitar of the Cipher line.
I began playing guitar in the fifth grade. For many years I never thought about the history of the guitars I loved, but that all changed in my late teens when I came across this crazy Inter-Mark Cipher guitar (Photo 1). So many switches, knobs, and pickups—everything I love. The unusual wording on its neckplate (Photo 2) was the match that lit my burn to learn about guitar production. It reads:
Detachable
Adjustable
Warp Proof
Steel Reinforced Neck
Handsomely Sculptured Cutout
No one seemed to know who made Inter-Mark guitars, and that really bugged me, so I realized I'd have to be the guy to figure it all out. I started with the Inter-Mark company, which was located at 29 West 36th Street in New York City. Back in the day, Inter-Mark specialized in importing Japanese merchandise—mostly tape recorders and electronics. Searching out old advertisements, I found the hype was out of control. (Of course, this was true of many companies back then.) Take this introduction to their guitar catalog:
The Valor borrowed heavily from Italian Eko guitars from the era, complete with accordion-style push-button switching and the Eko tremolo.
CIPHER. What's in a name? Plenty … if it's CIPHER.
CIPHER doesn't break your wallet into little pieces while giving you peak performance.
Cipher? Well, that was simply the Inter-Mark brand name that appeared on most of their imported products. In the mid '60s, Inter-Mark began importing some really intriguing guitars carrying that Cipher name. Perusing an old, original Cipher catalog, I finally discovered I owned a 4-pickup Valor. And there was even more sensationalistic ad writing:
MMM ... is for the magnificence of CIPHER sound. Cipher's standout beauty is achieved by the use of natural laminated choice Birch wood. The bodies have multiple coats of quality enamel plus a beautiful protective guard and satin finished metal decoration for added luxury. The Cipher taper-thin, jet-quick neck has a brass rod reinforcement to insure warp-proofing. Designed and Engineered in AMERICA, CIPHER instruments are precision built by one of the world's leading industrial giants—JAPAN. CIPHER products are put thru Rigid, Exacting Tests here in AMERICA at CIPHER'S test/research facilities in New York City.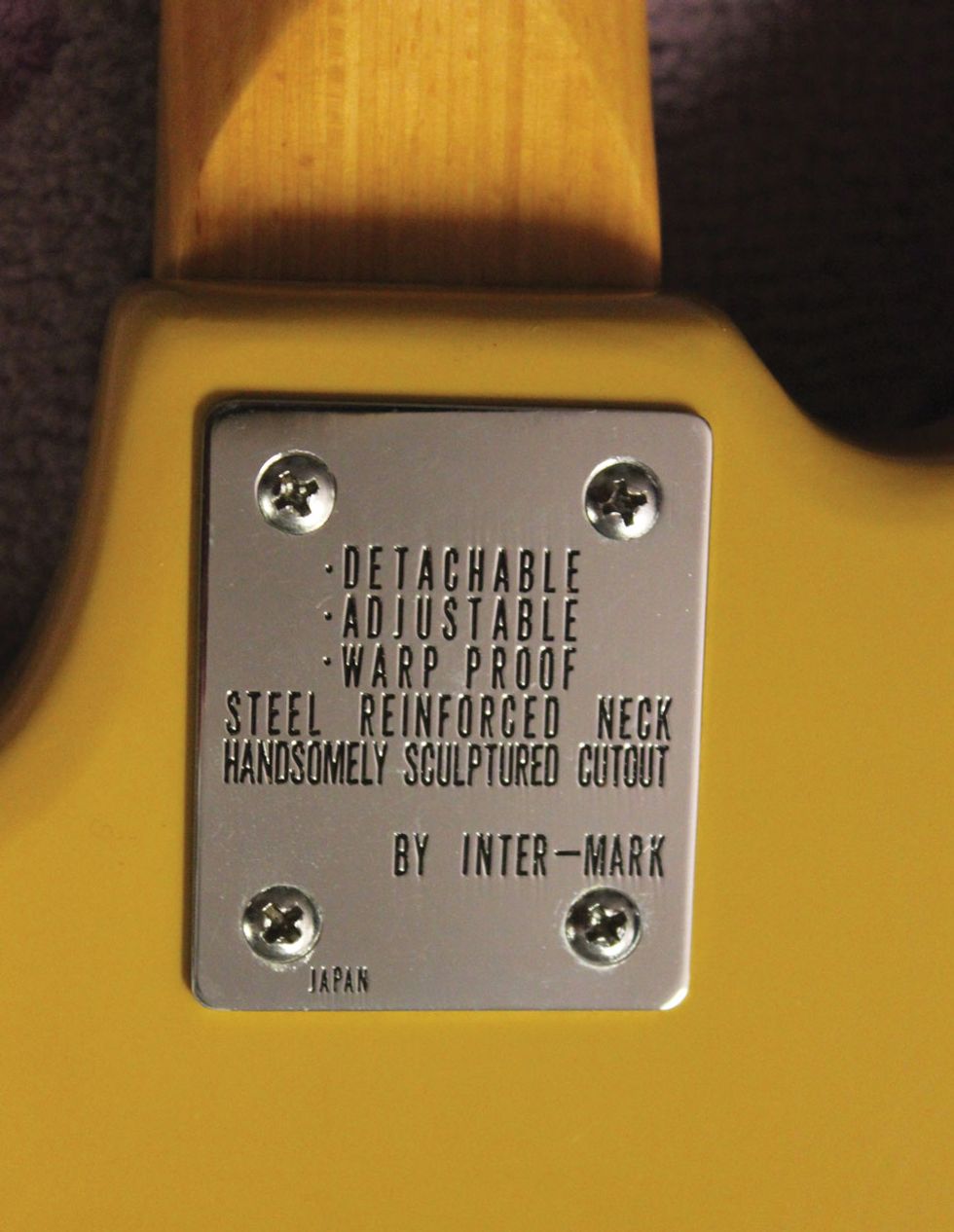 Now, I don't know how much the good folks at Inter-Mark "designed and engineered," or even viewedthese guitars, but I do know the company only sold the Cipher guitar line for about two years. Several sources tell me these guitars were available through the old Columbia Records catalogs, which wouldn't surprise me, because guitars and record stores make a perfect union for lifting money out of kids' pockets.
All the Cipher guitars were built by a fine factory called Shinko Gakki, which was located in the beautiful area of Tatsuno, Japan. A long-standing maker of musical instruments, Shinko Gakki aimed to make a splash with their electric guitar line. Unfortunately, the company went bankrupt after roughly three years of electric guitar production, so all we have left are the fascinating remnants of Shinko's ambitions.
The Valor, along with most other Shinko Gakki guitars, is made rather well. Shinko was the first Japanese company to use a laminate construction for necks, and the instruments had quality wood and electronics. The Valor borrowed heavily from Italian Eko guitars from the era, complete with accordion-style push-button switching and the Eko tremolo. When it came to vintage electrics, Inter-Mark guitars were among my first obsessions. (At one time, I had over 40 different models, though now I'm down to three.) And to think, it all started with a crazy tagline on a neckplate.
See and hear this 1965 Inter-mark Cipher Valor demoed by Mike Dugan:
---