A new, evolutionary seven string is made approachable with help and a guiding hand from the Animals As Leaders maestro.
Offered with a decidedly contoured alder body, roasted figured maple neck, and ebony fretboard, the multi-scale length fretboard also features an "infinity radius" that provides improved visibility of the fretboard in any playing position. The electronics include a new Music Man HT bridge humbucker, custom offset neck humbucker, and a 3-way switch wired with a custom middle position. Each guitar comes equipped with a MusicMan tremolo, Steinberger gearless tuners, and a G&G hardshell case.
Features
Multi-Scale Neck - 24.75" to 25.7" (E to B or 1st to 7th string) multi-scale design provides affirmative string tension for thick and chunky rhythms on the bass strings, with a traditional feelon the treble strings for smooth bends and solos.
Infinity Radius Fretboard - Conical fretboard radius peaks along the treble-side edge of the fretboard and folds towards the player for an unobstructed view of the entire fretboard in playing position.
Steinberger Gearless Locking Tuners – Contemporary low profile, accurate and lightweight tuning machines feature smooth rotation and allow for a straight string pull.
Multi-Scale Tremolo – Super smooth modern Music Man tremolo with spring dampeners to alleviate unwanted overtones and ringing.
New Music Man Pickups – Music Man designed custom HT (Heat Treated) humbucker in the bridge position features powerful lows with remarkable definition resulting in one of the hottest pickups on the market. A slanted mini-humbucker in the neck position has been specifically designed to compliment the Kaizen bridge humbucker, offering an array of dynamic tones with outstanding sonic clarity.
Ernie Ball Music Man Tosin Abasi Kaizen | NAMM 2022
Photo by Annie Atlasman
Working with some of rock's biggest bands, including GNR, Tool, Nine Inch Nails, and the Smashing Pumpkins, prepared the guitarist to produce records—A Perfect Circle's and his own. On his new What Normal Was, vocals and dark '80s pop propel the soundtrack.
Billy Howerdel has topped the charts in A Perfect Circle (APC). He's been a guitar tech with high-profile acts like Nine Inch Nails, the Smashing Pumpkins, and Tool (where he worked with future APC frontman Maynard James Keenan). He's even scored video games. All the while, he's crafted a unique and identifiable guitar style full of expansive ambiance, octave-fuzz-laced melodies, and crushing low-C riffs. Each of these experiences informed and inspired the next, like a row of dominos.
What Normal Was, Howerdel's latest offering and first album under his name, is different. From the first notes of "Selfish Hearts" to the album closer, "Stars," his guitar embraces a supporting role, putting the focus on his newfound vocal approach. Instead of futuristic, hard-rock aggression, he leans on the synth-heavy sounds that inspired his early years. According to Howerdel, he's been cultivating this sound his entire life.
"From the time I was about 17, I was always writing songs. In my mid-20s, once I had enough strong material, I felt like, 'This is the time to do it. It's time to start really focusing on this.'"

Howerdel wasn't sitting around and waiting for his big break, however. He was paying his dues as a lighting and guitar technician with some of the biggest names in the game. One gig, in particular, laid the foundation for all to come.
Billy Howerdel - Poison Flowers (Official Music Video)
While teching for guitarist Robin Finck, Howerdel found himself shoulder to shoulder with none other than Axl Rose—working on the infamous Guns N' Roses album, Chinese Democracy. "There's a lot of talented personnel around [the GNR] camp. The engineers, producers, and technicians were trying to make the best-sounding record," Howerdel remembers. "For me, it was the perfect situation. It taught me how to make records. It taught me how to make Mer de Noms, the first APC record, by myself."
As far as which songs made it onto APC's mammoth debut, Howerdel says, "I leave that up to my relationship with Maynard. I'll present him with things I think he might like. But I'll let him dictate it because he's got to be engaged with the process."
There's no doubt that APC is a pillar of Howerdel's musical personality. But as a voracious songwriter, he has more to say. That's why he jumped at the chance when video game developer Naughty Dog asked him to score Jak X: Combat Racing. Not only was it an inspiring new medium. It would push his music into new territories.
"The object of that music was to have forward motion, to have a little more tempo," Howerdel explains. "That's something that doesn't usually come from me. Everyone's got their own flavor, and mine was a mid-tempo thing. Pushing the tempo up for that video game helped me push the tempo up for ASHES dIVIDE's first record." That album, Keep Telling Myself It's Alright, was technically Howerdel's first solo album.
"This is definitely a bit of a time capsule letter back to myself. It's a look back to before I even became a musician; before I even considered picking up a guitar."
Let's follow the dominos: Guns N' Roses into A Perfect Circle, A Perfect Circle into video games, video games into the solo project ASHES dIVIDE.And the dominos kept falling, bringing us to What Normal Was.
But this new domino somehow fell in reverse.
"This is definitely a bit of a time capsule letter back to myself," Howerdel shares. "It's a look back to before I even became a musician, before I even considered picking up a guitar."
Pick any song on the album and it's clear what he means. From the Andy Taylor-like (Duran Duran) guitar melodies of "Ani" to the Cure influence on "Follower," this set exudes the darker side of '80s pop, which Howerdel says is very intentional.
Billy Howerdel's Gear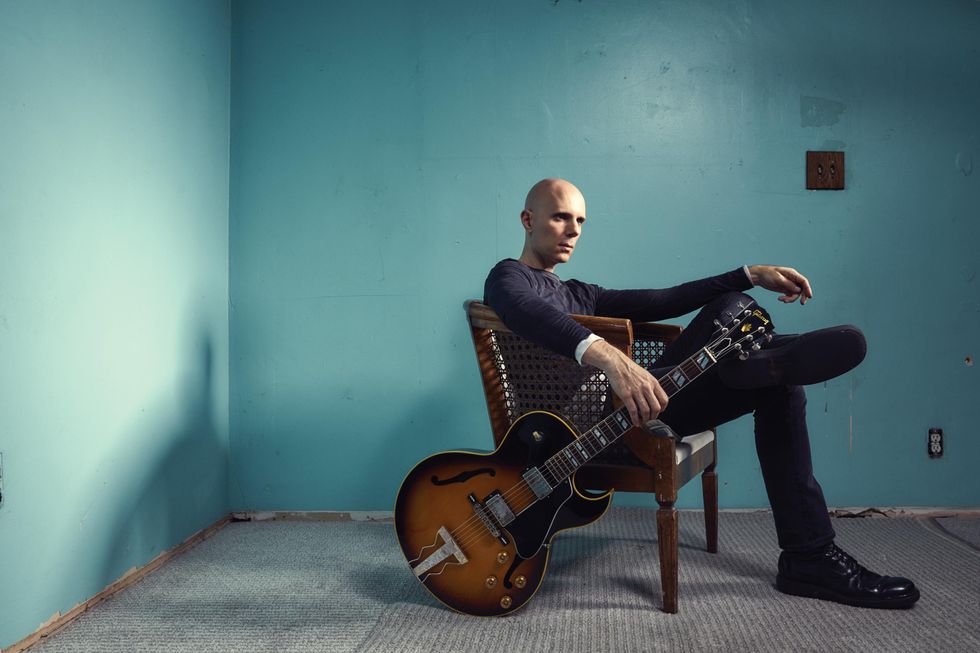 Billy Howerdel used a Gibson ES-175 throughout his new album, What Normal Was.
Photo by Travis Shinn
Guitars
Gibson 1960 Les Paul Classic Reissue with Tom Anderson humbuckers
Gibson ES-175
Yamaha AES 1500
Gibson J-28 acoustic
Bass
Fender Deluxe P Bass
Warwick Thumb Bass 5-string (never used low B)
Strings & Picks

Ernie Ball (.010-.046 sets)
Clayton 1.0 mm triangle picks
Amps
1978 Marshall Super Lead 100 JMP modded with a Naylor-style preamp
Friedman Naked
Gibson GA-15RV combo
Effects
Fractal Audio Axe-Fx III (used for effects and a Fender Twin model for completely clean tones)
Prescription Electronics Experience Octave
Electro-Harmonix MEL9
Neve 1073 preamp
Universal Audio 1176 Compressor
Universal Audio Ampeg B-15N plug-in
"I was thinking about how I might've had to approach it if I was making this record in the early '80s," he says. "I tried to make it a focused album of 10 songs that fit together and balance between a modern record and honoring the classic, post-punk music that turned me on."
Pulling from early influences like Echo and the Bunnymen, the Cure, and Killing Joke was quite the shift for Howerdel. Not only did it mean stepping out from under the ASHES dIVIDE moniker, but also embracing a new-to-him tracking processes.
"'Selfish Hearts' is probably all through an amp like my Marshall, while there are other songs, like 'Free and Weightless,' where some of it is through an amp but double-tracked with miking the guitar body. I'm taking a [Shure SM] 57 shitty microphone, miking the Les Paul's wood, and then reamping that."
To be clear, the Marshall Howerdel is referring to isn't really a Marshall anymore, though it began life as one. He explains: "The power section is a 1978 Super Lead 100 JMP head. The preamp is based on this amp called a Naylor. I was about to play the Naylor on the whole APC run, but I couldn't play clean loud enough. So, Dave [Friedman of Friedman Amplification] gave a mod to the amp to bring that Naylor sound to it."
Billy Howerdel onstage with A Perfect Circle, the band he cofounded in 1999 with Tool frontman Maynard James Keenan. Howerdel produced and engineered APC's platinum debut, Mer de Noms.
Photo by Jenny Jimenez
That amp—which Friedman briefly offered and called the Naked—and a Gibson GA-15RV combo still make up the backbone of Howerdel's studio and live rigs. That's pretty surprising when you consider the guitarist's walls of sound. It's even more surprising when realizing that, aside from a wealth of Axe-Fx-driven ambiance, he often controls the whole thing with one guitar and a set of his favorite humbuckers.
"I do try and get a lot of sounds out of the same guitar," Howerdel says. "It's a [Gibson] 1960 Les Paul Classic Reissue with Tom Anderson pickups. I fell into those at an early age. You find what you have and start using them as your tools. And then your sound comes."
Howerdel's tools are so ingrained that he maintains a large collection of the same model loaded with those humbuckers. Many are kept in altered tunings or set up for his signature, otherworldly slide excursions. Generally relying on a glass Dunlop slide for songs like "Poison Flowers," he will occasionally reach for another, previously owned by a very surprising influence: Joe Walsh.
While Howerdel can go on and on about his guitars, the instrument rarely dominates on What Normal Was. As with everything on this album, that's also purposeful. "Truly finding the song's character in the voice—that's what is important to me on this record," Howerdel explains. "Anything else, like guitar, is going to be in support of the vocal. And bass playing is such an important part of it. Basslines are as important as the guitar."
"A few years ago, I even called my friend Pete Thorn and said, 'I think I want to take lessons from you.' He laughed about where we would even start. But part of me has a superstition about knowing too much."
His focus on the low end is evident. Whether grinding through "Follower" or taking the lead on "Ani," the bass adds to the compositions without falling prey to guitarist-playing-bass trappings, though, he admits, that's precisely what it is. "I'm not a traditional bass player. I'm the guitar player who plays bass. Simon Gallup [the Cure], Peter Hook [Joy Division/New Order], and Paul Raven [Killing Joke] were what turned me onto the bass guitar."
But don't worry. There are plenty of breathtaking guitar moments throughout What Normal Was. "EXP" opens with a delicate and dissonant acoustic melody, he punctuates "Beautiful Mistake" with his trademark octave-up lead lines, and "Follower" delivers a classic guitar solo.
"Guitar is a big part of what I do. I like heavier guitar and riffy guitar," Howerdel says. "A few years ago, I even called my friend Pete Thorn and said, 'I think I want to take lessons from you.' He laughed about where we would even start. But part of me has a superstition about knowing too much. That I will change the way I'm writing."
Considering how different What Normal Was is while still sounding very Billy Howerdel, it's hard to imagine guitar lessons changing the way Howerdel writes. But who knows? Surely whatever comes next will topple the succeeding domino, and the next, and the next.
Rig Rundown - A Perfect Circle
Photo by Jackie Lee Young and Victoria Villasana
On Boleros Psicodélicos, Black Pumas cofounder, Adrian Quesada, explores traditional romantic Latin ballads from a personal, modern perspective.
You may know Grammy-winning guitarist and producer Adrian Quesada from his myriad and diverse projects like the nine-piece Latin funk ensemble Grupo Fantasma or Brownout—a gritty Fantasma side project that gained notoriety covering Black Sabbath (as Brown Sabbath) and Public Enemy (Fear of a Brown Planet)—and, more recently, Black Pumas, his critically acclaimed collaboration with vocalist and guitarist Eric Burton. But his most recent outing, Boleros Psicodélicos, an homage to the psychedelicized late-1960s take on the classic Cuban-cum-Mexican genre bolero, is one of his more interesting musical diversions.
The term bolero is loosely translated as "ballad," although it refers to a specific type of song form derived from traditional folk poetry. As a genre, bolero is a dramatic, semi-theatrical musical style that got something of a facelift in the psychedelic era when groups like Los Angeles Negros and Los Pasteles Verdes reinterpreted them on more modern instruments like electric guitars—drenched in reverb, obviously—and combo organs, although without venturing too far from the music's more traditional, romantic roots.
Adrian Quesada, iLe - Mentiras Con Cariño (Official Video)
On Boleros Psicodélicos, Quesada uses that classic bolero repertoire as a starting point, but the album is no revivalist tribute or throwback. He wrote most of the tracks, experimented with new timbres and technologies, and his approach is thoroughly modern. He'll grab vintage gear—and run it through tape, too—if that's what's needed to get the sounds he's after, but he's not averse to digital effects and plug-ins, and the entire project, ultimately, was recorded inside the box.
"I do have a full analog setup, but I'm no purist with what the process is," Quesada says. "That was true with this record, in particular, because Boleros Psicodélicos was pretty much recorded remotely. I started everything myself, sent it out to people, and they sent me files back. It was done during the pandemic, so nobody came into the studio."
The digital process makes collaboration—not to mention editing—infinitely easier, although for Quesada it isn't always the most productive route for finding the ideal tone.
"I would be dialing knobs for two hours and then I thought, 'What if I just run it to tape?' I ran it to tape—that takes 5 minutes—and I'm like, 'That's the sound I was hearing.'"
"Plug-ins and whatnot are really pretty amazing now, as is the modeling you can get digitally," he says, "but man, there were times where I'd spend two hours pulling up all the modeling and plug-ins to get that tape-and-tubes sound. I would be dialing knobs for two hours and then I thought, 'What if I just run it to tape?' I ran it to tape—that takes 5 minutes—and I'm like, 'That's the sound I was hearing.'"
Boleros Psicodélicos is also dripping in rivers of tremolo. The effect wasn't that prevalent on the classic psychedelic boleros, but Quesada couldn't resist. "I love everything with tremolo," he says. "I put tremolo on everything." As a general approach, he goes for the best sound, regardless of the technology most aficionados insist is the only way to achieve it. For tremolo—and despite a studio full of classic amps loaded with an assortment of vintage warbles—he often found himself leaning on the completely digital Strymon Flint.
"If I had to keep one pedal on my pedalboard, that would be it," he says about the device. "I do have a lot of different tremolos in the studio as well—and you can't beat amp tremolo, a lot of those just sound so musical and a lot more natural—but on the record I used the Strymon Flint a lot. It's so easy and practical, and has color."
Adrian Quesada recorded Boleros Psicodélicos during the pandemic, collaborating remotely with Marc Ribot, Ileana Mercedes Cabra Joglar, Gaby Moreno, Money Mark, and many others.
On Boleros Psicodélicos, you can hear Quesada's tremolo in action in the subtle orchestrated textures he employs on tracks like "Mentiras Con Cariño," which features Grammy-winning vocalist Ileana Mercedes Cabra Joglar, otherwise known as iLe, as well as the lush—that's "lush" in a very mid-'70s Holiday Inn-hotel-bar kind of way—"El León." He uses other tones not usually associated with bolero as well, like a wah for the beautiful and catchy leads on "El Muchacho De Los Ojos Tristes" and an acoustic on "Tus Tormentas."
Throughout his career, and regardless of genre, he's always gravitated toward grittier, complex sounds. "With guitar, I've always liked a tiny bit of dirt on there," Quesada says. "Whether it's pushing an amp to get the sound… tubes crunching up is a very appealing sound to me, although I also like the sound of tape reacting. I like those artifacts that come with it. I don't like the guitar to be too smooth. I prefer fuzz tones over overdrive. I like things that have a little more color to them. Even if they can be a little bit abrasive, that's where I gravitate. I like things with character like that."
"I don't like the guitar to be too smooth. I prefer fuzz tones over overdrive. I like things that have a little more color to them—even if they can be a little bit abrasive, that's where I gravitate. I like things with character like that."
A good example of that on Boleros Psicodélicos—at least, just a touch—is Marc Ribot's guest performance on "Hielo Seco," which also features Money Mark of Beastie Boys fame.
"Marc was a big influence on me," Quesada says. "When I was in college and really discovering this music, he had done a project called Los Cubanos Postizos, which means 'the Prosthetic Cubans.' He was doing Cuban music and it was almost traditional—the rhythms were correct—but he was playing electric guitar with a tremolo. You know, my use of the tremolo, honestly, especially in lead playing, a lot of that came from hearing him play. Everything was overdriven with a tremolo. It was just such a different approach to Latin music and his leads were so unique. You could tell he knew jazz, but he wasn't quite playing like that. It was really outside the box."
Adrian Quesada's Gear
Adrian Quesada's pedalboard currently has eight pedals, but the MVP is his Strymon Flint. "If I had to keep one pedal on my pedalboard, that would be it," he says.
Guitars
Fender Parallel Universe Jazz Strat
Fender Custom Shop Telecaster with humbucker in neck position
Gibson ES-446
Gibson ES-125
Amps
1965 Fender Deluxe Reverb
1972 Fender Deluxe Reverb
Fender Princeton Handwired Reissue
Fender Tweed Champ
Fender Twin
Gibson GA-20
Effects
Strymon Flint
Electro-Harmonix Holy Grail Nano
Dunlop Cry Baby Wah
Line 6 ToneCore Echo Park
Catalinbread Epoch Boost
Catalinbread Echorec
EarthQuaker Devices Park Fuzz Sound
TC Electronic PolyTune 2
Strings & Picks
D'Addario Super Light Plus (.095–.044) or .010 (.010–.046) sets
Green Dunlop Tortex .88 mm
Coming full circle, it was a fortuitous glitch in the matrix that led to Ribot appearing on the record. "I hit a wall when I was recording 'Hielo Seco,'" Quesada continues. "I was going to play guitar on it myself and I was getting tired. I was like, 'What can I do to finish this song?' I was working in my yard one day and the YouTube algorithm spit out one of those Marc Ribot Los Cubanos Postizos songs. I thought, 'He would be perfect for the song,' and luckily, he did it."
Often in the studio, Quesada gets those distorted sounds plugging direct into the board and recording to tape, without bothering with an amp. He also prefers the sound of a tape reel that's been used a few times, which he feels adds character.
"I like what it does after you reuse it a little bit," he says. "You tame some of the high end and that's favorable to me for some stuff like drums and guitars. I reuse a reel for just enough—to where I start hearing a little bit too much degradation—and then I get a new one. But I will recycle them for quite a few runs though. It's like breaking in guitar strings—by the third or fourth show you realize they're not as stiff anymore."
Adrian Quesada fingerpicks a Gibson ES-125 archtop in this outtake from the music video for the lead single, "Mentiras Con Cariño," from Boleros Psicodélicos.
Photo by César Berrios
One hallmark of Quesada's approach to production, which stands out on Boleros Psicodélicos, is his exceptional sense of orchestration. He brings in subtle touches, often for just a single verse or repeated figure—like a fingerpicked part or a mild tremolo warble—that, although understated and hard to catch on first listen, transforms an arrangement.
He approaches each composition with a concept in his head and records the basic tracks with those ideas in mind—usually to give the vocalist guideposts to work with—and then revisits the entire arrangement once the vocals are complete.
"I was working in my yard one day and the YouTube algorithm spit out one of those Marc Ribot Los Cubanos Postizos songs. I thought, 'He would be perfect for the song,' and luckily, he did it."
"I hear most of the arrangement already before a singer even does anything," he says. "But I try not to overdo it. It's a real fine balance you have to find. I want to put enough color in there for the singer to react to and to feel certain moments that I want accented, but, also, I don't want to overpower. I want to leave room to hear what they do. It's like two stages, and when I get the files back, I usually go in there and strip stuff away—I put some stuff back, too—and use their vocals to figure out where I can bring certain things out, but also not step on the vocals. It's almost like cooking: I try and wait for the end to really add everything."
That intricate production style—as amazing as it sounds on record—can be something of a disadvantage when trying to perform the music live. What gets left out? What is essential? Does the music suffer? That was a particular challenge for Boleros Psicodélicos, because the music was never intended to be played in front of an audience.
Casada at his Electric Deluxe Studios in South Austin, Texas.
Photo by Jackie Lee Young
"We did some radio promotion, and that was the first time these songs had been played live," Quesada says. "We had to rehearse and commit to what parts we wanted to keep and what we wanted to scrap. It was a good challenge to get in there and decide what was really crucial. Obviously, there are going to be parts that are not going to be there—because I can't have a 20-piece band—but honestly, when I'm making an album like that, I try to imagine somewhat what it would be like if we were together in a room. I try to make it seem somewhat natural or human. I don't like to record 40 guitars just to do it."
That's similar to how the Black Pumas' album was recorded as well. "With Black Pumas, it was almost like night and day. When we made that album, we hadn't really played live, either. But once we started to play live, all the songs took on another life. It's almost like completely different arrangements from the album."
"It's almost like cooking: I try and wait for the end to really add everything."
Pulling together those influences—which is drawn from years of experience and a well-defined aesthetic sense—is ultimately how Quesada puts the pieces together. It's how he can take an older, beloved genre like bolero and coax out something that's contemporary and relevant, and real.
"When I started the Boleros album, I had a playlist of inspiration songs I was using at first to get off the ground, but honestly, I didn't want to get stuck making a covers album or any sort of carbon copy—you can just go back and hear the originals. I used the older music as a template, but then I ran with it. I tried to make it a little bit more varied and a little truer to myself than just covering it exactly. After a while, I stopped referencing the old stuff and was just off on my own. Obviously, it's still in the ballpark referencing the older material, but I wasn't trying to copy anything."
Adrian Quesada's Boleros Psicodélicos in KUTX Studio 1A