Photo by Dena Gold
Fretless guitar virtuoso Gabriel Marin of instrumental rock trio Consider the Source joins editors and reader Dan Lynch to talk about them changes.
A: Lately, I find myself writing melodies over the 1–b3–b7–B6 [Editor' Note: Am7-Cmaj7-G7-Fmaj7] progression in a minor mode with all diatonic seventh chords. The voice leading within the chords is super smooth and I can write melodies of a few different moods over the same chords.

Current obsession: In the last few years, I've been really into Muğam, the classical music from Azerbaijan. It has so much fire and life in it, and is a very improvisational genre. There are elements of Persian and Turkish music in it, both of which I have played for a long time, but the Azeris certainly give it their own original flavor. The music is very passionate sounding, and the ornamentation and microtones are really exciting to me. It's been really fun translating that music to fretless guitar.
Jason Shadrick Associate Editor
A: I didn't really get harmony until I studied it deeply in college. One of my favorite progressions born out of that season was 1–b7–b6–5, which is a great way to practice descending dominant arpeggios, blues scales, and was copped by Setzer for "Stray Cat Strut."
Stray Cats in their strutting era.
Photo by Masao Nakagami

Current obsession: I'm working on an unannounced project that is really reinforcing my appreciation for being an eternal student. Seeing guitarists at the height of their success get real joy out of learning something new is just as inspiring as hearing a ripping solo.

Ted Drozdowski Editorial Director
Photo by Johnny Hubbard
A: I'm obsessed with D–G–F–D/G–Bb–D/Bb–A–D. I stumbled across it a few years ago when I was writing a song about the ghosts I live with—metaphorically—and it fit the haunting, haunted mood and my moderate-tempo fingerpicking. It comes from my fascination for Pink Floyd. Now, I've used variations for rockers and other tunes, to the extent where I need to roadblock it.
Current obsession: Gigs! I'm currently embroiled in a major creative project that's diverting my attention from booking and playing gigs, which is disappointing because I'm longing for the musical and mental health benefits I get from performing.
Dan Lynch Reader of the Month
A: I enjoy moving chords around in diatonic thirds, and using a passing chord to get there. Thirds can be pretty boring if you go straight there, so using a passing chord creates interest. For example: Cmaj7–B7–Em7–Dm7–Galt–Cmaj7–Cmaj7–E7–Am7–Fmaj7–Fm7–Cmaj7.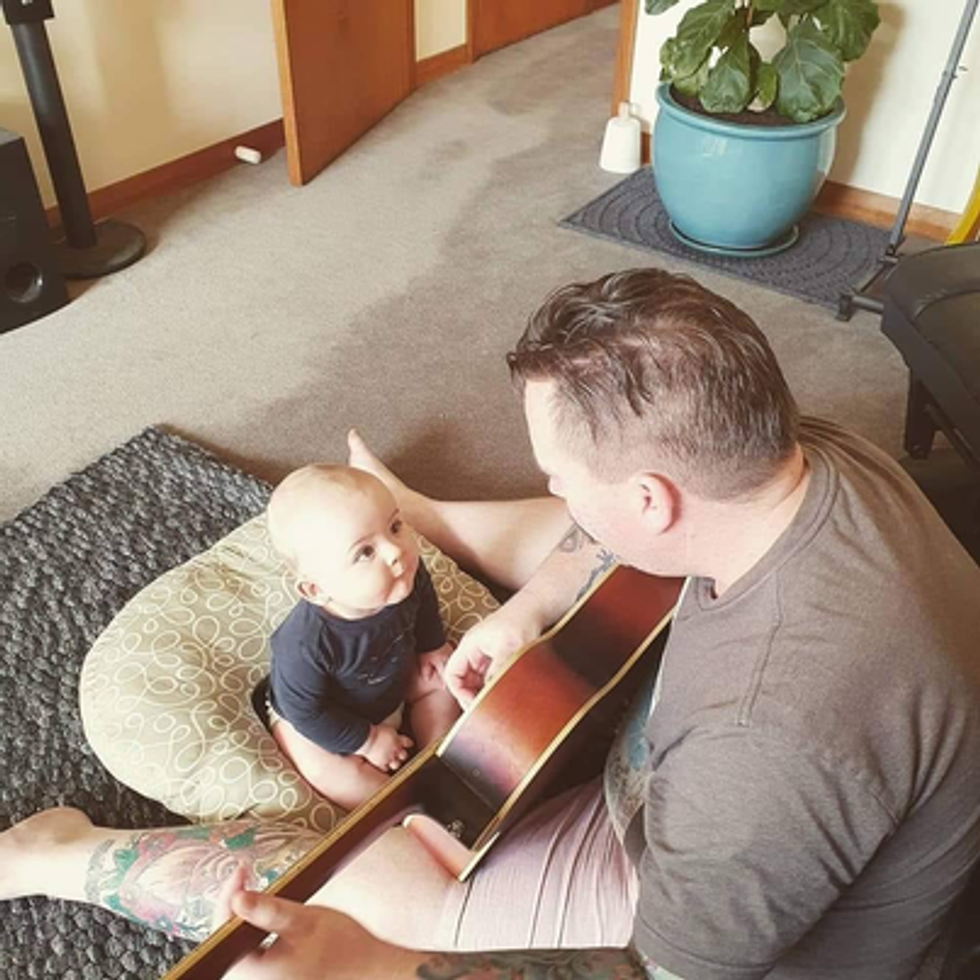 Current obsession: I have always found enjoyment not just in the playing of instruments but also in building and modifying them as well. Recently I have gotten into building my own pedals. It's just another part of the hobby/obsession, where I can relax and do something with my hands.
See how this pair of foundational songs helped form these punk rocker's vibe (including a shining example with their track "The Jerk").
Photo by Annie Atlasman
Working with some of rock's biggest bands, including GNR, Tool, Nine Inch Nails, and the Smashing Pumpkins, prepared the guitarist to produce records—A Perfect Circle's and his own. On his new What Normal Was , vocals and dark '80s pop propel the soundtrack.
Billy Howerdel has topped the charts in A Perfect Circle (APC). He's been a guitar tech with high-profile acts like Nine Inch Nails , the Smashing Pumpkins , and Tool (where he worked with future APC frontman Maynard James Keenan). He's even scored video games. All the while, he's crafted a unique and identifiable guitar style full of expansive ambiance, octave-fuzz-laced melodies, and crushing low-C riffs. Each of these experiences informed and inspired the next, like a row of dominos.
What Normal Was , Howerdel's latest offering and first album under his name, is different. From the first notes of "Selfish Hearts" to the album closer, "Stars," his guitar embraces a supporting role, putting the focus on his newfound vocal approach. Instead of futuristic, hard-rock aggression, he leans on the synth-heavy sounds that inspired his early years. According to Howerdel, he's been cultivating this sound his entire life.
"From the time I was about 17, I was always writing songs. In my mid-20s, once I had enough strong material, I felt like, 'This is the time to do it. It's time to start really focusing on this.'"

Howerdel wasn't sitting around and waiting for his big break, however. He was paying his dues as a lighting and guitar technician with some of the biggest names in the game. One gig, in particular, laid the foundation for all to come.
Billy Howerdel - Poison Flowers (Official Music Video)
While teching for guitarist Robin Finck, Howerdel found himself shoulder to shoulder with none other than Axl Rose—working on the infamous Guns N' Roses album, Chinese Democracy. "There's a lot of talented personnel around [the GNR] camp. The engineers, producers, and technicians were trying to make the best-sounding record," Howerdel remembers. "For me, it was the perfect situation. It taught me how to make records. It taught me how to make Mer de Noms, the first APC record, by myself."
As far as which songs made it onto APC's mammoth debut, Howerdel says, "I leave that up to my relationship with Maynard. I'll present him with things I think he might like. But I'll let him dictate it because he's got to be engaged with the process."
There's no doubt that APC is a pillar of Howerdel's musical personality. But as a voracious songwriter, he has more to say. That's why he jumped at the chance when video game developer Naughty Dog asked him to score Jak X: Combat Racing . Not only was it an inspiring new medium. It would push his music into new territories.
"The object of that music was to have forward motion, to have a little more tempo," Howerdel explains. "That's something that doesn't usually come from me. Everyone's got their own flavor, and mine was a mid-tempo thing. Pushing the tempo up for that video game helped me push the tempo up for ASHES dIVIDE's first record." That album, Keep Telling Myself It's Alright , was technically Howerdel's first solo album .
"This is definitely a bit of a time capsule letter back to myself. It's a look back to before I even became a musician; before I even considered picking up a guitar."
Let's follow the dominos: Guns N' Roses into A Perfect Circle, A Perfect Circle into video games, video games into the solo project ASHES dIVIDE. And the dominos kept falling, bringing us to What Normal Was .
But this new domino somehow fell in reverse.
"This is definitely a bit of a time capsule letter back to myself," Howerdel shares. "It's a look back to before I even became a musician, before I even considered picking up a guitar."
Pick any song on the album and it's clear what he means. From the Andy Taylor-like (Duran Duran) guitar melodies of "Ani" to the Cure influence on "Follower," this set exudes the darker side of '80s pop, which Howerdel says is very intentional.
Billy Howerdel's Gear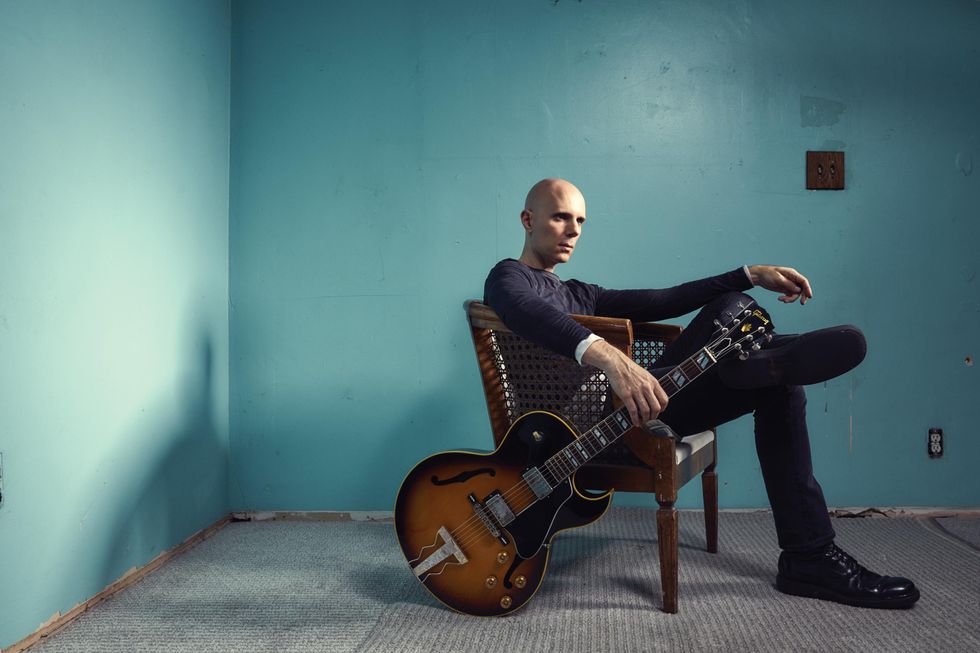 Billy Howerdel used a Gibson ES-175 throughout his new album, What Normal Was .
Photo by Travis Shinn
Guitars
Gibson 1960 Les Paul Classic Reissue with Tom Anderson humbuckers
Gibson ES-175
Yamaha AES 1500
Gibson J-28 acoustic
Bass
Fender Deluxe P Bass
Warwick Thumb Bass 5-string (never used low B)
Strings & Picks

Ernie Ball (.010-.046 sets)
Clayton 1.0 mm triangle picks
Amps
1978 Marshall Super Lead 100 JMP modded with a Naylor-style preamp
Friedman Naked
Gibson GA-15RV combo
Effects
Fractal Audio Axe-Fx III (used for effects and a Fender Twin model for completely clean tones)
Prescription Electronics Experience Octave
Electro-Harmonix MEL9
Neve 1073 preamp
Universal Audio 1176 Compressor
Universal Audio Ampeg B-15N plug-in
"I was thinking about how I might've had to approach it if I was making this record in the early '80s," he says. "I tried to make it a focused album of 10 songs that fit together and balance between a modern record and honoring the classic, post-punk music that turned me on."
Pulling from early influences like Echo and the Bunnymen, the Cure, and Killing Joke was quite the shift for Howerdel. Not only did it mean stepping out from under the ASHES dIVIDE moniker, but also embracing a new-to-him tracking processes.
"'Selfish Hearts' is probably all through an amp like my Marshall, while there are other songs, like 'Free and Weightless,' where some of it is through an amp but double-tracked with miking the guitar body. I'm taking a [Shure SM] 57 shitty microphone, miking the Les Paul's wood, and then reamping that."
To be clear, the Marshall Howerdel is referring to isn't really a Marshall anymore, though it began life as one. He explains: "The power section is a 1978 Super Lead 100 JMP head. The preamp is based on this amp called a Naylor. I was about to play the Naylor on the whole APC run, but I couldn't play clean loud enough. So, Dave [Friedman of Friedman Amplification] gave a mod to the amp to bring that Naylor sound to it."
Billy Howerdel onstage with A Perfect Circle, the band he cofounded in 1999 with Tool frontman Maynard James Keenan. Howerdel produced and engineered APC's platinum debut, Mer de Noms .
Photo by Jenny Jimenez
That amp—which Friedman briefly offered and called the Naked—and a Gibson GA-15RV combo still make up the backbone of Howerdel's studio and live rigs. That's pretty surprising when you consider the guitarist's walls of sound. It's even more surprising when realizing that, aside from a wealth of Axe-Fx-driven ambiance, he often controls the whole thing with one guitar and a set of his favorite humbuckers.
"I do try and get a lot of sounds out of the same guitar," Howerdel says. "It's a [Gibson] 1960 Les Paul Classic Reissue with Tom Anderson pickups. I fell into those at an early age. You find what you have and start using them as your tools. And then your sound comes."
Howerdel's tools are so ingrained that he maintains a large collection of the same model loaded with those humbuckers. Many are kept in altered tunings or set up for his signature, otherworldly slide excursions. Generally relying on a glass Dunlop slide for songs like "Poison Flowers," he will occasionally reach for another, previously owned by a very surprising influence: Joe Walsh.
While Howerdel can go on and on about his guitars, the instrument rarely dominates on What Normal Was . As with everything on this album, that's also purposeful. "Truly finding the song's character in the voice—that's what is important to me on this record," Howerdel explains. "Anything else, like guitar, is going to be in support of the vocal. And bass playing is such an important part of it. Basslines are as important as the guitar."
"A few years ago, I even called my friend Pete Thorn and said, 'I think I want to take lessons from you.' He laughed about where we would even start. But part of me has a superstition about knowing too much."
His focus on the low end is evident. Whether grinding through "Follower" or taking the lead on "Ani," the bass adds to the compositions without falling prey to guitarist-playing-bass trappings, though, he admits, that's precisely what it is. "I'm not a traditional bass player. I'm the guitar player who plays bass. Simon Gallup [the Cure], Peter Hook [Joy Division/New Order], and Paul Raven [Killing Joke] were what turned me onto the bass guitar."
But don't worry. There are plenty of breathtaking guitar moments throughout What Normal Was . "EXP" opens with a delicate and dissonant acoustic melody, he punctuates "Beautiful Mistake" with his trademark octave-up lead lines, and "Follower" delivers a classic guitar solo.
"Guitar is a big part of what I do. I like heavier guitar and riffy guitar," Howerdel says. "A few years ago, I even called my friend Pete Thorn and said, 'I think I want to take lessons from you.' He laughed about where we would even start. But part of me has a superstition about knowing too much. That I will change the way I'm writing."
Considering how different What Normal Was is while still sounding very Billy Howerdel, it's hard to imagine guitar lessons changing the way Howerdel writes. But who knows? Surely whatever comes next will topple the succeeding domino, and the next, and the next.
Rig Rundown - A Perfect Circle