Blues-rock guitarist and gearhead Greg Koch steps into Rhett and Zach's virtual studio to talk all things tone, including part of his personal amp journey—from solid-state to the Fender Super Reverb—the makeup of his current rig, and the power of the Strat middle pickup.
Dipped in Gristle with Greg Koch

Thanks to Sweetwater for sponsoring this episode. Head to sweetwater.com/dippedintone today!
Rig Rundown: Greg Koch
The king of gristle shares the signature gear he uses to unleash waves of unabashed sonic mayhem.
Photo by Yis Kid
The cluster bomb anarchy of guitarist Geordie Greep and bassist Cameron Picton balances their ultra-dynamic howl-and-purr sound.
Black Midi is a young, progressive outfit from the U.K., and their music is abrasive and outrageous. Except when it isn't.
"I hate stuff which is purposefully ugly or difficult or too obtuse or whatever you want to call it—where there's a conscious avoidance of consonance or melody," says guitarist and lead vocalist Geordie Greep. "We want to do stuff that's interesting and has loads of tension and drama, but also has the sweetness there, so the tension and the drama is much more effective. All the best music has that—where there's this crazy stuff happening, but there's also really nice stuff or conventional things going on. It's about the relativity of those two things."
"We wanted the quiet bits to be even quieter than they were on the first record," bassist Cameron Picton adds. "We wanted the loud bits to be even louder and crazier, and the nice bits to be even sweeter and softer."
So, yes, despite the hype—as well as their now-almost-legendary incendiary 2018 performance at a hostel in Iceland for KEXP—Black Midi has a sweet side. But it's sweetness with purpose that, when juxtaposed with heavier elements, brings out the tension and drama Greep is referring to. Those contrasts permeate their second album, Cavalcade, which follows their 2019 debut long-player, Schlagenheim. The new release's opening track, the fire-breathing "John L"—make sure to check out the song's perfectly choreographed accompanying video—is followed by "Marlene Dietrich," which oozes '70s velvety lounge jazz. And the King Crimson–meets–Man Man sounding "Hogwash and Balderdash" is paired with the breathy and airy "Ascending Forth." That diversity also plays out within the compositions "Slow" and "Dethroned." The upshot is, Black Midi's full-blooded music is not constant yelling. It takes you on a journey, and as you follow along it throws you for loop after loop.
But through-composed music and careful sequencing only tells part of the story, especially since Black Midi's roots are in almost endless jamming. "It just became about jamming, and we got stuck in a bit of a rut," Picton says. "We got the idea that the only way to write songs was through jamming, which was a weird thing. We said it in interviews, so it had to be true, but it wasn't really. We did it to fulfill the thing we said in interviews. Two of the new album's tracks are from a year's worth of jamming ["John L" and "Chondromalacia Patela"], and we were like, 'Oh shit, we've been jamming for a year and we've got two songs out of it.' We needed to think of a more productive way to write songs."
"I use a five-millimeter pick. When I was younger, I tried to play Gypsy jazz, and I heard that Django Reinhardt used a 5-millimeter pick."—Geordie Greep
"We were playing these longform, 20-minute tracks, which weren't even really songs," Greep adds. "They were just sound creations. When we started doing shows, we decided to write proper songs, and there were a few songs that were a lot more traditionally written. But for a while, we made songs by having the Can-style approach, where you jam out for ages and then take the best bits. We did that for the first album for the majority of the tunes. For Cavalcade, we've gone back to the more traditional songwriting approach. We were moving in that direction anyway. Almost half the album was already done before the whole coronavirus thing hit. The coronavirus just accelerated that change, really. It was inevitable."
In addition to taking a more pragmatic approach to songwriting, another big change when preparing for Cavalcade was that second guitarist, Matt Kwasniewski-Kelvin, took a hiatus from the band for personal reasons. Kwasniewski-Kelvin's departure had a major impact on their sound, as well as their songwriting. (Morgan Simpson remains as drummer.)
Illustration by Anthrox Studio
"When we did the first album—as well as for live performances—I always used a baritone guitar," Greep says. "The idea was that bass was the low end, Matt was on a regular guitar, and then the baritone I played was in the middle. It was an orchestral thing. But because Matt isn't a part of it this time around, I mainly just used a regular guitar. First of all, it was really nice to play the regular guitar again. It's a lot easier, and you're able to play proper chords. On baritone—or on any low instrument—when you play chords, or something like thirds lower down, they get completely lost. They start to sound out of tune or weird. Playing on the regular guitar and being able to do proper chord progressions in songs was refreshing and changed the music completely. On the first album, most of the music is monophonic. It was one chord droning away. We were doing different parts, but all on the one chord. But the music on Cavalcade is much more chord-progression based." Having a single guitarist also makes the music more spacious. "I've always liked bands where there would be a guitar solo without any rhythm guitar underneath, like in Rush. That was cool as well. That space made it interesting."
Geordie Greep's Gear
Guitars
Reverend Descent baritone
Yamaha SA-60
Fender Stratocaster
Amps
Strings and Picks
Ernie Ball Skinny Top Heavy Bottom (.010–.052)
Ernie Ball 6-String Baritone Slinky (.013–.072)
Dunlop Primetone Classic Sharp Tip Pick 5.0 mm
Effects
Boss GE-7B Bass Equalizer

Boss CS-2 Compression Sustainer
Electro-Harmonix Stereo Memory Man with Hazarai
Source Audio Ultrawave Multiband Processor
Suhr Riot Distortion
Keeley Bubble Tron Dynamic Flanger Phaser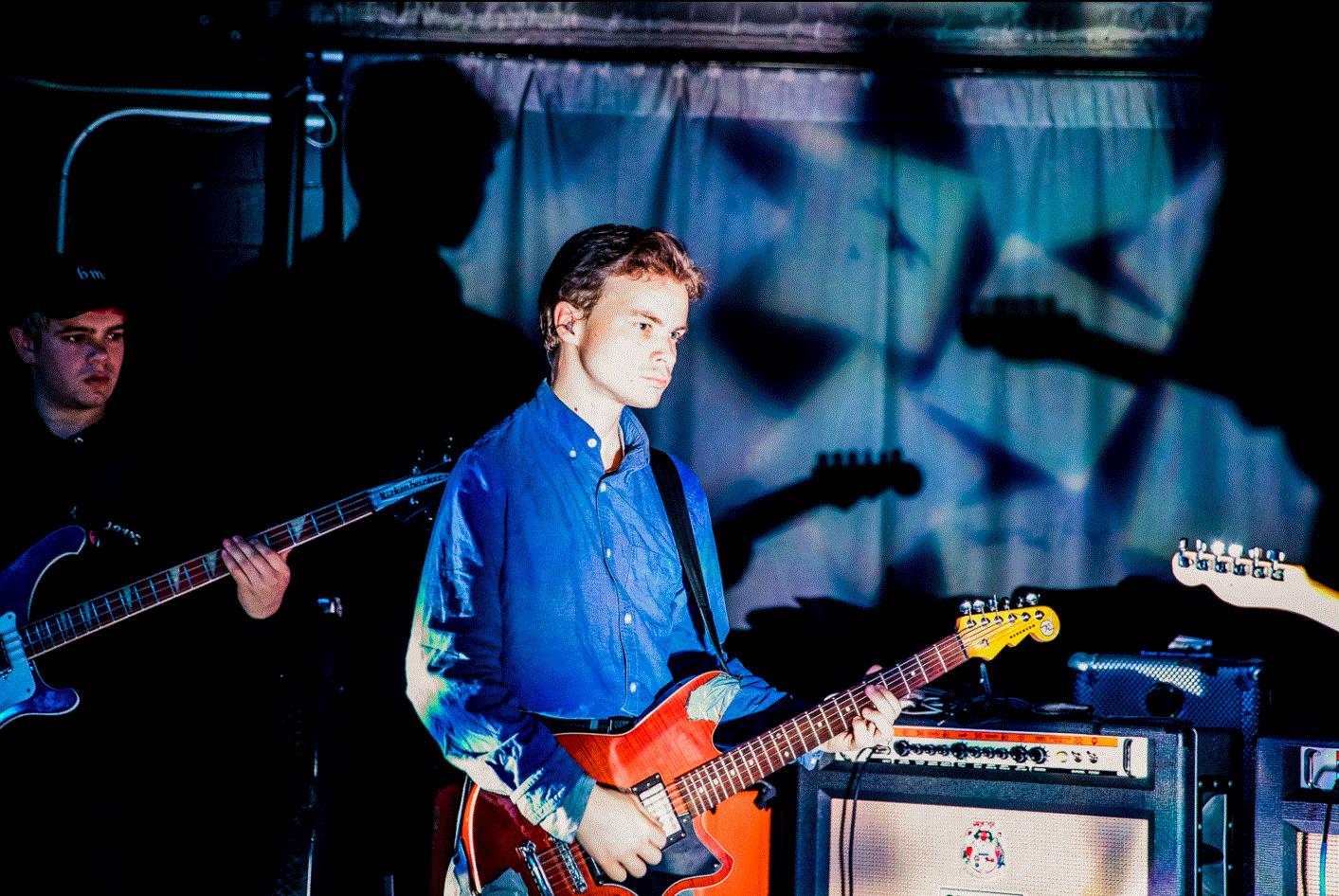 Until the new album, Cavalcade, Greep's main stage guitar was his Reverend Descent baritone, so he could claim the space between original-line-up guitarist Matt Kwasniewski-Kelvin and bassist Cameron Picton, at Greep's left here.
Photo by Debi Del Grande
Cameron Picton's Gear
Basses
Rickenbacker 4003
Eastwood Sidejack
Amps
Strings
Ernie Ball Slinky (.050–.105)
Dunlop .77 mm
Effects
Empress Bass Compressor

ZVEX Mastotron
MASF Raptio
Boss DD-6 Digital Delay
HomeBrew Electronics THC Chorus
DOD Meatbox Subsynth
Boss TU-3 Chromatic Tuner
Space, especially the long breaks in the hyper-tight, polyrhythmic, unison ensemble sections in songs like "John L," is another important tool the band uses to create a sense of tension and release. Although that's not always on purpose, and sometimes they're just doing it to keep the audience on their toes. "That bit in 'John L' … that's like King Crimson with the stops. That was a way to get a rhythm that we'll play that's, like, crazy in every set," Picton says. "A lot of it is loose and jammy, but we want to have one bit that is super-tight and with stupid changes. It's just a crazy rhythm and doing a constant beat."
Black Midi's complex rhythmic feel works in concert with their atonal, albeit accessible, approach to melody. At first listen, some of Greep's leads seem almost random, but that's not the case, and his concept is not as haphazard or avant-garde as you might think.
"I have quite a low concentration when it comes to traditional practice," Greep says about some of the more advanced harmonic concepts he's studied. "Stuff like that, I'll look into it for a few days, but my guitar playing really is just the blues scale—that and the major and minor scale. But I've never really thought of it in terms of scales. It's more that over time I'll slowly figure out what intervals I like, what ones I don't, which kinds of patterns I prefer, and which ones I don't. I've slowly built up a repository of riffs or patterns. In terms of any crazy scales, the only one I can think of that I consciously use is the octatonic scale [an eight-note scale that alternates between half-steps and whole steps]. I used that quite a lot on this album."
Clearly, careful attention to space, stark contrasts, dynamics, and composition were essential to the making of Cavalcade. Another key ingredient was tone, which, for Greep at least, comes from using a graphic EQ as an overdrive.
TIDBIT: Following their new modus operandi for songwriting, only two tunes on the new album grew out of jams. "We needed to think of a more productive way to write songs," says Cameron Picton.
"My main pedal on this album, which I used loads and loads and loads, is a Boss Bass Equalizer GE-7B that I got from eBay," he says. "It is a simple pedal and drives the amp in a nice way. When you hear people try to do an AC/DC or Black Sabbath sound, do you notice how they'll use too much distortion and it'll be too mushy? Yet on the stuff back then, you can hear the chords properly. That's because it is a loud amp, and it's not crazy stuff going on. This pedal retains that so you can play thick crazy chords—you can use a #11 or whatever—and yet you'll still be able to hear all the notes and it still has a nice sound. And that's my main drive sound."
Greep also has another trick up his sleeve. He uses enormous guitar picks. "I use a 5-millimeter pick," he says. Read that again. He doesn't mean a 0.5-millimeter guitar pick. He means a 5-millimeter guitar pick. "When I was younger, I tried to play Gypsy jazz, and I heard that Django Reinhardt used a 5-millimeter pick. I tried it out, and it makes it easier because it is such a bigger thing that you're holding. The dynamics are easier because you're not exerting as much stress between your thumb and finger. You can hold the pick lighter and play harder or lighter with less force. It's one of those things that sounds stupid, and then you try it and it is really cool. You play faster with it, too. It just gives you way more dexterity. I don't know how it works."
But, like seemingly everything else Black Midi does, it is unconventional. And you wouldn't expect it, but it does work.
black midi - bmbmbm (Hyundai Mercury Prize 2019)
Rev recasts its classic offset with a rocking pickup complement that can play it cool or bring the attitude.
Very good build quality. Versatile sonic capabilities from a clever pickup and control complement.
Slightly rough fret ends in a few spots.
4
4.5
4.5
4.5
The silhouette of the new Six Gun HPP is, at this point, a familiar shape—and arguably a classic. It's the foundation for many different Reverend models and clearly a versatile platform for evolution and experimentation. The updated pickup configuration and other new features of Reverend's offset workhorse make the $1,099 Korea-built Six Gun an impressive performer for the price.
Horse P-Power
If you haven't yet decoded the Six Gun's handle, the HPP stands for humbucker/P-90/P-90. The pickups are designed by Reverend. An alnico 5 HA5 humbucker (wound with 43 AWG wire) registers DC resistance readings of 12.65k ohms, while each of the alnico 5 9A5 P-90s register 7.48k ohms. They're all routed through a master volume control with a treble-bleed network, a tone control, and Reverend's useful passive bass contour, which rolls off low end. A 5-way selector switch opens up the possibility of combined bridge/middle and middle/neck pickup combos.
Reverend Six Gun HPP Review
The body is crafted from solid korina, carved with rib and forearm contours, and our test model was dressed in Reverend's super-cool black-to-green avocado burst finish with white top binding. (Midnight black, coffee burst, and chronic blue finishes are also available). The guitar weighs around 8.2 pounds, which some might consider heavy, but it doesn't feel like a boat anchor, by any means.

Reverend has been hip to roasted maple for a while, and it is used here for the bolt-on neck, which is shaped into a relatively slim, rounded-C profile and capped with a roasted maple fretboard that's been sliced from the neck blank and re-affixed after installation of the dual-action truss rod. The process eliminates a skunk stripe on the back of the neck, giving the Six Gun a nice handcrafted look. The 25 ½" scale makes the neck feel spacious. And the 22 medium-jumbo frets, which are nicely dressed at the crowns, make it feel smooth and suited to string bending. A few frets felt a little rough at the fretboard edges, but altogether, the neck feels and plays great.
Crafty use of the bass contour control can transform the character of each pickup.
Our review Six Gun HPP arrived well setup and more-or-less in tune right out of the included, two-tone, teardrop hardshell case. It also stayed in tune after a long opening round of playing, including moderate vibrato use. The vibrato, by the way, is a Wilkinson WVS50 IIK two-point vibrato that delivers smooth, even action and great return-to-pitch stability. Tuners are Reverend's locking Pin-Lock design, and the nut's made from synthetic bone. There's also a retainer bar to help maintain tension on the high-E, B, and G strings.
Shoot Out at the Pickup Corral
In addition to being exceedingly playable, the Six Gun HPP offers a wide, adaptable sonic palette. I played the Six Gun through a Marshall-style Friedman Small Box and a tweed Deluxe-style 1x12 combo, and the HPP was a great match for both. The bridge humbucker is a rock machine at heart, with lots of grunt and sizzle that adds beef and presence to overdriven lead excursions. But it cleans up gracefully, too, with volume attenuation, and has a touch of mid-forward, cocked-wah tonality that brims with attitude in clean and dirty applications. The P-90s are also capable rockers—especially when driving an amp turned up to loud and dirty levels. They add a little more grit and bite to the brew, too, which broadens the guitar's character considerably.
All five pickup positions sound great with the bass contour knob fully up, but crafty use of the control can transform the character of each pickup. Wind it back a bit and the humbucker takes on a brighter, slightly thinner, more P-90-ish character that's still thicker than a coil-split humbucker. The same setting gives the P-90s characteristics of a fat-Strat pickup, and in this mode they can generate funky Knopfler-esque tones from the 2nd and 4th positions, lithe rhythm tones, and nice jangle and twang sounds.
The Verdict
Well designed, well made, and well setup right out of the case, the Six Gun HPP impresses not only for overall quality but for sonic versatility as well. It's an easy and fast-feeling instrument, and well worth investigating for its crossover appeal and chameleonlike tone capabilities.