When it comes to power supplies, don't underestimate their importance—an unreliable, low-quality one can lead to serious pedal malfunctions.
Let's begin this article with my personal experience as a pedal builder and a novice musician. One day, a customer messaged me, sounding a bit frustrated. "I received the pedal, but it won't light up. Did it get damaged during shipping?" they said. I promptly began troubleshooting.
I started with clarifying the signal source, checking if the installation of the input and output jacks was correct, and, finally, inquiring about the power supply being used. To my surprise, he replied, "I'm using a laptop power adapter. Shouldn't that work just fine? My laptop is in good shape with it. Have I made a mistake? By the way, this is my first pedal ever."
For a moment, I couldn't help but wonder how incidents like this were still occurring. It reminded me of a time 20 years ago when I struggled to power my pedal with a phone charger, and it happened to be at my first gig! Do you think this is a funny story? Definitely not! I'm sure most of us have been there at some point. Beginners in any field share two common traits: lack of knowledge and lack of experience. However, we're currently in an era where a wealth of information is readily available at our fingertips, including this article, which I hope will serve as an informative artifact that is accessible to everyone.
"For a moment, I couldn't help but wonder how incidents like this were still occurring."
As pedal builders, we pay particular attention to power supplies, especially during the testing and quality-control processes. In fact, we've conducted experiments with various power supplies, ranging from the cheapest ones available on the market to ones made by well-known brands with a strong reputation.
During our experiments, we plugged all these power supplies into a variety of pedals and let them run continuously for a week. The results were astonishing: Two power supplies burned out, and one of them was from a renowned brand in the power supply universe.
We conducted these experiments not out of sheer curiosity. The electrical grid in our country, Indonesia, is notorious for its poor quality. Voltage fluctuations are common, and event organizers will sometimes haphazardly use power generators, lacking proper planning. That's why we felt the need to experiment with power supplies and their impact on pedals. Moreover, I am fairly confident that most of us choose to buy a power supply as infrequently as possible, so we can spend our money on buying more and more pedals, adding some boutique overdrives, or expanding our collection with the latest and greatest delay units under the guise of "upgrading."
Well, in the end, the choice between buying the fanciest delay unit and upgrading to a proper power supply is a matter of personal preference. If you can afford both at the same time, it's undoubtedly a smart and ideal choice. However, are we always in an ideal situation? Most likely not. That's why I'm using this platform to convey a message to all of you: A proper power supply, especially an isolated type, is the most valuable and crucial investment in a pedalboard! (Isolated power supplies offer one-to-one connections with the pedals on your 'board, so if one channel of the supply goes down, other pedals will remain powered.)
This becomes even more critical if you're a touring musician with a highly complex pedalboard setup. In such cases, an isolated power supply is an absolute necessity. The stages you'll visit can be unpredictable and even chaotic! No matter how advanced and costly your pedal collection is, if you're using a low-quality power supply, all those sophisticated and expensive pedals are at risk of becoming useless or, worse, suffering fatal damage. This can occur due to voltage drops, which can lead to malfunctions or excessive, disruptive noise, rendering your entire setup completely useless.
In a world of widely shared components, don't just dare to be different. Insist on it. Aesthetics matter.
Regardless of the number of companies swimming in the pedal pond, I often find myself thinking about aesthetic diversity. We builders tend to all use the same components when designing our devices. It's how we use them that is the subject here. And I'd like to focus primarily on the external components and how they are presented. Finish and graphics play a big part in a company's branding and identity. However, I'd like to almost solely talk about knobs, footswitches, toggles, and LEDs. These are the most common things that you'll see on a pedal.
I often ask people, "If you were to remove the labels and branding, could you tell which pedal it is or which company it was from?" As I've mentioned in a previous article, the pedal world is a kind and respectful place. Companies like to carve their name into the industry by having something that looks good and doesn't step on another company's toes. Builders achieve this by taking all of those same components that I just mentioned and organizing them in a manner that has a distinctive appearance. This leads to a question: If a company creates a knob and switch layout that's the same for all of their models, is that intellectual property that other companies should avoid using, or is it simply a design of round pieces of plastic and metal on a square box that's entirely public domain?
Let's try something. If a new pedal company hit the streets and had an aesthetic like the one in Figure 1, would anyone have an issue with it? I lean heavily towards no. This triangular 3-knob layout has become practically generic. But if the fictional company were to release a product that looked like the picture in Figure 2, would anyone have an issue with it? I'm inclined to say yes. Three dials on a plane evokes a famed boutique pedal maker, rather than a generic look, even though both examples consist simply of a few knobs and a footswitch. Somehow the components simply being angled a little helps the appearance of originality, but ... as a pedal builder, I wouldn't go there.
Often when a company releases a product with an interface that strays from the traditional path, it stands out. Non-traditional pieces of hardware can help a pedal's recognition. However, if there's already an existing company using these pieces of hardware in their designs, we have a problem.
If you were to remove the labels and branding, could you tell which pedal it is or which company it was from?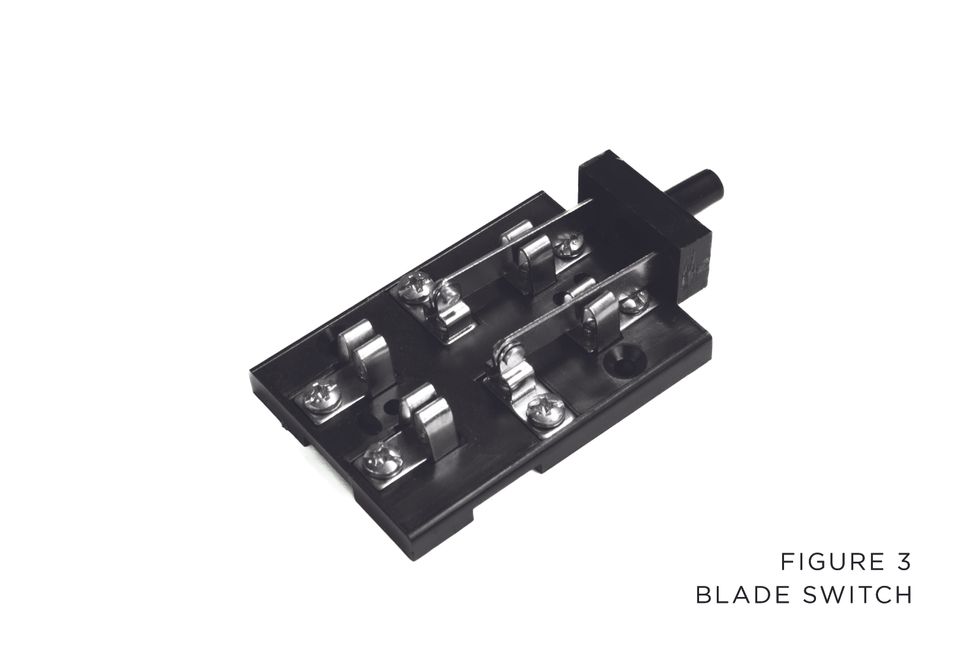 Going back to our scenario of a fictional new company releasing a product, if this company were to release a product with a blade switch (Figure 3) or telegraph key (Figure 4), there would be folks that would take issue with it. Now, it would be fair to say that a brand new company may not be fully aware of every existing pedal design—even with the internet at their fingertips. But the community of pedal nerds creates a nice monitoring/filtering system. If a new product hit the market with a telegraph key, for example, as found on our Telegraph V2 Autostutter & Killswitch and our Triplegraph Digital Polyphonic Octave pedals, the nerds would bring our attention to it.
There are only so many ways to locate knobs and switches on a rectangular box. So, what's a new pedal company to do? Well, when it comes to placement, avoid popular and recognizable layouts like those found in Figure 2 and create your own. If traditional stylings are more your bag, consider alterations to the formula. Look at the Canaglia by Lollygagger FX—a 3-knob, 2-footswitch pedal. What helps it stand out? Metal knobs, a hand-stained wooden enclosure, and debossed labels—characterful changes to formula.
Along with being in the golden era of pedals, we're also in the golden era of parts. I've never seen more knob choices in different finishes and styles than right now. Same with hardware finishes, enclosure shapes, and more. So, if you find yourself with a form factor that feels like it's infringing on another company, make several small changes. Tweak the knob location slightly and swap out the knob type, move the LED location and change the size, put a washer around the footswitch, or add colored dress washers to the toggles. Small changes add up to a big difference.
After our columnist had a serious accident, respected indie pedal maker James Mackey organized the community to help. Here's his story.
Summer 2022 sure was crazy for me. Between trying to keep my small pedal business alive and juggling the few other hustles I have going to survive financially in this current economic climate, things were pretty hectic. Then, in August, I was involved in a serious car accident … a head-on collision. Thankfully, the airbag and seat belt saved my life. I stumbled out of the car, completely shocked and humbled to be in one piece after I saw the wreckage. While I will most likely be dealing with the resulting lumbar issues for the rest of my life, I can't express how grateful I am to still be here.
My dear friend James Mackey, who runs a small pedal business here in California called Lauren Audio, reached out to me shortly after the accident. James hosted a benefit in our pedal builders' community a couple of years ago. I donated one of my Atari Fuzzes, and our friendship blossomed from there. Now, he organized a raffle to benefit us, involving nearly 40 independent pedal makers. So, since this issue's cover story is about builders, let me take this opportunity to introduce you to James and his work.
Lauren Audio focuses on creating studio-inspired effects and modules, while also offering PCB design and prototyping services to other makers. The Mustang, which is their current pedal offering, is a class-A overdrive based on one of the most iconic recording channels, the Neve 1073. Supercharged with a modified gain control and variable feedback, the Mustang has quickly become an indispensable tool for some players. Built with high-quality parts, this pedal runs at an internal 24V just like the classic Neve rack unit, for impressive headroom and dynamic depth.
James, I know all about your rad pedals, but what is your musical background?
My first real instrument was the trumpet. While I was in high school band, someone introduced me to FruityLoops and digital production. I was blown away. I had begun DJ-ing in high school and making my own tracks. This became so accessible with DAWs. This was my first intro to effects. I really loved finding new plugins, but I spent the most time looking for distortions and saturators. I mostly studied mixing and production by bouncing between a few community colleges. I moved to Los Angeles, as I had gotten a job at Guitar Center. From there, I went to Perfect Circuit, then British Audio Engineering (BAE). I recorded and mixed in my spare time. I moved back down to Orange County after a five-year run in LA, and began Lauren Audio in 2016.
I was working with a partner who was a metal guitarist. He had designed a pedal in the aim of a metal distortion/OD. I wanted to design pro audio gear, but since we had the pedal design, it seemed like a logical first step. I added a multi-clipping option, some extra goodies, and we had our first pedal: the Spitfire. During this time, I was picked up by a local touring band as a front-of-house engineer. I learned a lot working in different venues, and got to hear lots of different rigs. I've since focused on Lauren Audio full-time. I have the pleasure of playing guitar often when designing and testing, and every now and then I'll do some mastering for friends.
What drew you into DIY, building, and then designing effects pedals and gear?
I had always liked building things. I was super into LEGOs as a kid. I've always wanted to make my own things, so I guess it wasn't a big leap. At Perfect Circuit, I worked in the warehouse near the tech bench. I would always bug the techs about what they were working on. I was already into gear, but seeing the repair process and internals of lots of different pieces changed my trajectory. We had the ability to pitch new ideas at BAE, and I really enjoyed being able to test prototypes. I was always trying to think of something new to impress my boss, so my gears were constantly turning for audio designs.
How did the raffle start? I am truly grateful, humbled, and blown away by it.
Credit goes to Al from The Cultured Guitarist[podcast]. We knew about your accident but weren't aware of the depth of the situation. It was really sweet to see how far your vibes have spread through the community. I, too, am blown away by the support this community has offered.
What do you foresee yourself building 10 years from now?
I really look forward to building pieces specifically for mastering. My goal is to build my own mastering rig. One of my first concepts was a mastering EQ, and I still aim to make it a reality. Long term, I would like to help design renewable energy systems.
YouTube It
Check out a demo of Lauren Audio's Mustang, based on the Neve 1073 preamp.