Rhett and Zach unpack the big news for secondhand guitar sellers and buyers: Sweetwater has launched their new Gear Exchange. How does it compare to Reverb, Craigslist, and Marketplace? To find out, Zach takes the site for a spin and buys a pedal. He calls the process both "very easy" and "normal." They discuss the pros and cons of the various used-gear outlets and share tips for not getting got when buying gear. Plus, Zach grew a mustache, Mythos Pedals is moving, and he talks about his forthcoming line of Strat pickups inspired by Hendrix's reverse-stagger setup.
Sweetwater vs. Reverb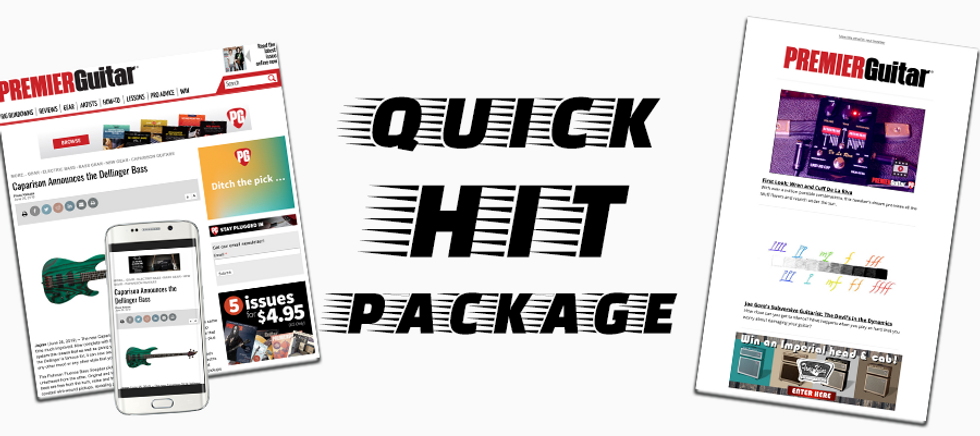 Get broad digital exposure with just one banner! With Premier Guitar's Quick-Hit package you can spread the word online and via email -- it's easy and affordable.
Package 1:

•  Premier Guitar Newsletter: your 600x200 Banner art featured in a blast to 227,000 guitarists and bassists. - Click here for an example
•  100,000 web banner impressions on Premier Guitar.com (Three banner sizes: 728x90, 300x250, 320x80) -  Click for an example
Total Reach: 327,000
Regular pricing: $995
Your discounted price: $595
Savings -- 40%

Launch your new product...and get emails too! Premier Guitar's BlastOff blitz combines four promotions into one simple, discounted package.
Package 1:
• Giveaway for new product featured on PremierGuitar.com and in PG's weekly newsletter: Average reach 575,000+
• PG can host the giveaway on the PG site or send traffic directly to your website.
• One-week of PG's PermaBanner on every page of PremierGuitar.com (Impervious to ad blockers and exclusive). Average reach - 450,000
• 1x Newsletter Blast Reach - 223,000 - Click here for an example
• 100,000 web banner impressions  -  Click for an example
• Artwork is simple - Three banners: 600x200, 300x250, 320x80
Retail: $3,595
Package price: $1,695
Package 2:

- boost your exposure and Increase your website banner impressions to 200,000
• Giveaway for new product featured on PremierGuitar.com and in PG's weekly newsletter: Average reach 575,000+
• PG can host the giveaway on the PG site or send traffic directly to your website.
• One-week of PG's PermaBanner on every page of PremierGuitar.com (Impervious to ad blockers and exclusive). Average reach - 450,000
• 1x Newsletter Blast Reach - 223,000  - Click for an example
• 200,000 web banner impressions -  Click for an example
• Artwork is simple - Three banners: 600x200, 300x250, 320x80
Retail: $4,195
Package price: $1,895
Savings -- 55%