Sweetwater Finalizes Lineup for GearFest 2021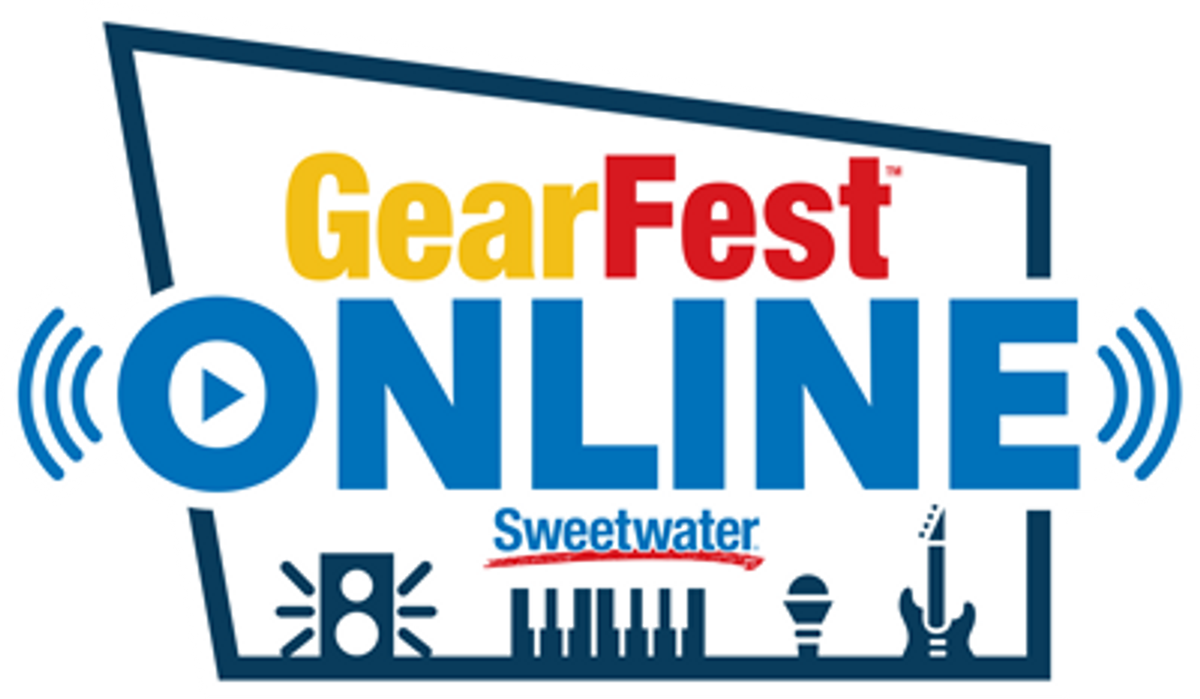 Sweetwater, the world's leading music technology and instrument retailer, is pleased to announce a complete list of highlighted artists, presenters, and giveaways for its annual GearFest event on June 25 th and June 26 th . Like last year's festivities, the world's biggest celebration of music instruments and pro audio gear is bringing its annual physical event exclusively online.
---
The event stream will feature performances, workshops, and in-depth interviews that are perfect for music novices and seasoned pros alike. Headline events include:
Alex Lifeson: Looking Forward , After 40 years and 40 million records sold with the groundbreaking rock trio Rush, what's next for legendary guitarist Alex Lifeson? Hear about his latest projects, inspirations, and the gear that made Rush a household name!
Bianca Richardson : Life in the Pocket, Drummer, producer, and live/session player Bianca Richardson talks hybrid drumming techniques, go-to licks and fills, and the gear and players that inspire her to keep creating music.
Chris Lord-Alge : Deconstruction of a Mix, Want to learn what it takes to craft the perfect mix? Get engineering tips and tricks from Grammy-winning mix engineer Chris Lord-Alge.
Corey Taylor : If I Can. I Will., Si autem non potest: If I can. I will. The legendary frontman of two multi-platinum bands and best-selling author discusses what drives him in a highly inspiring and entertaining interview.
Divinity Roxx: Finding Your Groove, Grammy-nominated bassist Divinity Roxx talks about her approach to the instrument and finding the groove, as well as her work with artists like Victor Wooten, Beyoncé, and more.
DJ Jazzy Jeff : A Life in the Game, Grammy-winning legend DJ Jazzy Jeff will join us for an exclusive interview. Tune in to learn more about the life and career of this iconic producer, songwriter, and DJ.
Eric Gales : Raw Riffs, Six-string firebrand Eric Gales shows off his new signature overdrive pedal while breaking down the iconic riffs that inspired his unique sound and style.
Jimmy Jam & Terry Lewis : The Sound of R&B, Five-time Grammy-winning producers and songwriters Jimmy Jam and Terry Lewis will discuss their new album and their epic partnership resulting in over 100 gold, platinum, multi-platinum, and diamond albums with artists such as Janet Jackson, Gwen Stefani, Kanye West, and dozens more.
Just Blaze : Producing Hip-Hop, Grammy-winning producer Just Blaze breaks down the song "We Win" by Lil Baby and Kirk Franklin from the upcoming Space Jam: A New Legacy movie. Just Blaze will share insights on how he produces tracks, the tools he chooses, and what inspires him to keep pushing the needle every day.
Lisa Loeb : An Intimate Performance, Renowned singer/songwriter Lisa Loeb will join us for an intimate performance and a peek into her legendary career as a musician and actor.
Lynette Williams : Tone Shaping for Keys and Organ, Keyboardist and organist Lynette Williams takes us through the gear and settings she uses to create music with artists such as Childish Gambino and Lalah Hathaway.
Omar Hakim : Live Performance with Ozmosys, Grammy-nominated drummer, producer, and composer Omar Hakim brings the beat in a live performance with genre-defying supergroup Ozmosys.
Peter Frampton : Frampton Comes to GearFest!, Legendary rocker Peter Frampton sits down for a live interview covering his incredible career, his inspirations, and his latest work.
Phil X : Bon Jovi and Beyond, Bon Jovi guitarist Phil X talks about his latest musical adventures, his work with Phil X and the Drills, and shares performance and gear tips that you won't want to miss!
Steve Vai : Evolution of an Icon, Guitar legend Steve Vai shares his evolution as a guitarist and musician, from buying his first guitar from a childhood friend for $5 to pushing the boundaries of possibilities with the electric guitar.
Yvette Young : Unlocking Guitar Creativity, Trailblazing guitarist Yvette Young takes us inside her songwriting process, from creating a melodic foundation and rhythmic feel to pushing the creative boundaries with alternate tunings.
This year's artist lineup features industry legends and noteworthy collaborators across all genres of music, bringing their world-class experience and insights directly to fans who can enjoy from the comfort of their own home. Highlights of other industry giants participating in GearFest 2021 include:
Quentin Gilkey – Producer, engineer, mixer, musician (Dr. Dre, Eminem, Anderson .Paak, Kendrick Lamar)
Ian Hill – Bassist (Judas Priest)
Doyle Dykes – Legendary guitarist (Solo artist)
Joe Barresi – Producer, mixer, engineer, musician (Tool, Slipknot, Chris Cornell, Soundgarden, Queens of the Stone Age)
Bianca Richardson – Drummer and producer (Marcus Miller, Conan Grey, Willow Smith, Madison Beer, Diana Gordon, Cory Wong)
Carmen Vandenberg – Lead guitarist for Grammy nominated London rock band (BONES UK, Jeff Beck)
Andrew Scheps – Grammy award winning engineer and producer (Red Hot Chili Peppers, Weezer, Audioslave, Metallica, U2, Johnny Cash)
Andreas and Daniel Sennheiser – Third-generation owners of Sennheiser
Steve Stine – Guitarist, instructor (Guitar World magazine, GuitarZoom, Grim Reaper, Avian, Dozer)
Brett Young – Multi-platinum, ACM winning country pop singer/songwriter (Solo artist)
Tim Pierce – Session guitarist and musical artist (Michael Jackson, Alice Cooper, Joe Cocker, Phil Collins, Roger Waters, Rick Springfield)
Willie Gee - Professional guitar tech (King Diamond, Anthrax, Slayer, Megadeath, Black Eyed Peas)
Andy Wood - Guitarist, mandolinist, songwriter (Solo artist, Rascal Flatts, Sebastian Bach, Gary Allan, LOCASH)
Drew Foppe - Professional guitar tech (Deftones, Fleetwood Mac, Slipknot, Shakira, The Smashing Pumpkins)
Annie Clements - Bassist (Maren Morris, Sugarland, Anderson East, Side Piece)
Grady Champion - Professional guitar tech (Pantera, Incubus, System of a Down, Staind, Meat Loaf, Blondie)
Kent Slucher - Drummer (Luke Bryan, Anthony Smith, Kelly Keagy, Gatlin Brothers)
Thad Beaty - Guitarist, producer, songwriter (Sugarland, Little Big Town, Ellis Paul)
Carlos Alomar - Guitarist, composer, arranger (John Lennon, Paul McCartney, Chuck Berry, James Brown, David Bowie, Alicia Keys)
Chris Baseford - Producer, engineer, mixer (Nickelback, Avril Lavigne, Ricky Martin, ZZ Top, CeeLo Green, Mötley Crüe, Rob Zombie)
Warren Haynes - Guitarist, singer, songwriter (The Allman Brothers, Gov't Mule, The Dead, Dave Matthews Band, Garth Brooks, The Pretty Reckless)
Doug Wimbish - Legendary session and touring bassist (Living Colour, Bruce Springsteen, Seal, The Rolling Stones, Jeff Beck, Joe Satriani, Ms. Lauryn Hill)
The event also marks the debut of a newly minted catalog of state-of-the-art gear, ranging from instruments to engineering equipment that are music must-haves. With more than 130 products available as GearFest specials, Sweetwater will launch four new items to coincide with the start of the event, which include Breedlove ECO Series Acoustic Guitars, Sweetwater Creation Station Computer Models, Spector Euro 4 LT Rudy Sarzo Signature and Erica Synths LXR-02 Desktop Digital Drum Synthesizer.
GearFest 2021 includes more than $50,000 worth of gear available for giveaways throughout the two-day event. Attendees can enter by visiting www.sweetwater.com/giveaway and providing an e-mail address. In addition to winners selected hourly, five grand prize packages are up for grabs, including:
$4,000 Home Recording Package
$4,000 Full Band PA System
$2,900 Electric Guitar Package
$2,300 Acoustic Guitar Package
$2,000 Drum Package
GearFest 2021 will stream live on Friday, June 25 th from 10:00 a.m. to 6:00 p.m. EDT and Saturday, June 26 th from 10:00 a.m. to 6:00 p.m. EDT. Music lovers globally can stream the online event on Sweetwater's Facebook and YouTube channels, in addition to: www.gearfest.com . Fans interested in viewing the entire GearFest lineup can view at https://www.sweetwater.com/gearfest/presenters or call (800) 222-4700 to learn more.