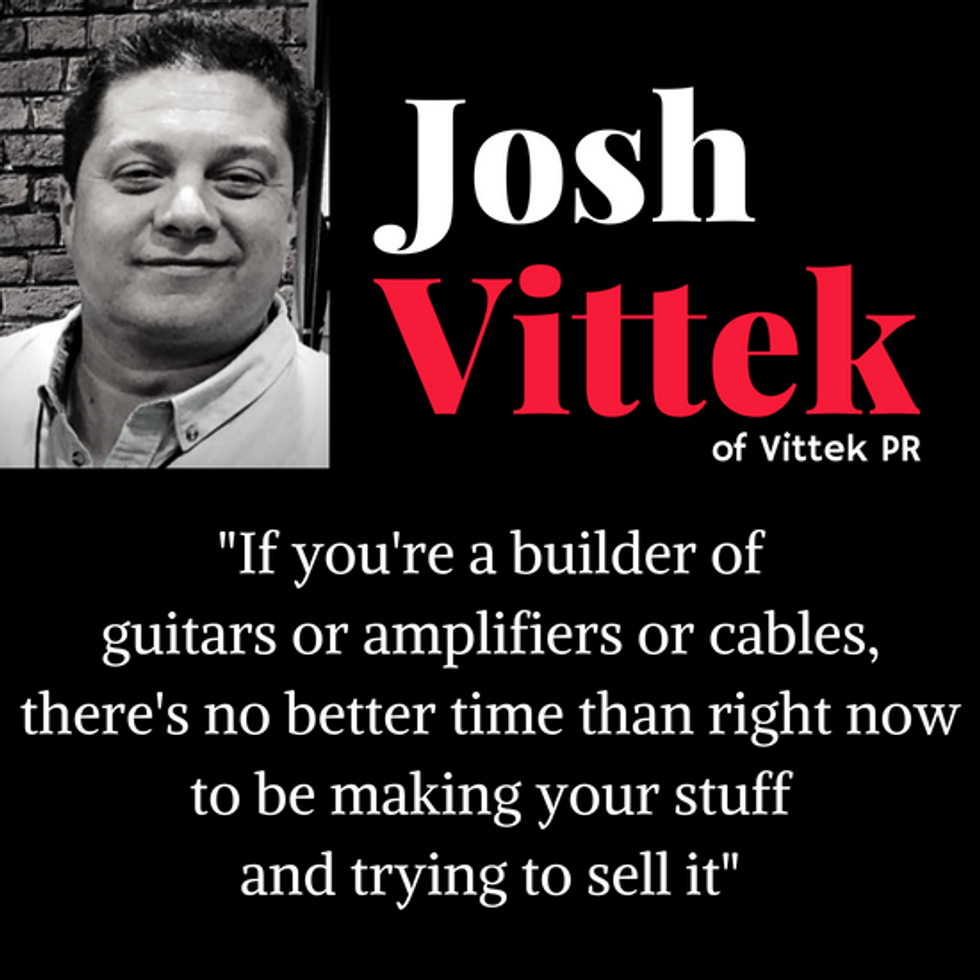 We talk shop with Vittek PR principal Josh Vittek
What's a misconception builders have about getting their products in the hands of artists?
One of the biggest challenges I face is when a company comes to me and says, "Hey, we need to grow our business. What do we do? Advertise? Can you start talking to rockstars about my product because if we can get them playing our product tomorrow, we're gonna sell a ton of gear?"
And so the first obstacle is to bring new ideas to the table. Instead of disrupting the story, I want my clients to become the story. Artists and influencers still have weight, but it's not the way it used to be.
I can go back as far as the late 80's and early 90's when I was first in the industry and most often, you gave an artist a product in exchange for a photo. In some cases, the artist would then sell that product the very next day and you could use that photo for the next five years, aligning yourself with such artist without any further consideration for the artist or the consumer. But social media has changed that. Social media has made all of us more transparent. Plus, being a working musician is now a business. There must be a value for both the artist and the brand in a relationship.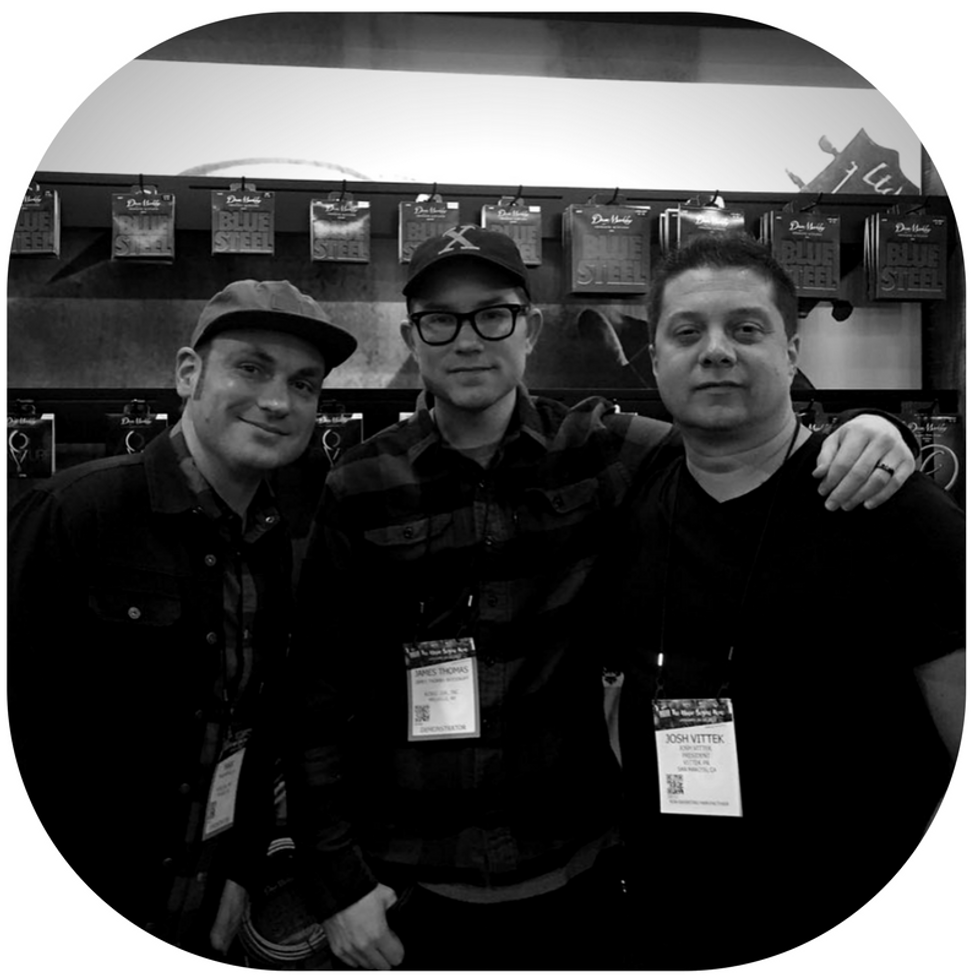 A lot of people think that if they can just get that one big rock star to play their product, that product will fly off the shelves. But just like every other overnight success, those relationships take time to develop.
How can you develop a strong PR strategy for your brand?
I don't care what (a client's) budget is. If they come to me and say, "Look, I got five hundred bucks. This is all I got," then I'll figure out what we can do for five hundred bucks to help them get the bang for their dollar.
The most important thing to spend your money on would be public relations: your press releases, product reviews, and social media campaigns. That's your best bang for your buck. Again, if someone comes to me with five hundred bucks, we're gonna be targeting those audiences first. That's what we're gonna grow.
If you are builder of guitars or amplifiers or cables, there's no better time than right now to be making your stuff and trying to sell it. I mean, you can reach those three hundred people in the world that will just love your product. You can reach them directly on social media wherever they are. I don't care if they're in Antarctica. I don't care if they're in Colombia. You can find those people who love your product and not only sell to them, but grow your business when they share it with their network as well.
At the end of the day, if I don't make my client happy, he or she's gonna tell other people. Everybody I work with has been referred by a previous client.
So especially in my game, it's the relationships. I mean, you gotta hustle out there. You can't miss any opportunity.
That's why I chose to call myself a PR firm as opposed to an ad agency or marketing firm – at the end of the day, I realize that everything I've done is based on my relationships.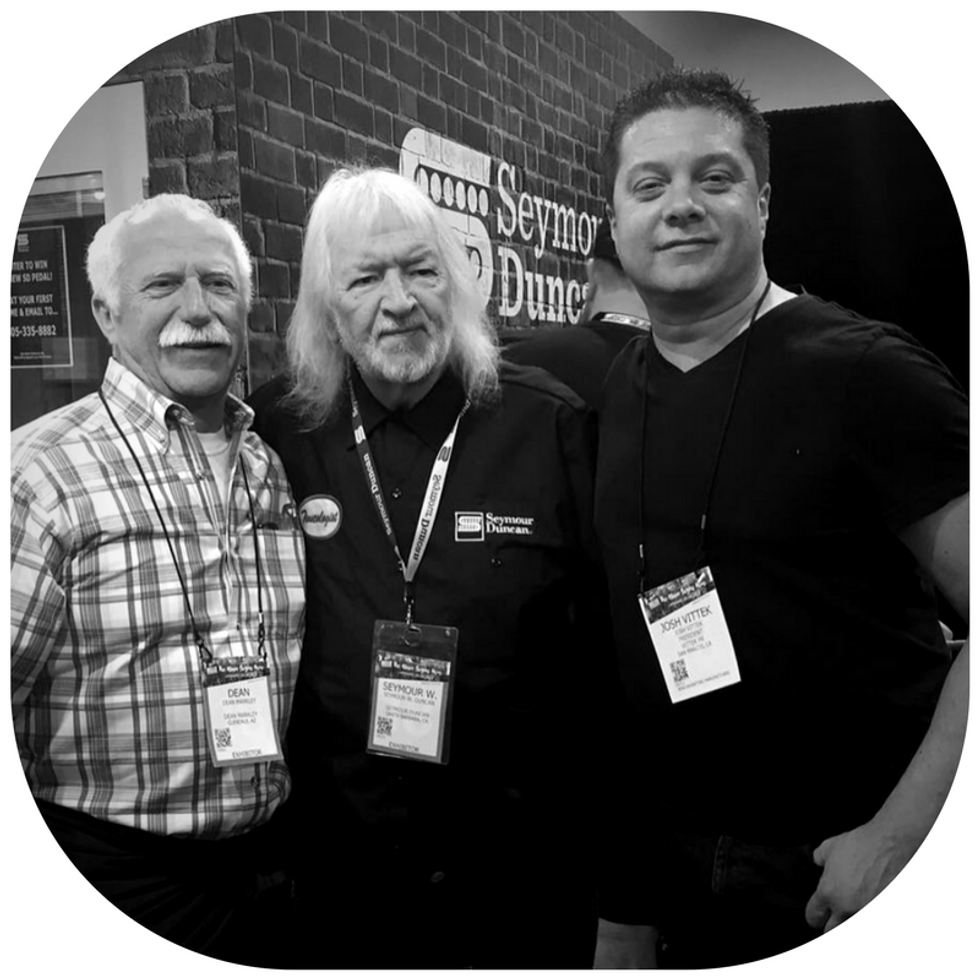 What's the key to keep moving forward in a changing industry?
Well let's first acknowledge that our industry can be very dated in a lot of things that we do, not only in advertising, but in marketing, in public relations, in manufacturing, to technology and anything and everything else... but it's also what makes this industry absolutely wonderful.
We are still by majority, a mom and pop kind of industry. Compared to the rest of the world, we are a cottage industry. We're still mom and pop shops and we're here because of a passion. For those who aspire to make a ton of money, this is not the place for you.
Just focus on your business and the people around you, that's how you're gonna move forward. Now we're all human, don't get me wrong, we're gonna worry about something. But you gotta figure out a way to derail that and just keep focusing on what you do. Odds are, if you think something is cool, there's a couple hundred people out there in the world who will think it's cool too.
Josh Vittek is the founder of Vittek PR, an independent firm providing companies with publicity, advertising, PR, marketing, sales, branding and celebrity relation services.
The IR-2 features 11 premium guitar amp types and cabinet IRs from Celestion Digital, designed to give players a powerful solution for achieving consistent, high-quality sound.
Boss announces the IR-2 Amp & Cabinet pedal, the latest addition to the company's long-running compact effect pedal series. The versatile IR-2 also offers wide-ranging connectivity, including a headphones output for sound monitoring and USB-C for interfacing with music production software and loading user cabinet IRs.
The IR-2 is equipped with 11 solid platforms that dish up every guitar amp flavor, from famous tube combos to vintage and modern stacks. There are several original Boss amps as well, including a high-gain Brown type derived from the Katana series. Every amp is paired with a curated Celestion Digital IR for ready-to-play results. If desired, third-party IRs can be swapped in via the dedicated IR-2 IR Loader app.
Sound creation is fast and easy with the IR-2's intuitive interface. Familiar amp-style controls are available for gain, level, and tone-shaping, and there's an onboard Ambience effect to add natural spaciousness and depth. The player can connect their other pedals to the IR-2's input, just like they would with an amp. Using the send/return loop, it's possible to patch mod, delay, and reverb effects into the chain after the amp sounds. The TRS return jack supports stereo operation for passing the sound of stereo effects to the IR-2's audio outputs.

Along with IR loading, the USB-C connector on the IR-2 allows the player to send the sound of their complete rig directly to music recording software on a computer or mobile device. Audio can be monitored from the software through headphones, eliminating the need for a separate interface. General audio playback is supported for practice sessions, perfect for jamming with songs from a music library and following along with lessons from YouTube and other sources.

The new Boss IR-2 Amp & Cabinet is available now at select authorized BOSS retailers for $199.99.
For more information, please visit boss.info.
Boss
Ruban Nielson explains how custom collaborations with Baranik and Benson, along with a paunchy pedalboard with homemade clones, unlock a psychedelic playground in stereo.
"Gear is meant to be destroyed in the line of duty," laughs Ruban Nielson. "I realize I prefer to see my equipment all dinged up rather than sitting perfect in my basement—that's a dorky thing to do."
That doesn't mean Nielson doesn't care about his sound. He noted in a 2015 interview with PG that he spends countless hours in his basement tinkering on breadboard circuits and swapping out components, trying to maximize a pedal for his needs. "I like the idea that instead of buying your sound, you're building your sound," he said.
Over the course of 14 years, five albums, and thousands of touring miles, Nielsen has been custom-fabricating his guitar voice. But as we all know, the quest is never-ending, like trying to catch the horizon. After all, isn't it the journey, not the destination, that matters?
"I used to be too much of a savage to care about a clean boost or headroom," says Nielson. "'Just give me a distortion pedal already!' But now I'm exploring the intricacies, subtleties, and nuances of guitar."
Ahead of Unknown Mortal Orchestra's headlining performance at Nashville's
Brooklyn Bowl
, Ruban Nielson welcomed
PG
's Chris Kies onstage to explore his current sonic lab. Nielson covers his two space-age guitars (and what inspired them), explains how he convinced Benson to put a Monarch inside a vintage solid-state Yamaha, and details the pedals—including a few of his own designs—that extract a kaleidoscope of moods.
Challenge Accepted: The B3-R
Since forming Unknown Mortal Orchestra in 2009, the instrument that Ruban Nielson has been linked to and inspired by is the Fender Jag-Stang. This short-scale offset was codesigned by Kurt Cobain in the early '90s by simply taking photos of Fender's Mustang and Jaguar, splitting them in half and pasting them together. The Jag-Stang was treated to separate production runs in the late '90s and early 2000s before a wider release in 2021. Nielson's friend gifted him a cherry-red model, shaping Unknown Mortal Orchestra's first decade of music.
In 2015, Nielson told PG about its impact on his playing style and creative outlook: "When I started on the UMO stuff I pulled it out. It would never stay in tune and sounded really strange, but when I plugged it into a Blues Junior, I started to come up with completely different ideas. I tuned it a half-step down and started playing with my fingers. It was just a whole new style that emerged in the space of about two weeks after messing with this guitar. It's a kind of imperfect creature and that's what I like about it."
Fast forward to a few years ago when Ruban met luthier Mike Baranik. Baranik was a longtime fan of UMO and knew of Nielson's allegiance to the Jag-Stang, so he approached Nielson with a proposition: "I can make a guitar that will do everything that the Jag-Stang does better and more." Nielson was intrigued, so the build began. They conversed and collaborated over several phone calls and text chains that culminated in Nielson realizing Baranik was "some kind of genius through his simple innovations that suited the way I think about music and guitar."
The flaws of the Jag-Stang that informed Nielson's playing style became features on the above Baranik B3-R. The biggest thing that Ruban wanted translated from the Jag-Stang to the Baranik was the slinky neck pocket that allowed for him to push the neck for emotive bends à la Bill Frisell.
Nielson explains: "When I tuned the Jag-Stang a half-step down—which I just did because Jimi Hendrix did it, and I thought if I was going to start writing some new music that this was my chance to start messing with that—that loosened the strings up. The neck was a smaller scale so it gave me the ability to do completely different things. I was able to get around the neck a lot easier."
To make that body-neck connection even more expressive and manipulatable, Baranik constructed the trademarked Baraneck floating neck that fastens two springs to the neck joint allowing Nielson to tighten or loosen the neck as wanted. Nielson also routed out wood behind the pickups on his Jag-Stang to reduce the weight and keep it light as possible—just five pounds, nine ounces. The B3-R has a basswood body, koa neck, and ebony fretboard.
Another thing Nielson requested was an approximation of the sound of pickups found in vintage Japanese lawsuit-era instruments, which were often unique, unpotted, and unpredictable. Baranik worked his magic and, via his own alchemy, produced these potted single-coils. Other tag-team easter eggs include a custom Hawaiian print pickguard, an upcycled circuit board control panel, and custom inlays—a row of shark teeth, filled with crushed bone dust—that are a tribute to the family symbol.
All of UMO's material is based on half-step-down tuning both of his electrics take Ernie Ball Super Slinkys (.009-.042). Nielson goes with a Shure Axient wireless pack at both his Sitar and Baranik guitars and to keep things quiet and tidy, his tech Ben Gram inserted an Electro-Harmonix Hum Eliminator and a Radial Dragster Load Correction box.
Psy-tar
Two of the songs on UMO's fall setlist required a sitar. Nielson previously toured and recorded with a Rogue Sitar, but found it to be a nuisance to maintain on the road. He searched for a sturdier stand in and found this electric sitar star: a Jerry Jones model whose voice wholly celebrates Nielson's love for early psych-rock, and matches its chime with rugged dependability.
Nate the Great
Nielson has plugged into all sorts of amps since 2009 when playing under UMO. The longest sidekicks include Fender combos and Orange heads. (When Ruban spoke with PG in 2015, he had a Fender Hot Rod DeVille and an Orange AD 30 head.) He notes in the Rundown that a few years back, he was "getting frustrated with his amp setup and thought he should be like one of those real guitar guys and find a boutique amp company." After auditioning some combos, he landed on a Benson. One half of Ruban's stereo setup is the Benson Nathan Junior that maxes out at 5W, has a single JJ 6V6 power tube, and barks with a 10" Celestion Greenback.
Benson in Yamaha's Clothing
Nielson has his feet firmly planted in both amp camps. He appreciates the beef, brawn, and chime only produced by power tubes, but he's also attracted to the old solid-state amps that offer quirky, charmingly weird tones. Chris Benson's shop happened to be within walking distance of Nielson's home, so after becoming acquainted and friendly, Nielson pitched a project for Benson: Could he turn a '70s solid-state Yamaha TA-20 into a roadworthy tube amp? Benson initially balked at the idea, and Nielson thought his plan was foiled. Three years later, Benson reached out and asked if Nielson still had the Yamaha—he did—so Benson told him to bring it by the shop, and they'd retrofit a Benson circuit into the TA-20. "My weird dream to bring this on tour was finally happening!" says Nielson.
The TA-20 is packed with Benson's Vinny Reverb guts that includes a JJ EL84 power tube, a 12AX7 preamp tube, a 12DW7, and a JJ 6V6 power tube as a voltage regulator that goes from .25W up to a snarky six watts. The overhauled TA-20 does still have the original polystyrene parallelogram speaker. Both amps are always on, and miked up with Shure SM7Bs.
Ruban Nielson's Pedalboard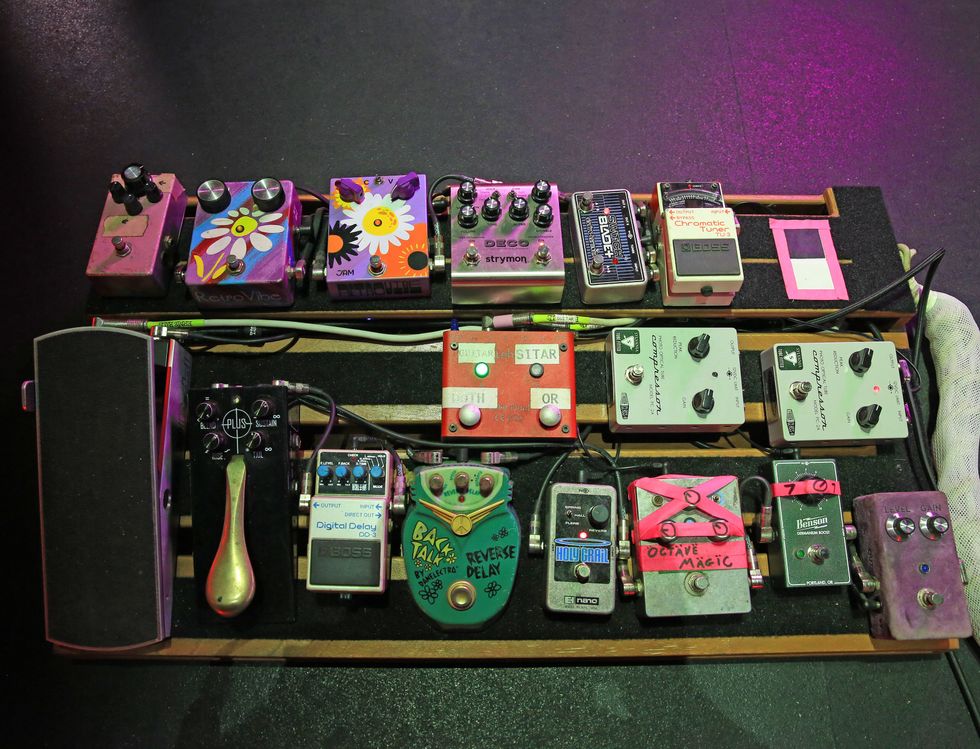 Nielson is a tonal tactician. He's never been satisfied with stock sounds and a pedal's inherent limitations. "If I find a pedal I like, I use it for a long time and then I try to build a clone to see if I can improve on it," he explains. "I sit around in my basement tweaking it plugged in—on the breadboard—and changing out different components and adjusting the trim until I get everything just exactly how I want it." So, looking down at his stomp selection you'll notice a few nondescript devices on the beautiful Twin Peaks Woodworks pedalboard custom-built by both Nielson's tech Ben Gram and Caspian guitarist Jonny Ashburn.
His signal hits an Effectrode PC-2A Tube Compressor (you'll notice two on the board—one is a backup). That's a change from our 2015 interview, when he he was using an Analog Man Bi-CompROSSor and had it at the end of his chain. ("It's nice to have a compressor at the end of everything—especially with a phaser pedal, which has frequency spikes," he said at the time. "It's nice to control them.") He enjoys how the PC-2A up front fattens his entire sound, and how it smooths and shaves off the transient tinges. The Strymon Deco has a stereo out that hits a pair of Jam RetroVibes. Both are set to have slightly different speeds and depths so that they really take that stereo signal for a journey in real time, and Dave at FOH has them panned in the PA to really amplify this effect.
One of Nielson's creations shows up inside the gray box titled "Octave Magic," which is based on the Foxx Tone Machine. The suede purple devil next to it is the Jam Pedals Fuzz Phrase LTD, about which Nielson says, "It's the wooliest, most-musical Fuzz Face I've ever played." Sometimes the answer to Nielson's problems is the Benson Germanium Boost. "If something's wrong," he explains, "I'll kick on that pedal and it makes everything louder and resets the gain structure." The Gamechanger Audio Plus pedal sees a lot of action throughout the set: it helps Nielson seam the tail end of a solo and discreetly rejoin the band in rhythm mode.
The remaining pedals include a Boss DD-3 Digital Delay (a gift from Mike Baranik), a Danelectro Back Talk reverse delay, an Electro-Harmonix Holy Grail reverb, and in the top-left corner, an unnamed pedal that Nielson built that is currently not in the signal. (He can't remember if it's a Rat or Tube Screamer clone.) Utility boxes include a Boss TU-3 Chromatic Tuner, an Electro-Harmonix Switchblade Plus channel selector, and a Lehle Little Dual II switcher.
It's Here! Grab your Mystery Stocking Below.
---
About Mystery Stocking
Each year, Premier Guitar likes to put out these mystery boxes as a part of bringing some fun to the holiday season. Remember, this is supposed to be a fun holiday treat! If the contents of this box will ruin your holiday, deplete the last of your bank account, or end your ability to see the good in humanity, it may not be for you.
This year's Mystery Stocking will cost $44.95. ($39.95 + $5 Flat shipping)
Each box will be guaranteed to contain $40 or more MSRP.
US only. (Sorry World.)
Make sure your shipping address is correct.
Have your credit card ready to go before you refresh the page. Paypal is not available. Autofill may not fill in your information.
There will be NO REFUNDS given.
There has been a huge demand for these in the past. When they are gone, they are gone.
One per household, one per person.
Q: What's in the Mystery Stocking?
A: It wouldn't be much of a surprise if we told you, now would it?

Q: Will I definitely get my money worth?
A: Yep.
Q: Can I return it if I don't like it?
A: Nope. All sales final.
Q: What if I live outside the US?
A: Sorry, US only.
Q. How much is it?
A. $39.95 Plus $5 shipping
Q. When will it ship?
A. On or before December 12, 2023.
Q. What form of payment do you accept?
A. Credit cards only. Sorry, no Paypal for this.
Q. Can I ship to a different location than my billing address?
A. Yes
Q. I tried last year and didn't get one. Will I get one this year?
A. There is an overwhelming demand for Mystery Stocking. Be sure you have a fast internet connection and be ready when they go on sale.
Q. I want to buy 5. How can I buy 5?
A. You can't. This year, we're limiting to one per household, one per person, so more people can get in on the fun!
Thank you to this year's sponsors!