Panic! At the Disco, Idles, the Sword, Torres, and more appear in this gallery of our 14 favorite boards from the last year's worth of Rig Rundowns.
The bad news: Covid put in-person Rig Rundowns on hold till mid 2021. The good news? Zoom episodes were every bit as compelling! Here are our favorite stomp stations from the last year.
Nicole Row
It may not look like a lot, but Panic At the Disco bassist Nicole Row (who's also a prolific session player) says these half-dozen pedals cover all the bases for any gig, session, or audition she might find herself at.

Nicole Row's Pedalboard
For Panic's snarling indie-rock anthems, two of her most-stomped stomps are the Aguilar Fuzzistor and Darkglass Electronics Vintage Microtubes. Meanwhile, she often stacks an EBS OctaBass with other pedals to mimic vintage synth sounds. For silkier, "underwater" sonics, she engages an EBS DPhaser, and for funkier lines she uses an MXR Bass Envelope Filter. Her go-to for sending signal to the house board is a Noble Dual Vacuum Tube Preamp/DI Box.
Rig Rundown: Nicole Row
Kurt Ballou
More often than not, famed metal producer/Converge guitarist/God City Instruments proprietor Kurt Ballou's biggest pedal need is violent distortion—but he's got plenty of other toys, too.

Kurt Ballou's Pedalboard
Going clockwise (from top left), we have a Demedash Effects T-120 Videotape Echo ("one of the coolest analog delay pedals"—when bypassed, holding down the left footswitch engages a momentary freeze/shimmer/oscillator), then a Shift Line A+ Astronaut III Multiverb Space Unit from Russia. The red, single-knob God City Instruments design is a "mid-forward, ultimate thrashy, djenty, clanky, articulate, heavy guitar pedal," while the God City SBD (Super Beatle Distortion) features an active mid boost in front of its fuzz circuit and gonzo bass after it. The GCI OGR (Optical Gain Reduction) is a compressor that Ballou uses on every bass track recorded at God City Studio, while the Foxrox Electronics Octron2 comes in handy for thorny solos bristling with weird overtones and elastic ghost notes. Inspired by the Rangemaster, the GCI Crimson Cock treble booster has an added range control and a switch that adds a Big Muff-style gain stage at the end of the circuit. Lastly, the GCI Ape Eye is based on a vintage API 2520 op amp, and the GCI Jugendstil is a silicon fuzz that Ballou says stands at the crossroads between '90s British shoegaze and '90s Swedish death metal.
Rig Rundown - Kurt Ballou
Bones Owens
Alt-roots rocker Bones Owens' signal first hits a Boss TU-3 tuner, then a Spaceman Saturn V Harmonic Booster, which is always on. After that, the signal zips into a Pete Cornish A/B/C amp splitter, whose A line provides rumbling bass by feeding an Electro-Harmonix Micro POG (used for octave down only), a "tall font" EHX Big Muff (rehoused by Mike Hill), and a Tech 21 SansAmp Bass Driver/DI, which in turn feeds both Owens' Hiwatt DR103 head and a mixing or recording console. Pre-Covid, the splitter's B path featured one effect—an Echopark Echodriver preamp—which then fed Owens' Echopark Vibramatic 4T5A amp, while the splitter's C line would feature the bulk of Owens' effects routed to a third amp.

Bones Owens' Pedalboard
However, at the time of our Rig Rundown only the Hiwatt and Echopark amps were being used—so his C-line stompboxes were also being routed to the Echopark head. These include a plethora of Cornish gear—a TB-83 Extra treble ooster, an NG-3 fuzz, an SS-3 overdrive and P-2 distortion (in the same housing), a CC-1 boost/overdrive, and an NB-3 linear boost. Other noisemakers include a silver Klon Centaur, an Endangered Audio Research AD4096 analog delay, a Skreddy Pedals Skreddy Echo, a JHS-modded Boss TR-2 Tremolo (rehoused by Barry O'Neal at XACT Tone Solutions), and a Toneczar Halophaze.
Rig Rundown - Bones Owens
Ariel Posen
Canadian slide master Ariel Posen toured and did session work with this setup for over a year before Covid shut everything down.
Ariel Posen's Pedalboard
Starting at the top left, there's a Chase Bliss Tonal Recall, a Walrus Audio Monument, and a Chase Bliss Dark World. There's also a Vemuram Jan Ray overdrive, a KingTone Germanium miniFUZZ, a Morningstar Engineering MC6 MIDI Controller, and a TC Electronic PolyTune3 Mini Noir.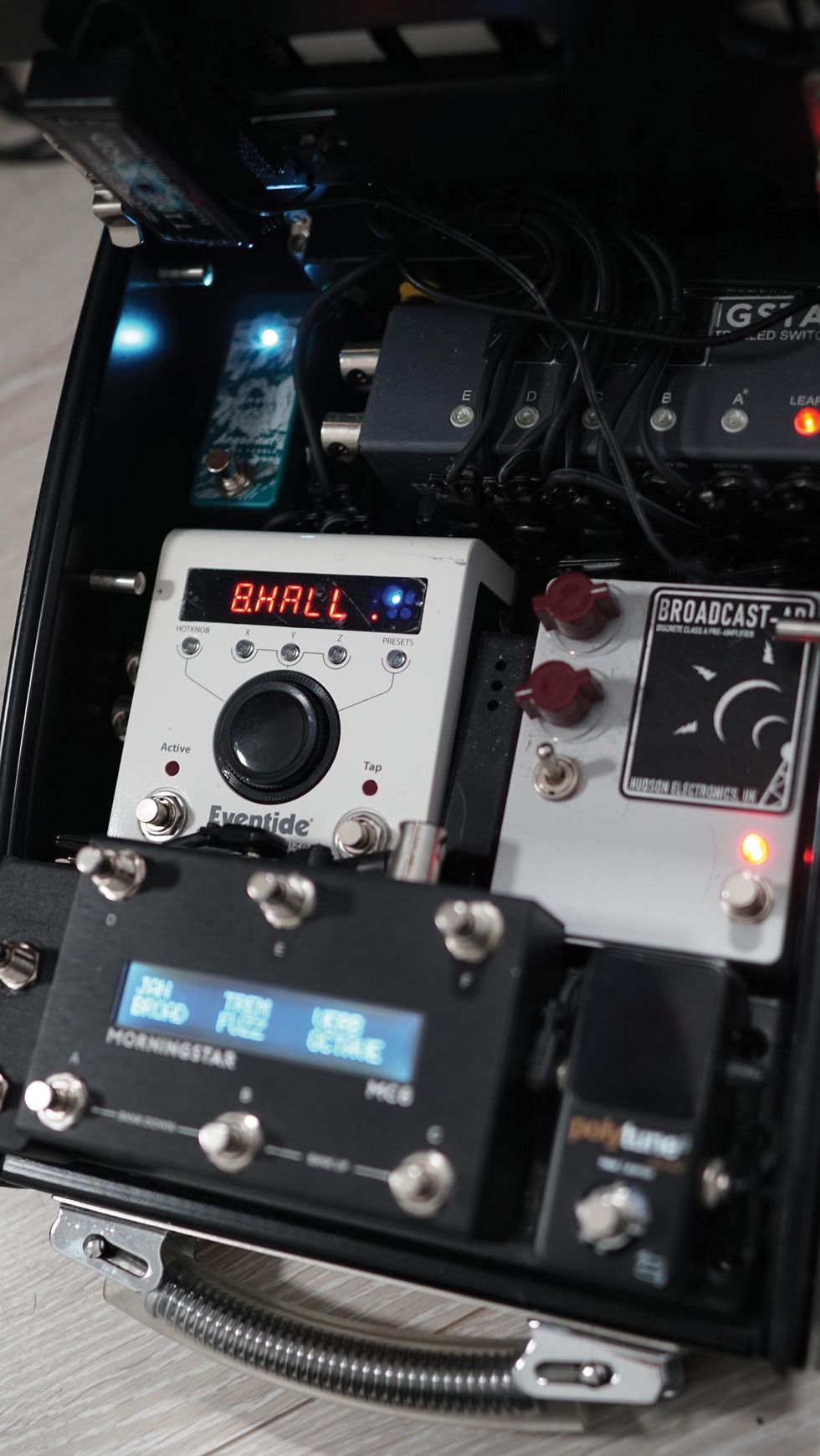 But wait … there's more! The top panel of Posen's board lifts to reveal a trio of stomps—a Mythos Pedals Argonaut Mini Octave (delivering up tones), an Eventide H9, and Posen's signature Hudson Electronics Broadcast-AP, which is always on.
Rig Rundown - Ariel Posen
My Chemical Romance's Frank Iero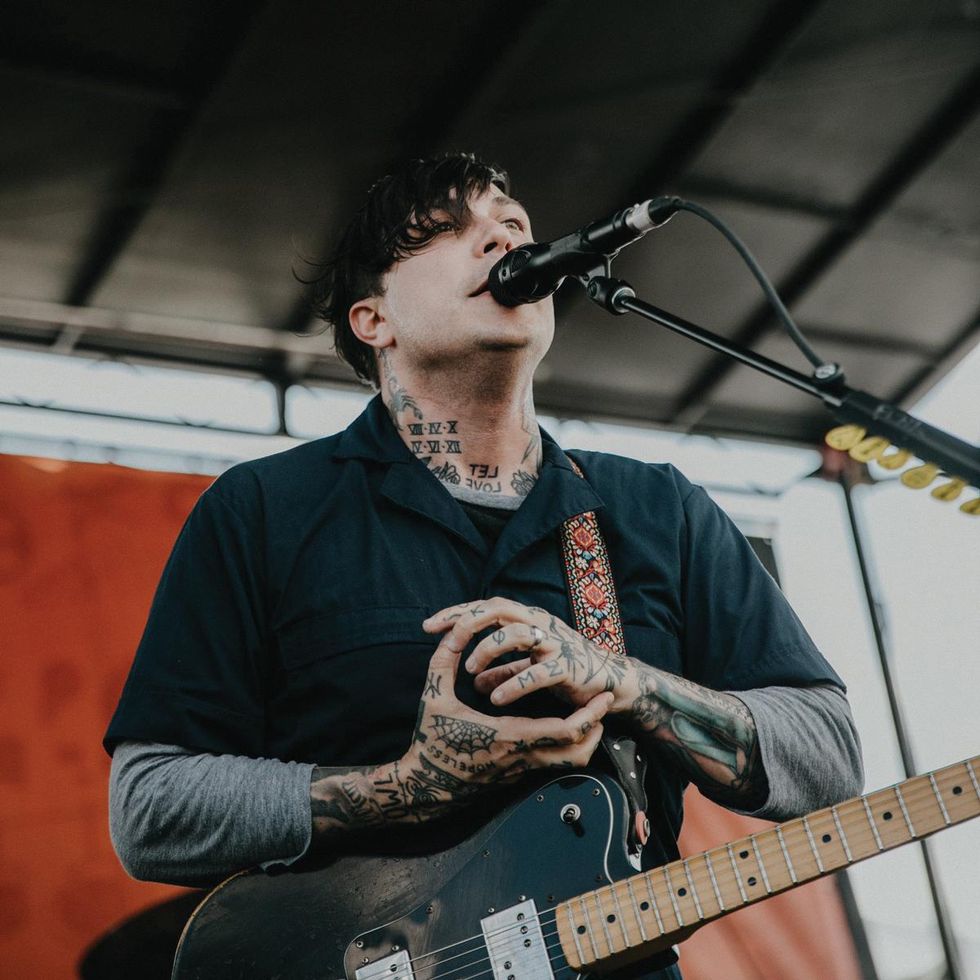 During the pandemic, My Chemical Romance rhythm meister Frank Iero's pedalboard saw a lot of change as tone hunting became a mind-saving pastime. He has some mainstays, but at the time of our Rig Rundown not much was permanent.
Frank Iero's Pedalboards
The board that was the closest thing to gig-ready had a Fender Marine Layer Reverb, a vintage Pearl CH-02 Chorus, an old Boss DM-2 Delay, an Ibanez CF7 Chorus/Flanger, and an Electro-Harmonix Holy Grail (left side). Meanwhile, the right side of the board was home to menace: a Marshall Blues Breaker, an SNK Pedals VHD distortion/preamp, a Keeley-modded Boss BD-2 Blues Driver, and a Klon Centaur. Everything was powered by a Strymon Zuma and controlled by a Carl Martin Octa-Switch MkII. His tuner was a TC Electronic PolyTune 2 Mini, and his volume pedal was an Ernie Ball VPJR.
Here's his mess-around-the-house board (with a fine tribute to EVH) that has a pair of Strymons (BigSky and Volante), an Ibanez DE7 Delay/Echo, gold Klon Centaur, Fuzzlord Effects Drone Master, Bowman Audio Endeavors The Bowman (company ran by Rig Rundown alumnus and Against Me! guitarist James Bowman), and an Ernie Ball VPJR Tuner Pedal.
His recording board is made up of versatile staples including a 4-pack of Strymons (Ola, Flint, El Capistan, and Iridium), Bowman Audio Endeavors Fortune and Glory, and a Templo Devices Model 33 Supa vibrato.
Rig Rundown - My Chemical Romance's Frank Iero
Olivia Jean
In addition to vibey guitar work, Third Man Records artist Olivia Jean dedicates much of her onstage energy and focus to singing—which means keeping pedalboard tap dancing to a minimum. Even so, her streamlined stomp station serves up an enviable variety of tones.

Olivia Jean's Pedalboard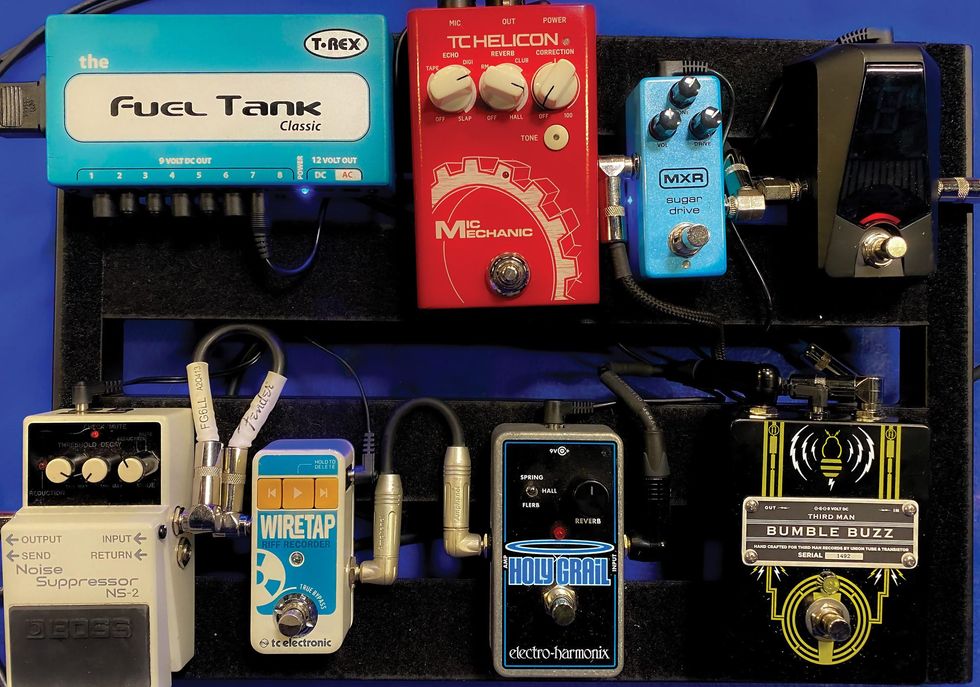 Always-on pedals include her Electro-Harmonix Holy Grail and MXR Sugar Drive, while the Third Man Bumble Fuzz gifted to her by Jack White avails stinging solo sounds (the Boss NS-2 Noise Suppressor is handy for reducing unwanted fuzz buzz). She's also got a TC Helicon Mic Mechanic for vocal reverb, and a TC Electronic Wiretap for recording song ideas. Everything is powered by a T-Rex Fuel Tank Classic, and tuning is monitored with a Korg Pitchblack.
Rig Rundown - Olivia Jean
The Sword's Kyle Shutt
Kyle Shutt's pedal playland keeps it classic.
Kyle Shutt's Pedalboard
His pedal playland just a Dunlop Cry Baby 95Q wah, a signature Idiotbox Effects Wild Kyle distortion, an Electro-Harmonix Micro POG, an EarthQuaker Devices Levitation reverb, and a Boss TU-3 tuner. Nearly every square inch of J.D. Cronise's flight-friendly board is filled with an effect. His guitars hit a TC Electronic PolyTune 3, then a pair of oddballs—a DigiTech Drop and an Electro-Harmonix Freeze—then basics like a Way Huge Conspiracy Theory overdrive, an EarthQuaker Devices Tone Job, MXR Phase 90 and Carbon Copy pedals, an EHX Holy Grail, and a Rocktron HUSH.
The Sword's J.D. Cronise
J.D. maximizes his flight-friendly board by filling nearly every square inch with an effect.
J.D. Cronise's Pedalboard
His guitar hits the TC Electronic PolyTune 3 before reaching a pair of necessary oddballs—the aforementioned DigiTech Drop and an Electro-Harmonix Freeze. The bottom row contains the basic food groups for most rockers: Way Huge Conspiracy Theory (drive), EarthQuaker Devices Tone Job (EQ), MXR Phase 90 (modulation), MXR Carbon Copy (delay), and EHX Holy Grail (reverb). The Rocktron HUSH pedal helps control any unwanted noises and buzzing.
Rig Rundown: The Sword [2021]
Steve Earle
Folk-rock activist Steve Earle's guitar signal first hits a Boss TU-3 tuner before running into a pair of MXR Carbon Copy analog delays (one set as a 1-second delay for a pre-song rippling effect, and one for slapback) and a Fulltone Full-Drive 2 with two levels of gain. A Voodoo Lab Pedal Power 2 supplies the juice.

Steve Earle's Pedalboard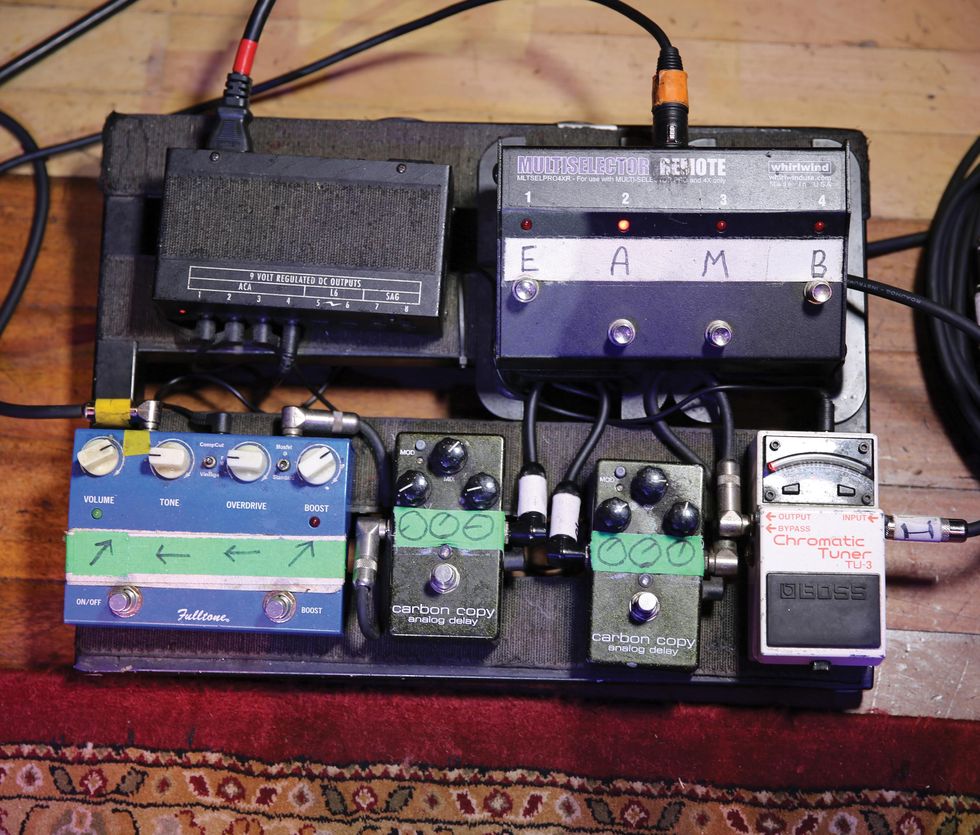 Chris Masterson
Chris Masterson's Pedalboard
The first stop on sideman Chris Masterson's pedalboard is an Analog Man Sun Lion. From there the signal hits a Boss TU-3w Waza Craft tuner, an Origin Effects Cali76 compressor, an Analog Man King of Tone, and two Strymons—a Mobius and a TimeLine. A Strymon Zuma supplies power, while a Radial BigShot SW2 controls amp reverb and tremolo.
Rig Rundown: Steve Earle and the Dukes
Torres's Mackenzie Scott
Little on Mackenzie Scott's pedalboard could be described as subtle or "transparent"—even her delays and reverbs accentuate the weird.
Mackenzie Scott's Pedalboard
Filth and fury come courtesy of a Joyo Vintage Overdrive and an EarthQuaker Devices Palisades. Next is a Death By Audio Echo Dream 2 modulation/delay/boost/fuzz, which Scott says is her most-used pedal. An EarthQuaker Afterneath provides deep, ambient reverbs, which she often beefs up with faux-synth vibes from an Electro-Harmonix POG2. (Another favorite application for the POG2 is pulling its attack all the way down and dramatically gliding into the notes.) Scott uses an Empress Vintage Modified Superdelay to sprinkle in modulation, reverse delay, and compression, as well as tape-echo-like grit. The last pedal on her board is a Meris Enzo, which she half-jokingly says is equal parts inspiring and frustrating. "I have a hard time getting it under control and taming the beast, but that's what I love about it."

Rig Rundown: Torres
Mackenzie Scott (aka Torres) likes a good juxtaposition. Her music is a tightrope act between vulnerability and violence. Scott's lyrics often reflect intros...
IDLES' Mark Bowen
To accomplish all the fantastic and outrageous tones captured on Idles' last two records, Bowen brings a whole cast of characters to accomplish that feat.
Mark Bowen's Pedalboards
Mark Bowen's main board features two Death By Audio units—a Reverberation Machine and an Echo Dream 2—an Adventure Audio Dream Reaper, a pair of Moogs—an MF Delay and an MF Ring—a Death By Audio Waveformer Destroyer, an Electro-Harmonix POG2, a 4ms Pedals Mini Swash Full (which serves up fuzz, distortion, and self-oscillating LFO craziness), two Red Pandas—a Particle and a Raster—and a JHS Haunting Mids. A Boss TU-3w Waza Craft tuner keeps his guitars in check and a GigRig G3 controls preset changes.
Near his amps, Bowen has another batch of tone morphers. Up top he's got a 4-pack of Moog Moogerfooger monsters—MF-107 FreqBox, MF-102 Ring Modulator, MF-108M Cluster Flux, and a CP-251 Control Processor—and another no-name glitch/synth device. Below those we have an Electro-Harmonix 95000 Stereo Looper, a Strymon TimeLine, an Electro-Harmonix POG2, and an Old Blood Noise Endeavors Minim (reverb/delay and reverse). Lastly, he has a Nord Electro 6D at his disposal. Everything is powered by GigRig Timelord power supplies, while two Strymon Iridiums handle cab emulations.
The last part of Bowen's setup is this board under his keyboard/Moogerfooger workstation. Here, he has another GigRig G3 switcher, another Electro-Harmonix 95000 Stereo Looper, a GigRig Three2One (to help balance levels between instruments), and three Mission Engineering EP-1 expression pedals (controlling some of the effects in the previous photo).
IDLES' Lee Kiernan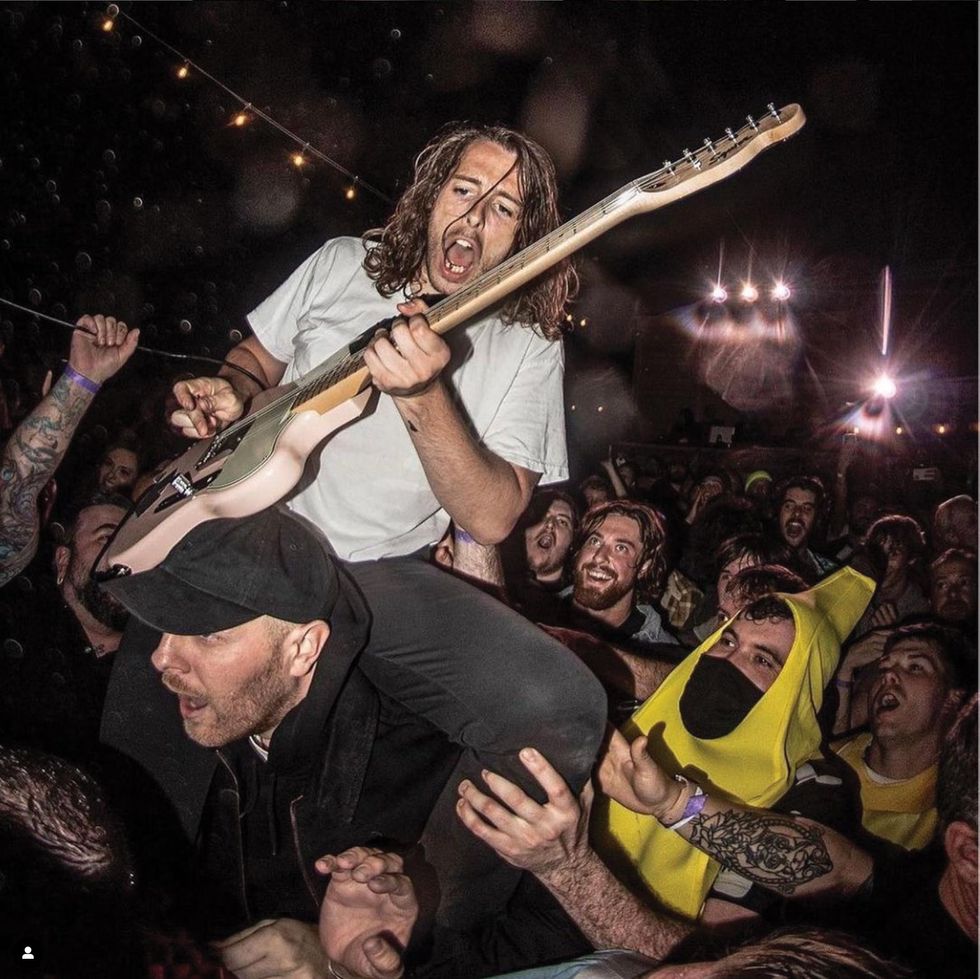 The time spent mentioning everything Kiernan does with these pedals is better served watching the Rundown, listening to Idles' music, or attending one of their shows. But in doing our due diligence, here are the stomps that corrupt, challenge, and ravage his tone.
Lee Kiernan Pedalboard
Lee Kiernan relies on (upper right) a Strymon Flint, a couple of Drolo Fx stomps—a Twin Peaks tremolo and a Stamme[n] looper/glitch delay/tape machine/sustainer/reverb—and a pair of Death By Audio devices—a Micro Dream delay and a Space Bender prototype. The bottom row of this board is also home to a DigiTech Whammy, an Electro-Harmonix Synth9, an Intensive Care Audio Vena Cava Filter, a Moog MF Ring, and a Boss TU-3 tuner. A GigRig ABY-Baby (top right) is used for amp switching. (The small black box labeled "in/out" was built by tech Gavin Maxwell so Kiernan could quickly test out a pedal without having to rip his setup apart.) The board on the left begins (lower middle of pic) with a Mission Engineering EP-1 expression pedal, a Boss PS-6 Harmonist, an EarthQuaker Devices Data Corrupter, a Death By Audio Interstellar Overdriver Deluxe, and a Death By Audio Evil Filter. The top row of this board features a quartet of EarthQuaker stomps: an Organizer polyphonic organ emulator, an Arrows preamp, a Gray Channel overdrive, and a Tone Job EQ/boost—then proceeds to a Moog MF Chorus, a Death By Audio Reverberation Machine, and a Jam Pedals TubeDreamer.
10 pedalboard options that'll help you protect your loved ones and keep things tidy at your feet.
So you have a killer pedal collection, but lack organizational skills. Or maybe you're new to the wonderful world of effects and need a blank slate on which to start. Regardless, a dependable and efficient pedalboard is a must for any tone shaper, and we've rounded up a collection of options to help you get started in finding what's right for you.
These aluminum pedalboards with a modified rail design are built with players in mind who use true-bypass switchers or want an extra rail to better accommodate a wide range of configurations. The heavy-duty tour case will help keep your pedals safe on the road. Inspired by skateboard decks and the desire to ditch Velcro, these pedalboards are constructed of 12-ply Baltic birch, hold six to 10 pedals and a power supply with ease, and use zip-ties to securely latch down stompboxes. The two-tiered design of this strong and lightweight aluminum pedalboard provides easy access for up to 20 effects devices, and the unique porting, power-supply bracket, and included Velcro allows for a clean, sturdy set up. The 'board comes with a padded gig bag. Constructed of durable molded plastic, this pedalboard includes a built-in AC adapter that can power up to seven pedals. It's lightweight for easy transport and there is ample room for customized setups. These hand-assembled pedalboards feature 1/2" Eastern plywood construction that's wrapped with a durable polyweave skin. The Gigman offers dense-foam interior padding and is finished with high-quality catches, hinges, and corner strengtheners. This rigid arched-shape polyethylene pedalboard has a pair of larger surface areas for wah- and volume-type pedals and can accommodate up to 10 stompboxes. A 9V daisy chain power supply and a heavy-duty lightweight carry case are included. This budget-friendly pedalboard with included gig bag boasts room for 10 standard-size effects, is angled for comfortable foot access, has cutouts for power distribution and cable management, and also includes hook-and-loop strips for custom organization. The patented modular design of this 'board allows players to stair-step their effects between two levels or raise the panels on the first tier to accommodate larger pedals. Dual input jacks, two output jacks, and a dual inlet/outlet AC socket are mounted externally. This no-nonsense pedalboard features a rugged textured-vinyl exterior atop a wood frame, heavy-duty metal latches and corners, back- and bottom-side feet, soft interior padding, and a thickly padded carry handle. This handcrafted zebra-wood 'board is constructed using dovetail joinery and is decked out with such options as a recessed IEC power-in socket with on/off switch, a quartet of 1/4" Switchcraft plugs, and a multi-slot "Plus" top. Other pedalboards start at $95.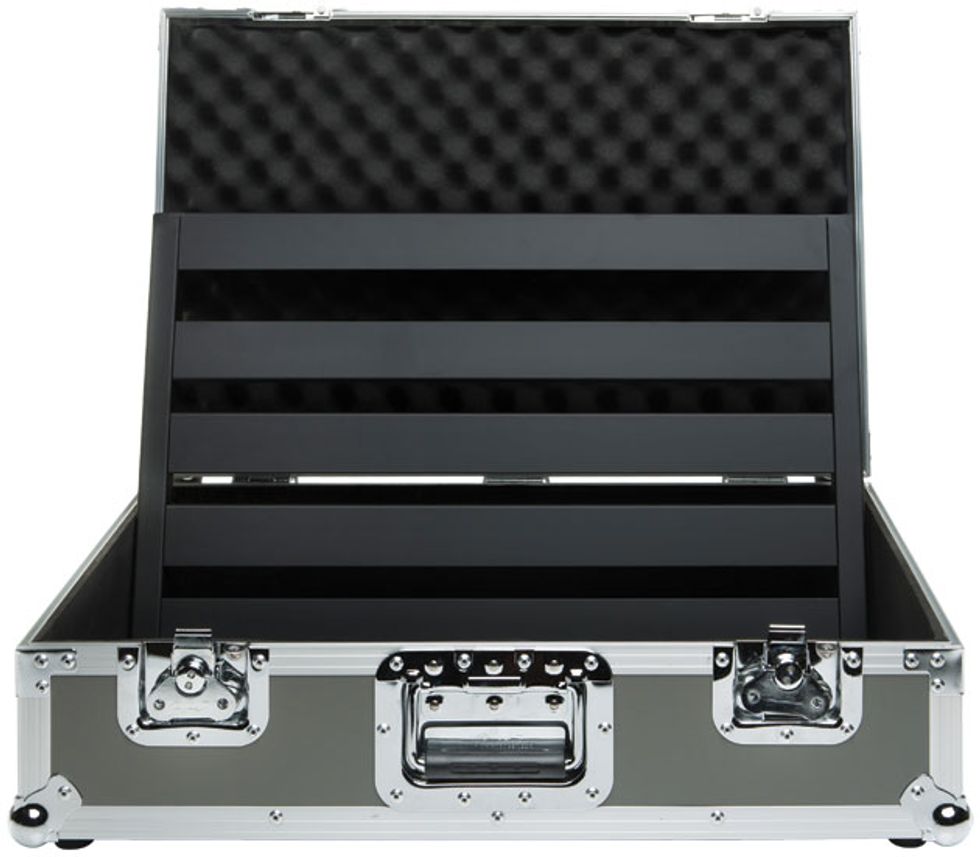 PEDALTRAIN
HOLEYBOARD
T-REX ENGINEERING
DIAGO
GATOR CASES
PEDAL PAD
PROTEC
CREATION MUSIC COMPANY
We see how far Way Huge, J. Rockett, Visual Sound, T-Rex, Sonic Fusion, and Svi Sound can push classic designs without losing their glorious, low-gain goodness.
To some players, overdrive is the most essential effect of all—a low-to-mid gain kick in the pants that can add pep to leads, juice up your jangle, and add that just-right dose of grit and crunch to power chords. Given their intrinsic utility, it's little surprise that there area lot of overdrives out there. So when it came to compile a sampler of new overdrives shouldering their way into the marketplace, we decided to explore the relative diversity of the overdrive ecosystem, rather than focus on a single type.
While such classics as the Ibanez TS series and the Klon Centaur remain benchmarks, milestones, and inspiration for many builders (the Archer in our roundup is a spot-on Klon klone), it's fascinating to see the ways designers have manipulated those circuits to deliver fresh sounding and sometimes more dynamic evolutions of those ancestral forms.
The pedals profiled here are a varied bunch. But whether you're looking for a range of clean boost and distortion timbres, or a specific gain and EQ profile that will make your guitar and amp sound their sweetest, at least one of these pedals can take you there. —Charles Saufley
Click through to read each review or pick the pedal you want to learn more about below:
Visual Sound Route 66 V3
Way Huge Saucy Box
T-Rex Diva
J. Rockett Audio Archer
SviSound OverZoid od01
Sonic Fusion Overdrive
Most two-in-one pedals combine overdrive/distortion with a boost stage, but the latest Route 66 from Visual Sound (who are in the process of changing their name to Truetone) goes further. Now in its third version, the pedal has become a feature-packed, two-headed monster that seems focused on squeezing as many tones as possible from a single box.
Ratings
Pros:
Flexible routing options. Switchable internal buffers. Great value.
Cons:
Treble control could be more effective.
Tones:


Ease of Use:


Build:


Value:



Street:
$179

Visual Sound Route 66
truetone.com
The Route 66 pairs a potent overdrive with a great-sounding compressor. The addition of separate inputs and outputs for each effect makes the Route 66 a true two-in-one. The ability to single out each effect and place other effects between them may be invaluable for players using programmable effect loopers.
The original Route 66 overdrive had Tube Screamer-esque roots (it used the 4558 op amp). But the latest version boasts a redesigned circuit based on the Drivetrain II that Visual Sound designed for Reverend. In addition to standard drive, treble, and volume controls, two mini knobs control clean mix and bass. Add in an A/B switch for different voicings, and you start to grasp how much tonal ground the Route 66 covers. (The A setting provides throaty midrange presence, while B is a bit more scooped.)
Honestly, it was difficult finding unusable dirt flavors with the Route 66. The single-coils in my MIM Strat acquired humbucker-style growl with added bass and gain. I transitioned easily from the dry, Texas punch of "Tush" to slightly compressed Larry Carlton-style tones that would suit a Steely Dan cover band. The only thing I took issue with was the sweep of the treble control. I found the overall range a bit subtle and thought it could use a more dynamic top end.
The Route 66 isn't a completely transparent compressor—think of an old Ross or MXR Dyna Comp—but it can achieve subtlety via its mix knob. The compressor circuit didn't get as drastic an overhaul as the overdrive, though it's acquired a mix control and a switchable noise gate. At stage volume the Route 66 was comfortably quiet. It made my Deluxe's clean tone blossom with beautifully warm high end. The magic of the original Route 66 was how well the two effects worked together, and this reboot somehow improves on that.
The Verdict Visual Sound has packed two greats stomps into one box. The compressor can move from country-spank squish to singing sustain, while the overdrive can satisfy both Screamer addicts and classic-rock mavens. At roughly $90 per effect, the Route 66 is a contender for the bang-for-buck championship belt.—Jason Shadrick
Watch the Review Demo:

Overdrives are old hat for Way Huge. The super-simple Red Llama and the hyper-tunable Pork Loin are both considered modern classics in some camps. And the new Jeorge Tripps-designed Saucy Box, in some ways, seems designed to inhabit a world between those two pedals. It's simple, but can also move with grace and menace between near-clean boost tones and the upper reaches of the medium gain spectrum.
Split Personality
Like the Pork Loin and a lot of other overdrives, the Saucy Box's overdrive tone is the product of output from discreet clean and overdriven signals. But where boxes like the Pork Loin enable adjustment of the wet/dry mix, in the Saucy Box the ratio is fixed. This means slightly less flexibility for compulsive micro-tweakers. For everyone else it means a nicely balanced and relatively transparent fundamental voice that you can dirty up with a single knob.
Ratings
Pros:
Happily ranges from clean to filthy.
Cons:
High-end can be hard to tame with bright amps.
Tones:


Ease of Use:


Build:


Value:



Street:
$129
Way Huge Saucy Box
jimdunlop.com
Classy, Trashy, and Little Thrashy
The Saucy's circuit works a lot like that of the Klon, and like that pedal, it will excite harmonics and add heat at low gain levels without coloring your guitar's voice excessively. These near-clean, low-gain levels are among the Saucy's sweet spots, and here it'll do a beautiful job of thickening flimsy-sounding single-coils or putting extra mass behind a low-output amplifier—killer stuff for muscular but jangly power pop.
Even at low-gain settings, the tone control can come at you pretty hot. Using a blackface Fender Tremolux (outfitted with pretty bright 75-watt Eminence Red Coats), I found myself rolling the Saucy's tone back to the lower third of its range, though I could add a little extra top end with humbuckers.
Nudging all the controls toward noon is a ticket to beautifully raunchy chords and slightly sizzling lead tones (the neck pickup on my Stratocaster loved this setting.) But some of the greatest revelations are what happens at the highest drive settings—especially when you crank the volume and tone along with it. Here the pedal isn't just hot and responsive to pick attack and dynamics, but brash and fiendishly skanky—a perfect recipe for fast and thrashy Black Flag riffage, but also ideal for Clapton's Cream '67 timbres when you back the guitar tone down to nil. At these extremes the Saucy Box has a near fuzz-like aggressiveness with less compression and sizzle and a much more dynamic touch. It's fantastic for stacking a really searing lead tone on top of a wide-open amp, and stays sweet when you back off the guitar volume just a touch.
The Verdict

The Saucy Box may be simple, but it speaks in voices from subdued and singing to rambunctious. If you don't often have to switch quickly between radically different gain levels or require over-the-top fuzz or distortion textures, the Saucy box could end up covering most of your gain needs.—Charles Saufley
Watch the Review Demo:

Unless you've been off-planet for a while, you'll know Tube Screamer derivatives are popular stuff. T-Rex's Diva, though, is a Screamer with enough twists to make you forget it's TS-inspired. It's dynamic, multi-voiced, and twitchingly alive, and one of the more satisfying TS-style stomps we've played in a while.
Screaming Heart
The Diva's guts are built around the 4558 op-amp that drives most TS-style designs. It sits prominently on the PC board, though the board itself could be a bit tidier. I saw several traces of errantly applied solder sealer—not what you expect from an overdrive pedal just under 200 bucks. In general, though the Diva feels sturdy and sound.
Ratings
Pros:
Harmonically rich and dynamic. Adds heft to tone without clutter.
Cons:
Build could be tidier on a pedal this expensive.
Tones:


Playability/Ease of Use:


Build/Design:


Value:


Street:
$199
T-Rex Diva
t-rex-effects.com
The control set differs from a simple TS circuit in two important respects: There's a voicing switch incorporating low- and mid-boost settings, and there's a mix control that blends clean and overdriven signals. Together, they considerably expand the Diva's tone potential.
Brighter Boost
The Diva doesn't add much color at low-gain settings, but you do hear a deliciously rich, almost silky growl. Leaving the mix knob at 50/50 gave my blackface Tremolux heft, presence, and a hot harmonic glow in EQ regions that sometimes sound scooped and lifeless. The Diva is addictive in these near-clean boost applications—a sort of musical roux that thickens and unites disparate sonic flavors. The complex, biting qualities of the Diva at low-gain settings also make it a natural partner for fuzz. Put in on either side of a squishy, scooped fuzz like a Big Muff or Shin-Ei FY2, it adds definition, punch, presence, and pick sensitivity that is transformative.
The Diva is just as thrilling at higher gain settings. With the gain at noon (and enhanced with liberally applied doses of volume boost), the Diva makes a guitar feel alive and explosive under the fingers. TS-style circuits can feel less dynamic, but the compression from the Diva tends to sound and feel just right. Note-to-note definition and picking response is excellent—particularly when you dial in the very effective tone knob just right. It's a very rangy control, and at high levels it can even be a little too hot and sizzly for bright Fender amps or Marshalls.
The voicing switch adds even more flexibility. The fat switch was a perfect match for my Fender-based tone equation. And the extra mass it lent to single-coils mated to a Marshall made the amp feel wrecking-ball dangerous. The mid-boost voice could get spiky, but it sounded fantastic with squishy tweed-style circuits.
The Verdict
At it's best, the Diva is a sort of sonic secret sauce and a splash of Tabasco all in one—adding sass, spice, and a delicious harmonic fattiness to dull tones.—Charles Saufley
Watch the Review Demo:

The Archer overdrive from J. Rockett Audio Designs isn't exactly subtle about the fact that it's a Klon Centaur clone—witness the distinctive oxblood-colored pointer knobs, weapon-wielding mascot, and identical controls. But the Archer is one-third the size of an original, and at $179, far cheaper.
Ratings
Pros:
Dead-accurate Klon clone. Hefty construction.
Cons:
For better or worse, it's a clone.
Tones:


Ease of Use:


Build:


Value:


Street:
$179
J. Rockett Audio Designs Archer
rockettpedals.com
Klon Theory
Hype aside, Bill Finnegan's Centaur truly was a big deal when it debuted in the '90s. To many ears—mine included—it offered a vast sonic upgrade over Screamer-style overdrives, with greater headroom and sparkle and a more practical tone circuit. Thanks to a clever double-ganged gain control, it provided fiery overdrive in the knob's upper range, but a pristine clean boost at minimum settings. It was also beautifully made, with a memorable color scheme and a cool, custom-cast enclosure. It was a godsend for players who found previous IC-based overdrives such as the Screamer too compressed and midrange-bloated.
Original Klons are now valued in the two-grand range, so the pedal market has been awash in "Klones," some of which sound great. But of the half-dozen I've tried, the Archer is easily the most accurate. I auditioned it side by side with original Klon #309, which I've used on and off for nearly two decades. How close are they? Ridiculously so. The pot tapers vary slightly between the two pedals, so the knobs must be set slightly differently to create matching sounds, but there were no Klon tones I couldn't duplicate with the Archer. Could I pass a blind listening test? Absolutely not.
It's a well-built pedal, too. The pots, jacks, and footswitch are board-mounted, but the circuit board's secure mounting within the hefty folded-steel enclosure makes it difficult to imagine board damage via conventional use. The board includes many small, surface-mount components, unlike the hand-wired original, suggesting that, at least in this circuit, size doesn't matter. And while the original relies on a 1/8" power jack, the Archer employs a common barrel-type connector.
The Verdict
There are cheaper alternatives, notably the EHX Soul Food, which sells for well under half the price of the Archer (and sounds darn good). But the Archer is the more accurate Klone, and it boasts heftier construction. It's been many years since the Klon and its clones were the only ways to obtain "improved Screamer" overdrive sounds, but the circuit still sounds superb—and you may never encounter a more accurate replica.—Joe Gore
Watch the Review Demo:

The explosive growth of the stompbox business doesn't always translate into originality—especially where overdrive is concerned. However, the Overdrive oz01, from the workshop of Bulgarian manufacturer SviSound, is unique both in terms of looks and its killer combination of transparent and driven tones.
Ratings
Pros:
Transparent, hi-fi overdrive sounds in a unique enclosure. Small footprint. Affordable.
Cons:
Handmade enclosure shows a few quality control issues. Cannot use a battery.
Tones:


Ease of Use:


Build:


Value:


Street:
$165
SviSound Overdrive OverZoid oz01
svisound.com
Svi-Fi
It's easy to see the care that went into the oz01. The pedal's artfully designed enclosure bristles with playful details and tactile delights. The LED that peeks out from behind copper staples, the gold knobs, and the labeling all communicate a Jules Verne sci-fi aesthetic. And the thoughtful design touches make the pedal feel a little more custom and upmarket. The only real potential design drawback is the lateral orientation of the pedal's controls along the box's length, which may fit some pedalboards less well.
Sonic Thermal Detonator
OverZoid oz01 is a powerful overdrive. At super-low gain levels, it adds a very natural-sounding bite. Even higher gain levels don't add too much extra color to your amp output. In fact, the OverZoid tends to have a very high-fidelity feel, and at times seems to work like a magnifying glass for your guitar-and-amp tone.
The OverZoid has an individual voice too. Unlike a lot of classic overdrives that boost midrange without much finesse, it provides a very musical low end that adds drive and beefs things up without making them sound flabby. These low-end capabilities are enhanced with a bass boost switch—which lends extra heaviness when single coils or a bright amplifier are in the mix. It's hard not to be struck by how dynamic the pedal feels in the bass-heavy application. Part of that is the very effective tone knob, which works exceptionally well with the bass boost. You can dial in a lot of presence and sparkle without creating a traffic jam of mids and lows. And the way the two controls seem to work interactively and independently of each other is one of the OverZoid's real strengths.
The Verdict
Relatively transparent, hi-fi overdrives are a joy to work with—especially when they have the range to add a unique color or two on top of it. Given all that sonic range and style, the OverZoid oz01 a true standout.—David Von Bader
Watch the Review Demo:

Few guitarists have hands-on experience with über-rare Dumble amplifiers. That said, there are certain sonic characteristics—smooth saturation and compression especially—that we associate with Dumbles. The Sonic Fusion Overdrive does these things, and a number of other useful sounds, very well.
Ratings
Pros:
Strong Dumble-inspired sounds. Extremely versatile tone controls.
Cons:
None.
Tones:


Ease of Use:


Build:


Value:


Street:
$149
Sonic Fusion Pedals Sonic Fusion Overdrive
sonicfusionpedals.com
Smooth Operator
The Sonic Fusion does its Dumble trick best when mated to a high-headroom amp that's just at the edge of breakup. There, the pedal applies a metallic edge to the pick attack that makes linear runs more articulate and gives chords extra punch. It feels very amp-like too, with plenty of harmonic complexity and body.
There's enough gain in the tank to effectively blur the line between overdrive and full-fledged distortion, which makes the Sonic Fusion feel exceptionally dynamic. Response to changes in picking attack and adjustments to the guitar's volume control are all very amp-like as well.
The tone knob offers a lot of sonic range that goes from muffled and fuzzy to an exaggerated bright sizzle. The pedal's contour knob is a powerful control that transforms higher-gain sounds from tight and compressed to glassy and open, and helps add or subtract some of the Dumble-esque smoothness as needed. There's also a bass boost that calls up additional bottom-end thump and roundness without being overbearing or drastically changing the pedal's fundamental voice. These three controls give the Sonic Fusion Overdrive uncommon tone-sculpting power.
The Sonic Fusion Overdrive has more tricks under the hood. Inserted between a Gibson Les Paul Junior and a Matamp GT40 driving a 4x12 cab, the pedal delivered Marshall-flavored tones reminiscent of a cranked JMP with less upper midrange honk and a bit less bite. It also energized lead tones with top-end sparkle and extra sustain. And while you'll sometimes hear a low-mid bump in these settings, the pedal doesn't rob your guitar and amp of their respective personalities.
The Verdict
The Sonic Fusion Overdrive delivers on promises of Dumble-style tones, but it brings much more to the table—especially when you consider the delicious medium-gain Brit-flavored sounds. Refined and functional, it could be a go-to overdrive for anyone looking beyond the typical overdrive tones. It's well built, and at $149 bucks, it punches well above its price class.—David Von Bader
Watch the Review Demo: