In the early days of electric bass, it seems ideas were just floating in the air. Here's what one Japanese manufacturer came up with.
This month, I was asked to write about a bass guitar, which I think has only happened two or three times since I've been writing for this wonderful magazine. And since I'm the Wizard of Odd, I thought I'd pick an instrument that is probably one of the oddest around. So, we are going to look at the elusive and entertaining Teisco TB-64 6-string bass.
The history of 6-string basses begins in the mid '50s with the Danelectro UB-2, followed by the truly awesome Danelectro Longhorn 6-string bass model. The initial idea for these instruments was to find a middle ground between electric guitar and bass. Almost immediately, these guitars found their way into the hands of players and ended up on many recordings, where they were often heard accenting a deep upright bass or providing a percussive "tic-tac" bass sound.
In 1961, Fender came out with its own version of the 6-string bass, called the Fender VI (or more commonly, the Bass VI). It was pricey and featured all the newest Fender innovations, including an offset body and a tremolo. This was a cool model that made its way into a bunch of studios and was most recently seen in the hands of John Lennon and George Harrison in Get Back.
Of course, across the Pacific, Teisco was crafting its own version of the 6-string bass, called the TB-64 (Teisco Bass from 1964). This guitar was similar to the Fender version, but, of course, is a little more extreme in all the right places. With its big, clown-nose headstock and the hole in the body, the TB-64 quickly became one of my obsessions. These are so hard to find in North America, although the same model was sold under a few different brand names, including Zim-Gar and Beltone. In fact, I don't think I've ever seen this model in any English-language catalogs!
"From the big, clown-nose headstock to the hole in the body, the TB-64 became one of my obsessions."
From my research, the TB-64 was first seen in Japanese trade magazines in June 1964. It was included in the 1964 Teisco catalog (Japanese language) and then it was gone in a poof. I know Teisco was making this model until mid to late 1965 (the striped-chrome pickguard era). Then it disappeared, which coincided with the sale of Teisco to the Kawai Company.
So, Teisco's 6-string bass was very short-lived and is extremely rare today. It's a shame, because these are perfect for bass newbies, and they just add an awesome new palette to your sound. With the tremolo, which works really smoothly, you can get a variety of spacey sounds. I play mine through regular guitar amps and these guitars love fuzz.
All versions of the TB-64 had the same basic components and features, except the pickups, which were rounded battleship gray on the earliest models. My version has the more commonly seen square-pole-piece units. Similar to the Fender VI, the TB-64 has an on/off rocker switch for each pickup. There's also a mini-switch that toggles between a deeper bass tone and a brighter, guitar-like tone. There's one volume knob and one tone knob, but the tone knob works backwards, acting as a bass cut. I'm not sure if they were all wired this way or not, but it all works well and gives the TB-64 a wide range of tones. The neck is fat and chunky, but still manageable. To me, it feels like I'm playing a long guitar. That's 30" of scale length right there!
Some folks say these are baritones, and I suppose they can be with the right setup and strings. With my TB, I simply use Bass VI strings and tune E to E, one octave below a regular guitar. I know, I know…. You can argue all sorts of semantics and setups and string selection, but you can take that down the street! Why? Because during my last trip to Japan, I bought this here guitar, in its lovely green glory, from a fellow collector and historian. He bought it from the original owner, named Takayoki Ito (he engraved his name on the lower black control plate!). And guess what—Ito-san played the guitar the same way with the same setup.
Teisco TB-64 6-String Bass Demo
But as the Wizard of Odd shows, this early made-in-Japan Teisco J5 "guiter" speaks the right language.
The early days of solidbody electric guitars are truly fascinating. It was a time when guitar makers were kind of figuring it all out, and, in turn, there were some wonderful ideas, tragic designs, and true oddballs that combined all the elements of what people thought an electric guitar should look like. This month, I'd like to talk about one of the earliest solidbody guitars to come out of Japan, which was produced by one of the first Japanese electric guitar companies: Teisco!
First off, you have to soak in a bit of Japanese history. During World War II, the country had really clamped down on Western influences, and all Western music was banned during wartime. Before the war, however, there was a thriving music scene that embraced Western music. And after the war, country and Hawaiian music roared back into vogue. Adding to this sudden musical growth were American soldiers stationed throughout Japan after the war. There became a need for electric instruments, and Teisco was among the first to fill the orders.
They made their own pickups, cut their own bodies, stamped their own logos, and even made their own guitar strings from piano wire.
In the early '40s, solidbody electrics were pretty much in their infancy. You had the Rickenbacker "Frying Pan" (an early lap-steel guitar), Les Paul's "Log," and Leo Fender's Broadcaster/Esquire design. These were all early takes on what should make an electric guitar, well, an electric guitar! Looking at the scene in Japan, there was a huge Hawaiian-guitar influence and lap steels were very popular among players. Teisco first began producing electric lap-steels in the late '40s, but it wasn't until a few years later that the J5 (Photo 1) was created.
Similar to many other solidbodies, the J5 is reminiscent of a lap steel that could be played upright, or more like what we think of today as a traditional, electric solidbody guitar. (The rounded peghead, set neck, and flat body certainly borrowed from lap steels of the day.) Around this same time, guitars with similar designs were popping up in the U.S., like the Valco-made National 1124, the Harmony H44, and the Kay K125. In Japan, however, the folks at Teisco were making literally every part of the guitars by scratch. They made their own pickups, cut their own bodies, stamped their own logos, and even made their own guitar strings from piano wire. When I visited Japan decades later, I was fortunate enough to meet and interview a couple of the original Teisco employees, Doryu Matsuda and Yukichi Iwase, and these fellas are still alive as of this writing.

Photo 2
The J5 has a few interesting and quaint design features that I find adorable in my weird sort of way. For one, the pickups are both labeled "Guitar Mike" (Photo 2), rather than "mic," as most guitar pickups of the day were called. And check out the tag on the back of the headstock (Photo 3), where it says "Teisco Electric Guiter." These little errors point to the early days of guitar building, and acquiring the language of the country that would soon become the biggest importer of electric guitars—the United States.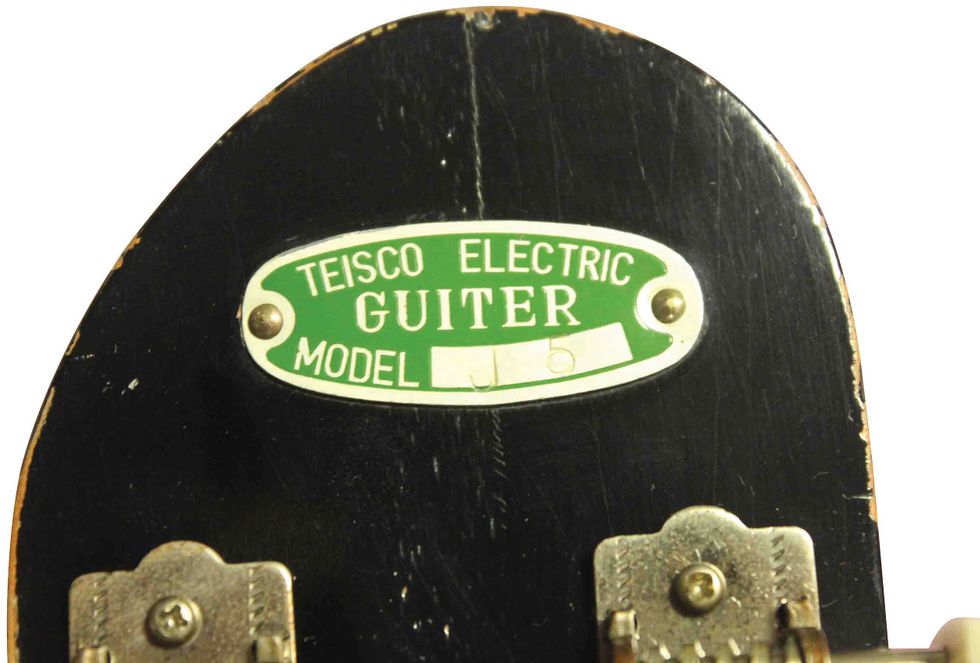 Photo 3
There was also a one-pickup version of this model called the J4 that was offered in some interesting colors, including a totally rad TV yellow. Overall, the Teisco J guitars were only made in small numbers from the late '50s to the early '60s—most likely 1958 to 1961. The two-pickup models didn't have any pickup switching (you had to use the volume knobs) and the necks have a really full V-shape, which is great. Since these guitars were among the first solidbody electrics available in Japan, it makes sense that the J guitars were some of the first Japanese electric guitars to be brought back to the U.S. by returning service members.
See, hear, and slide into this wasabi-hot Teisco J5 demoed by Mike Dugan.
An analog delay that's happy at the outer limits.
Stratocaster-style guitar on bridge pickup played into a JTM45-style amp set for "gritty cleans".
0:00 – Level 40%, Feedback 20%, Time 50%, Modulation controls at 0.
0:23 – Same Level, Feedback and Time; Modulation Rate and Depth set to 35% (switch on Slow).
0:46 – All knobs set to noon (note how pedal is already cycling when switched on, even before the playing begins); Modulation switch set to fast. At the end of the playing, Feedback control is gradually wound up to max, then Modulation controls, then pedal is switched off and back on again.
 

Ratings

Pros:

Rugged, original-design housing. Righteous-sounding analog delays. Great for extreme noisescapes.

Cons:

Some controls unleash sonic excesses at low effect levels.

Street:

$149

Teisco Delayteisco.com

Tones:Ease of Use:Build/Design:Value:
Best known for funky Japanese-made guitars in the '60s, the Teisco brand—now part of the BandLab Technologies empire—recently resurfaced on three retro-modern effects pedals, including this analog delay.
Tough and Low Profile
With a maximum of 600 ms delay time, the Teisco Delay includes level, feedback, and time controls for its analog echo circuit, and depth and rate knobs, plus a fast/slow switch for the modulation stage. In addition to the single input, there are outputs for the wet signal and a dry direct out, plus a center-negative barrel input for the external 9V power supply (not included).
The construction quality and design of the Singapore-built unit are impressive, particularly for the price. The pedal comes in a sturdy, low-profile zinc housing measuring 5"x 3½"x1¼" that's finished in a lively surf-green. It has a textured base that aids secure application of Velcro and removable rubber feet that require no adhesive for reattachment. They also conceal the four base screws for accessing the internal 9V battery clip.
Tilt-A-Whirl
Whether I used the Teisco Delay with humbuckers or single-coils, I found the essence of the echoes very appealing and quite in line with the dark, soft repeats you expect from a vintage analog delay.
Judicious modulation settings add tasty tape-like warble to the brew, but you can also get into wilder Deluxe Memory Man-style modulation that opens up stranger soundscapes.
Echoes are thick, warm, and just a little gritty—all of which makes them musical and easy on the ear. Judiciously applied modulation adds tasty tape-like warble to the brew, but you can also delve into wilder Deluxe Memory Man-style modulation that opens up stranger soundscapes.
These more unusual sounds are easy to tap into. When I first fired up the pedal I had all knobs set to noon. Unexpectedly, the Teisco swirled into runaway self-oscillating feedback. I zeroed the knobs and all was well, but I learned fast that these three are sensitive knobs.
Teisco isn't shy about the Delay's "experimental" potential in its documentation. So the fact that the Delay is built to operate at the edge of oscillation isn't a shock. But at times it feels like wilder sounds come at the expense of range in the traditional delay spectrum. These trad' sounds are superb when you find them. But most dwell in a pretty narrow space within each potentiometer's range. If you're the kind of player that likes to move from familiar, subtle echo textures to manual manipulation of oscillation chaos, chirps, sputters, and tweets, the range in the controls will be a major plus. If you're more of a set-and-forget player, you might prefer a more forgiving delay unit.
The Verdict
The Teisco Delay is a great-sounding analog delay with lots of fun, frenzied oscillation potential and modulation capabilities for the sonic scientist. It can require careful tweaking to dial in more traditional repeats, and many players might prefer potentiometers with a shallower taper. But if you like a delay that lives on the edge, this Teisco might be the ticket.