Could "Eruption" Have Been Conceived on a Teisco?
This '60s solidbody is exceptionally cool, but knowing it's the same model Sir Edward started out on makes it much cooler.
Like so many others, I've been thinking a lot about the passing of Eddie Van Halen this past month. I've also been remembering his popularity in Japan. While Van Halen the band was worshipped there in their early days, Eddie, in particular, was absolutely revered. My best friend in Japan, named Tadashi, is a huge fan, and his most prized possession is a signed ticket stub I got from a local teenager when Van Halen played in my area. Gift giving is a big thing in Japan, and I figured the best gift I could offer Tadashi was that signed stub.
During my last visit to Matsumoto City, we spent a lot of time talking about all the guitars Eddie used over the years. Like so many youngsters in the '60s and '70s, Eddie's very first axe was a Teisco ET-440 (Photo 1). So, for this month's column, I want to shed a bit of light on both the model and Teisco's place in the electric guitar explosion at the time. Tip: Search "Van Halen Teisco mom" and you'll be offered up a nice old photo of a young, beaming Eddie with his mom and guitar.
Gone was the sketchy old clamshell tremolo, and in its place was a newer, large floating-plate tremolo that was quite the feat of engineering.
The introduction of the Teisco ET-440 coincided with the huge jump in worldwide electric guitar sales in the '60s. The Japan-based Teisco had already been introducing new models every year, and constantly tweaking things like headstock shapes, fretboard inlays, and pickup designs. The ET-400 made its first appearance in a Japanese music trades magazine, where a brand-new Teisco lineup was introduced in June of 1964 (Photo 2). This was the same year Teisco introduced a truly awesome 6-string bass (TB-64), as well as an interesting amp-in-guitar model called the TRG-1.
Still, the guitar with all the bells and whistles was the ET-440. Its body shape featured longer bouts and a few more curves than the older, boxy, and clunkier Teisco models, making the 440 much sleeker. Gone was the sketchy old clamshell tremolo, and in its place was a large floating-plate tremolo that was quite the feat of engineering. When set up properly, it was probably among the first of the old Teisco tremolo units that could actually hold a tune! The ET-440 also featured a nice adjustable bridge.

Photo 2 — photo credit vintaxe.com
Early versions of the ET-440 were sometimes equipped with grey-colored pickups (Photo 3) with rounded S-style edges. And although these pickups sound very good, with a little bit of old Rickenbacker tone in them, they're sealed and just about impossible to repair. The gray top pickups are really rather rare and help the keen-eyed observer place this model firmly in the 1964-'65 range. Teisco later fitted the ET-440 with square pickups housing square pole pieces. which were found on a number of other Teisco models as well. The first versions of these fabulous pickups were wound hot and in series, and truly sound amazing.
While the headstock on this initial incarnation of the 440 was first seen in 1964, it went out of style by 1966, and the company switched to a 4+2 configuration. Back in the day, the ET-440 would have totally worked as a solid guitar to learn your chops, but some big mitts were required since almost all the old Teiscos had a truly mammoth deep-V neck. It's quite a piece of lumber, so I often chuckle when I feel the "modern interpretations" of a '50s- or '60s-style neck. Folks, you simply have to try out one of the old Teiscos to get a true feel for a large neck profile.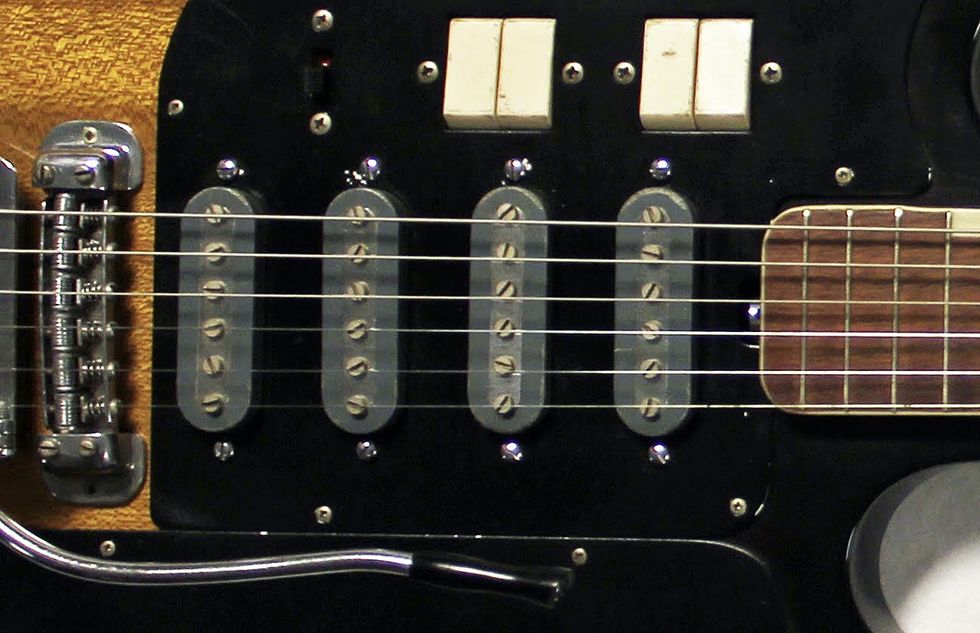 Photo 3
Teisco's importing and distribution in the U.S. was handled by Chicago-based W.M.I. (Weiss Musical Instruments). This relationship was a major step for a Japanese guitar company, and the name Teisco soon became almost synonymous with any Japanese electric guitar. Just like Q-tip or Kleenex, Teisco was a bit of a household name, especially for young guitarists growing up in the 1960s. And whether you grew up in Amsterdam or Anaheim, you could probably get your hands on a cool guitar with enough switches and pickups to operate a space-age cockpit. Thousands of youngsters were learning on Japan-built guitars, and Teisco was the king of the times.
So, leave it to Eddie Van Halen to have picked up a Teisco ET-440 from that pivotal era of Japanese electric-guitar history for his first axe. Of course, the frets and action were probably poor, and I can say from experience that if you learned to play on one of these guitars, you really had to earn it. Eddie certainly earned it.
I recall many years ago seeing an auction on eBay for the actual receipt from the sale of Eddie's ET-440. I didn't put in a bid and hadn't really thought about it much until now, but here's to Eddie Van Halen and his very first guitar!
See and hear this 1964 Teisco ET-440 demoed by Mike Dugan.
---