Photo by Derek Perlman
SoCal DIY garage-punks William Keegan, Danny Bengston, and Roland Cosio open up about cold, hard career realities and staying true to themselves on their catchy new LP, Bulls and Roosters.
· Generally speaking, paintings with light colors sell more quickly than paintings with dark colors.
· Subjects that sell well: Madonna and child, landscapes, flower paintings, still lifes (free of morbid props … dead birds, etc.), nudes, marine pictures, abstracts and surrealism.
· Subject matter is important: It has been said that paintings with cows and hens in them collect dust … while the same paintings with bulls and roosters sell.
So reads the inspiration for L.A. garage-punk quartet Together Pangea's latest album. Cribbed not from a how-to book but from John Baldessari's acerbic written-word art piece Tips for Artists Who Want to Sell, the words stuck with vocalist/guitarist/songwriter William Keegan after observing the 68.25"-tall, acrylic-on-canvas piece during the recording of TP's fourth LP, which would eventually be named Bulls and Roosters.
"I thought it was funny," Keegan says of the experience. "We do think about that kind of stuff. We always have this internal struggle about what's genuine, what's sincere, and what people will listen to and pay attention to. I think those things are conflicting sometimes."
Baldessari's piece had to have struck a sore spot for Keegan and company in particular because things have been a bit chaotic, business-wise, since signing their first deal with Burger Records for Living Dummy in 2011. Each TP LP since then, from 2014's Badillac—which saw the band getting a big marketing push on the strength of its twangy, raucously catchy title track—to last year's Bulls and Roosters, has been on a different label.
"I had an interest in writing songs you could listen to while you're driving or something, and it wasn't always somebody
screaming at you." —William Keegan
They also parted ways with co-guitarist Cory Hanson after Badillac. In addition, there's been a lot of unrest with peripheral figures involved with the band. "We had a lot of different shifting in our label and the people who work with us," says founding bassist Danny Bengston, "including two different managers."
To some, it might seem odd for an outfit that culled an enthusiastic following on the SoCal DIY scene with seemingly carefree, Dead Milkmen-meets-Violent-Femmes songs with titles like "I Wrote a Bible," "Shitty," and "Too Drunk to Cum" to be fazed by such worries. But Keegan, Bengston, and co-guitarist Roland Cosio (who joined the fold prior to the 2015 EP, The Phage) insist the business-side upheavals have nothing to do with the more polished feel of Bulls and Roosters. While their latest outing features exactly zero fuzzed-out solos and replaces much of the raging power-chord and shout-along-chorus fare of their last two releases with clean guitars, carefully structured vocal harmonies, and a bit of a vintage R&B vibe, they say this is due to a natural evolution rather than any sort of sell-out move. And listeners who take the time to listen to the true breadth of the TP's work will see evidence of that in their creative arc.
But perhaps the greatest testament that TP are, at heart, as snarky as they were when they formed 10 years ago, is Keegan's frank, bravado-less assessment of how all the business topsy-turviness affects him. "I like the anxiety. I feel like I thrive off it—the not knowing how things are going to work out or whatever. It makes things more interesting."
Would you guys say the more straight-ahead, song-oriented vibe on Bulls and Roosters was a conscious move, or did it just sort of happen?
William Keegan: I'd say it happened naturally. We like to do an EP between each album to test out new stuff. On The Phage we did "Blue Mirror," which is definitely more about the songwriting.I think it was after that song that we were like, okay, we can quiet down a little more and have it be more focused on the songwriting and less so on … I think the previous albums were, like, live energy. We were writing for performance. The point was to try to make stuff that's just fun. We didn't discuss the change, it just sort of happened. Whatever works works, and the stuff that doesn't work, you can tell right away when we're jamming together. So I was just bringing in stuff and we were all kind of pitching the songs we thought were good. We knew it was going to be a different kind of album.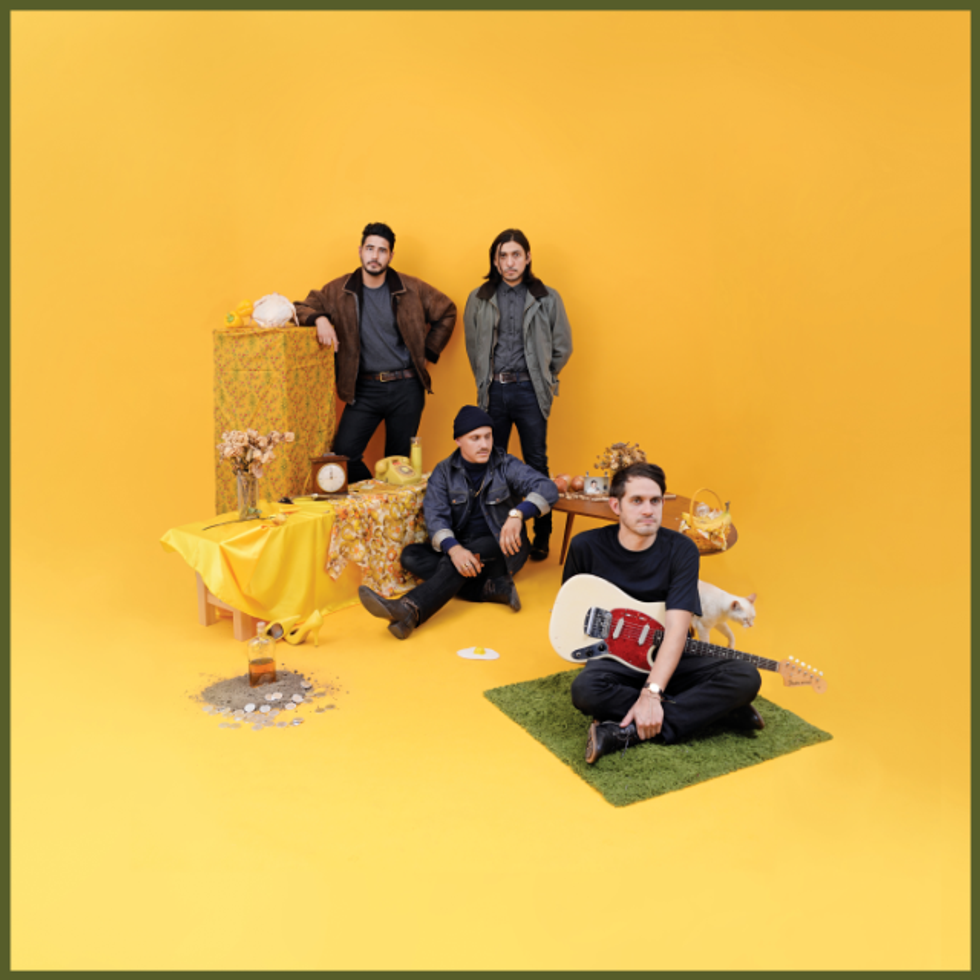 TIDBIT: The band's fourth LP, Bulls and Roosters, was influenced by John Baldessari's text painting "Tips for Artists Who Want to Sell" and marks the band's debut on the Nettwerk label.
Danny Bengston: I think after we got "Money on It" that we kind of hashed it out with the band and decided to move more this way—like, "We don't need so much of the screaming-guitar shit." Less-is-more kind of stuff is what I think we were going for. I feel like one of the best guitar solos that we've ever had on a record is the one in "Gold Moon."It was also sort of catering to the style of guitar player that Roland is. When Cory [Hanson, now of Wand] was playing with us, it was a very different time: I think he was just going balls-out, doing whatever he could to just shred. He's very good at that. Not to say that Roland's not a good player—he's a great player. They are just very different kinds of guitar players. Once Cory was out of the picture, we started writing a little differently. I think Badillac was us writing punk songs and playing them live. Now it's more less-is-more on the guitar end, more tasteful kind of stuff rather than just hitting whatever pedal and going crazy.
Roland, how did you hook up with TP, and how would you describe your effect on the band's sound?
Roland Cosio: I was in a band called Charlie and the Moonhearts with Mikal Cronin when I first met Pangea. One time we set up a show at CalArts [California Institute of the Arts] with Moonhearts and Pangea, and that show happened because Mikal was going to the same school with Danny and they became good friends. Pangea also played with Mikal's backing band at that time, so I would just run into them a bunch of times. Finally, Danny kind of said, "Hey, I heard you're a good guitar player … we want you to play for us for this tour and see what happens from there."
As far as my input, it's all been collaborative: William or Danny will bring something to the table, and I'll take the demos home and try to come up with my own leads. Then I go back to the studio and say, "Hey, this is what I came up with—I don't know if you guys will like it!" [Laughs.]
Does William tend to carry the bulk of the load with the rhythm guitar and you're adding seasoning on top?
Cosio: Yeah. William will play rhythm and sing, and I mostly do all the leads—add the sugar coating.
Were you listening to certain things that influenced your direction during the period after Badillac?
Keegan: Well, we recorded it in a way that was really similar to Badillac. We didn't intentionally try to make it sound polished at all—it was actually a lot of live performance. But Badillac was weird. It was written and recorded over the course of two years, and while we were recording Badillac I was writing songs that didn't get used. There are songs on Phage that were written during the Badillac recording sessions, but with Bulls and Roosters two or three years had gone by before any of those songs were written. I'm a little bit older, and I had an interest in writing songs you could listen to while you're driving or something, and it wasn't always somebody screaming at you. It's a challenge to try to chill it out and see if it can still work. Maybe it doesn't always work, but I feel like this came out well.