Together PANGEA: Okay with Not Having Sh!t Quite Figured Out
Photo by Derek Perlman
SoCal DIY garage-punks William Keegan, Danny Bengston, and Roland Cosio open up about cold, hard career realities and staying true to themselves on their catchy new LP, Bulls and Roosters.
· Generally speaking, paintings with light colors sell more quickly than paintings with dark colors.
· Subjects that sell well: Madonna and child, landscapes, flower paintings, still lifes (free of morbid props … dead birds, etc.), nudes, marine pictures, abstracts and surrealism.
· Subject matter is important: It has been said that paintings with cows and hens in them collect dust … while the same paintings with bulls and roosters sell.
So reads the inspiration for L.A. garage-punk quartet Together Pangea's latest album. Cribbed not from a how-to book but from John Baldessari's acerbic written-word art piece Tips for Artists Who Want to Sell, the words stuck with vocalist/guitarist/songwriter William Keegan after observing the 68.25"-tall, acrylic-on-canvas piece during the recording of TP's fourth LP, which would eventually be named Bulls and Roosters.
"I thought it was funny," Keegan says of the experience. "We do think about that kind of stuff. We always have this internal struggle about what's genuine, what's sincere, and what people will listen to and pay attention to. I think those things are conflicting sometimes."
Baldessari's piece had to have struck a sore spot for Keegan and company in particular because things have been a bit chaotic, business-wise, since signing their first deal with Burger Records for Living Dummy in 2011. Each TP LP since then, from 2014's Badillac—which saw the band getting a big marketing push on the strength of its twangy, raucously catchy title track—to last year's Bulls and Roosters, has been on a different label.
"I had an interest in writing songs you could listen to while you're driving or something, and it wasn't always somebody
screaming at you." —William Keegan
They also parted ways with co-guitarist Cory Hanson after Badillac. In addition, there's been a lot of unrest with peripheral figures involved with the band. "We had a lot of different shifting in our label and the people who work with us," says founding bassist Danny Bengston, "including two different managers."
To some, it might seem odd for an outfit that culled an enthusiastic following on the SoCal DIY scene with seemingly carefree, Dead Milkmen-meets-Violent-Femmes songs with titles like "I Wrote a Bible," "Shitty," and "Too Drunk to Cum" to be fazed by such worries. But Keegan, Bengston, and co-guitarist Roland Cosio (who joined the fold prior to the 2015 EP, The Phage) insist the business-side upheavals have nothing to do with the more polished feel of Bulls and Roosters. While their latest outing features exactly zero fuzzed-out solos and replaces much of the raging power-chord and shout-along-chorus fare of their last two releases with clean guitars, carefully structured vocal harmonies, and a bit of a vintage R&B vibe, they say this is due to a natural evolution rather than any sort of sell-out move. And listeners who take the time to listen to the true breadth of the TP's work will see evidence of that in their creative arc.
But perhaps the greatest testament that TP are, at heart, as snarky as they were when they formed 10 years ago, is Keegan's frank, bravado-less assessment of how all the business topsy-turviness affects him. "I like the anxiety. I feel like I thrive off it—the not knowing how things are going to work out or whatever. It makes things more interesting."
Would you guys say the more straight-ahead, song-oriented vibe on Bulls and Roosters was a conscious move, or did it just sort of happen?
William Keegan: I'd say it happened naturally. We like to do an EP between each album to test out new stuff. On ThePhage we did "Blue Mirror," which is definitely more about the songwriting.I think it was after that song that we were like, okay, we can quiet down a little more and have it be more focused on the songwriting and less so on … I think the previous albums were, like, live energy. We were writing for performance. The point was to try to make stuff that's just fun. We didn't discuss the change, it just sort of happened. Whatever works works, and the stuff that doesn't work, you can tell right away when we're jamming together. So I was just bringing in stuff and we were all kind of pitching the songs we thought were good. We knew it was going to be a different kind of album.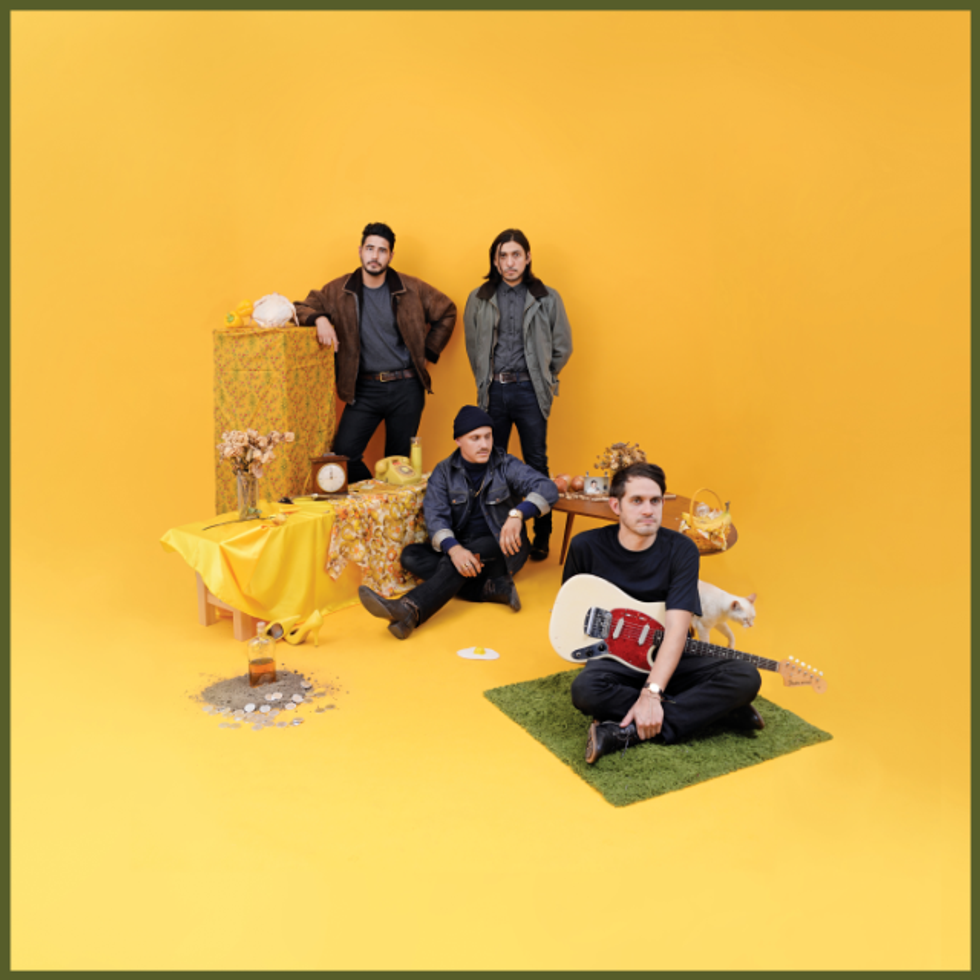 TIDBIT: The band's fourth LP, Bulls and Roosters, was influenced by John Baldessari's text painting "Tips for Artists Who Want to Sell" and marks the band's debut on the Nettwerk label.
Danny Bengston: I think after we got "Money on It" that we kind of hashed it out with the band and decided to move more this way—like, "We don't need so much of the screaming-guitar shit." Less-is-more kind of stuff is what I think we were going for. I feel like one of the best guitar solos that we've ever had on a record is the one in "Gold Moon."It was also sort of catering to the style of guitar player that Roland is. When Cory [Hanson, now of Wand] was playing with us, it was a very different time: I think he was just going balls-out, doing whatever he could to just shred. He's very good at that. Not to say that Roland's not a good player—he's a great player. They are just very different kinds of guitar players. Once Cory was out of the picture, we started writing a little differently. I think Badillac was us writing punk songs and playing them live. Now it's more less-is-more on the guitar end, more tasteful kind of stuff rather than just hitting whatever pedal and going crazy.
Roland, how did you hook up with TP, and how would you describe your effect on the band's sound?
Roland Cosio: I was in a band called Charlie and the Moonhearts with Mikal Cronin when I first met Pangea. One time we set up a show at CalArts [California Institute of the Arts] with Moonhearts and Pangea, and that show happened because Mikal was going to the same school with Danny and they became good friends. Pangea also played with Mikal's backing band at that time, so I would just run into them a bunch of times. Finally, Danny kind of said, "Hey, I heard you're a good guitar player … we want you to play for us for this tour and see what happens from there."
As far as my input, it's all been collaborative: William or Danny will bring something to the table, and I'll take the demos home and try to come up with my own leads. Then I go back to the studio and say, "Hey, this is what I came up with—I don't know if you guys will like it!" [Laughs.]
Does William tend to carry the bulk of the load with the rhythm guitar and you're adding seasoning on top?
Cosio: Yeah. William will play rhythm and sing, and I mostly do all the leads—add the sugar coating.
Were you listening to certain things that influenced your direction during the period after Badillac?
Keegan: Well, we recorded it in a way that was really similar to Badillac. We didn't intentionally try to make it sound polished at all—it was actually a lot of live performance. But Badillac was weird. It was written and recorded over the course of two years, and while we were recording Badillac I was writing songs that didn't get used. There are songs on Phage that were written during the Badillac recording sessions, but with Bulls and Roosters two or three years had gone by before any of those songs were written. I'm a little bit older, and I had an interest in writing songs you could listen to while you're driving or something, and it wasn't always somebody screaming at you. It's a challenge to try to chill it out and see if it can still work. Maybe it doesn't always work, but I feel like this came out well.
---
---

After years of settling for—and beating the daylights out of—a slew of affordable basses, TP co-founder Bengston takes delivery of the 4-string of his dreams, a Rickenbacker 4003 in Mapleglo finish. Photo by Derek Perlman
After Bulls came out, you guys posted on Facebook about how, at certain points, apparently you'd wondered if it even would come out.
Bengston: I think I was mostly just talking about when albums take that long to happen, there are some times when it can be discouraging and you feel like it's never going to happen. We had a lot of different shifting in our label and the people who work with us—including two different managers—since Badillac. When things take that long and you're sitting with something and not doing anything, it can be discouraging and feel like nothing's going to happen. On top of that, you have a batch of songs everyone feels good about, and then everyone won't feel good about it—there's an internal struggle, back and forth, completing a record. Especially after we did Badillac, which was a major-label debut with a good amount of press.
Keegan: The label stuff was a thing. It was partially getting dropped by Harvest [Records], and partially just trying to go back to basics—like, let's just do this. It was a challenge to find somebody who fit with us and had a genuine interest. I feel like this happens in between everything we record—a little … I don't know if it's an existential crisis, but, like, "What are we doing? Why are we doing this?" We have to remind ourselves in between every record. Most of the time we remember as soon as we put together a song we like: "Oh, right—this is what's up!" There are certain expectations people have of you, like family or society, that you're supposed to be in a certain place when you're a certain age. To some extent, the "band guy" thing doesn't always age well—especially to be playing garage rock or whatever. There's just a little bit of … you've got to refine what you love about music and what you love about playing. You just have to remind yourself why you love doing what you do. Then it's easy.
Try not to let the business bullshit douse the fire?
Keegan: Yeah, totally. You write songs in your room or whatever, and eventually in a room with your friends. It's just you and maybe a few other people listening in or paying attention. I think when it's like that you are open to being more expressive. As things progress, you realize that more people are hearing what you are doing and more people are having an opinion about it. That can be kind of stifling, but you just gotta ignore that shit.
Let's switch gears and talk about the players and bands that inspired you growing up.
Keegan: I think I heard Modest Mouse when I was like 12 or something. The first guitar solo I learned was "Dramamine." I liked melodic guitar playing. I always liked the Velvet Underground's guitar tones and the Buzzcocks and stuff. I never had a solo guy I was really into, somebody who could shred. I guess I've always been focused on songwriting.I listened to a lot of Weezer—Pinkerton. I was really into the Ramones too, but they were like the anti-soloists.
"I picked up a lot from Carol Kaye: I play with a pick, and a lot of her style and vibe is this sort of palm-muted picking." —Danny Bengston

Bengston: I was into Paul Simonon from the Clash. Carol Kaye. I think I picked up a lot from her: I play with a pick, and a lot of her style and vibe is this sort of palm-muted picking. [Black Sabbath's] Geezer Butler is an obvious one too—I just haven't figured out how to play with my fingers like he can. Paul McCartney has been a huge bass influence from day one. I try to sing while playing some of the things he plays on bass, but I still can't do it. One year we were doing covers for Halloween, and I was trying to sing and play "I Saw Her Standing There" … it was just not happening. I'm also a really big fan of the Kinks—Kinda Kinks is an amazing record—and the whole British Invasion. The Stones. The Beatles.
Another big one is Neil Young. When I was in rehab, I was listening to Harvest nonstop. It has a very open, really spacey rhythm section. The drums are really close sounding, and the bass is just a really clean bass that's following the kick drum. That was a big influence on the writing style of "Kenmore Ave." Even though it's sped up and a little more punky, for me that song—as far as the general aesthetic and mood and writing style—was trying to go for combining the Clash and Harvest.
What about you, Roland?
Cosio: I started playing at 14. At that time, I was getting into classic rock and punk at the same time."N.I.B." by Black Sabbath was the first thing I tried to learn by ear. Then I started listening to Black Flag and all those punk bands in the '80s, just by watching skate videos, pretty much.
Like Bones Brigade stuff?
Cosio: Yeah, exactly.
Agent Orange and stuff?
Cosio: Yeah—all the surf stuff too. I got really into the Ventures, Dick Dale, and all that—those reverb guitar sounds.Recently, though, I've been going back and listening to a lot of classic rock, learning a lot of cheesy guitar solos. From those cheesy guitar solos, you can gain something and write some cool new stuff.

Basses
Rickenbacker 4003
Fender Precision
Vintage Defil bass
Epiphone SG
Squier Jaguar
Squier Rascal
Amps
1970s Peavey Mark III Bass head
Fender 4x10 cab
1970s Peavey 1x15 cab
Music Man 150 head
Effects
Electro-Harmonix Bass Big Muff
Strings and Picks
Ernie Ball Cobalt Slinky Flatwounds (.045–.105)
Medium picks

Which guitar solos have you been learning recently?
Cosio: I just started learning "Just What I Needed" by the Cars—there's that really famous guitar solo in that song.It's fun learning other peoples' solos. It definitely expands my mind.
How about if we switch gears again and talk about actual gear. William, for a long time you've mostly been a Strat guy, but recently you've been playing a Mustang.
Keegan: Yeah, it's a '64.
What prompted that?
Keegan: I always thought they were cool looking and cool sounding. It's a little bit more plucky than a Strat, but it's not a huge change.
By "plucky," do you mean the more elastic feel the shorter scale gives the strings?
Keegan: Maybe. It doesn't ring out as long, but there's a lot of attack. The notes pop. The bends are really cool on it, because you can bend up two steps or something. The bends are huge. That's fun to play with. I actually wrote "The Cold" the day I got that guitar.
How much of the album did you play the Mustang on?
Keegan: It's here and there. "The Cold," definitely. I played a Strat on a lot of songs—I don't remember specifically which songs.
How many Strats do you have, and are you picky about the years or pickups and stuff like that?
Keegan: I've always been more particular about the way it feels. I've played nice, new American Strats that just don't feel right to me. The Strat I play on tour all the time is a '90s, made-in-Mexico Strat. It's white with a tortoiseshell pickguard, and I put Texas Special pickups in it.For whatever reason, it just feels right. Something about the neck. When you have one guitar for too long, everything else just feels a little foreign. The Texas Specials are really hot, which gives it this sort of gritty but bright sound that really cuts through. Especially with some delay on it, it just sounds really cool.I have another backup Strat that Fender actually gave us. It's a new made-in-Mexico one, and I did the exact same thing to it. It's white with a tortoiseshell pickguard, and I put the same pickups in it. I got locking tuners for it. You know how sometimes people just have their guitar—like Tom Petty's Rickenbacker or whatever?
Yeah, you wanted it to be a little bit distinctive for you?
Keegan: I just like the way it looks. I feel like it's classic looking, the white with the tortoiseshell. I like the idea of having a guitar that's recognizable. During the Badillac thing I went all over the place with different guitars. I tried a Tele, and I was playing a Danelectro for a minute. I played an SG for a minute, too. I had a Rickenbacker after that for a couple of years. But my first guitar was a maroon Squier Strat. That was what I learned on. At some point I got a Strat again out of nowhere, and I was just like, "That's it. This is what I like, and this is what I'm going to use."

TP's newest member, Roland Cosio, drinks to his newest online gear find—a vintage Fender Lead II he found
using the app OfferUp. Photo by Derek Perlman
Is it true that you write everything on acoustic?
Keegan: My dad bought my mom a guitar in the '80s, a Taka. It's like a Gibson Jumbo rip-off. My mom didn't even play guitar, so when I started playing guitar she gave it to me. Actually she didn't give it to me, technically. She still calls it her guitar. That's what I've written every song you probably ever heard from us on. We played a show in Phoenix once, and some people rode up with us. We got a van and took out all the seats so people could chill in the back. This was a long time ago, and we were really stupid—we don't do that anymore! Anyway, we were driving back overnight, and our friend who was driving fell asleep. We veered off the road and rolled three times. The door next to me got ripped completely off. Nobody was wearing seatbelts in the back. Everybody was just bumping around, but luckily everybody was perfectly safe. We were super lucky. The guitar got slung out of the car, like 50 feet or something. It's got holes in it now from that. It got banged up, but it still sounds good, still feels good. I feel like it's just my lucky guitar. That's what I write everything on—it's probably my favorite guitar. We still record with it.
Roland, recently you've been playing an obscure old two-pickup Fender….
Cosio: That's a Fender Lead II.They were only made, I think, from the late 1970s through like '83 or '84.
How did you get into that?
Cosio: I don't know if you heard of this app, but it's called OfferUp. It's kind of like Craigslist—it's people trying to get rid of things really fast. That's actually how I find a lot of stuff that I have now. I find a lot of old vintage stuff. That's how I got all my Music Man gear.
It looks like a cross between a Strat body and a Mustang neck and pickup arrangement.
Cosio: Yeah, it's like a Strat and a Tele. You can get really cool sounds on it.
Did you use that on the album?
Cosio: Unfortunately, no. I just used my Fender Stratocaster for the album. It's a 2000 Standard Strat. It was my first guitar that my mom bought me at Guitar Center. On tour, I'm using the Fender Lead and my Stratocaster, which has Tex Mex pickups.
Danny, you've used a pretty wide variety of basses—Precisions, Jazzes, a Squier Jaguar and Rascal, a Gibson SG, and maybe a Hagstrom?
Bengston: That's actually this weird Polish bass with a weird headstock and microphonic pickups. I think it's called a Defil. The neck is like a tree trunk—it's square—and it has faders instead of knobs. The action's never been right. The neck is definitely warped. I don't think there's a truss rod in it. The guy who sets up my stuff put in a new bridge and did all this work on it. I think I actually used it on a couple of songs on this new record. The pickups sound really cool.
"Unless you're, like, Arcade Fire or something, being a musician … can be pretty unstable. It's kind of all over the place, and you have to just kind of be down with that." —William Keegan
My first bass was my brother's bass, which I borrowed and never gave back. It was like a shitty $90 Ibanez that came with an amp. After that I bought the Squier Jaguar short-scale, because it was $160. That was really my first bass. Then, when we got our advance for Badillac and I had money for the first time in my life, I went to Guitar Center with my dad when he was in town, and I bought the 2012 Fender Modern Player Jazz bass.
The white one with humbuckers?
Bengston: Yeah, exactly. I lost it like three weeks later. I left it behind in Alabama at a venue. Our tour manager at the time—who wasn't a real tour manager, just a buddy who didn't really want to be doing it—told me he was in contact with them and they were going to send it back. That's when I got into the Epiphone SG, which is a really great, inexpensive bass. I had three or four of those, and I broke three of them.
A few months ago, Jack [Dolan, bassist] from Twin Peaks sent me a picture of that Fender Jazz bass. I was like, "Whoa, weird—I used to have one of those." Then I was like, "Wait a minute. They're on tour in the south right now." I checked their tour schedule, and they were in Alabama. He texted me back the next morning, "Yo, that's your bass!" I thought for sure someone had taken it. Four years had gone by! Basically, the guy who runs that venue, the Alabama Music Box, got in touch with our tour manager, but our tour manager never followed up and sent him our address, so he just kept the bass in the green room all those years. I got his contact info and we went back and forth. I just got that bass back in the mail last month.
Wow—what kind of condition was it in?
Bengston: There's a lot of rust on it. I'm pretty sure it barely got played. I think probably if somebody broke a string or something he'd bring it out to them, but otherwise I'm pretty sure it sat in the case for three or four years. That was the reason I ended up getting so many different basses: I'd spent what for me at the time was a good amount of money on an instrument, like $600. So I was like, "Fuck it, I shouldn't have a nice bass," and I kept buying cheap basses.
Guitars
2000 Fender Standard Stratocaster with Tex Mex pickups
Vintage Fender Lead II
Amps
Music Man Sixty-Five head
1974 Kustom 1x15 cab
Fender Princeton Chorus 2x10
Music Man HD-150 with a 2x10 cab
Effects
1970s Electro-Harmonix Big Muff
Electro-Harmonix Holy Grail Nano
Behringer Chorus Space-D
Electro-Harmonix LPB-1
1990s MXR Distortion+
Strings and Picks
Ernie Ball Super Slinky (.009-.042)
Dunlop .73 mm Nylon picks

What guided your decisions on those basses—simple economics, or…?
Bengston: That's what it initially was. I was a very different guy back then. I weighed 230 pounds and was really into doing drugs and drinking. I was not really the smartest with my money or my body or myself. I was just buying stuff I could get away with using and that I wouldn't be that bummed out if I fucked it up. That's why I have a bunch of those SGs. Fast forward a bit, and my buddy Killian had a Gibson SG, but he was looking to get a new bass. I think I paid him $350 and traded him this small Ampeg head I had to get a proper Gibson SG. A 2010, all-black, American-made one. That was my first real bass. I was stoked on that and then I went down to Mexico and flew with it. We were playing a festival in Toronto and the last night I'd played, it was really sweaty in this tiny room. I put the bass in the case, and it was soaking wet with beer and stuff. I didn't wipe it off or anything, and it sat in the case for three days. I opened the case down in Mexico to play the show, and it smells really weird. There's mold everywhere. Something happened to the tuning pegs and the truss rod. It ended up the truss rod had gotten fucked with the altitude and moisture and all that. "Fuck, I fucked up another bass!" So I ended up playing my Defil bass for a while.
You've had some pretty serious bass misfortunes.
Bengston: Well, I finally lucked out. I've always wanted to play a Rickenbacker—that's been my dream bass since day one. I had gotten sober, and we got our first big thing: We had a song in a large commercial, so I got a little bit of money. The first thing I bought was my Rickenbacker, a 4003 Mapleglo. I still play that quite a bit, but I'm a little afraid just to bring that. In the last five or six months, we got an endorsement deal with Fender, so I got a P bass that I really love. Right now I tour with the Rickenbacker and the P bass, and I just play whichever one I feel like playing that night.
Don't all three of you use Music Man amps?
Keegan: Yeah, it was kind of ridiculous. At some point we were showing up, and we all had Music Man gear. The sound guys were like, "Man, I haven't seen one of those in a long time. You guys have all of them!"
Was that something you were all into separately, or did one of you turn the others onto them?
Keegan: I think how it started for me was that Chad Ubovich [now of Meatbodies] played with us for about a year. He would rehearse with a little Music Man combo amp, and I just thought it sounded really good. I got the head, a Sixty-Five Reverb, and the cabinet, and then Danny eventually heard that they were cool for bass. When Roland started playing with us, he already had one. I've toured with them a lot. It's just a solid amp.
Cosio: The amp I used for all the rhythm stuff on the album was a Music Man Sixty-Five with a 1974 Kustom 1x15 cab. On all the lead parts I used a solid-state Princeton Chorus 2x10, which is really random. I used the chorus effect a lot on that amp. On the road, I'm using a Music Man HD-150 with a 2x10 cab.
Bengston: On Bulls and Roosters, the whole thing is me playing the Rickenbacker and Defil basses out of a 4x10 Fender cab with an old Music Man 150 head. That amp sounds incredible, but it broke twice on me, and every time those things break it's a very expensive repair. I got tired of having to spend $250 every time something blew up on that amp. Now I have a 1970s Peavey Mark III Bass head with an original 15" cab. I got both for $200. They're just loud as fuck, and they're like tanks. They can take anything.
How about pedals?
Keegan: I used a RAT for a little while during the Badillac days, but now I like to keep my guitar fairly clean so that, even when it shifts louder, you can still hear the full chord. Then the lead guitarist will have the fuzz or whatever on. I like to have one semi-clean guitar to get those chords across. For overdrive, I use the amp and control how overdriven it is with the volume knob on the guitar. I use a delay on the end of the chain, a Boss DD-3.I have a little Spark drive pedal that I use for solo stuff. I obviously use a tuning pedal—a TC Electronic PolyTune. On this album, for "Money on It", there's a kind of melody/lead that happens twice. On the recording I played it low, and then I played it an octave higher. To play that solo live, I got an Electro-Harmonix POG octave pedal.
Cosio: I'm using a '70s Big Muff, an Electro-Harmonix Holy Grail Nano, and this weird chorus pedal—a Behringer Chorus Space-D. It's a really cheap pedal my friend gave me because it sounds pretty weird. That's on "Peach Mirror"—it sounds like a keyboard. I also have an EHX LPB-1 boost, and an early-'90s MXR Distortion+ that I use on "Money on It."
Bengston: I just use a [Electro-Harmonix] Bass Big Muff sometimes. That's it.

TP frontman Keegan in an intimate moment with his latest guitar love, a 1964 Fender Mustang. Photo by Derek Perlman
Let's go back to the new music a bit. Backup vocals have long been a big thing for Together Pangea, but the approach seems a bit different this time around. Do you guys usually work that out, or is it more of an everybody-sings-it-how-they-feel-it thing?
Keegan: We tend to work it out. It sort of happened slowly. Our first record has backup vocals, but the main vocal was the main vocal, and it kind of stuck to that. Over time, we all started to sing, and everybody writes songs, so it just makes sense to do that. It used to be more shout-along stuff—like, everybody would just shout along with parts of choruses that they liked. On this record, especially, we started putting them in places and finding good harmonies. I think it's really fun.
Bengston: I'd say it's a bit of both. Usually William will come to me, because it's usually me and Erik [Jimenez, drums] who do all the backup vocals, and he'll be like, "I've got this song." He'll play it to me on acoustic, then I'll be like, "Okay, can you sing this part" or he'll just be like, "I think that part needs a harmony, can you write a harmony?" That's what happened with "Friend of Nothing" and "Gold Moon." Me and Erik wrote the backup parts for "Money on It" on our own.
When we get in the studio, sometimes we'll sit down with a piano and find what works and what doesn't. Sometimes we'll think something works, and then we get in and listen to it and it's not the right melody. We're big, big Beatles fans. The Beatles and Brian Wilson/Beach Boys kind of stuff. I think a big thing with the Beatles is they were a vocal group first. I like that combination of Beatles and Beach Boys—their sense of being able to do rowdy stuff, especially on early Beach Boys stuff. Even some of the '70s stuff, like Wild Honey, where there are these really cool, tight grooves, and upbeat songs like "Darlin'" and stuff like that. They just have these crazy vocal textures going on.
What's the typical TP songwriting process like? William, you usually bring in the foundation or the skeleton of the song, right?
Keegan: Yeah, that was right for Living Dummy, Badillac, and The Phage. On this album, Danny has three songs that he wrote and brought to the band. Typically I'm more of a verse-chorus person, and then I bring it to the band and we figure out bridges and stuff. Sometimes I'll write something out entirely and bring it to the band. It'll start with me usually on an acoustic guitar. I'll be playing something I like, some chord progression, and then I'll find something to sing over it. I'll do a real rough recording on GarageBand and just edit it down. Then I'll go to the band and just sort of play the chord changes and sing over it, and everybody will start playing along until everybody gets where all the movements are. Right there we can change a bunch of stuff—maybe it should be a little faster, or we should change some of the accents or something. It's like I bring in an Ikea set or whatever, and everybody will fit it together. The most important thing to me is the melodies. As long as the melody stays how it is, everybody can contribute what they want. It's not like the William Keegan show or whatever. We all contribute to make the songs as good as they can be.
"I was a very different guy back then. I weighed 230 pounds and was really into doing drugs and drinking. I was not really the smartest with my money or my body or myself." —Danny Bengston
Bengston: But the core of the song is the same song William wrote on the acoustic guitar and brought to the band. This time I wrote a bunch of songs, too, and I brought the ones that I thought were solid and that fit the band. Except for "Alison," which I wrote in the Netherlands with my friend Melle [Dielesen]from the band Mozes and the Firstborn. I wrote it on a train going from Eindhoven to Amsterdam. When I got to Amsterdam, I put it down on my phone. When I got back to Eindhoven, they had a 4-track [recorder], and Melle and I recorded the song really late at night. So that song was pretty much me and my friend Melle with everybody playing on it.
When you were on the train did you have an instrument with you, or did you just write the lyrics and hum the melody?
Bengston: The chorus melody came to me, and then the verse melody came to me and I wrote it on my phone. I knew I wanted it to be about a specific thing that had happened to me a few months prior. That was it.
Did you write it in standard notation?
Bengston: I can, because I played trumpet for a long time when I was younger, but it's not how I write music. Before iPhones I had a little handheld tape recorder. That's how I'd write stuff, and William had one too. That's how we'd write ideas. Now, everyone's got a phone, so you just go into Voice Memo and put something down. When I was in rehab, I had to come up with a weird, like, half-tab, half-notation thing, using quarter-notes, half-notes, that sort of thing, but in a tab formation. It's really stupid, but it was the only way I could remember the melodies. I looked at the notebook recently and thought it was so dumb, but it worked.
"Alison" probably has the mellowest, most old-school vibe of any TP song ever. It's almost like a '50s torch song.
Bengston: I've always kind of been into ballads and writing the big exploding melody for the chorus. That kind of songwriting, like Sam Cooke, Otis Redding, early soul stuff, early girl-group stuff—like the Shangri-Las, the Ronettes, the Shirelles—that's sort of what I was going for with that song. It's funny, before we had a rehearsal space, maybe a year ago or something like that, we were still rehearsing in the living room at my house. My friend had somebody over who was actually a music writer. I'm not going to say which publication, but he came downstairs after we were rehearsing "Alison" and he said, "Dude, that song's amazing—but it reminds me so much of that song by Rod Stewart, 'Rhythm of My Heart.'" Now I can't hear that song without hearing "Rhythm of My Heart" also.
Keegan: We're all super into '50s pop music, like the soundtrack to American Graffiti and stuff. I think with "Alison" it's like a chant-along, '50s-sounding thing—but then it's a little updated. It sounds a little bit like T. Rex. It's not super T. Rex, but it's a little meatier than '50s stuff.
Guitars
Fender Stratocasters with Texas Special pickups
1964 Fender Mustang
Amps
Music Man Sixty-Five Reverb
Effects
Boss DD-3 digital delay
TC Electronic Spark
Electro-Harmonix POG
TC Electronic PolyTune
Strings and Picks
Ernie Ball Regular Slinky (.010-.046) Dunlop .73 mm Nylon picks

"Stare at the Sun" has the familiar, '60s-inspired Pangea sound, but there's also this anachronistic Cure vibe in the main riff and the verse vocals.
Keegan: Yeah, totally.That wasn't my intention at the outset, but I really like the Cure. The synth part was added later, and that pushed it even further in that direction. Sometimes you have an idea and then you do a demo of it and it doesn't turn out the way you thought it would—but it still sounds good. I wanted it to sound twee, like British twee pop—a lot bubblier than we would normally do. For a lot of stuff, I like to write shit to throw people off. I don't like giving people what they expect.
Going back to something William said earlier, is it possible the sonic turns on Bulls and Roosters are a subconscious effort to morph this thing you've been doing for so long into … not more of a viable career—because that sounds horrible—but more like "We're in this for the long haul…"?
Keegan: Yeah, I totally get what you're saying. I don't think it's a horrible thing to talk about it in terms of a career. We have to think about it that way. We've spent a large chunk of our lives doing this thing. It's nice to have it be the full-time job that you have, but whether or not that works out depends on a lot of different factors. At the end of the day you're just writing what you want and like, and hoping other people do, too. You hope that it goes well and that you can continue doing it full-time. I don't know if it was a subconscious or conscious effort to be able to expand what we can do. The name of the album is based on a Baldessari painting where he wrote the words from a manual for artists on how to sell their work.The piece is up in The Broad [museum] in Los Angeles—that's where I saw it. I thought it was funny: Paintings of "bulls" and "roosters" sell better than "cows" and "chickens." So we do think about that kind of stuff. We always have this internal struggle about what's genuine, what's sincere, and what people will listen to and pay attention to. I think those things are conflicting sometimes.
You mentioned family earlier. Were parents or siblings asking when you'd get a real job and stuff like that?
Keegan: No, my parents have always been supportive and super cool. There is that underlying thing, though—an anxiety everybody feels as they get older. "Oh, I need to have shit more figured out and stable … I need to know where the check is coming from." Unless you're, like, Arcade Fire or something, being a musician, especially in a band that writes songs and tours, can be pretty unstable. It's kind of all over the place, and you have to just kind of be down with that.
How do you personally deal with that? Like you said, it can be anxiety-inducing as you get older and look at the people you went to school with who are bankers or software engineers or whatever.
Keegan: People I know who do things like that seem like they're happy settling down, having kids, and stuff. That's cool. For me, that's just never been what I wanted—and still isn't. I like the anxiety. I feel like I thrive off it—the not knowing how things are going to work out or whatever. It makes things more interesting.
More interesting for your music or just in life generally?
Keegan: Just in life. Musically I guess, also. We're done with this album, and now we're going to do an EP, and we're probably going to do something completely different just for fun. The point is to feel like you still have freedom to do what you want.
Pangea's William Keegan, Danny Bengston, and Roland Cosio rock and roll with their latest instrument acquisitions—a '64 Mustang, a vintage Fender Lead II, and a new P bass—in their latest appearance on Jam in the Van.
---
And while you'r at it, check out the Rig Rundown episode feature William, Danny, and Roland
.