How to play a deceptively simple—and impressive—turnaround that uses hybrid picking.
A rock-bass pioneer gets one of his signature tone spices bottled up in a new wah pedal.
Recorded with '65 Fender P, Guild Thunderbass head, Ampeg 2x10, Heil PR 30 mic, BAE312 mic-pre, and a Purple Audio MC77 compressor into an Apogee Duet interface.
Clip 1 - Fingerstyle
Clip 2 - Wren and Cuff Pickle Pie Bass distortion placed after wah, no EQ.
Dunlop didn't invent the wah, but they're one of the most prominent names in the history of wah making. And even though he probably wasn't the first to use a wah on bass, what's one of the first names that come to mind when you think about the pioneers of bass wah?
Geezer Butler, of course! So, it's only fitting that Dunlop turned to Butler for the company's first signature bass wah. Dunlop has been offering a bass wah for years, but this new model is definitely a different animal.
I feel like the Geezer is more suited to prominent, step-out-front kinds of featured parts, whereas the original feels like something a player would use in more of a traditional bass role.
Foot of Doom
This sturdy pedal feels ready to take on just about any physical abuse. The wah control feels exceptionally solid and smooth. The pedal is a very rock 'n' roll-looking matte black with Geezer's name in purple rubber over a grey lightning bolt on the tread. The wah is simple with no external controls, other than the treadle itself.
This is a good thing—especially if you use a lot of pedals in your rig. I'm generally a fan of less-is-more, since it minimizes the chance for things to go wrong, like, "How come when I stepped on my wah for my big bass solo, my volume cut in half?" You want to concentrate on music—not if a level control got bumped somewhere in your setup. Thumbs up for less controls!
If adjustments are needed, the wah houses a pair of little trim pots inside, which are easily accessed by removing the bottom plate that's attached via four screws. Adjustments can be made for Q (aka bandwidth) and the auto-return's delay time. The Geezer version has the same auto-return rocker treadle as Dunlop's standard bass wah, which means it springs back to the heel-down/bypass position when you remove your foot.
As you start to tip the rocker forward with your toe, it engages the effect. The auto-return delay control allows you to set how long—if at all—you want the effect to remain on after it's returned to the heel-down position. The pedal is powered by either a standard 9V battery or AC adapter.
Ratings
Pros:
Solid construction. Aggressive, cutting tone. Simple, easy-to-use features. Auto-return rocker.
Cons:
Could be too prominent in some situations. Cuts low end to a degree.
Tones:


Ease of Use:


Build/Design:


Value:


Street:
$169

Dunlop Geezer Butler Cry Baby Wah
jimdunlop.com
Wah Pigs
I was naturally compelled to compare the Geezer model to Dunlop's standard Cry Baby Bass Wah, so I plugged both, side by side, into my vintage Guild Thunderbass powering an Ampeg 2x10 cab, grabbed my '65 P, and dove into wah-bass wackiness! The difference between the two pedals was immediately clear. To my ears, the Geezer is much more aggressive and, well, "wah" like, whereas the original sounds more filter-like and leaves more low end intact through the whole sweep. I feel like the Geezer is more suited to prominent, step-out-front featured parts, whereas the original feels like something a player would use in more of a traditional bass role. The Geezer wah could pretty easily get out of control in the upper midrange, with those frequencies really jumping out, and it did veer towards the duck-quack world. This, however, can often easily be remedied by putting a distortion after the pedal.
So why not plug one in? I chose my Wren and Cuff Pickle Pie Hella Fuzz, which is a Big Muff clone. As predicted, this tamed the quack to an extent, but even with a pretty scooped-sounding fuzz, the duck was sticking its beak out at times. And this is where the wah's Q control comes in. The pedal comes with the Q knob positioned to Geezer's preferred setting, which is where I left it for initial testing. But I found that dialing the Q knob all the way down resulted in a much more usable and pleasing result. It really tamed those over-the-top mids, and for this bassist, that means it is usable in more scenarios. Kudos for including the Q control! It should also be mentioned that when the pedal was bypassed it didn't seem to affect my tone in any way. And that's something I'm always on the lookout for.
The Verdict
The Geezer Butler Cry Baby is built tough enough to tour the world with Sabbath (literally) and good looking enough to be seen doing it. I appreciate the Q control and its ability to adjust how drastic the pedal is, and I'm glad they tucked the control inside. When you get your sound dialed in, it stays that way. For average utilitarian bass duties, this pedal could get a bit overly conspicuous, but if you're looking for an aggressive, biting wah that will make your bass jump out of the mix for featured parts, the Geezer Butler Cry Baby Wah may have your name on it, too. And if you use a very scooped midrange in your sound and/or use a lot of distortion, this pedal is a great option.
Watch the Review Demo:

What causes our strings to lose their upper frequencies over time?
We all know what happens when strings—especially roundwounds—get old, right? You can read thousands of explanations of how dirt, corrosion, and material fatigue cause the strings not only to lose sustain, but especially huge amounts of their upper frequencies. For years, I've failed to truly understand what causes these tonal changes because I have yet to find a real explanation, one that's not just a rehash of the obvious. It's clear this must have something to do with a combination of the aforementioned factors, because nothing other than oxygen, dirt, and tension is involved. What harm could any of these do to our strings?
Dirt. There are those who speculate dirt collects in tiny perforations in the string, essentially the nanostructural roughness of its surface. This is where some players intuit a string's upper harmonics originate. Even though it's hard to accept a relationship between microscopic holes and frequency, we're also typically dealing with non-magnetic dirt. Fill those perforations and a string's magnetic behavior is still the same—unless it's diamagnetic, paramagnetic, or ferromagnetic dirt, like ferrous dried blood. The extra mass of dirt might slightly alter the basic vibrating frequency, but that's it.
Corrosion. Rust, on the other hand, could affect magnetic behavior because oxidized metal can and normally will have different magnetic properties. Still, we can perceive upper harmonics beginning to disappear after only a few hours of playing, and it's just not realistic to think that steel corrodes that fast. Some of us don't change strings for years; if strings were to corrode in a matter of hours, we'd need to sweep up their remains after a very short time.
Our strings have either a round or polygonal steel core, which we expose to a force comparative to the weight of
about 20 to 40 pounds.
Material fatigue. Our strings have either a round or polygonal steel core, which we expose to a force comparative to the weight of about 20 to 40 pounds. That's not enough to exceed the elastic boundaries of steel and cause plastic deformation, even when we pop our strings. This force slightly stretches a string over time, but in no way changes its basic structure.
Loose and damaged outer windings. It's rare, but sometimes a new string comes with a loose winding—the result of a manufacturing glitch. A loose winding can produce an additional high note, similar to a buzzing fret, with the difference being that its pitch is almost independent of the note you're playing. But this is not what we hear from old strings!
Finally, there's the idea that damaged windings cause tonal aging. As you've probably observed, by repeatedly pressing a string against the frets, we flatten the outer winding above each fret. These interruptions in the uniformity of the material cause a string's vibrations to be disrupted at each of these points, reducing sustain. This seems like a recipe for vibrational chaos, but not an explanation for high-end loss. But maybe we'll find one where we can observe dirt buildup—at the windings.
Every vibration of a string causes it to bend, and Image 1 shows the forces in the cross section of a string being bent. It's much like the pictures of classic "beam bending" in technical mechanics: In the center, there's the so-called neutral fiber, while both peripheral areas experience the greatest expansion and compression.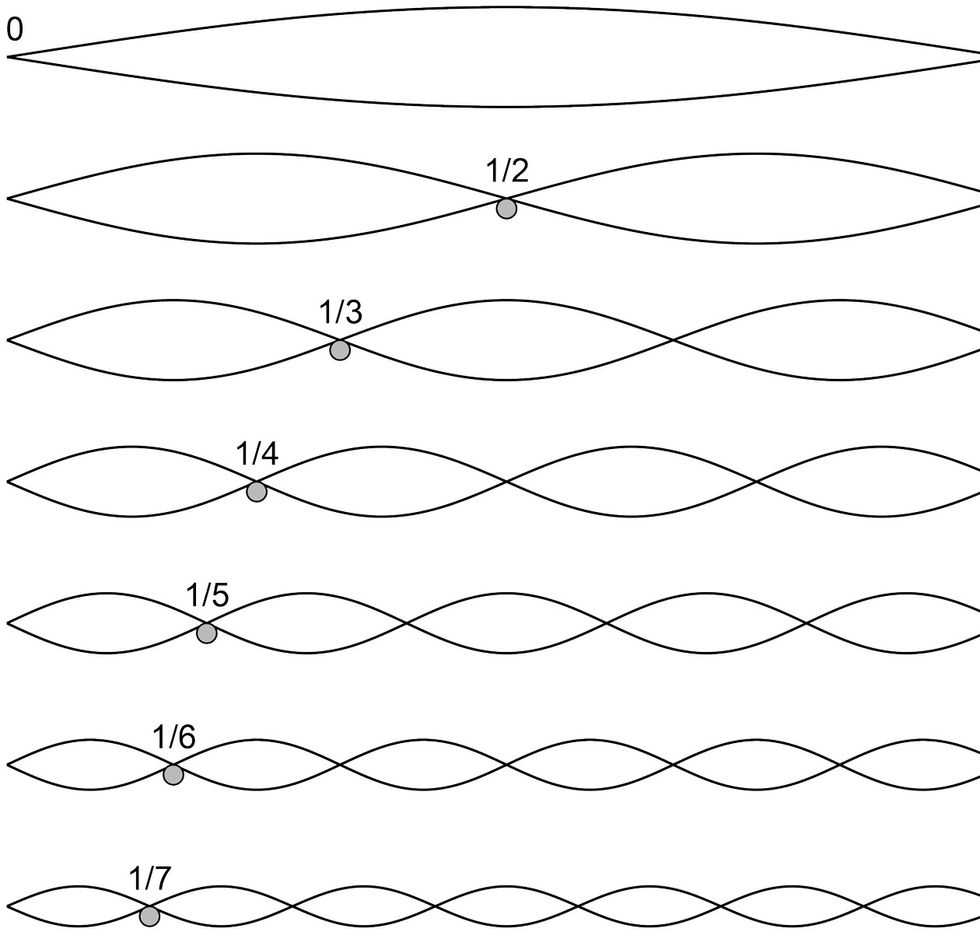 Vibrational modes of fundamental and upper harmonics. Images courtesy of wikimedia commons.
The basic fundamental vibration mode shown in Image 2 bends the string at a radius that's close to its scale length. With a radius that large, the movements at the interstices—the dirt-trapping windings—are at a minimum and so is the "dirt dampening" that can affect vibration. The second vibrational mode is close to half of that radius. This greater bend increases movement at the interstices. The higher the frequency, the smaller the radius, and the stronger the expansion and compression … and the greater the potential for dampening when dirt interferes with this motion. In other words, this continues to worsen for all the higher modes, causing a loss in the upper frequencies. (Of course, amplitude also plays a role, but frequency is sufficient to understand the effect.) Once the string gets dirty enough, this dampening even affects the sustain of the fundamental.
New coated strings don't sound as bright as new uncoated ones for the same reason. There's a build-up of softer material on the whole string, including the interstices. This material is typically a coating of PTFE, also known as Teflon, that prevents dirt from adhering to the interstices until the coating gets damaged.
So ultimately, dirt, corrosion, and damaged windings cause aging, but it's the special position of the interstices—and the dirt that interferes with their movements when vibrating—that explains high-frequency dampening.