Need to mix it up? Here are 10 options that can go from twang to growl to … gristle.
One of the most effective—and least invasive—ways to mod a guitar is to swap out the pickups. Wanna experiment with a 'bucker in the bridge? Leave the router at home. We've rounded up 10 options that range from affordable and effective to boutique and beyond.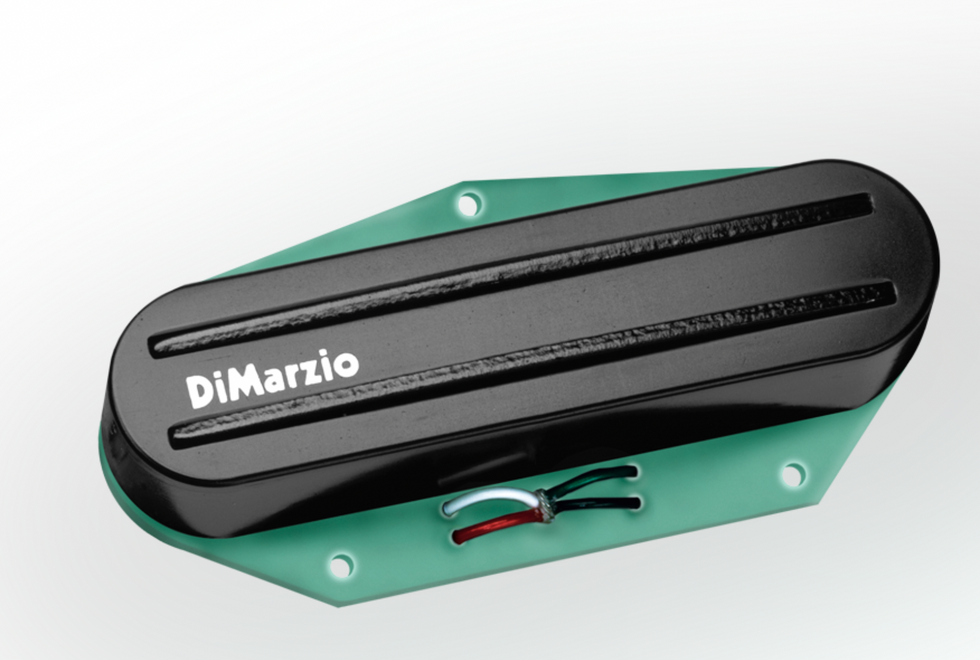 This single-coil-sized version of the company's legendary Super Distortion is aimed at T-style players who want the thick sound of a 'bucker in the bridge. It has a pronounced low-mid response with a roll-off on the high end.
$99 street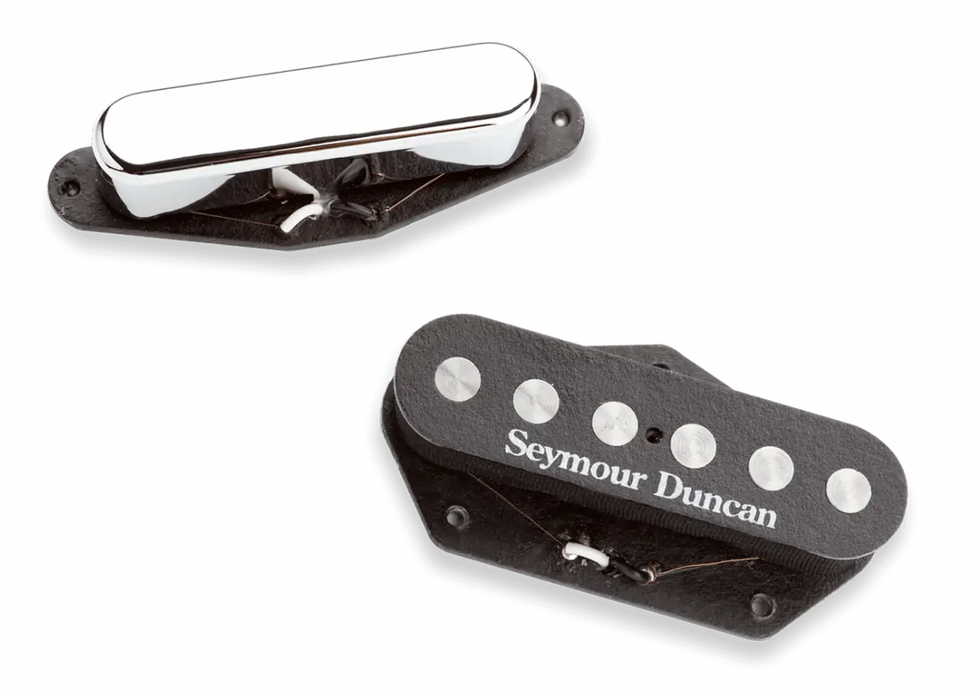 Centered around a set of alnico 5 magnets, this high-output single-coil crosses into P-90 territory. You can also get a tapped neck variation that allows for both vintage- and high-output sounds within a single set.
$89 street
Introduced in 2016, this T-style pickup features the guts of the company's T-Armond pickup, but with a little more juice. Like many of the pickups on this list, it's a straight drop-in replacement for standard-sized pickups.
$120 street
With less than 10 components in a single pickup, Mojotone made these designs very simple. They use their "Quiet Coil" technology to get rid of the hum without batteries or stacked coils. The pickups are also scatterwound for more sensitivity and clarity.
$98 street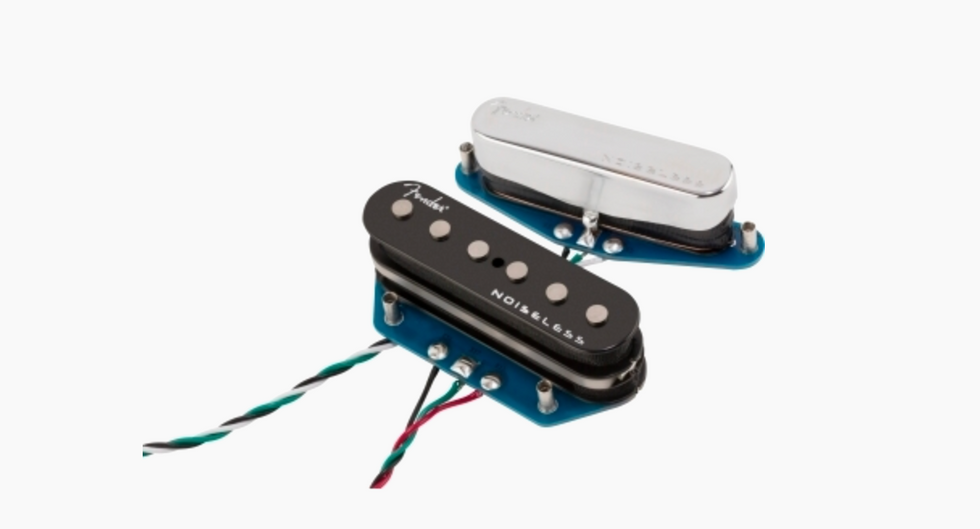 These stacked-coil setups aim to capture the classic sound and sparkle of vintage Tele pickups. They use alnico 5 magnets, Polysol-coated wire, and flat, non-beveled pole pieces. The neck pickup measure about 11k resistance and the bridge comes in around 10k.
$199/set street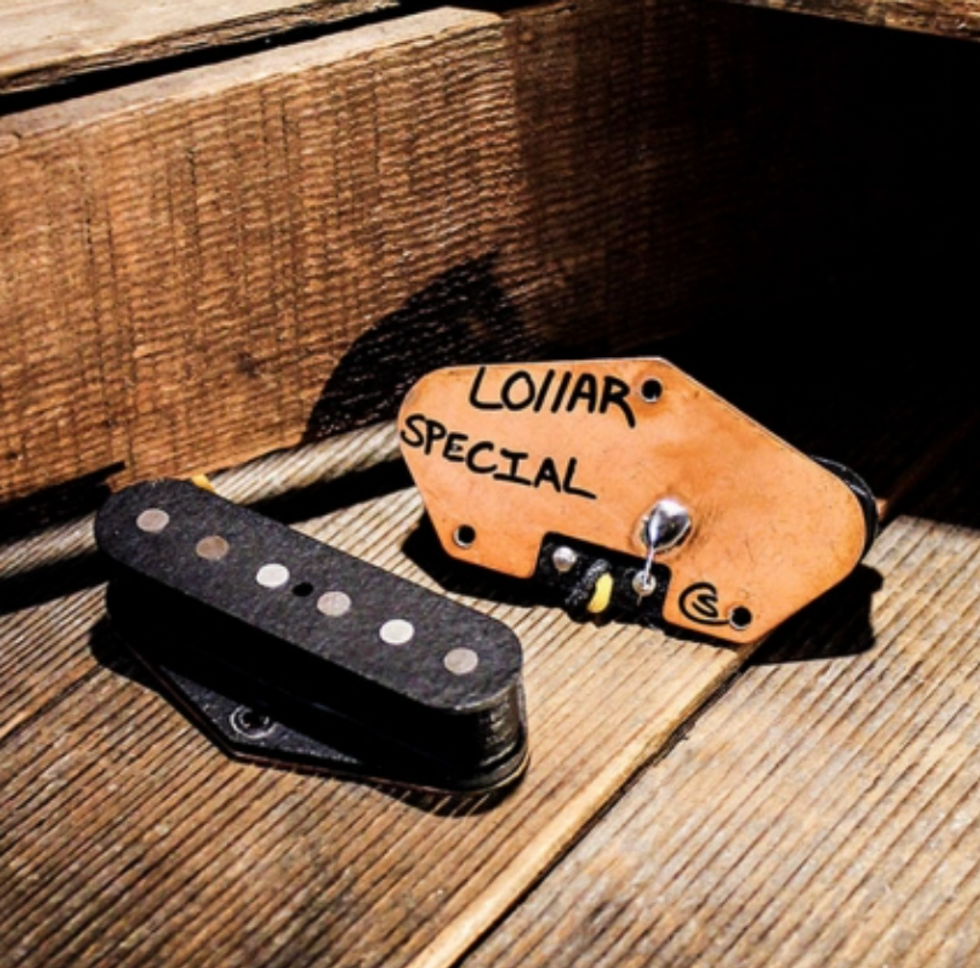 Jason Lollar is a bona fide pickup genius, and his take on the classic '50s Tele sound is represented here with a pronounced mid and bass response along with a smoother top end. Described as slightly hotter than a vintage Broadcaster pickup, the bridge comes in at 8.0k.
$125 street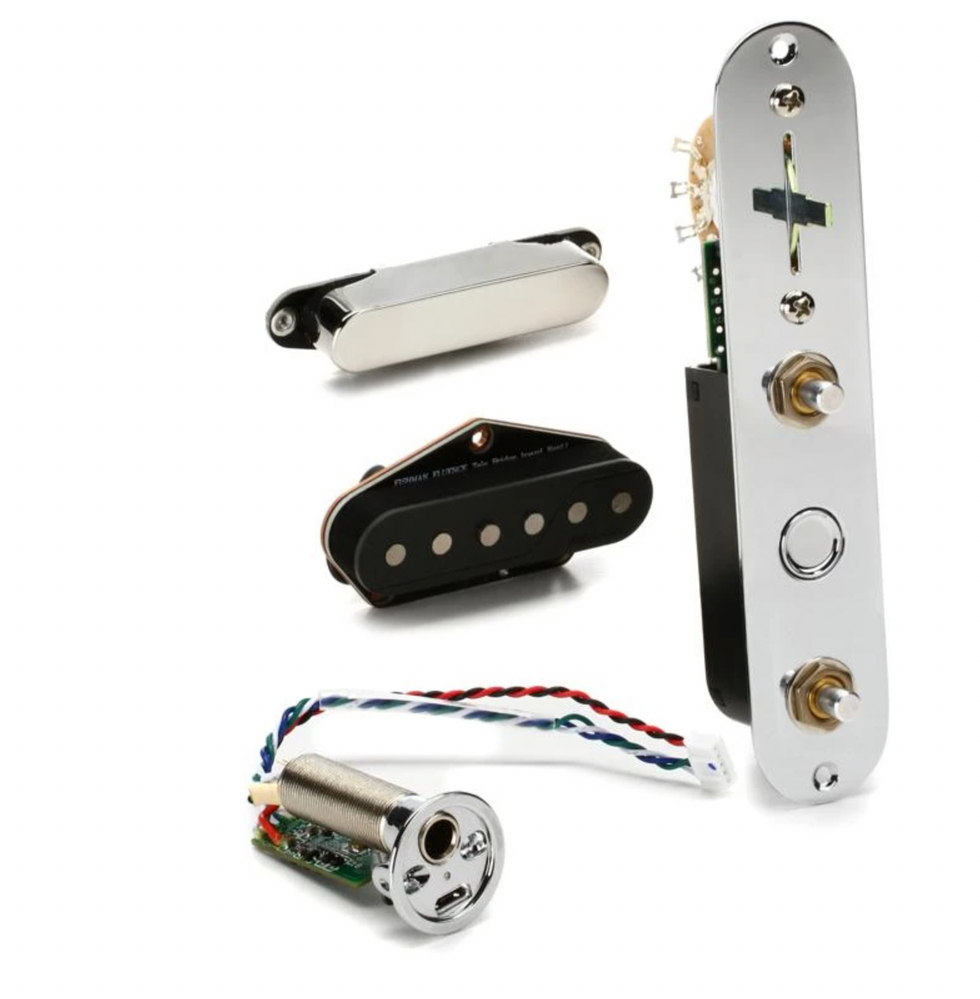 Wisconsin's most gristly guitarist teamed up with Fishman to create an entire T-style setup based on their Fluence technology. Each set includes both pickups, a control plate, and an output-jack cup with a USB charging input. With the push of a button, you can easily go between "blackguard" and "whiteguard" tones.
$359/set street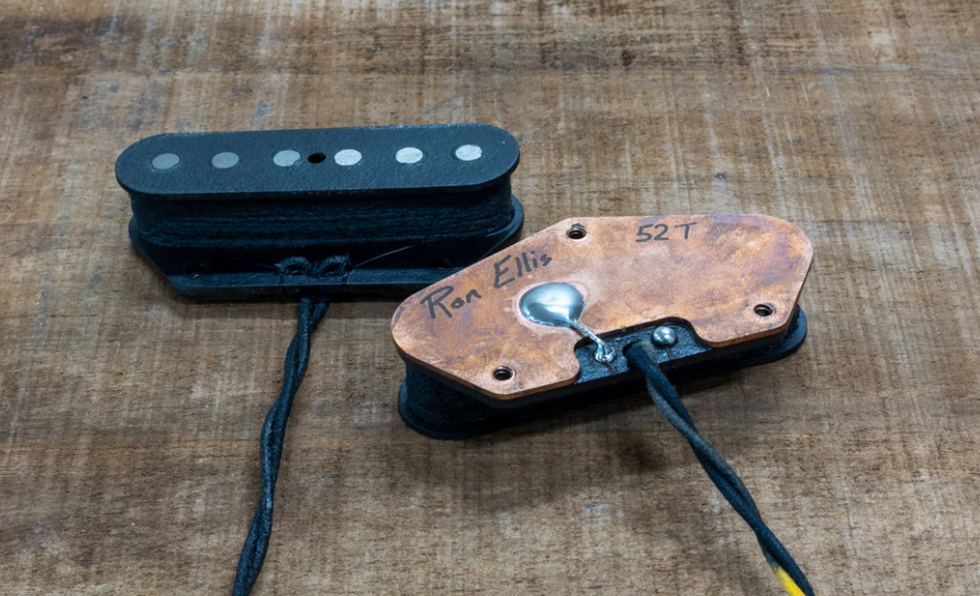 Ellis might be one of the most in-demand pickup designers around today—and the going rate for his offerings bear that out. This particular flavor goes after the "blackguard" tones of classic Tele pickers such as Vince Gill and Brent Mason.
$375 street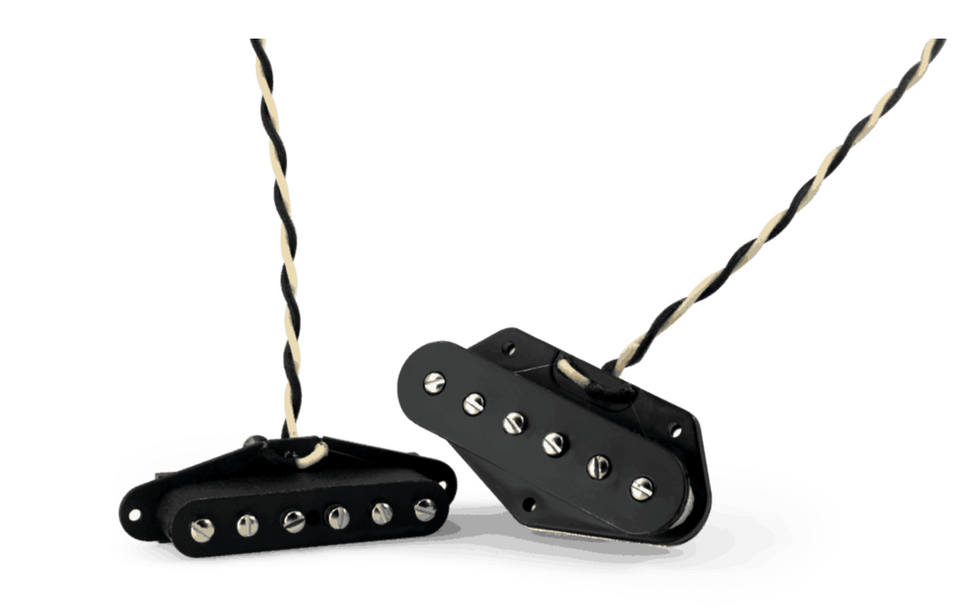 Described as a cross between a T-style pickup and a P-90, this design houses a ceramic magnet and adjustable steel pole pieces. Sonically, it has a mid-forward tone that offers a faster breakup when playing with distortion.
$115 street
Hate the hum? These active pickups aim to balance the punch and clarity of vintage Tele pickups with the modern convenience of quiet. It uses alnico magnets and a custom winding to increase bandwith and fullness of tone.
$89 street
Ten modern-day pickups aimed at delivering the classic Filter'Tron sound.
More than 60 years after Ray Butts' design was dreamt up, Filter'Tron-style pickups continue to draw devotees and converts. Whether you're after the tone of Malcolm Young or Chet Atkins, in standard or humbucker mounting, the 10 modern-day options we've rounded up here will get you started on your search.
MOJO PICKUPS
Mojotron Vintage
Handmade and designed to be bright and twangy like the originals, these pickups feature historically correct covers that, also like vintage Filter'Trons, are not soldered to the base plate.
$119 street
mojopickups.co.uk
LOLLAR GUITARS
Lollartron Traditional
Offered with three different mounting options, these pickups were designed with a '63 Country Gentleman as their tonal reference to achieve the clarity and punch of a classic 'Tron.
$185 street
lollarguitars.com
THE CREAMERY
Classic Black Cat
These pickups are jangly, bright, and designed to break up an amp at gain for a biting attack. They have a custom baseplate that allows both 2-hole (Gibson) and 3-hole (Fender/Gretsch) mounting.
$99 street
creamery-pickups.co.uk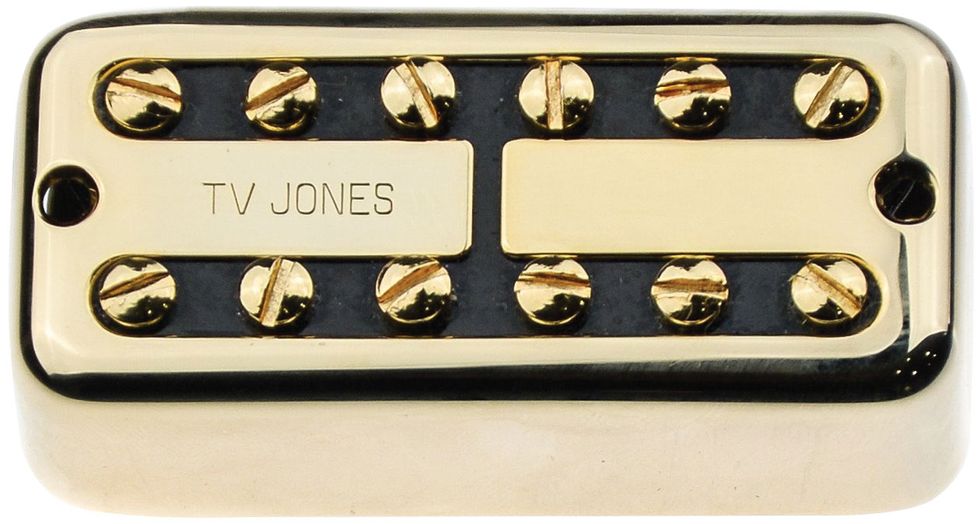 TV JONES
TV Classic
Created with the vintage twang and growl of a late-'50s/early '60s Filter'Tron in mind, this versatile pickup is meant to be right at home for rock, blues, rockabilly, or country.
$132 street
tvjones.com
GFS
Retrotron Nashville Vintage Humbucker
These easy-on-the-wallet pickups will fit almost any guitar that accepts standard-sized humbuckers, bringing vintage warmth with a crisp and clear high end.
$38 street
guitarfetish.com
KENT ARMSTRONG
Kentron
These low-output humbuckers are reminiscent of early Gretsch Filter'Trons and bring bright and detailed sounds with single-coil twang—perfect for rockabilly and country pickers.
$87 street
kentarmstrong.com
GRETSCH
Filter'Tron
The Filter'Tron's dual-coil design "filters" out the hum often associated with single-coils, while at the same time adding a warmer tone and an increase in output and sustain.
$89 street
gretschguitars.com
PROTO GUITARS
Wide'Tron HB
This mashup of a Filter'Tron, a Wide Range, and the company's PAF-style humbucker brings the best elements of each to create a twangy, punchy, full-sounding pickup.
$160 street
protoguitars.com
MOJOTONE
Fat Mojo'Tron
Featuring covers and magnets reverse-engineered from a vintage Filter'Tron, these pickups provide a fatter F'T tone with heightened midrange and sustain for a punchy low-end response.
$119 street
mojotone.com
SEYMOUR DUNCAN
Psyclone Vintage
This take on the Filter'Tron sound was designed to bring snappy highs, clear mids, and warm lows befitting a number of genres ranging from country, rock, blues, and more.
$145 street
seymourduncan.com
The Canadian brand unveils a new line a electrics that are loaded with TV Jones and equipped with Bigsby B50 vibratos.