On a tip from Mod Garage guru Dirk Wacker, the famed Hellecaster bags a Filtertron-fueled prize.
I always keep my eyes and ears open for new gear. A few months ago, I was conversing via email with fellow PG contributor Dirk Wacker, who writes the Mod Garage column. He was telling me about a European company called Harley Benton that makes good, inexpensive guitars. So I started searching eBay for that brand. After a while, I found this guitar, which looked interesting. It was a TE-90 FLT SB Deluxe T-Style that had Roswell Filtertron pickups, a reverse headstock, an S-style bridge, a Mary Kay-type finish, and a maple fretboard. It had a "Buy It Now" price of $195 plus $55 shipping.
"The Roswell Filtertrons didn't exactly sound like the Gretsch versions, but they sounded really good and seemed to have their own personality."
I wasn't sure I wanted it, but after several days I pulled the trigger. After taxes and shipping, the total was $268. It wasn't a great deal, but it was okay. Then the seller informed me that he was going to remove the neck for shipping. I almost threw a fit over that, but finally reasoned that if I was meant to have the guitar, it would be fine. Bottom Feeder Tip #367: Make sure you read the fine print on an auction.

Note the additional hole our columnist drilled through the Wilkinson ashtray bridge he installed, to allow more fluid movement of the B-string without snagging or popping off the saddle.
It arrived a week later from California, and it looked stunning. I quickly assembled the neck, put on a set of strings, and, I have to confess, it really had me at hello. It felt solid in my hands, stayed in tune, and played easily. I plugged it in and it did not disappoint. The Roswell Filtertrons didn't exactly sound like the Gretsch versions, but they sounded really good and seemed to have their own personality. After a few hours playing my new 6-string, I made a decision reserved for only a select few guitars: I was ready to slap on a Hipshot B-Bender.

Here's a close-up of the reverse headstock, with two double-string retainers and chrome hardware.
So, I took the strings off, shimmed up the pickups with stiff foam rubber to be closer to the strings (there are no springs), then went to my bridge drawer and grabbed a Wilkinson half-size T-style ashtray bridge with 3-way compensated saddles. It's a handy bridge to keep on hand for all kinds of projects, because it can work on top-loading as well as bottom-loading guitars.

The contoured rear body is a nice ergonomic touch. The semi-transparent, pink, Mary Kay-type finish also nicely displays the grain of the ash.
I could've used the existing hole for the B string, but since the angle over the B-string saddle is critical, I like to drill a second, higher hole in the back of the ashtray for tuning stability. Too steep an angle and the string tends to hang up, not going back down to pitch properly. Too little angle and the string will pop out of its slot on the saddle, especially if you use a pick and fingers like I do. Finally, installing the Hipshot was the easiest part.
Everything took about three hours from start to finish, but I wound up with a nice playing and sounding guitar with a bender. So, is it a keeper? For now I'd say it is. The guitar really feels solid, sounds great, and is fun to play. What else do you need?
Sometimes the best low bid is a trade.
I have a friend named Mac Whiteside, who lives in Austin, Texas. He has done a lot of custom guitar builds and modifications for me over the years. He's also an avid G&L collector. He mentioned that he had an '80s G&L SC-2 in his guitar arsenal. He sent me a picture, and for some reason I just fell in love with it. I'd never owned a G&L from the '80s, and I was curious how that guitar would compare with my newer G&Ls. We talked several times about a guitar swap, and when I finally found the right guitar, he said okay.
Outside of the body shape and lack of a pickguard, this guitar is the same as an ASAT Special in nearly every way.
Bottom Feeder Tip #289: Sometimes a guitar trade with a friend makes sense when money is scarce. Both parties get a new instrument to satisfy their guitar-playing wanderlust, while saving their money for more important things, like, well, other guitars.
The SC-2 arrived, and I was excited about the look of it. The original white finish had aged over the years into a beautiful yellowish cream color. The maple fretboard and headstock likewise had an aged look.

Besides its twin single-coil pickups with adjustable pole pieces, the SC-2's straightforward electronics are represented by its control set: volume and tone knobs, and a 3-way pickup selector.
Here's a little history on G&L: After Leo Fender sold Fender to CBS in 1965, he took the money and joined the team that started Music Man as a silent partner in 1971. He did that for nearly a decade and left Music Man to start G&L in 1979, with his longtime collaborator and the inventor of the Stratocaster, George Fullerton. Incidentally, the letters "G" and "L" stand for George and Leo—pretty casual for two industry titans.

The SC-2's headstock displays the company's lineage, with a very Leo look.
So, back to the SC-2. That model debuted in the early '80s, when Leo and George wanted to create a new line of inexpensive but fully professional guitars at G&L. The SC-2 had the same Magnetic Field Design (MFD) pickups as its older and more expensive sibling, the venerable ASAT Special. It also used the same bridge, switches, and wiring as the ASAT. In fact, outside of the body shape and lack of a pickguard, this guitar is the same as an ASAT Special in nearly every way. The feel, electronics, and build are all top notch and as professional as it gets. I liked my SC-2 so much that I later added a black Hipshot bender to match the black-powder-coated hardware, so it could go into battle anytime, anywhere, on my terms.

A 3-bolt setup holds the neck firmly in place—another classic Fender design element, translated to the G&L brand.
So, how do the early-'80s MFD pickups sound compared to my newer ASATs? Very similar: a little lower in volume, but with a bit more sizzle in the top end. Check out how it sounds in my MP3 at premierguitar.com. The lighter weight of the guitar's body also gives the SC-2 a different sound than the ASAT, while retaining the bite that MFD pickups are known for.
Is it a keeper? Yeah, and Mac made me promise to let him know if I ever decided to get rid of it. He understands.
A classic-shaped 6-string catch of the day.
I love unusual guitars. That's a given. And from my vantage point, there's no shortage of unusual guitars out there. Just when you think you've seen it all, one will surprise you. This guitar came up when I looked at a favorite seller's items on eBay. It's a Les Paul-shaped guitar made by King, a company I wasn't familiar with.
The guitar's entire top is mother-of-pearl pieces, in a circular mosaic pattern, similar to some old Zemaitis guitars from the 1960s. I wasn't sure what to make of it. It just seemed bizarre, more than anything else. But every time I looked at it (every day or so), it intrigued me more. The seller wanted $325 in a fixed-price auction. The seller had great feedback, and it seemed like a reasonable price, but for whatever reason I was not able to pull the trigger.
Will Ray's Bottom Feeder: King Mother-of-Pearl (January 2019)
I kept an eye on it, though, and it went through several no-bid cycles. Then, the seller added "or best offer" to the fixed-price auction. I got to thinking about it and figured to offer $50 less. So I sent an offer of $275. To my surprise, he immediately accepted my offer and I PayPal'd him.
Sometimes selling an included hardshell case that you don't need can lower your price on an instrument enough to make a good deal into a great deal.
​Bottom Feeder Tip #207:
If a seller's item hasn't sold after awhile on eBay, he or she may entertain best offers. That's opportunity knocking for you as a buyer. You have nothing to lose if you send your best offer. It can be accepted, rejected, or met with a counteroffer. But keep in mind that once your offer is accepted, you just bought it and must pay for it. It's legally binding, as they say.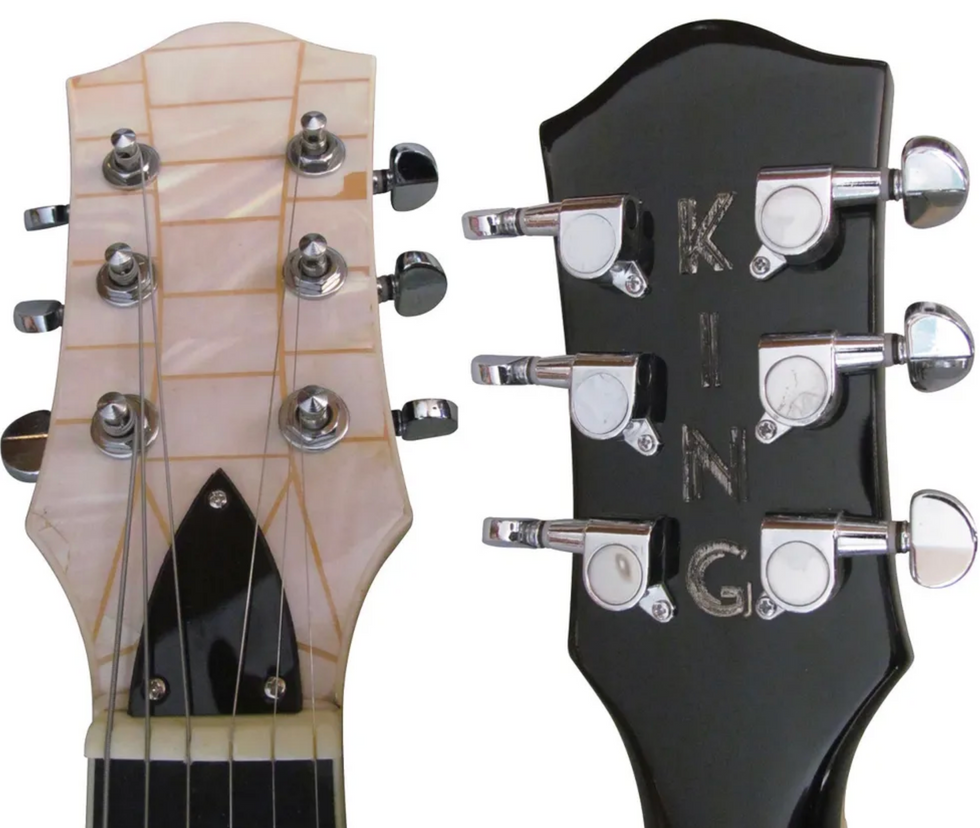 The mother-of-pearl pattern on this instrument is ornate and thoroughly plotted—even on its headstock, to the extent that the company's name appears on the back rather than interrupt the visual vibe.
I received the guitar a week later. It's stunning up close. The mother-of-pearl really pops. It came shipped in a brand-new hardshell case. I'm not into hard cases, so I promptly sold the case for $50, which brought my actual price down to $225—where I'm more comfortable as a bottom feeder.
​Bottom Feeder Tip #688:
Sometimes selling an included hardshell case that you don't need can lower your price on an instrument enough to make a good deal into a great deal.
Normally a P-90 fanatic, Will Ray nonetheless found this axe's humbuckers very articulate and mud-free—making his final $225 cost a Bottom Feeder bargain.
How do I like the guitar? Well, it's an interesting piece—that's for sure. The intonation is good, the neck is straight, the action is easy to play, and the humbucker pickups are very articulate without being muddy. I have other guitars that can do the same thing, but they don't look like this one! I still get a kick out of eyeballing it.
So, is it a keeper? Yeah. I'll probably keep it around for a while. It's always fun to show people, and it never disappoints at a jam.
[Updated 8/19/21]