The bluesman surprisingly credits Adam "Nergal" Darski for his right-hand picking dexterity and explains why many of his own songs use a same similar "heavy" tuning.

Go inside Mat Kerekes' home studio to see the stock Fenders, magical JCM800, and key "junker" pedals that colored Life In Your Glass World.
"Citizen is expertly trained in disappointing our fans," cheekily admits guitarist Nick Hamm. "So, every time people like something we're heading in a different direction."
The self-deprecation aside, Citizen has thrived at throwing musical curveballs. 2013's debut Youth seemingly shotput them into a trajectory as angsty emo kids with a love of '90s grunge-rock dynamics. However, 2015's Everyone Is Going to Heaven expands on their early complexities. They stretch out the symbiotic flow from heavy to quiet. The crushers ("Cement") hit harder while the dreamers ("Heaviside" or "Yellow Love") float longer in a spacy nighttime silhouette. 2017's As You Please further combines atmosphere with aggression. The result is a dark-pop album with cutting, jagged moments of emotion. Synth layers smooth out the edges and enable the hooks and melodies to sink deeper. And the brand-new Life In Your Glass Worldis almost a more dense, groovy dance record than pure, riff-heavy rock album. (Which makes sense after learning in the Rundown all the songs were written around the rhythm section, not guitar or vocals.)
Just before putting out their latest album, core Citizen members Mat Kerekes (singer), Nick Hamm (guitarist), and brother Eric Hamm (bassist), virtually welcomed PG's Perry Bean into Kerekes' home studio that facilitated the new album.
In this episode, the Hamm brothers and singer/producer Mat Kerekes detail the impact their altered songwriting and recording processes impacted the outcome of
Life In Your Glass World
. In addition, Nick Hamm contextualizes two pivotal EHX pedals, while Eric Hamm explains how losing a Fender Bassman 800 improved his tone.
[
Brought to you by:
D'Addario Auto Lock Strap
]
Nick Hamm's Fender American Performer Jazzmaster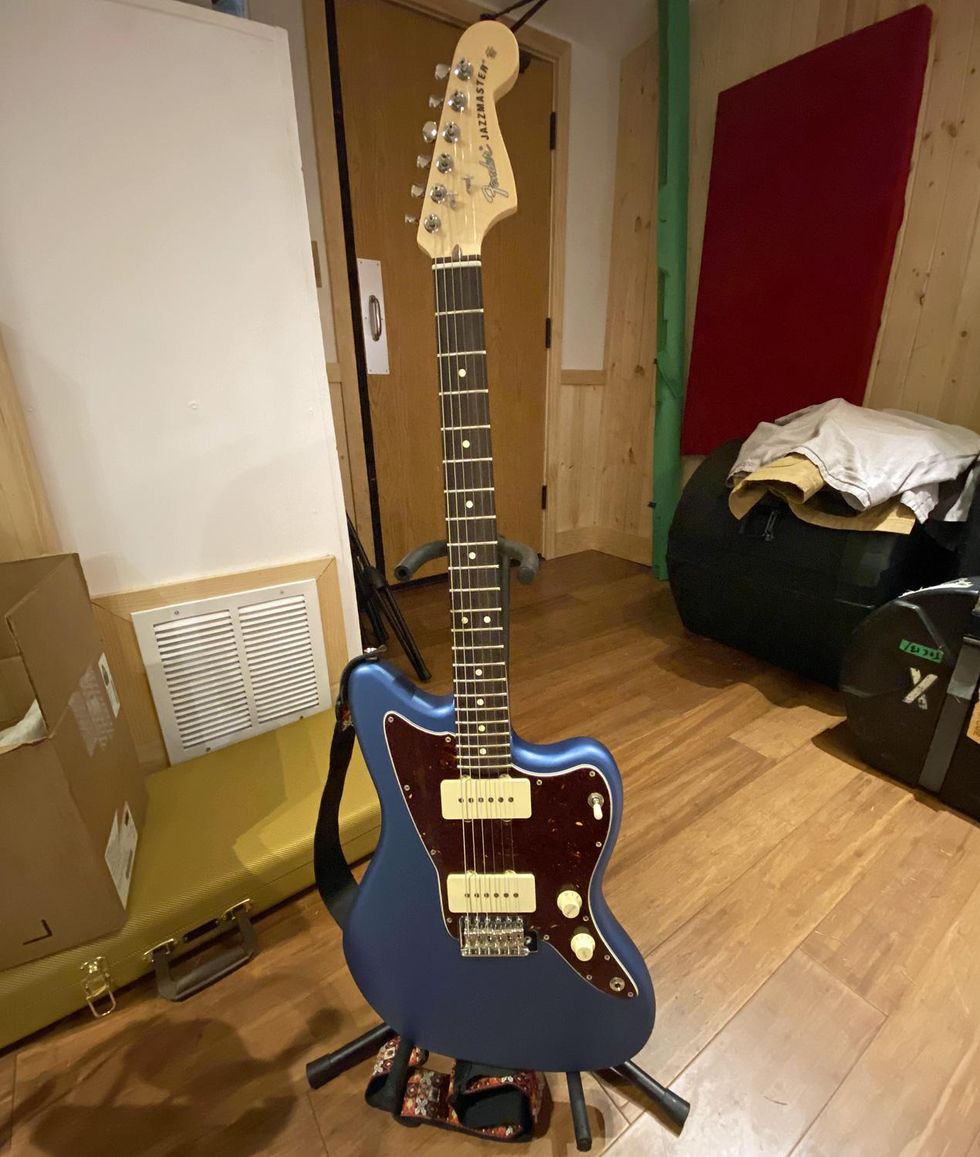 The biggest departure for Nick Hamm's setup is upgrading from a Fender Classic Player Jazzmaster (seen in the last Rundown and used extensively on As You Please) to a Fender American Performer Jazzmaster for Life In Your Glass World.
Nick Hamm's Marshall JCM800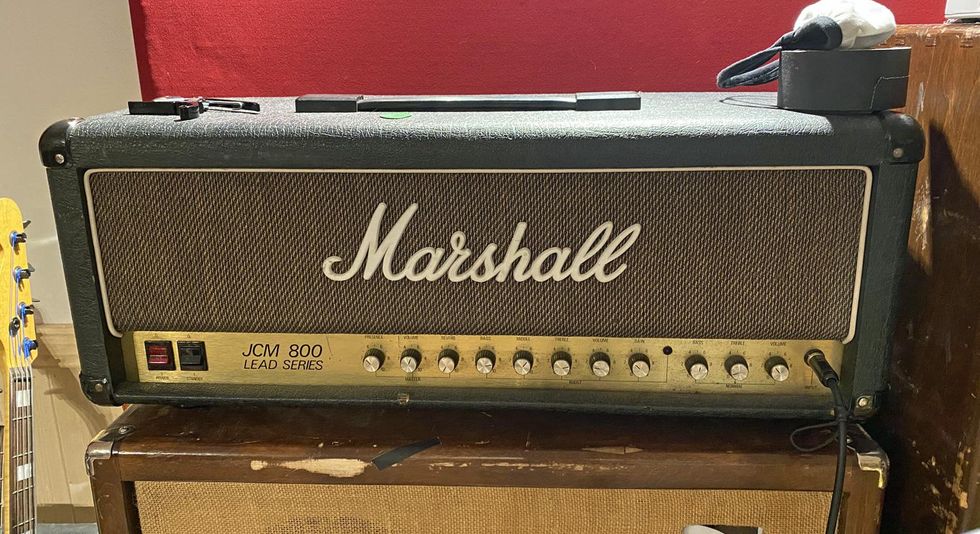 "This JCM800 is flat-out not going anywhere," states Citizen guitarist Nick Hamm. And to his credit, it's been in his setup (and in the studio) ever since our 2017 Rundown. (In that episode, Hamm stated that producer loved this Marshall JCM800 so much that he told Nick to never sell this amp.
Nick & Eric Hamm's Cabinets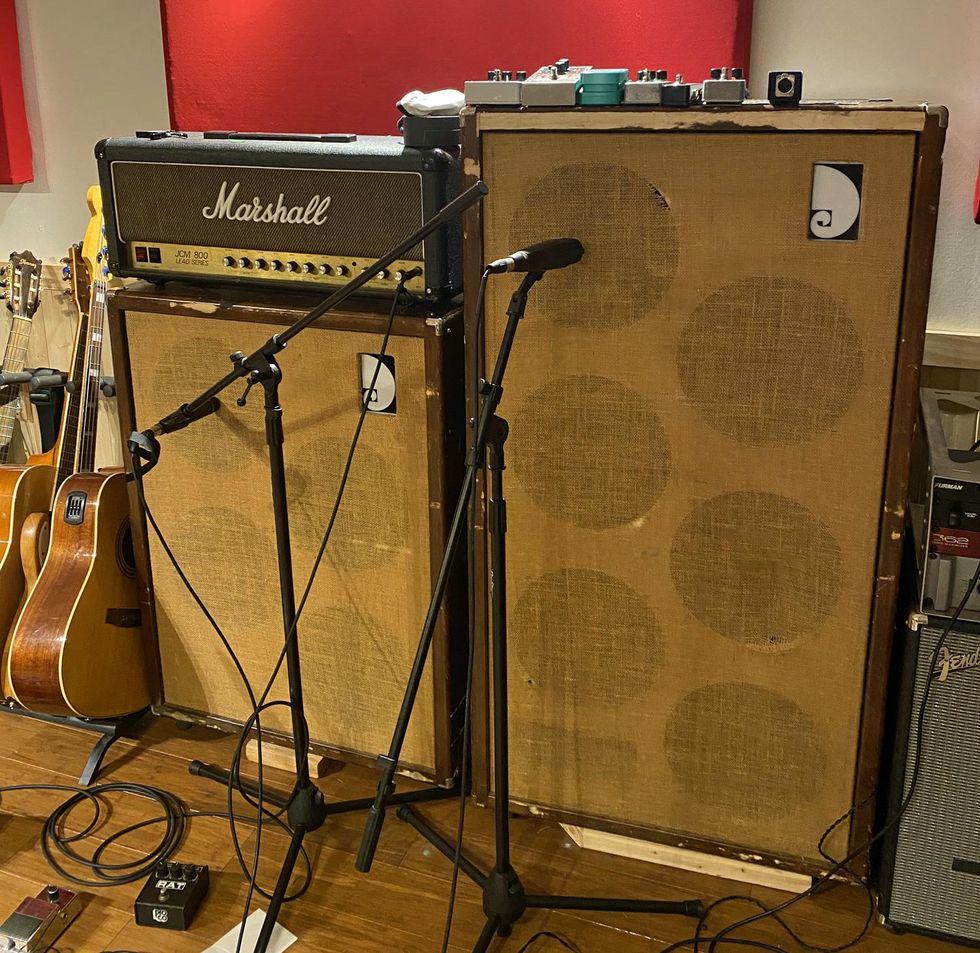 The 800 powers a staggered 4x12 cab from Janice and it's loaded with Vintage Celestion 30s. Next to the 4x12 rests bassist Eric Hamm's staggered Janice 6x12.
Nick Hamm's Pedalboard
Nick Hamm's "junker" pedalboard has slightly changed since 2017—the Electro-Harmonix Freeze was removed to make way for EHX's Synth9 ("featured on prominent parts of the new record like 'Blue Sunday'"). The rest are repeat offenders: Ernie Ball VP Jr, Electro-Harmonix Nano Big Muff, Electro-Harmonix Micro POG, Ibanez TS9 Tube Screamer, Electro-Harmonix Holy Grail, Boss DD-3 Digital Delay, Boss CH-1 Super Chorus, and a Boss TU-3 Chromatic Tuner.
Eric Hamm's 2014 Fender American Standard Jaguar bass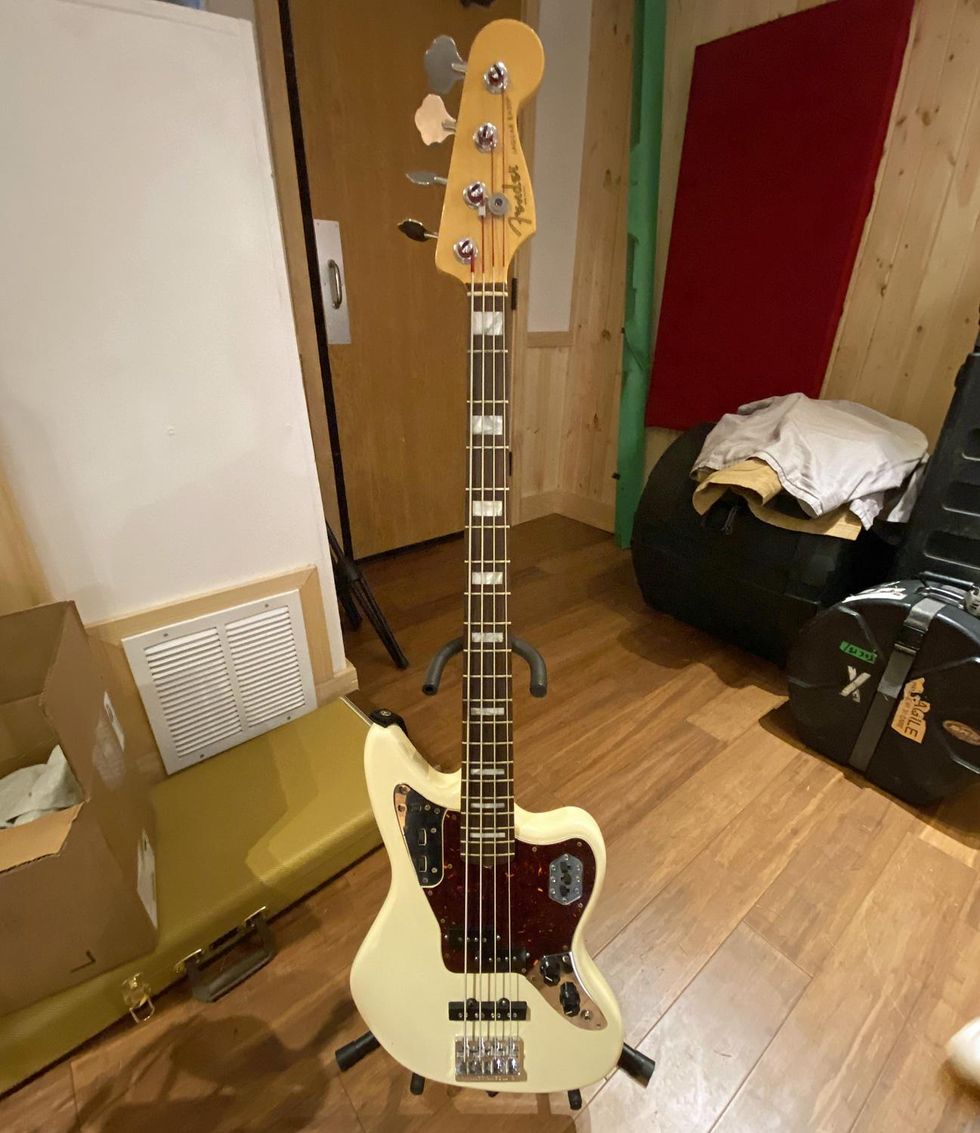 Eric Hamm's main ride is still this 2014 Fender American Standard Jaguar bass because he continues to enjoy its different sound and tonal flexibility when compared to his P basses. The bass works in either passive or active mode, but he prefers its sound in the passive setting.
Eric Hamm's Tech 21 SansAmp RBI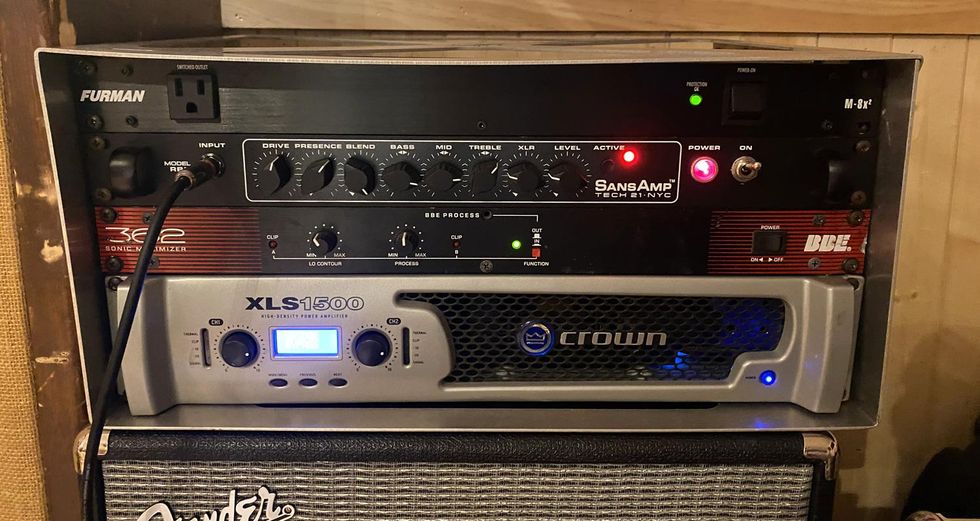 Last time we spoke with Citizen, Eric Hamm was using a Fender Bassman 800. He's since recalibrated his setup with a Tech 21 SansAmp RBI that's powered by a Crown Audio XLS 1500 and runs in conjunction with a BBE 362 Sonic Maximizer.
Eric Hamm's Pedalboard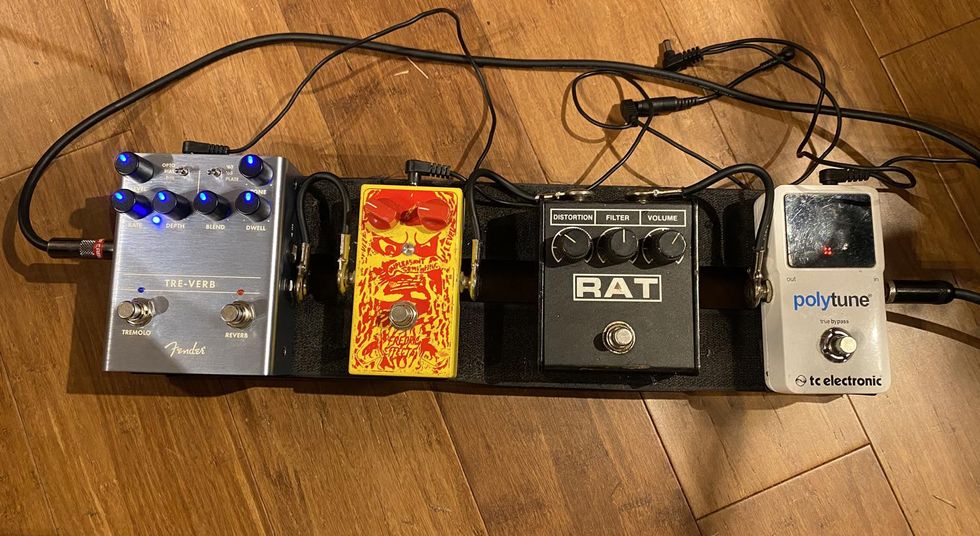 While still man of few pedals, Eric Hamm has expanded to three stomps and a tuner. The Pro Co Rat and TC Electronic PolyTune 2 are carryovers, but the pair of newbies is a Fender Tre-Verb and Fredric Effects Unpleasant Companion MkII.
A DSP-driven blackpanel Deluxe that dares players to differentiate between tube and digital.
Super-accurate emulation of blackface Deluxe Reverb performance characteristics. Effective attenuator. Super light. Fair price.
Odd, thinning compression characteristics when paired with extreme fuzz.
4.5
4.5
5
4
A legacy as weighty as Fender's can be a curse and a blessing. On one hand, the visual simplicity, elegance, and enduring appeal of most Fender products means that they don't have to reinvent the wheel every day. On the other, deviation from classic formulas can incite minor riots among purists.
In the case of the Tone Master Deluxe Reverb, Fender found a way to have their cake and eat it too. They've adapted the look and operational feel of one of their most iconic products to an impressive digital engine that, in most critical respects, nails the sound of a blackpanel Deluxe. And while replicating a Deluxe's many nuances isn't exactly earthshattering news (several companies have engineered excellent emulations in the digital realm), the way Fender replicates the classic Deluxe Reverb user experience as a whole makes it a masterstroke of product design.
If It Ain't Broke, Make It Digital
From the opposite side of a club, you'd probably mistake the Tone Master Deluxe for a '65 Deluxe Reverb reissue. The only overt differentiating visual cues are the "Tone Master" plate on the lower right corner and the and the lamp that glows orange when the amp is muted. The front-panel control set is identical to an original blackpanel or a modern reissue, complete with "normal" and "vibrato" channels and bright switches for both.
Lift the Tone Master Deluxe by the handle, though, and you grasp that there's much more (or less) here than meets the eye. At just 24 pounds, it's freakishly light. In fact, when the amp arrived, I carried it, in its box, up three flights of stairs with a hand full of onions. The rear of the amp reveals more important differences and extra conveniences.
There's just enough ambient, amp-at-work hiss to make you wonder if you aren't just listening to a freshly tuned tube unit.
The power attenuator, which features settings for 22, 12, 5, 1, .5, and .2 watts of output is invaluable for home use and gigging alike. And the amp's ability to retain most essential performance characteristics at even the lowest output is impressive. The other important back-panel addition is the balanced XLR line out and cabinet simulator with three distinct impulse response simulations, which enables you to silently record (with the help of the "mute" switch that replaces the standby) or run out to a PA and use your amp as a monitor in mic-less situations.
Grace Under Pressure
At clean and low-gain settings, many listeners will struggle to tell a Tone Master and a tube-driven '65 Deluxe Reverb reissue apart. It's certainly quieter, but there's also just enough ambient, amp-at-work hiss to make you wonder if you aren't just listening to a freshly tuned tube unit. If you are among the many players who favor the Deluxe as a foundation for effect-based sound sculpting, you'll love the warm, soft, crystalline, and delicate dynamism qualities of the Tone Master at clean settings.
The amp is even more impressive at low-gain settings, which apart from a little extra excitability and sparkle in the top end, replicate the sounds and responsiveness of the Tone Master's tube counterpart. You can also start to hear very small differences in saturation characteristics here: Most tube versions will exhibit slight, but perceptibly softer compression. But I'd also venture that most players will prefer the extra clarity, which flatters many effects, including low-gain overdrive.
The tremolo and reverb, by the way, are superb. The reverb has a little less of the clanging, electro-mechanical resonance of a vintage tank, but comes dang close and is probably better suited to modern tastes and applications anyway. The tremolo, meanwhile, has a satisfying throb that would likely be indistinguishable in isolation, but which can sound a little less soft and contoured than vintage Fender tremolo side-by-side.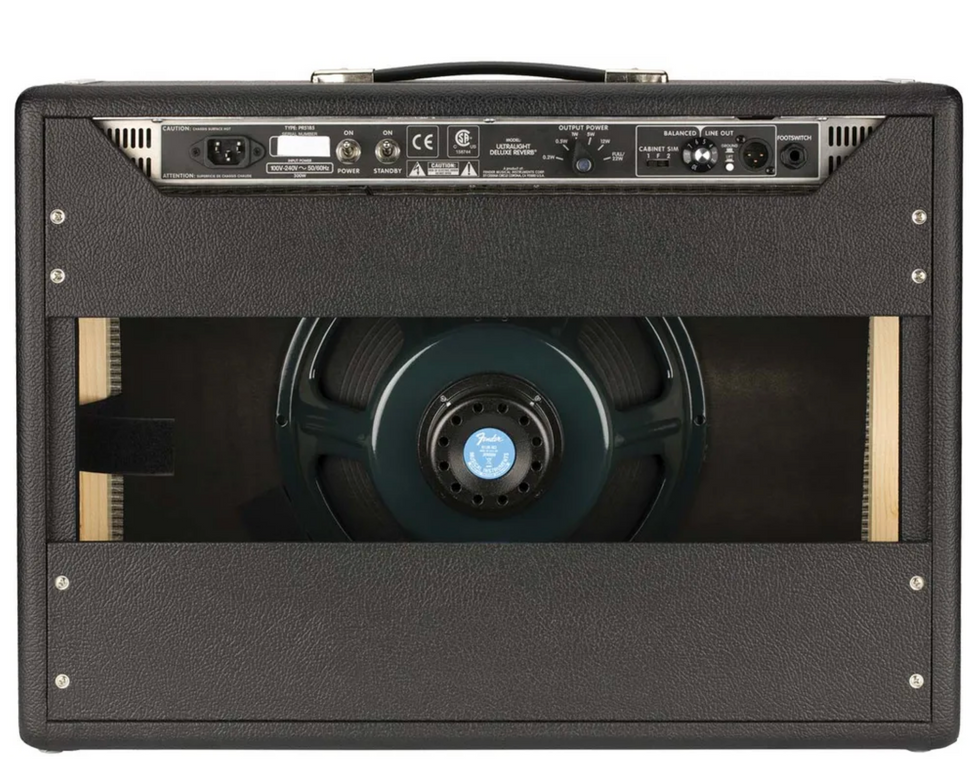 If there is any minor weakness in the Tone Master's performance envelope, it's when extreme fuzz is introduced into the picture. I subjected the Tone Master to an intentionally perverse fuzz brew pairing germanium Tone Bender Mk III and Ampeg Scrambler octave fuzz clones. This tandem can give any amp fits. It's hissing, chaotic, and searing in the high end. Under assault from the Tone Bender/Scrambler tandem, the Tone Master effectively communicated the gnarly ear singe and super-toppy tone profile of the combined pedals. But where my vintage Fender amps maintained a softly compressed and airy space around those tones, the Tone Master Deluxe compressed in a very different way—thinning the overall sonic picture and squeezing the sound in a manner more like an outboard digital limiter than a tube/speaker complement.
The resulting tones are not necessarily harsh or unpleasant. Some players will prefer the way the Tone Master Deluxe makes such radical tones more predictable. But there's less sense of wrangling a living, breathing beast than I experience using the Tone Bender and Scrambler with vintage Fender amps, or the almost equally hectic SuperFuzz/wah/'65 Deluxe Reverb reissue I also use regularly. Such compression characteristics could be a function of the neodymium speaker or a limiting function in the DSP. But on this count, at least, Fender's digital magicians may find room for refinement.
The Verdict
The Tone Master Deluxe reverb is a brilliant, if not revolutionary, concept. It effectively makes what's arguably the greatest-ever gigging amp into a lighter, more flexible, and convenient version of itself. And while the Tone Master Deluxe Reverb is too new to gauge its long-term reliability versus a tube-driven Deluxe, we're guessing few players will miss the hassle and expense of changing and biasing 6V6s every few years. Given how effectively it replicates most of the performance profile of its illustrious inspiration, and the fair price, this excellent emulation may well have the staying power of the original.
First Look - Fender Tone Master Deluxe Reverb
The Fullerton outfit puts modelling to work masterfully to emulate the sound and feel of a classic--shedding 15 pounds in the process.More First Look videos:...

[Updated 9/15/21]