Peter Stroud''s secondary rig
In addition to my "Big Rig" – the Bradshaw rack/pedalboard system I use on tour – I have a much smaller board that I use for acoustic shows and gigs where we rent backline when our own gear is not available. This board has settled in with some cool pedals, so I thought I'd show it off this month. I'll cover them in the order of the signal path.


Boss TU-2 Chromatic Tuner
The ol' standby, a pedal version of the TU-12, features the well-known buffer circuit in bypass mode, making it a good choice for first in line to keep your signal strong throughout your pedal chain.


Line 6 ToneCore Constrictor
This pedal has three different modeled compressor tones: Compact, one of those red box Dynos from the seventies; Squeeze, an eighties CS-1 blue box thingy; and Mellow, rumored to be modeled after the old LA2A studio compressors. I'm not sure if it's true, but it's the smoothest setting I've found in a stompbox compressor and it is indeed "mellow" enough to work beautifully with an acoustic guitar's transducer bridge pickup. In addition, it's great with 12-string electrics. I also use this quite a bit in the studio.


Ernie Ball Volume Pedal
An industry standard. I use this for my slide guitar and for riding my acoustic guitar level during a performance.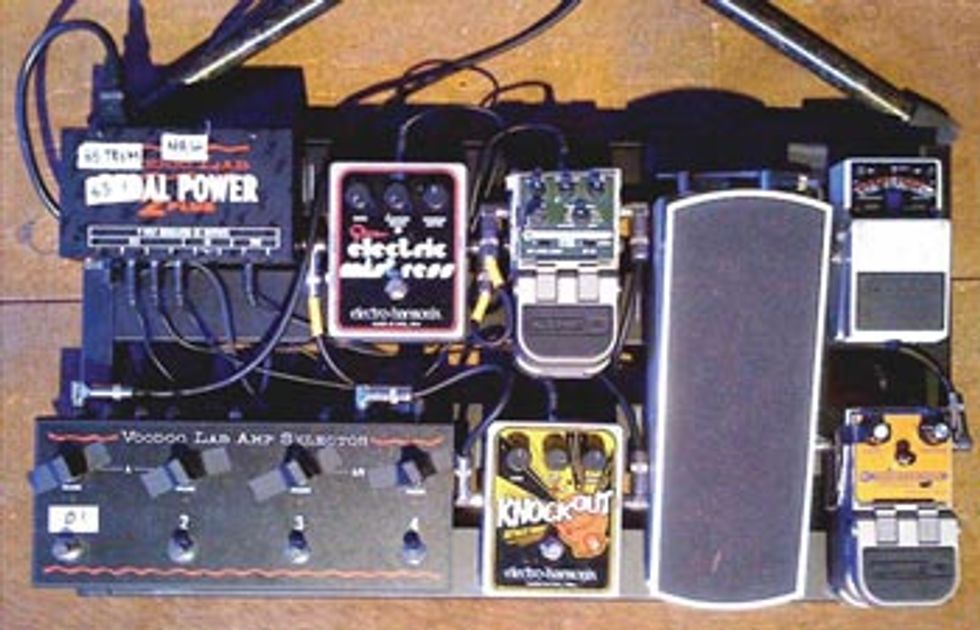 The B-Rig, as captured by an iPhone
Electro-Harmonix Knockout –
Another new one from what I refer to as the "Bohemian Pedal Lab" – EH. They continue to design some of the coolest pedals at a time when you think it's all been done. The Knockout is designed to take your humbucker-equipped guitar to a sparkling, chimey, single coil tone, which it does in a very cool way. It can also go the opposite direction and boost overall tone – mids, chimey highs and enhanced lows – as a lead boost, which is how I use it. It also works great with an acoustic guitar. If you use an EQ stompbox to boost your leads, you should definitely check this one out.
Line 6 ToneCore Echo Park
A stompbox version of a delay modeler. The Echo Park delivers good delay tone, allows tempo tapping and has a knob for quickly jumping between various delay patterns in the tempo you've selected. The combined function on/ off and tempo-tap switch gets a little tricky to jump between – stomp hard for bypass, step lightly for tap-tempo chores – but you get the hang of it.
Electro-Harmonix Stereo Electric Mistress
Instead of being a re-creation of the original Electric Mistress, they've come out with an incredible sounding and functional new version that offers chorus or flange effects – or a combination of both – ranging from very subtle to extreme. Simple controls are great for easy-to-dial-on-the-fly, rich, wide tones. Thankfully, they kept one of the cool features of the original: the ability to stop the flanger's modulation speed to create a ring modulator effect, although, unlike the original, it's dead quiet. A must have.
Voodoo Lab Pedal Power 2 Plus
Our guitar tech's favorite to power our pedalboards. A versatile power supply that easily covers your Boss pedals, various other 9 and 12V pedals and those finicky Line 6 blue and green box modeler pedals that require isolated 9V A/C. The Pedal Power can also cover 18 and 24V requirements with their custom cables.
Voodoo Lab Amp Selector
A versatile amp switcher with a buffer and isolated outputs for strong signal and hum elimination when stringing two or more amps. This allows switching variations of A/B or "combined" amp signals. I use it to switch between two amps and a D.I. for the acoustic.
Pedaltrain Pedalboard
Ah yes, we can't forget the board itself. This ingenious metal frame and Velcro combination allows quick build times as well as the ability to easily reconfigure pedals on the fly. Plus, it comes with its own road case. I own two different sizes, the other being my larger, USS Enterprise-sized studio pedalboard. They're quickly becoming the industry standard.
Until next time...rawk on!
---
Peter Stroud
is co-founder of 65amps
www.sherylcrow.com
65amps.com