Over the years I've played with Sheryl Crow, we've done many memorable and meaningful events—VH1's Save The Music Foundation on the White House lawn with President Clinton and First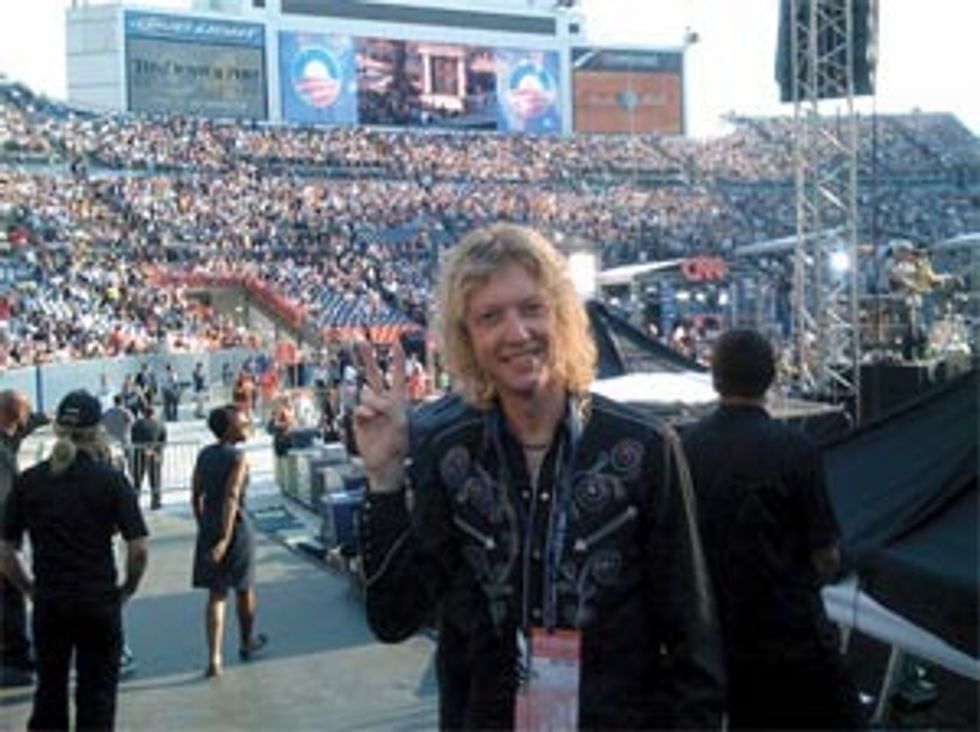 Over the years I've played with Sheryl Crow, we've done many memorable and meaningful events—VH1's Save The Music Foundation on the White House lawn with President Clinton and First Lady Hillary in attendance; 2002 Olympics in Salt Lake City, including a private party for the U.S. Ski Team; and countless charity events attended by prominent political figures, notable philanthropists, celebrities and sports figures all supporting various causes. To play at these events is humbling and inspiring; the latest of these events was the Democratic National Convention in support of Barack Obama's nomination for the 2008 Presidential ticket.
Sheryl had been asked to be a part of "Green Sunday," an event preceding the DNC held at the fabulous Red Rocks Amphitheater just outside Denver (as seen in U2's
Sunday Bloody Sunday
). My bandmate Tim Smith and I joined her for a five song acoustic set, followed by the same from Dave Matthews and Sugarland to an almost full house attended by politicians, invited supporters of Obama, and those recognizing the need to bring attention to the DNC the issues of global warming and the environment. It was quite an inspiring evening, and one that had been planned into our tour itinerary…unlike the invitation that came the day after the show from the Obama camp for Sheryl to perform at the Invesco Field/ Mile High Stadium for the DNC's closing day ceremony with Obama's acceptance speech.
Without the slightest thought of declining the offer, Sheryl and management shoehorned the date into our calendar, which had us playing the very same evening in Bend, Oregon. The logistical feat to accomplish? Perform at the Obama Rally at 5:30 p.m. (GMT), then travel to Bend to hit the stage at 9:15 p.m. (PDT—they pushed our show back from its previously scheduled 7:30 p.m.).
The DNC organizers arranged a private charter jet to pick up Sheryl and party immediately after our gig Wednesday eve prior in Boise, Idaho. We did a "runner" straight off of the stage, jumping into vans and heading to the local regional airport, and our van driver couldn't find the airport—"
Hello Cleveland!
" Thanks to our iPhones and 3Gs with GPS, we finally spotted it. Once we landed in Denver, the vans picked us up on the tarmac and whisked us away to our hotel…and got lost again.
Thursday at 9:00 a.m. was lobby call. Vans took us to Invesco Field for our 11:00 a.m. soundcheck. Security, as you'd imagine, was beyond extreme. A circumference perimeter wall was established a half-mile around the stadium with concrete barriers and 10' high fencing. Security personnel—blank-faced, hard-looking professionals in plain blue jumpsuits with metal detectors—scanned underneath our van. Some wore black gloves with metal knuckles, perhaps capable of breaking out car windows. We drove past a National Guard post with troops milling in and out of tents. Next was an emergency vehicle staging point full of fire trucks and ambulances; they were prepared for the worst possible scenario.
Once through the security/credentials check-in, we passed through metal detectors and were ushered to our dressing room area. The stadium at that point was buzzing with final preparations, excitement…and tons of security. SWAT teams and Secret Service, some fully armed wearing Kevlar vests lined most every corridor. To witness such an event taking shape is mindboggling. There were hundreds of media trucks from around the world. The stage was hi-tech and magnificent, the sound system impeccable.
What could have easily been a complete cluster-$% appeared to be coming to life right on schedule. I'm sure there were plenty who'd beg to differ, but from our point of view it was well-organized and on time.
We soundchecked at 11:30 a.m., not realizing we were being broadcast live on CNN and other news channels (my friends texted me: "Dude! You're on CNN!"). For the rest of the afternoon we hung out in our dressing room, occasionally rehearsing our tunes, waiting for our 5:30 show time. Sheryl did interviews. Other artists performing that day included Stevie Wonder and Michael McDonald. It was pretty cool hearing that unmistakable, legendary voice of Mr. McDonald warming up in the next room, but I never had a chance to run into Stevie.
After a minor delay we hit the stage at 5:45. The energy in the stadium was electric and exhilarating. Our performance was broadcast live on CNN in its entirety, and most other networks cut to it between interviews that were being held in front of the stage. I'd estimate the crowd at 60,000. We played "A Change Would Do You Good," "Out of Our Heads," and "Everyday is a Winding Road," and it was over in a flash.
By 6:00 p.m., we were running straight out of the stadium to waiting vans. We were concerned that rush hour traffic would slow us down getting back to the airport, only to discover they had closed down the entire highway system feeding into and leaving downtown. We were the only vehicles on I-25 leaving the city—very surreal. In the opposite direction towards the stadium, there were lines of snow plows set up as impassable roadblocks.
We pulled it off. Our private charter flight landed in Bend, Oregon on schedule and we arrived at our gig with 45 minutes to spare, then hit the stage once again!
---
Peter Stroud
is co-founder of 65amps
www.sherylcrow.com
65amps.com