Fig. 1
Let's go under the hood of these legendary rockabilly machines and explore different ways to enhance a passive guitar system.
Welcome back to Mod Garage. Before we start, some good news! After finishing the relic'ing series, I was able to raise $650 from our Harley Benton guinea-pig guitar in an auction. The money went to our local animal shelter for cats and dogs, to help pay some vet bills.
This month, we'll take a closer look at the typical wiring you can find in almost every Gretsch guitar. Since 2002, the Gretsch guitar company has been a division of Fender Musical Instruments Corp. But the company has a long history. It all started in 1883 in Brooklyn, New York, when a German immigrant from the town of Mannheim named Friedrich Gretsch started his own shop to make banjos and drums. Sadly, Gretsch died in 1895 at the untimely age of 39 during a visit in Hamburg, Germany. His 15-year-old son Fred (the Americanized version of "Friedrich") had to run the company. In the 1930s, Gretsch started making guitars and the company had their first heyday. Like many companies during WWII, Gretsch had to stop production of instruments to help in the armament industry. After the war, the two sons of Fred Gretsch (Fred Jr. and William) took their father's place and started making instruments again. In 1948, the Gretsch Broadkaster drum set was their best-selling item, and the start of another story with a certain Leo Fender offering an electric guitar with the same name, only spelled slightly different.
With the emergence of rockabilly and rock 'n' roll in the '50s, Gretsch guitars became popular in the hands of players like Chet Atkins, Eddie Cochran, Cliff Gallup, Duane Eddy, and even Elvis Presley. Later in the game, George Harrison, Brian Setzer, Malcolm Young, and many more became popular Gretsch players.
Sidenote: In 1999, Gretsch took over the Bigsby company, which was their exclusive hardware supplier since 1951. Instruments featuring a Bigsby tailpiece, like the White Falcon, Country Gentleman, Nashville, Duo Jet, etc. are real guitar icons today.
The wiring concept of Gretsch guitars is unique and noticeably different from that of most other companies, offering a volume control for each pickup along with a master volume control. This wiring is combined with a pickup-selector switch and a tone control in basically three versions:
"The interesting part is the arrangement of the volume controls—it's been said that this was a suggestion from Chet Atkins."
1. Master tone control (with or without no-load pot)
This is what we know from a lot of other guitars sporting a master tone control for all pickups: Sometimes a no-load pot is used to get rid of the pot's load when it's fully opened. Gretsch typically uses 500k audio pots and .022 µF tone caps.
2. Two-way tone switch
There is no tone pot, but there's a switch that activates two different tone caps as a kind of pre-set tone. Gretsch typically uses 500k audio pots, as well as a .012 μF and .0039 μF (3900 pF) tone cap on the tone switch.
3. No tone control at all
It is what it says: There is no tone control at all with 500k audio pots for the volume controls.
Use whatever tone cap you like best. The 500k choice for the tone pot is a good working solution in a passive guitar circuit. On my own Gretsch 6120, I decided to use 3300 pF and 6800 pF caps on the tone switch, and it works fine for me.
The interesting part is the arrangement of the volume controls—it's been said that this was a suggestion from Chet Atkins. Having a volume control for each pickup is common on other guitars, like on a typical Les Paul. But the combination with a master volume control is rare … and the source of some unwanted effects. Let's have a look at the typical Gretsch volume wiring scheme (Fig. 1). I decided to use the one without tone control because this is the basic wiring and can be found on the 6122 Country Gentleman. The wirings with a tone control are identical regarding the volume controls.
This arrangement in a passive guitar system will result in a loss of tone because of two reasons:
1. The three volume pots will drain a good portion of high-end to ground when rolling back the volume, which is the nature of the passive beast.
2. Long shielded wire runs are used inside the hollowbody Gretsch guitars, adding capacitance to the system, resulting in even more high-end loss.
Even with the pickup height adjusted correctly, the loss in high-end is clearly noticeable, so let's see what can be done. For some players, this is no problem at all and part of the tone. If you're happy with the way your guitar sounds, there's no reason to change the system. If you want a clearer tone with more high-end definition, you have the following options.
If you don't want to convert your Gretsch guitar into an active system to get rid of the high-end loss, you'll need to compromise by adding a treble-bleed network to the volume pots. We talked about this sometime ago in detail ["Mod Garage: Deep Diving into Treble-Bleed Networks"].
Selecting the right treble-bleed network is a matter of choice. What works for me might not work for you. Maybe you like some more high-end when rolling back the volume than others or vice versa. With the typical Gretsch Filter'Tron pickups, I like a 470 pF cap with a 150k resistor in parallel. Try this as a starting point and see if you like it. In theory, you'll need a treble-bleed network on all three volume controls, which gives you a wide control regarding sound. In my own 6120, I use different treble-bleed networks because I want more high end from the neck pickup compared to the bridge pickup. I've also seen configurations with a treble-bleed network on the two volume controls for the pickups and without one on the master volume control. Personally, I don't like this configuration. Using one on the master volume and not on the two controls for the pickups will have a better result.
You see, it's a wide field of experimentation, but it's worth the effort. While you're in there, I recommend changing the 500k audio volume pots for 250k audio pots to benefit from the much better taper in a passive system. The difference in high end is minimal (if audible at all), and you can compensate easily with the treble-bleed network by choosing slightly higher values. I did this in my 6120 and the difference was huge.
"Don't underestimate the time you'll need to get the electronics of a hollowbody guitar out and back in. Even on a good and clear day, you can't do this within 30 minutes, so don't hurry."
Don't underestimate the time you'll need to get the electronics of a hollowbody guitar out and back in. Even on a good and clear day, you can't do this within 30 minutes, so don't hurry. If you've ever changed the electronics inside such a guitar, you know what I mean.
Gretsch uses shielded wires inside, but sadly, the quality is only average. The wire has a high capacitance, and, especially inside big hollowbodies, you can find up to 2.5 meters (about 8.2 feet) of it, which is a real sound killer on its own. The shorter the wire, the less capacitance it will add to the circuit, so you should optimize the length of the wire wherever possible. If you want to stick with shielded wire, you should use a high-quality one with a low capacitance. I like to use the .155-diameter George L's high-end wire for this. It's very thin, with a capacitance of only 19 pF per foot, which is unbeatable ... but still affordable.
In comparison, I measured 46 pF per foot with the original wire from the factory. The before/after effect will be like lifting a blanket from the amp. But you can also use non-shielded wire if you're not concerned about shielding. I replaced all wires in my 6120 with the George L's .155-diameter cable and was able to reduce the original length of the wires to 50 percent, which means reducing additional capacitance to the circuit noticeably.
As you can see, tone is not set in stone, and there are ways to enhance your Gretsch wiring. Next month, we'll dissect the Scott Henderson Stratocaster wiring, so stay tuned.
As you can see, tone is not set in stone, and there are ways to enhance your Gretsch wiring. Next month, we'll dissect the Scott Henderson Stratocaster wiring, so stay tuned.
Until then ... keep on modding!
Keeping sound sources in phase will ensure your recordings sound as full and vital as possible. Here's where to start.
Welcome to another Dojo. Before I begin, have a look at Fig.1. Recognize this symbol? You've no doubt seen it as a button or switch on mic preamps, audio interfaces, some plugin GUIs, and in your DAW. This is the symbol for phase, and phase is one of the most overlooked fundamental elements that can greatly improve your recordings and mixes. If you're new to phase, this is not about using your phaser pedal (or plugin), but rather checking that the waveforms of your recordings are in the most optimum relationship with each other. I'm going to start with basic explanations you'll need to know. Tighten up your belts, the Dojo is now open.
When you perceive sound, you experience ripple-like changes in air pressure. The classic visual example is dropping a stone in a pond and observing the resultant outwardly expanding rings. This change in air pressure is transduced (by microphone diaphragms, speakers, guitar pickups, etc.) into positive and negative voltages, back again into sound waves, and vice/versa. Simply put, a transducer is anything that converts one form of energy into another.
So, when you sing or play guitar into a mic, the changes in air pressure cause the diaphragm of the mic to move back in forth, which generates a tiny electrical current (that's exactly analogous to the air pressure waves). This current goes into your interface's mic pre, where it's amplified and then transduced again into ones and zeroes (the digital version of positive and negative charges). It is then output from your interface and transduced back into an electrical current that causes your headphones or monitor speakers to move back and forth. Then, our eardrums transduce that back into bio-mechanical electrical charges that our brains perceive as sound! That's a lot of transduction … and all you did was say "check one, two, three!"
Once we start recording music with the same sound source recorded to multiple tracks, like using a DI in conjunction with a mic for recording electric bass, checking phase becomes vitally important! It is here that we want to start toggling that phase button on and off and exploring the multiple ways to phase-align our tracks.
Fig. 2
Start by toggling the phase button on one of the two tracks to invert the polarity of that track's recorded material and listen to the difference. You can also visually check for phase by zooming into the waveforms of both tracks to see if the two tracks are in phase with each other. (Go online for a visual representation.) Take a look at Fig.2, depending on how far away the mic was placed from the amp's speaker, the amp track will range in phase relative to the DI track.Depending on how far away the mic was placed from the amp's speaker, the amp track will range in phase relative to the DI track. In our online illustration, notice how there is a slight difference in each waveform's peak and trough (red dot) relative to each other (90 degrees out of phase). As phase increases towards 180 degrees, the recorded sound will lose low to upper-midrange frequencies, will start sounding "hollow," lack energy, and may even seem to disappear altogether—which can happen when two identical sine waves are 180 degrees out of phase.
How do we fix phase? Outside of flipping the polarity of one track by toggling the phase button, this is a loaded question. Musically speaking, phase is a naturally occurring property of acoustics and what we are trying to do here is mitigate the adverse effects of phase in our recordings. "Fixing phase" seems to imply that something is wrong, and that is highly dependent on what is out of phase. For example, using two close mics to record the same 2x12 cab? Make sure your mics are phase-aligned as close as humanly possible, otherwise you'll have an anemic sounding guitar track. Close micing an acoustic guitar with a DI? The same logic applies. Are your left and right monitors out of phase? Fix it immediately!

Using two close mics to record the same 2x12 cab? Make sure your mics are phase-aligned as close as humanly possible.
Conversely, I find that phase matters less the further the additional mics are away from the source. Trying to record a choir with two overhead mics, two mid-room mics, and two far balcony mics? Start by flipping the phase and systematically listen to how all mic combinations give you the most desirable sound possible. If you don't like the sound you're getting, move the mics and check the phase again.
There are other great ways to fix phase and phase align tracks, and that will be the subject of the next Dojo. Until then, keep recording, checking phase, and blessing the world with your gifts. Namaste.
We've reached the final step in this series on how to superficially age a guitar. Let's add the finishing touches to complete our Harley Benton relic project.
Hello and welcome back to Mod Garage. This is the final installment of our DIY relic'ing series, and I hope you enjoyed it as much as I did. Today, in the last step, we'll add some dings and dongs to the guitar. You can decide if you only want a slightly aged look or if you want to bash it up like hell for a heavy-used relic look. There are many ways of adding dings and dongs, and if you do a Google search, you'll find a galore of pages and blogs about this. I will show you the way I do it in the shop, but this is only one way of doing it. In other words, I'm not saying you must do it exactly this way or that other ways won't work. Many roads lead to Rome.
My goal with this little series was to show you what's possible and how you handle such a project, step by step, and in a sensible order. In time, you can adopt and develop your own techniques, getting better from guitar to guitar.
"You can decide if you only want a slightly aged look or if you want to bash it up like hell for a heavy-used relic look."
When it comes to dings and dongs, you don't need much for a good result. I usually only use a round metal bar and a collection of old and obsolete keys (Photo 1). The metal bar should be a massive one—hollow ones don't work well because of their kickback behavior. I prefer a small but heavy one because it gives me a lot of control when using it. In my key box, I have a mix of mortice and cylinder keys in different sizes. I found this collection of old and obsolete keys on eBay for virtually nothing many years ago and it still works great for me.
Photo 2
Let's start with the metal bar. Hold the guitar in playing position and start tapping on the edges with the metal bar to create a random pattern of dents. It's easy to control the effect with your hand. If you hit the edges slightly, you create a slight dent. The heavier you hit, the deeper the dents, and with some very hard hits you can crack the lacquer to create the typical spots exposing bare wood (Photo 2). Start tapping the edges slightly and see if you like the effect. Work your way up to more damage if you want more. Don't forget: Less is more if you want to make it look authentic.
I receive the best results when tapping in a rhythmically constant pattern of about 45 degrees with the bar. If you want to get a cheap used-guitar body on eBay, it's a good idea to get some training on this. It's not difficult to do, but it helps to have some experience before tapping the real deal. Please do yourself a favor and wear goggles and gloves, because if you crack and burst the lacquer, it can jump off with high speed, and you don't want to get any in your eyes. Just as you don't want any splinters of wood in your fingers. Tap the body, the headstock, and the neck if you like.
Photo 3
If you're done and satisfied with your work, it's time to bring in the keys (Photo 3). If you want to leave some spots on the guitar free of dings and dongs, you'll need to cover and protect this area with strong cardboard or the like. A piece of paper or thin cotton won't work; the keys will win. Because the keys will jump off the guitar, it's a good idea to lay the guitar flat on a carpet or somewhere that the keys can't disappear. You know the "confetti effect" after a New Year's Eve party? No matter how often you clean your room, you'll still find some confetti right before Easter. It's the same with the keys; they'll jump off in any direction and gone they are.
Anyway, the process is very simple. Your guitar is lying flat on the ground, and you simply drop the keys on the guitar. You can do this one by one or all at once. I usually use the individual keys first, followed by some massive shots of several keys at once. You can simply hold them above the guitar and let them fall, or you can smash them. Be creative and see what you like best. I usually leave out the fretboard with this, covering it with a piece of carpet. But if you like, you can also treat the fretboard this way.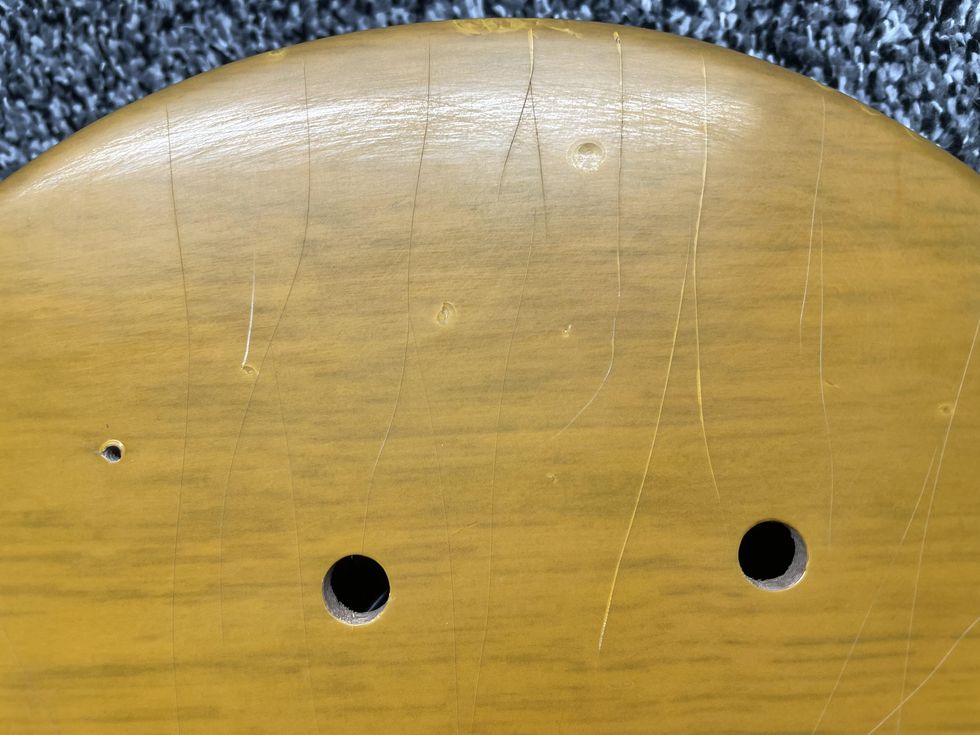 Photo 4
Don't be in a hurry. It will take some time to do it right, so don't stress yourself. You can see some of the dings and dongs I made with keys while treating the Harley Benton in Photo 4.
Photo 5
Remember the wood-aging dye from the last part of this series? You'll need it now to add 50-plus years to the exposed wood. Depending on the size of the spot, you can use a small brush or a Q-tip to put the dye on. Before doing this make sure you remove all loose parts from the lacquer. I simply use a small flat screwdriver and a brush for this. Depending on how dark you want the exposed wood, you'll need to repeat the process with the dye. Because the body of the Harley Benton guitar is already a dark mahogany, you won't need much of the dye (Photo 5 and Photo 6).
Photo 6
Congratulations, you're done aging your first guitar all alone with your bare hands. If you have the chance to look at some vintage guitars, you should. Over time, you'll get an eye for how old guitars look and you'll find typical signs of age and wear that you can duplicate for your own projects. This relic'ing guitar project will soon be available as a Premier Guitar eBook, with all steps in one place and downloadable as a PDF.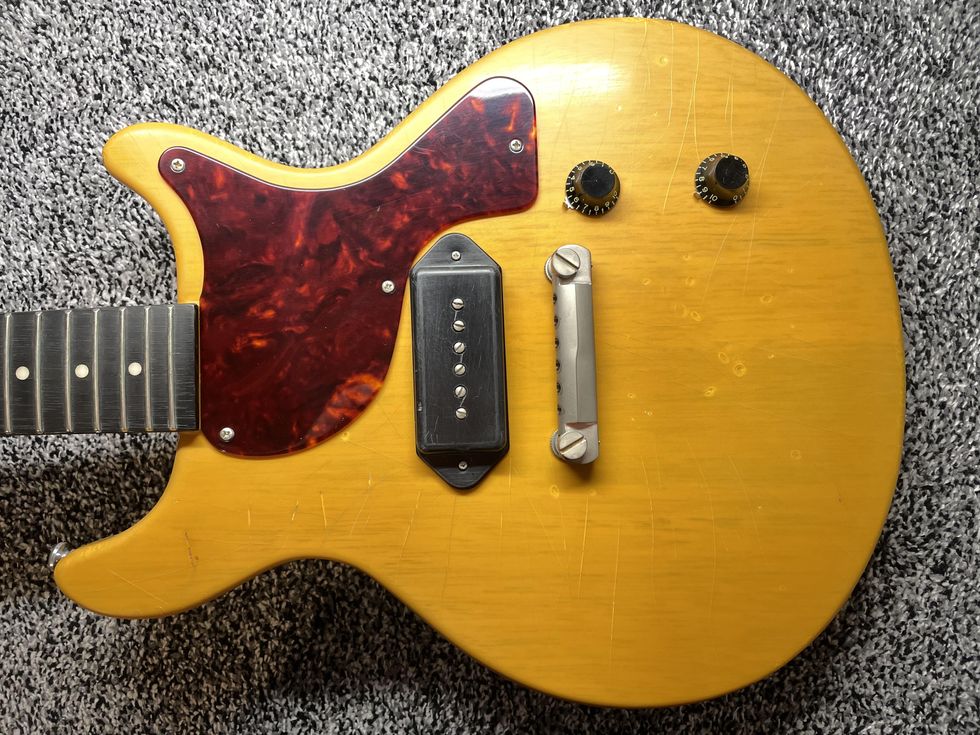 Photo 7
Our finished Harley Benton DC-Junior double-cut that we used to demonstrate the individual relic'ing steps is a cool-looking and great-sounding guitar (Photo 7). I decided to auction it, donating all the money to my local animal shelter, which is usually bursting at the seams this time of the year.
Next month, we'll have a deeper look into some typical Gretsch wiring basics, so stay tuned. Until then ... keep on modding!