Arc Angels Reunite - New Album, DVD, Tour
Doyle Bramhall II, Charlie Sexton and Chris Layton Together Again


Austin, TX
(March 22, 2009) - Austin supergroup Arc Angels made it official--the band is back together and very excited about a new album, a DVD release and a new tour. Even though the group split company just a few years after their critically acclaimed debut in the early 90s, they've had a loyal fan base that has been sustained by a single album, seven farewell gigs just months after their breakup in 1993, and recent reunion shows. In between, members have been playing with Eric Clapton, David Grissom, Kenny Wayne Shepperd, Bob Dylan and others.
The band's history precedes its own debut album with a lineup that is famous among music aficionados in Austin and beyond, and is even tied to Stevie Ray Vaughan. Arc Angels are also a particular favorite among gearheads due to the killer tones of lead men Doyle Bramhall II and Charlie Sexton, who are back with their classic equipment and some new gear, as well. Chris Layton is back behind the kit but fellow Double Trouble member and original Arc Angel bassist Tommy Shannon was not in Austin for the band's four appearances and does not appear to be a part of collaborations for the new album and tour.
Antone's setlist with notes on Sexton's guitar changes
The band played at KGSR studios, Little Steven's Underground Garage and the Auditorium Shores Stage on Friday, March 20th, and then a tribute to club owner Clifford Antone at the legendary Antones the next afternoon. Fans at the Antone's gig were treated to a sneak peak viewing of a portion of the band's new live/documentary DVD that is to be released in April along with the new CD. They were also witnesses to the city of Austin officially declaring March 21st as Arc Angels Day. The setlist for Antone's included three new songs.
Bramhall II's guitar lineup at Antone's included his Strats (but not the red one) along with his LP Junior. His '68 Marshall Super Bass was running through a 2x12 in a Fulton-Webb open back 4x12 cab.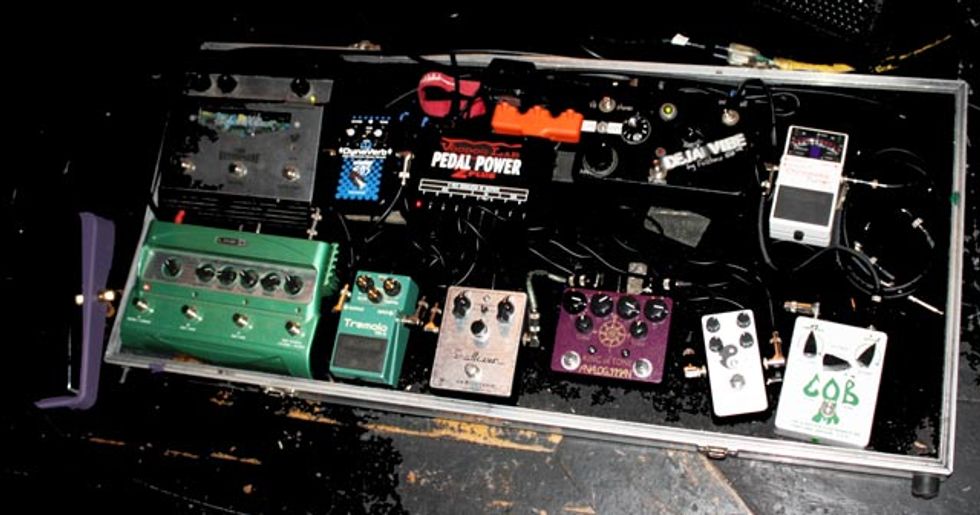 Doyle Bramhall II's pedalboard 

Sexton's line up of axes included a James Trussart Steeltop, a Zemaitis, Strats and his Ric. He had two amps, a VOX AC50 and a 65Amps London.

Charlie Sexton's pedalboard
Initial dates for the new tour have been announced with more to come soon. So far, the band has a run of shows in Texas next month and then a NYC gig in May, followed by a run of UK dates which includes opening for Eric Clapton during a 10-night stay at Royal Albert Hall. Other scheduled dates include an East coast run in early June.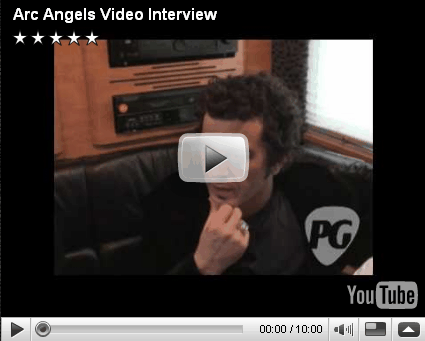 For more info:
myspace.com/arcangelsmusic