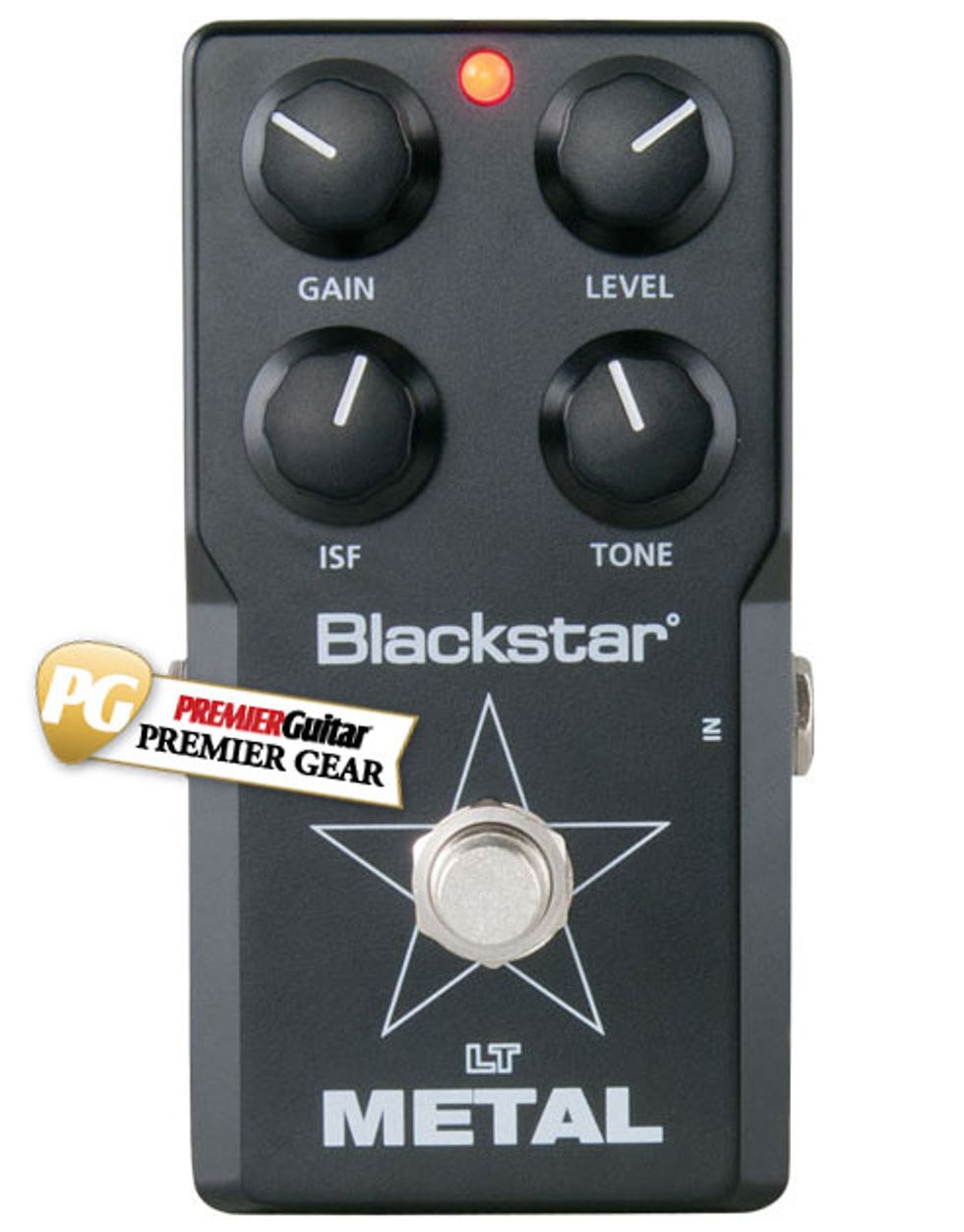 LT Metal
Metal-flavored pedals typically offer the highest gain in the dirt box hierarchy. At their best, they can rattle your bones like a Madison Square Garden-sized wall of modded amps. At their worst, they can sound like a 12-year old at Guitar Center butchering a Blink 182 song.
Ratings
Pros:
Remarkably versatile. Very low noise, even with tons of gain.
Cons:
ISF control sometimes seems cumbersome.
Tones:


Playability/Ease of Use:


Build/Design:


Value:


Street:
$99
Blackstar Amplification
LT Metal
blackstaramps.com
The LT Metal, the fire-breathing monster in Blackstar's LT line, retails for $99. Its tenability and versatility let you avoid that nasty "practice amp in a tin can" tone—and create some massive and musical sounds in the process.
With its black enclosure and star illustration, the LT Metal exudes, well, metal. The control panel mimics the he layout of the LT Dist, with gain, level, tone, and ISF.
Although most players will look to the LT Metal for super-high-gain tones, I started with relatively low gain, just to hear how flexible the pedal could be. With the gain around 7 o'clock and tone and ISF at noon, I got a surprisingly light crunch that worked well for Kiss- or Deep Purple-style classic rock rhythm sounds. I tried different ISF settings and was pleasantly surprised by the smooth overdrive sound I got from the most "British" ISF setting and a lower tone setting. These sweet lead tones alone make this pedal worth consideration by non-metal guitarists.
Moving the gain above noon revealed the LT Metal's true colors and intent. While the pedal was quiet and noise-free, it positively roars when you step on the gas. Here again, the ISF plays a major role in defining how the pedal sounds and where it fits stylistically. With the ISF almost all the way clockwise (that's the British side of the pond, chum), I got a full-bodied sound great for classic metal power chords and leads. Moving the ISF counterclockwise scooped the mids and added the crispness needed to play mathematically precise Meshuggah riffs.
One of the biggest bonuses is how well the LT Metal responds to changes in guitar volume. Manipulating the guitar's volume knob can take you from the heaviest sonic assault to the quiet boogie sections in "Hot for Teacher."
The Verdict
LT Metal isn't merely impressive for its power. Its wide range of sounds (raging metal included) makes it a standout. While ostensibly a metal pedal, it can cover everything on the gain spectrum from classic rock to fusion to '80s metal to Djent. Not many ultra-high gain pedals offer the versatility of the LT Metal, particularly in this price range.