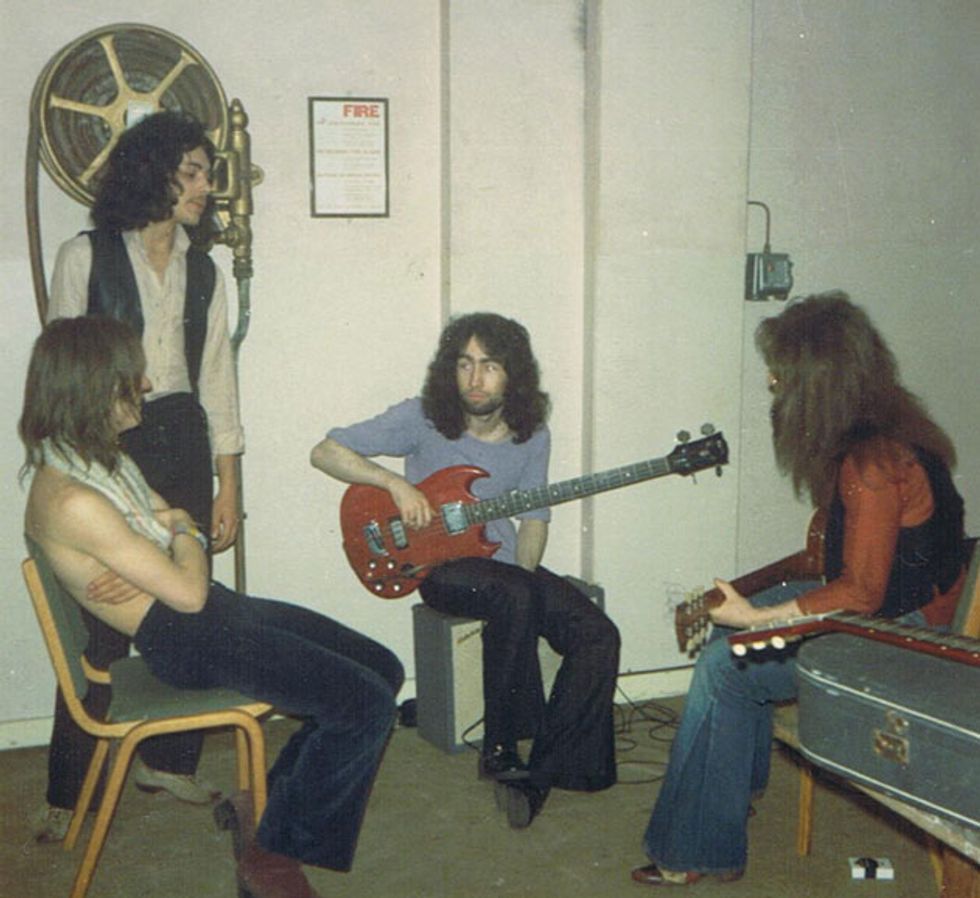 (Left to right) An unknown member of an opening band jams with Free bassist Andy Fraser, Free vocalist Paul Rodgers (holding Fraser's bass), and Free guitarist Paul Kossoff in Croydon, England, in 1970. Photo by Lucy Piller
Not long after Tons of Sobs was released, the band was back in the studio working on its second record, the self-titled Free. This time the group was produced by the president of the label, Chris Blackwell. Things were much tighter, with the main songwriting duo of Rodgers and Fraser imposing a stricter framework.
Like the band's debut, Free didn't do much on the charts. Almost immediately after they finished recording, the group resumed its breakneck touring schedule, supporting the supergroup Blind Faith on its only American tour. Kossoff and Clapton became quite close, discussing the finer points of their respective techniques and even trading a couple of guitars. Clapton exchanged a 1959 Gibson Les Paul for Kossoff's mid-'50s Custom. It was on this tour that Clapton supposedly tried to cop Kossoff's famed vibrato technique, a tale confirmed by Rodgers. "I wasn't privy to the actual conversation, but they did talk vibrato, that's for sure," he says.
"Alexis Korner had a band called Free at Last," Simon Kirke says in The Beat Goes On and On. "When he saw us at the Nag's Head in Battersea after our first rehearsal he suggested that, but we kind of whittled it down to Free."

As the '60s gave way to the '70s, Free reached a tipping point. They'd recorded two albums, experienced modest success, and performed a truly staggering number of live shows. But the band began to wonder where they would ever actually make it.
Then in June of 1970, Fire and Water hit the shelves with the force of an atomic blast. The record became Free's breakthrough, led by the single "All Right Now," which reached No. 2 on the U.K. charts and No. 4 in America. Just two months later, Free played the biggest gig of their career in front of an estimated 600,000 people as part of England's Isle of Wight Festival.
With greater success came new tensions. Feeling pressure to prove that their success wasn't a fluke, the band rushed to record its next album, Highway. Compared to Fire and Water, Highway was a commercial disappointment, only reaching No. 41 on the U.K. charts and 190 in America. Meanwhile, Kossoff, depressed by the death of his hero Jimi Hendrix, began self-medicating with Quaaludes.
Paul Kossoff's Elements of Style
One of the most instantly recognized aspects of Paul Kossoff's style is his spectacular vibrato, and it's also one of the most difficult to replicate. "The vibrato of any player is your fingerprint," explains Joe Bonamassa. "It's just in your DNA. It's your personality. It's the timbre of your voice. Kossoff had a fast vibrato, but it was bluesy and soulful and fiery—kind of like B.B. King, who has a fast vibrato. It's under control, but still passionate."
Even if it's true that a player's vibrato is innate, that didn't stop Kossoff from trying to refine his. As Paul Rodgers recalls, "He was always working on it. He was always trying to slow it down, get it just right."
Another Kossoff trademark is doing more with less, making his guitar work within the confines of a group to produce the largest sound possible. "He wouldn't just play an E chord," Bonamassa says. "He would play a root/five, or reverse the root/five, so instead of having the root on the bassier end of the strings, he'd have it at the higher end. He came up with really interesting power chords that melded into the bass, so you'd have this guitar sound with a distorted bass tone, which created this incredibly heavy, simple midrange. A great example of that is 'Fire and Water.'"
When Free decided to call it quits in 1971, Kossoff took it harder than anyone. "What I think we lacked was management," posits Rodgers. "We lacked an older, wiser head to say, 'Okay you guys, you're under a lot of stress, you've done too many shows, you have this huge success all of a sudden, you need to take a break.' We didn't do that of course, and we just kind of exploded apart. We had been together for such a long time, living so close, seeking success, and when we finally reached it, there was so much pressure."
After the breakup Kossoff collaborated with Free bandmate Kirke, along with Japanese bassist Tetsu Yamauchi and keyboardist John "Rabbit" Bundrick to release Kossoff/ Kirke/Tetsu/Rabbit. By this time Kossoff was in bad shape, as was apparent to all who knew him. "It was such a shame—he seemed to go down so fast," recalls Rodgers. "I was mortified that the split-up of the band had affected him so deeply. He was almost gone to us at that point, because he was sort of off in this other world. It was such a shame because we all loved him so much, and we immediately dropped everything we were doing to try and put the band back together again so that we could put Koss back together."