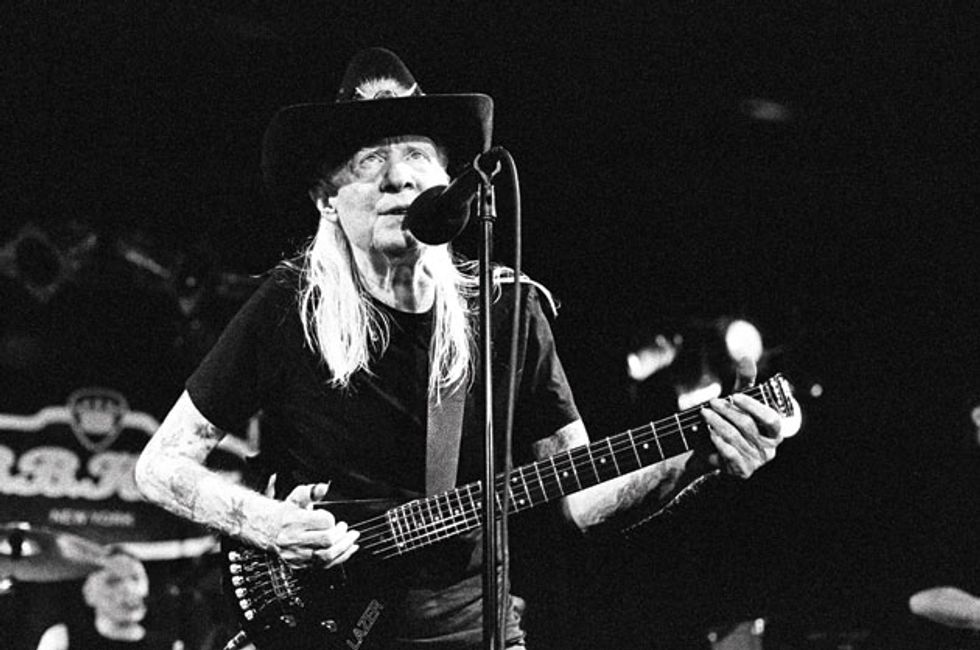 Johnny Winter is known for his beloved Gibson Firebird, but he also plays a Lazer from Erlewine Guitars. He likes the Lazer because it stays in tune and sounds trebly like a Fender, but plays like a Gibson. He uses the Firebird primarily for slide and keeps it in open-D or G tuning.
All of this, and the fact that Winter is concentrating on recording and playing so many of the songs that first drew him into blues, makes him as happy as a 70-year-old kid in a candy store. "I never thought I'd reach this age, but I'm damn glad I did," the high-speed string-slinger says. "I'd rather be old than dead. And I love playing the blues now as much as when I was 12. Maybe more. I could make albums of songs by Gatemouth Brown and Jimmy Reed and Muddy until I drop."
Winter still has a bucket list: "I'd like to write some more original numbers," he says, "but I haven't had any song ideas since 2004. I'd also like to win a Grammy for one of my own records. And I'd like to go to Egypt—not even to play music, but just to see the pyramids and stuff. The Rock and Roll Hall of Fame would be nice, too, but I'd rather have the Grammy. And I want to get it for playing good blues."
Johnny Winter's Gear
Guitars
1963 Gibson Firebird
Dean "Z" series Johnny Winter signature model
Amps
Music Man 4x10 combo
Effects
Boss CE-2 Chorus
Strings and Picks
Strings, Picks and Slides
DR Pure Blues .010–.046 gauge
Fender medium thumb picks
Dunlop Johnny Winter Texas Slider
Another complaint Winter airs is that he considers his early records more rock than blues: "I really wanted to play blues, but in the early '60s the white people didn't want to hear us play that, especially in Texas, so when we started out it was more rock and R&B. It was frustrating, because I was in love with blues."
Winter attended his first blues show at age 14: a Ray Charles concert at the Municipal Auditorium in his native Beaumont, Texas. Three years later he had a pivotal experience at that city's Raven club. "I went to see B.B. King play for about 1,500 to 2,000 people—all black. It was great music, nobody bothered us, and after I met him, B.B. let me play," he recounts. "It felt great to get a standing ovation from an all-black audience. I felt like I had to be playing the music right. B.B. didn't even know if I could play. If I was in his place I don't think I would have let me. He's one of the nicest people in the world."
By that time Winter's oddball, lightning-strike thumb-and-forefinger picking style was already well developed. "It seemed to come naturally to me," he observes. "A lot of the older black guys played with thumbpicks, but I started using one because I liked Chet Atkins and Merle Travis. Chet got his style from Merle. They probably influenced my speed, too. I've always played hard and fast. After all these years, I still play the way I did when I was 15. And my gear hasn't changed much since 1970 when I got my Firebird."
Winter acquired that iconic instrument at a festival, where a guitar dealer from St. Louis brought it and a clutch of other 6-strings to sell to the musicians on the bill. "I was already playing Les Pauls and Stratocasters," Winter recounts. "The first really good guitar I'd gotten was a Black Beauty 'fretless wonder,' but when I saw that Firebird I thought, 'I've got to try that!' The neck's been broken four or five times over the years. I keep getting it fixed. But everything is stock. I always thought it was fine the way it was, so I never messed with it."
Winter still plays the Music Man 4x10 combo amps that Muddy Waters turned him onto during their '70s collaborations, favoring those over the Fender Super Reverbs he'd used until then due to their higher wattage. His settings: volume and treble on 10, everything else at zero. And Winter's one effect remains an old Boss CE-2 chorus pedal, "just to make things a little fuller."
Waters was also a major influence on Winter's slide playing, which is as much a signature as his ripping single-note solos. "Muddy, Elmore James, Robert Johnson, Son House—they got me interested in slide," Winter explains. "I use a Dunlop slide that's snug on my finger, so I can fret with the slide and move faster and more exactly." He favors open D and G tunings, and sometimes A. "It all depends on where my voice is," he says.
YouTube It
Because the upper range of his voice dissipated after decades of howling "rock 'n' roll" into microphones to kick off his sets and growling like a frisky badger for the rest, Winter started dropping his standard tuning down a whole step to a D about 20 years ago. "Otherwise, I'm pretty much doing the same kind of thing I've done all my life: playing the same kind of music I love—the blues—the same way I always have."
As Winter reflects on his career, it's obvious that Muddy Waters remains his brightest musical beacon. "I played with a lot of people over the years," he says. "Jimi Hendrix. Eric Clapton. But without a doubt, Muddy was the most important for me. I met him for the first time when we opened for him at the Vulcan Gas Company, where all of the psychedelic bands, like the 13th Floor Elevators, played. So the psychedelic sound got into my playing as well. But Muddy was
it
. His name and 'blues' were inseparable to me. And I feel the same way that Muddy felt about the music. When people come to see me I want them to know they're going to hear good blues and that I play what makes me feel good, and that I'm interested in sharing that good feeling with them."