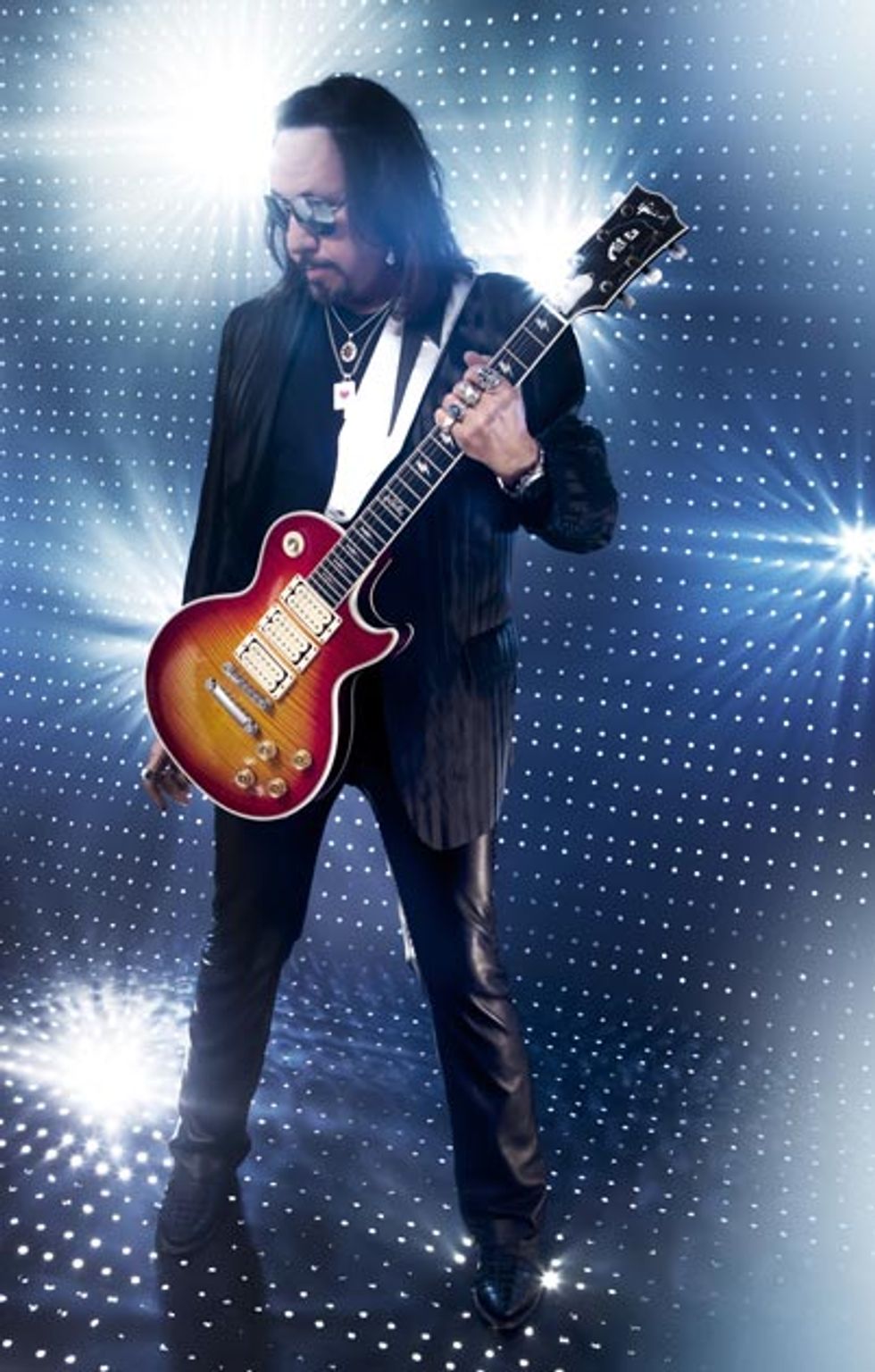 Ex-Kiss guitarist Ace Frehley favors Les Pauls, but likes to double his parts with Fenders and then blend the two sounds. Photo by Jayme Thornton.
One fateful day in 1973, Ace Frehley showed up wearing mismatched orange and red sneakers to audition for a band seeking a "hard rock guitarist with balls and flash." After hauling his 50-watt Marshall and 8x10 cab up a long flight of stairs and jamming on "Deuce," Frehley landed the gig. Before long, the band became Kiss, one of the all-time giants in rock history.
As a founding member of Kiss, Frehley has lived a life that intertwined rock 'n' roll excess with perpetual drama that continues to this day. While Kiss ruled the music scene during the mid '70s, by the start of the '80s, amid plenty of mudslinging, Frehley, drummer Peter Criss, and manager Bill Aucoin parted ways with the band.
It took 15 years for the original members of Kiss to reunite for a performance on MTV Unplugged. This appearance led to a successful reunion tour, as well as the recording of Psycho Circus, which featured all four original Kiss members together for the first time since 1979 (though Frehley ended up playing on only two songs, with the others being performed by studio musicians).
"If you listen to the early Who records, Pete Townshend used a lot of acoustics tucked under the electric guitars. That's something I learned from Pete, and I incorporate it on
some songs on the record."

Earlier this year, the pot was stirred up yet again. Kiss was finally inducted into the Rock and Roll Hall of Fame and, as to be expected, controversy ensued. After initial talks of an original band reunion, Kiss gatekeepers Gene Simmons and Paul Stanley ultimately decided they wanted to perform as Kiss with their current lineup featuring Tommy Thayer and Eric Singer, rather than Frehley and Criss. Flamewars erupted all over the interweb, and ultimately Kiss ended up not performing at all during the ceremony. While fans were disappointed with the RRHF debacle, the timing couldn't have been better for Frehley, who recently dropped his latest release, Space Invader, with a buzz still in the air.
"It's working to my benefit," says Frehley. "I started the record last July and then I found out about the Rock and Roll Hall of Fame induction right after the new year. I did the Jimmy Fallon show last night, and a lot of good things are coming up in the future—knock on wood."
Premier Guitar caught up with Frehley in his suite at the W Hotel in New York's Times Square where he discussed making the new record, his approach to layering multiple guitar parts, his current gear goods, and what lies ahead.
How was The Tonight Show with Jimmy Fallon?
It was great. I've known Kirk ["Captain" Kirk Douglas], the guitar player, for several years. It was just perfect timing, you know? Jimmy was great, and his crew was great. I had a lot of fun.
Did you rehearse beforehand?
We went over six songs. It's nice, they recorded the rehearsals, and I'm wearing earphones, so right before we were going to play a song, I'd get a preview of it. It's better living through technology [laughs].
Why didn't you participate in the ALS Ice Bucket Challenge and pour ice-cold water on your head with those guys on the show?
Thank god they excluded me from that. I really didn't want to take part in it because I didn't bring a change of clothes with me.
What inspired Space Invader?
Well, for the last couple of years, I was being courted by a couple of different labels, and I finally settled on eOne. I'm really happy—it's been a great marriage so far.
How long did it take to make Space Invader? I went into the studio last July and the whole process took about 10 months. I did a lot of the engineering at home. My engineer from New York flew to my home studio in San Diego, and we did overdubs there. Most of the basic tracks were cut in Turlock, California, at my friend Matt Swanson's studio, The Creation Lab. That's kind of in a farming community, about 10 or 15 minutes south of Modesto, where they shot American Graffiti. It's a great place for me because I have Attention Deficit Disorder, and there's not much to do there. No distractions—just me, my drummer Matt Starr, and an engineer. I'm real happy with the end result.