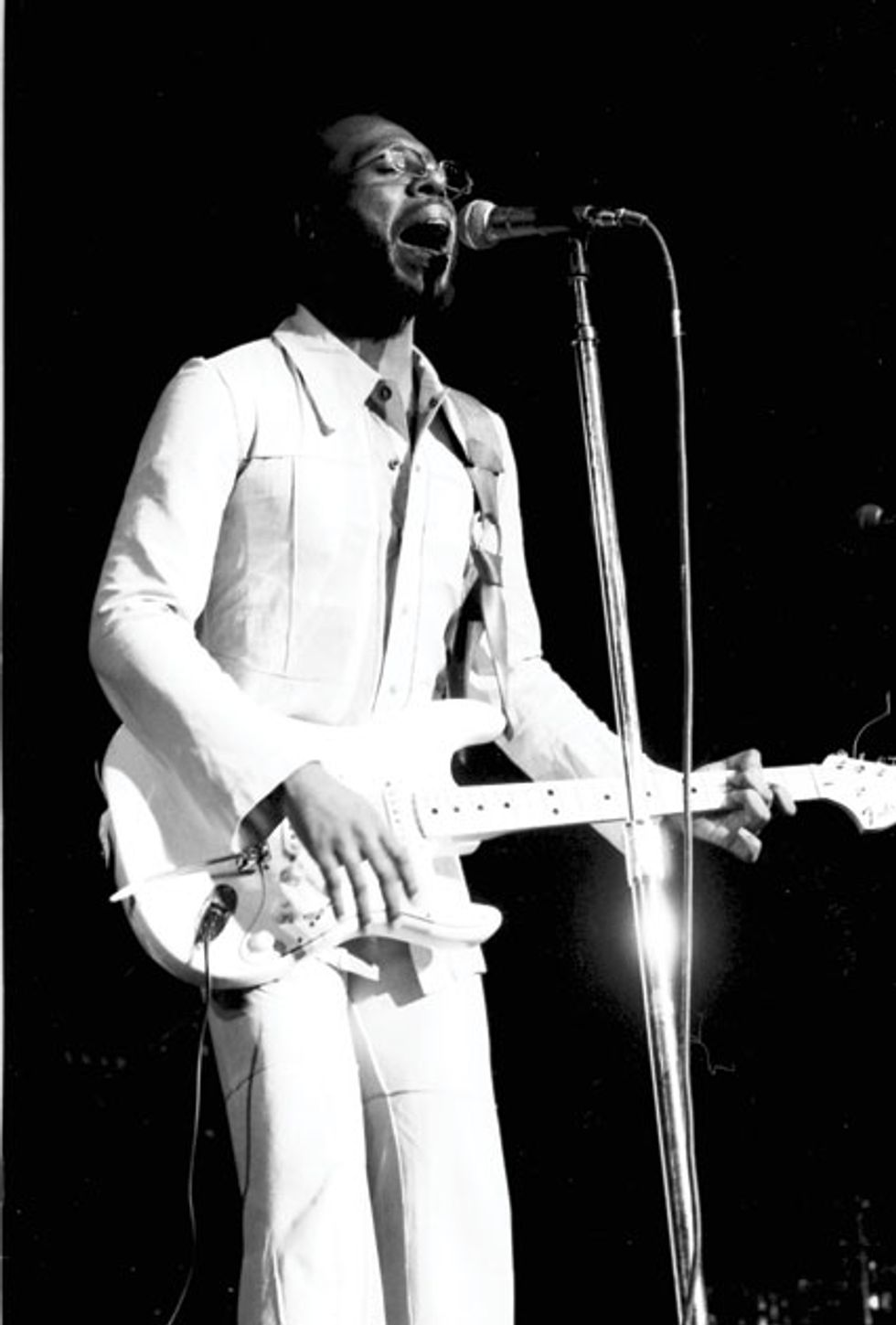 Curtis performing in 1973. Photo by Neil Zlozower.
Anyone with a passion for soul music should know the name Curtis Mayfield. His classic songs about the racial and political upheaval of the 1960s were powerfully poignant back then and, unfortunately, still topical even today. His distinctive falsetto singing over strummed, wah-treated guitar passages fleshed out by a powerful rhythm section and orchestral sweetening produced a dozen hits from the '50s to the '70s. A multi-instrumentalist who played guitar, bass, piano, saxophone, and drums, Mayfield was awarded the Grammy Legend Award in 1994 and the Grammy Lifetime Achievement Award the following year, and was a double inductee into the Rock and Roll Hall of Fame—in 1991 as a member of the Impressions, and again in 1999 as a solo artist.
But for guitarists, it is the Chicago-bred Mayfield's distinctive 6-string style that stands out. Band of Gypsys bassist Billy Cox feels Hendrix drew on Mayfield for recordings as early as "Little Wing" or "Castles Made of Sand," and as late as "Drifting," while Funkadelic's George Clinton has been quoted as saying, "In the '60s, every guitar player wanted to play like Curtis."
The Original Black Keys
Curtis Lee Mayfield was born in Chicago on June 3, 1942. Though his mother had her hands full raising him and four other children on her own, she still found time to sing and play piano—and she encouraged a very young Curtis to sing as well. By age 3, he was performing "Pistol Packin' Mamma" in public, and by 7 he was singing at his grandmother's church with the Northern Jubilee Singers. As part of that group, Curtis met Jerry Butler, and together the two future members of the Impressions grew up singing in the churches of pre-war Chicago.
In his teens, Mayfield began to teach himself guitar. With no one to tell him differently, he tuned the strings to the black notes of his mother's piano: F#–A#–C#–F#–A#–F#. This led his songwriting down unique paths and informed licks that would influence generations of guitarists—not just in soul music, but also in rock, blues, and even country.
The Roosters picked up a manager who convinced them people would stop making barnyard sounds at their gigs if they changed their name. Eager to impress audiences, they rechristened themselves the Impressions.

Mayfield and Butler eventually split from the Northern Jubilee Singers to form the short-lived Modern Jubilaires. Subsequently the two went their separate ways for a while, but later Mayfield was convinced to quit his own group—and school—to play guitar for Butler's band. He was 15 years old when he set out to become a professional musician.
The Roosters picked up a manager who convinced them people would stop making barnyard sounds at their gigs if they changed their name. Eager to impress audiences, they rechristened themselves the Impressions. The same manager arranged an audition with Chess Records, but when the band arrived they found the doors locked. Vee-Jay Records (the first label to sign the Beatles to an American deal) was right across the street, so they auditioned there instead. Signed to Vee-Jay subsidiary Falcon (later Abner) records, Mayfield and the Impressions quickly recorded the Butler-penned "For Your Precious Love," which became a big hit in the summer of 1958. Mayfield's guitar arpeggios start off the tune, setting the type of groove normally laid down by a piano on a ballad of this sort.
The single was released under the name "Jerry Butler and the Impressions," which created discord among band members. Before it got out of hand, they were on tour, breaking box-office records at New York's Apollo Theater. It was during their Apollo run that Mayfield realized his F# tuning was unusual and could occasionally cause problems when trying to play with the house band.
When Butler left to pursue a solo career, Mayfield took over as the Impressions' main singer. Failing record sales, arguments over Mayfield's publishing rights, and lack of label confidence in him as a lead singer led Abner Records to drop the group, and the Impressions temporarily disbanded. Butler then called and asked Mayfield to be his road guitarist in place of Phil Upchurch, who left to tour behind his own hit instrumental, "You Can't Sit Down" (predating the Dovell's vocal version). So the 18-year-old Mayfield spent 1960 backing Butler, an experience that improved both his guitar playing and singing. He continued to write songs as well, 14 of which were recorded by Butler during the height of his career—including the oft-covered "He Will Break Your Heart," which went to the No. 1 slot on the R&B charts and the No. 7 spot on the pop charts.
That same year, the teenage songwriter and his manager Eddie Thomas formed their own publishing company, Curtom. This was revolutionary among the commonly exploited R&B performers and writers of the era, who were more often hoodwinked or coerced into sharing publishing with everyone from label owners to DJs.