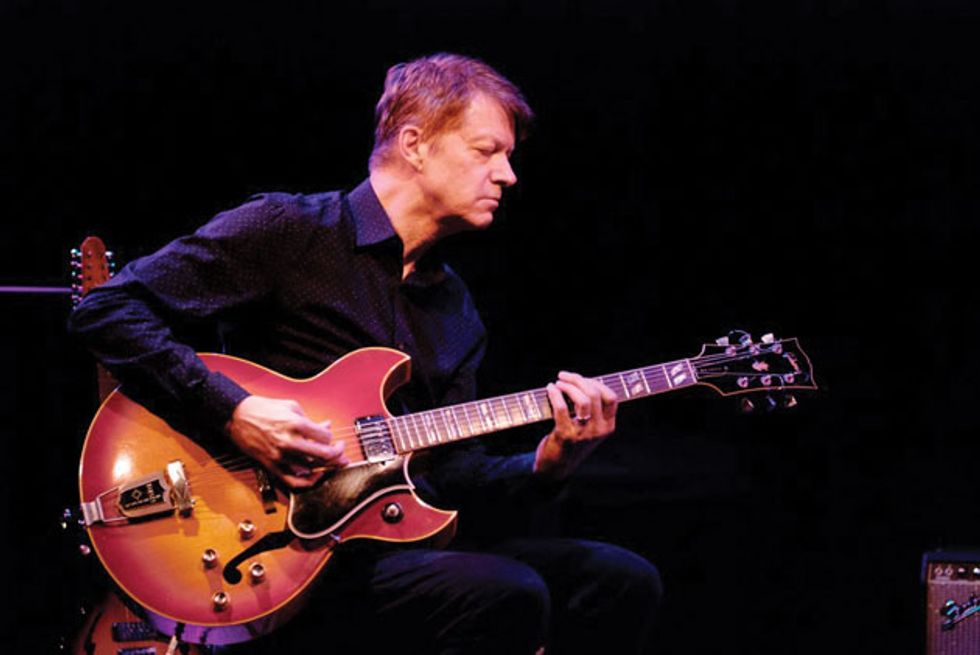 Photo by Mike Bouchard.
Nels, as a player known for a masterly use of effects, what was it like to play without them?
Cline: People might think of me as Mr. Stompbox, but in the 1980s I played as much acoustic without effects as I did electric, so it wasn't exactly foreign for me. It was very freeing to work with the limitation of the pure tone of the guitar, and not a world of other sonic possibilities. I didn't even use a volume pedal on the record, and I've had my foot glued on one of those since the '70s, except when playing acoustic. I love how the guitar is such a malleable instrument, with so much potential for exploration—an almost infinite amount of variation and manipulation.
Coming from a more traditional background, where do you stand on effects, Julian?
Lage: I've never really known what to do with effects pedals, so I've tended to avoid them. But I've always been a nerd for electronic music, in particular musique concrète. On the computer I love experimenting with samples, leaning toward glitchy, that create a narrative but don't necessarily fit into song form. I have a project whose working title is Machine Sorry, where I'm exploring more of that world with Armand Hirsch, a terrific player about my age who also plays in Bobby McFerrin's group. And maybe I'll bring electronic aspects to future collaborations with Nels.
The guitars sound so intimate and detailed on ROOM.
Cline: A lot of my work—especially in a rock context, like with Wilco—involves layers and layers of guitars, but on this record there are no overdubs or edits. It's just like we're playing together in my living room.
YouTube It
Nels Cline plays 12-string electric and Julian Lage plays his Manzer Blue Note in this dazzling, yet utterly melodic, 2014 Toronto Jazz Festival performance at the Horseshoe Tavern.
Lage: It also has to do with the recording process. We recorded everything with a mic on each guitar and each amp, and one on the whole room, making an aural snapshot of the setting. When done correctly, miking both the amp and the guitar makes a beautiful blur between the core of the acoustic sound and the amplified sound. When not done correctly, you can get a fat amp sound and a clicky acoustic. On this record, it's done perfectly. It recreates what I experience in the studio: the amp behind me and this great acoustic resonance on my stomach.
What have you learned from each other?
Cline: Julian is a terrifying player—an astonishing technician. I'm probably delusional in thinking that I can sit next to this man and not sound like I'm just trying to keep up. He's pushing me to play in a more technical way, to practice a lot more, and not go around thinking I've got it all nailed down. Also, Julian has such vast and deep musical knowledge—he's played with jazz and bluegrass masters alike. I don't really have a thorough grounding in any tradition. I've never aspired to be a master of any idiom, but just wanted to make music that reflects my tastes, from 20th-century art music to free improv to rock, or stuff that first excited me in high school, like Weather Report, Tony Williams Lifetime, and Miles Davis' electric period. It's awe-inspiring to be in the presence of a player like Julian who's so steeped in jazz.
Lage:
Nels seems to have access to something incredibly human, part of his creative self that doesn't abide by any tradition. As a student of the guitar, I recognize that it's so easy to fall into a trap—to approach the instrument with a scientific method, with everything so processed and considered. Nels is such a dynamic partner in a duo. He makes musical jokes. He instigates by playing sounds that are so gnarly, followed by the most serene passages. In a traditional jazz duo, things are more polite and clearly defined: I play, then you comp. But with Nels that doesn't exist. The roles are so much more fluid. So I've learned to be more visceral in my playing. And, though Nels hasn't explicitly said this, I've learned that it's so important, whether playing for three people in a tiny club or thousands at a jazz festival, to really savor the opportunity to share music and give it everything you have.