Photo by Annabel Merhen
How Jeff Tweedy, Nels Cline, and Pat Sansone parlayed a songwriting hot streak, collective arrangements, live ensemble recording, and twangy tradition into the band's new "American music album about America."
Every artist who's enjoyed some level of fame has had to deal with the parasocial effect—where audiences feel an overly intimate connection to an artist just from listening to their music. It can lead some listeners to believe they even have a personal relationship with the artist. I asked Jeff Tweedy what it feels like to be on the receiving end of that.
"It's definitely weird having people know you that you don't know," he replied. "There's a level of intimacy that some people feel they've had with you because you've reached them in intimate moments—your voice has, at least." But rather than off-putting, he sees beauty in it: "I try to be really respectful of that, 'cause it's ultimately really sweet. It's flattering to be a companion to somebody that you don't know. It's one of the more beautiful things about doing what I do, in that it has the potential to be difference-making for somebody in a dark moment."
With the release of Wilco's 12th studio album, Cruel Country, Tweedy and the band are offering 21 new songs to connect with. And as its title suggests, Wilco sinks into a country vibe more than ever before. Tweedy speculates that fans have always assumed that Wilco is in some way a country band, and although he's not sure he agrees, he decided to lean into that on Cruel Country.
I Am My Mother
Cruel Country has a concept behind it but isn't necessarily a concept recording. Tweedy sees it as an "American music album about America." The songwriter says he's struggled with what American identity means for decades. "Going back as far as Yankee Hotel Foxtrot, that's sort of a running theme through a lot of things I've written. I would call it an affection or a connection where I can't really choose. Just like the soft spot you have for your family or the people that you wish knew better but just can't help themselves, that you have been shown kindness from in other ways. I think that you can be critical of something, believe that its flaws are intolerable, and actually have love for the same person or the same thing. In this case, your country." Of course, with its twangy riffs, bent-note solos, and other classic sonic signatures, the album can easily be heard as a loving homage to country music. Regardless, this new entry in Wilco's catalog seems the next right step in the band's career.
"It all becomes a part of the thing that you can't fake—ensemble-based playing."—Jeff Tweedy
The album blends Wilco's classic sound with that twang and small doses of unconventional arrangements. It refamiliarizes us with Tweedy's unassuming, mutedly sad, and at times droll lyrics. "Once, just by chance / I made a friend in an ambulance / I was half man, half broken glass," he sings on "Ambulance." In the single "Falling Apart (Right Now)," he reflects on the pervasive stress of modern life with the couplet, "Now don't you lose your mind / While I'm looking for mine." And in keeping with Wilco's wilder moments, the band explores abstract effects on the nearly eight-minute "Many Worlds" and ventures into an extended jam for the second half of "Bird Without a Tail/ Base of My Skull."
Cruel Country started back in 2020, when, after having to cancel a tour with Sleater-Kinney, Tweedy started sending the band songs to work on remotely. They got back on the road in 2021, and during those two years, Tweedy met occasionally with individual members at their Chicago recording and practice space, the Loft, to hash out material. But it wasn't until January 2022 that all the members were able to meet at the space for the first time since before the pandemic.
Jeff Tweedy's Gear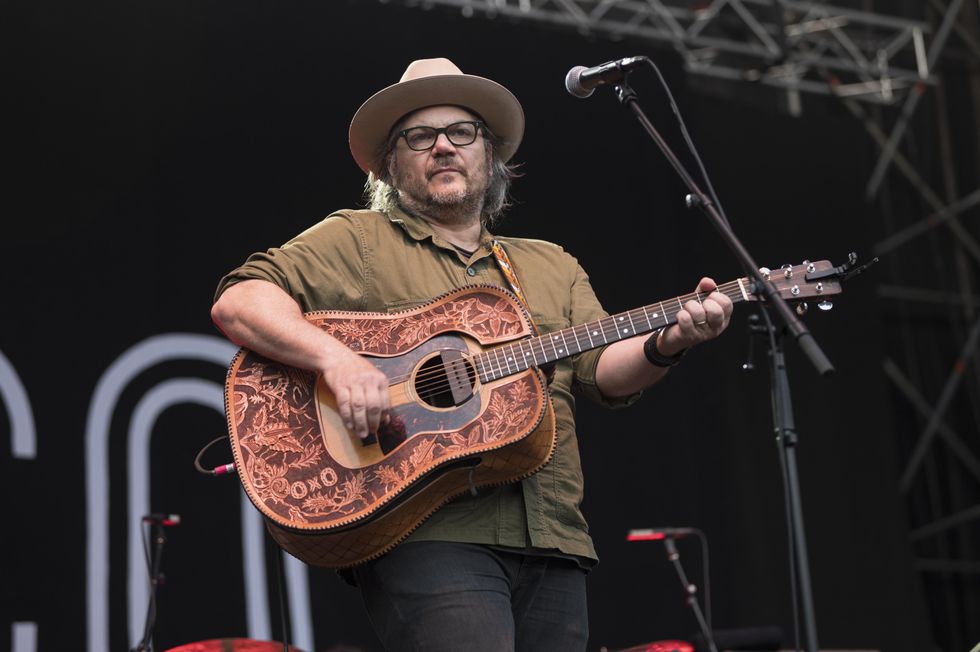 Jeff Tweedy used three acoustic guitars on Wilco's latest, including his faithful Martin D-28. He praises Bob Dylan and Buck Owens as models for his own country-flavored acoustic rhythm playing.
Photo by Jordi Vidal
Guitars
1944 Martin D-28 named "Hank"
1933 Martin OM-18
1931 Martin OM-28
Strings & Picks
D'Addario Phosphor Bronze EJ16 (.012–.053)
D'Addario Phosphor Bronze EJ17 (.013–.056)
Herco Flex 50
Herco Flex 75
Snarling Dogs Brain Picks, green, .53 mm
In the days leading up to that, Tweedy was writing more prolifically and continued to forward his rough demos to his bandmates. "The songs started coming very easily and felt very urgent, and it felt good to have a new song to sing each day," he says.
Guitarist Nels Cline, Wilco's sonic not-so-secret weapon, notes, "At one point last year, Jeff decided he wanted to send us a song a day that he would record on his smartphone, playing guitar and singing. As I recall, he wrote 51 songs in 52 days. And unlike a lot of his songwriting that we've experienced, a lot of these songs had finished lyrics and choruses and everything. Some were so absolutely classic in the style that I would loosely call country songs or folk songs that I didn't know that they were Wilco songs."
Multi-instrumentalist Pat Sansone adds, "But when we looked at the material that we had in the works, we saw that we had a lot that was in this style, and decided, 'Why don't we lean into these songs to make a body of work?' I think it's natural for us to do something like this. It's always been a part of our vocabulary."
"I've always loved that [B-Bender] sound and I certainly admire the great players. Clarence White was a genius and one of my favorite guitarists. And I'm a big fan of Marty Stuart's guitar playing."—Pat Sansone
When Wilco was able to meet, putting together the arrangements for Tweedy's already fleshed-out ideas came easily. "We actually made the first disc of this record in January in two weeks," Tweedy says. "And then we got together for two weeks in February and thought initially that we'd just be seeing if we could make anything that would beat the things that are on the first record. We ended up starting to feel like, well, this is kind of making itself a double record. The songs kind of inform each other." Except for a few overdubs, the album was recorded live—just the six members playing in the studio together. Essentially, the two discs were recorded and released in five months.
When asked what they might have learned about themselves or the band in the making of Cruel Country, all three guitarists say—in some variation—that they discovered Sansone's skills on the B-Bender Telecaster. "I've never seen that before [from him]; it was pretty mind-blowing," Tweedy laughs.
Cline continues, "A lot of the really twangy, cool-sounding country-style guitar that you hear on this record is Pat. I don't think he even deigned to add the B-Bender to the record until Jeff asked him at one point, 'Do you have a B-Bender Telecaster?' And it was so successful. He's such a natural at it that Jeff asked him for it again and again on song after song."
Nels Cline's Gear
Nels Cline wiggles the vibrato arm on his main guitar, a 1960 Fender Jazzmaster that he's dubbed "the Watt."
Photo by Jim Bennett
Guitars
1930s National square-neck resonator
Duesenberg lap steel (with B- and G-Bender levers)
1940s National resonator with Bakelite neck
Early '50s Epiphone Electar
Mule Resonators "The Mavis" electric resonator
1960 Jazzmaster aka "The Watt"
Neptune 12-string
Fano SP6 by Dennis Fano, with custom-designed Duneland Labs hum-canceling pickups
Amp
Milkman Creamer with 50W Jupiter 12" speaker
Effects
Moyo Volume pedal
Boss CS-3 Compression Sustainer
Walrus Audio Voyager overdrive
Vintage MXR Phase 45
EarthQuaker Devices Disaster Transport delay
EarthQuaker Devices Aqueduct vibrato
Big Foot FX Magnavibe
Strings, Picks & Cables
GHS Boomers (.012 sets; "The Mavis" has flatwounds)
Dunlop Ultex 1.14 mm
Bluebird picks borrowed from Pat
Divine Noise cables
"I've always loved that sound," says Sansone, "and I certainly admire the great players. Clarence White was a genius and one of my favorite guitarists. And I'm a big fan of Marty Stuart's guitar playing. It's something that I learned that I really like to play, and it's something that I definitely want to get better at."
Of all the songs on the record, Sansone names "Mystery Binds," a dreamy folk-rock ballad with plenty of texture, as one of his favorites. "That's the song that Jeff had sent to us in the dark days of the pandemic when we were still working remotely. I immediately took to that song. I thought it had a really unique and beautiful mood and was something a bit different than anything I'd heard Jeff send us. 'Many Worlds' is another favorite. That was Nels and I playing together and kind of playing off each other, and that's always a thrill—to be able to do that with him."
Cline and Sansone say that "Many Worlds," despite how kaleidoscopic its sonic architecture might seem given the abundance of effects and instrumentation, was recorded live like the rest of the album. Sansone actually got up in the middle of the song to switch from piano to guitar. "[We wanted to] see if we could play it live," Tweedy shares. "We tried it, and you can hear us moving around on the track. But it all becomes a part of the thing that you can't fake—ensemble-based playing."
"One friend of my wife's and mine who's French once compared my lead guitar playing to the voice of Edith Piaf."—Nels Cline
The three guitarists in the band have found their own ways to complement each other. Cline is often thought of as the lead guitarist, with Sansone typically alternating between back-up guitar and keys. Tweedy sets the tone at the front, either with rhythm strumming or fingerpicking. On Cruel Country, however, Cline comments that Sansone took the role of lead guitar on many songs with his B-Bender, and Tweedy says that his primary goal was to be a solid country strummer.
"One person I think is really good at that, oddly enough, is Bob Dylan. I like the drive that he has on his records when he's playing acoustic guitar," Tweedy opines. "I like Buck Owens and country recordings where it's not even a specific player—it's just a style of playing where the guitar becomes part of the rhythm section, almost like a tambourine or something." The guitars Tweedy used on the album were all Martins, including his 1944 D-28, 1933 OM-18, and 1931 OM-28.
The axes Cline played on the album include a 1930s National square-neck resonator, a Duesenberg lap steel, a Neptune electric 12-string, and his main guitar, the 1960 Jazzmaster known as "the Watt." Cline, whose background includes experimental and avant-garde jazz, names Electric Ladyland by the Jimi Hendrix Experience, Meditations by John Coltrane, and Solstice by Ralph Towner as three of his top albums. He also mentions that since age 10 he's been fascinated and inspired by Indian classical music, and that among his many, many influences on the guitar is Peter Frampton—one he says journalists tend to leave out.
Pat Sansone's Gear
Pat Sansone's B-Bender-equipped Telecaster became an essential part of the new Wilco record, helping to put the steel-guitar sound of country into the new Cruel Country.
Photo by Jordi Vidal
Guitars
Tokai Telecaster with B-Bender
1963 Epiphone Casino
1988 Rickenbacker Roger McGuinn 370/12 12-string
Amp
Effects
'70s Ibanez Phase Tone II
Strings, Picks & Cables
Assorted D'Addario sets
Bluebird picks (made from 1930s Argentinian poker chips by Pat's brother-in-law)
Divine Noise cables
Cline describes himself as versatile and isn't sure his jazz roots influence what he records with Wilco. "I try to change what I play based on what I think the song is asking for, or quite often what Jeff specifically asked for. I don't know that I have any voice that I could zero in on. I'm many voices.One friend of my wife's and mine who's French once compared my lead guitar playing to the voice of Edith Piaf. I think it's because of what I call the wiggle—my fast vibrato which is inspired by John Cipollina from Quicksilver Messenger Service and Tom Verlaine from Television."
Sansone—whose favorite albums include Revolver, Odessey and Oracleby the Zombies, and Third/Sister Lovers by Big Star—describes his approach: "I have a tendency to go toward melodic figures, finding places where counter-melodies can support the arrangement, or melodic bits on the guitar that help connect different parts of the song. That's probably where my style and my sensibilities are maybe most unique in the group." The B-Bender-equipped instrument he used on the album was a Tokai Telecaster. He also played a 1963 Epiphone Casino and a 1988 reissue Roger McGuinn 12-string Rickenbacker. In the studio, he prefers using a Swart Atomic Space Tone amp. "It's just a small amp, low voltage, one 10" speaker, but it has a beautiful tone. It takes pedals very well, so it's easy to get a range of tones at low volume."
Wilco's songs have always begun with Tweedy. He has some methods of writing that help him along the path of fine-tuning his work, including sharing his ideas with the band. "When I play my songs for the rest of the band, I start to hear them with other people's ears. It kind of provides at least a little moment of objectivity, 'cause I can hear 'em and forget that I made them up," he shares. His songwriting is defined by the simple notion that he can't not be himself while composing. "And at some point, you try to be yourself on purpose," he elaborates. "I can't really extract myself from it anymore. It's just a thing that I do, and it results in a thing that has some 'me-ness' to it. Like some 'Jeff-ness.'
"When I play my songs for the rest of the band, I start to hear them with other people's ears."—Jeff Tweedy
"I like reading a lot, I like listening to records, and I generally do both until I can't take it anymore and I feel like I need to do something of my own," he continues. "I need to answer that call to add my own voice to the [mix]. It's just inspiring when you spend time with other people's consciousnesses."
In the nearly 40 years he's been performing as a professional recording artist, Tweedy's ambitions haven't really changed. "All the decisions I feel have been mostly centered around, 'What path do we take that will allow us to do this tomorrow?' I mean, first, if you can't picture it, it can't happen. Even 'I want to be a songwriter,' to me, is a little bit more intangible than 'I want to write a song.' That's a manageable goal, and all your big dreams are built on those manageable goals. Because if you don't do those, other things don't happen."
YouTube It
The solo legend and lead guitarist comes clean on his beloved Jazzmaster, why he hates class A amps, and his 13-year-old inner shredder.

Nels Cline sums up his love for guitar simply and definitively: "I just love sound. That's the main thing I like about being in a rock band— the sound is surrounding me, and it's inherently exciting to me." That's a remarkable statement for a musician who has recorded professionally for nearly 35 years.

Born in Los Angeles in 1956, the self-taught Cline initially reveled in the sounds of '60s rock and jazz, and he lists Peter Frampton, Jeff Beck, and especially Jimi Hendrix as influences. The reason you're reading about him today is because he pursues experiment like few others, as evidenced most recently by the buzzing, queasy ambiance of "Thurston County" (off his 2009 release Coward) and the frantic, Latin rock-inspired soloing in "King Queen" off his brand-new Nels Cline Singers album Initiate.

Cline joined Wilco in 2004—and it's been his highest- profile gig by far—but he was already a prolific guitarist before that, with a discography of more than 100 albums. In addition to having two top 5 records with Wilco, he has put his lovingly detailed playing on releases by Mike Watt, Thurston Moore, and Quartet Music, among others.
Whether he's playing in Wilco or an avant-jazz side project, Cline melds rich, tone-color creations with slashing, climatic solos that are both fiery and beautiful. And a lot of that has to do with the fact that he's a bona fide pedal addict and gear guru. He sat down with PG before a recent Wilco gig to talk about his affinity for "ugly duckling" guitars, his secret passion for shredding, and why he'll never, ever put down his Jazzmaster.
Is it true Jimi Hendrix inspired you to pursue guitar?
Yeah—I was already thinking about it, though, because I was into The Byrds, and my twin brother, Alex, was listening to the Rolling Stones all the time. We were becoming rock 'n' roll obsessed, and we were buying records with our allowance every two weeks. When Are You Experienced came out, it looked incredibly cool, but we had bought records based on how cool they looked before and they weren't always great. But then I heard "Manic Depression" on AM radio—which was really amazing considering "Purple Haze" was supposed to be the single at that time—and that was the moment I decided it was going to be guitar forever. It was just the most magical moment.
Who are some of your favorite guitarists?
It's a huge list. Roger McGuinn from The Byrds, John McLaughlin, Jim Hall, Tom Verlaine. Many of them were influential when I was a boy or teenager, like Duane Allman and Steve Howe. I was really influenced by Peter Frampton when he was in Humble Pie. Also Robert Fripp, Wes Montgomery and, of course, Thurston Moore and Lee Ranaldo from Sonic Youth. I also think Jeff Tweedy is one of the most underrated guitarists. John Dieterich of Deerhoof and Jeff Parker in Tortoise are great guitar players. These are my friends, but I admire what they do. I'm just a music fan and a guitar fan. Jeff Beck and Jimi Hendrix were my main guys when I was 12 or 13, but I find myself drawn to Beck's playing now more than ever. I don't necessarily mean all his records; it's just his guitar playing is so phenomenal and innovative and expressive that I find myself thinking about it a lot, especially when I'm playing a rock song. I was also very much influenced by John Coltrane.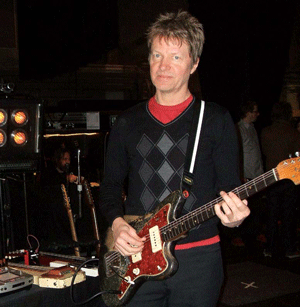 Cline and one of his prized 1959 Jazzmasters. Photo by Anne Erickson.
Was it a surprise when Rolling Stone named you one of 20 "New Guitar Gods"?
It was definitely surprising. I don't think I can take things like that seriously, but it was a fun thing to tell my mom when she was alive then. I don't think she could really wrap her mind around the whole idea of it, but she knew it was good.
Aside from Wilco, you always have plenty of solo projects going. Of all the projects and releases coming out in 2010, which are you most excited to see come to fruition?
Probably the new record by my trio, The Nels Cline Singers. It's called Initiate, and it's a double CD: one studio disc, and one live. The studio CD is a little bit different stylistically—a little more groovy—and I use my voice on some of the songs, which I haven't done before. And then there's the live CD recorded in San Francisco at Café Du Nord that's sort of our usual mayhem. So I'm excited about that, for sure.
Do you use the same guitars in both Wilco and your solo projects?
Pretty much. Oftentimes, I'm traveling and I can only bring one guitar. But sometimes I like to get kind of swanky. I did this record last year called Coward, and it's an overdubbed record of me doing everything. I used a lot of guitars from my home studio on that, so that was an opportunity for me to use things I don't normally use.
Sounds fun—which guitars did you use for that?
Well, Coward didn't really involve "swanky" guitars—just a lot of layers of mostly cheap ones, like Silvertone and Truetone acoustics. My '70s vintage Taylor 12-string that I bought new in 1978 was crucial to "Rod Poole's Gradual Ascent to Heaven," however, and it's pretty swanky! But my attempts to use my lovely 1960 Gretsch Tennessean or '66 Gibson Firebird with Wilco have so far been unsuccessful. Jazzmasters and Jaguars, plus oddities like Hopf and Magnatone guitars, seem to serve me better.
How many guitars do you own?
You know, I'm actually not sure, because I didn't used to own a lot of guitars before I joined Wilco. Jeff Tweedy is a terrible influence on me [laughs]. I might have about 45. Some of that is a necessity of duplication, because I spend so much time with Wilco in Chicago. But I live in Los Angeles, so I've had to amass amps, pedals and guitars in both places so I don't have to fly with all this stuff.
What are some of your standout pieces, besides the Jazzmaster?
I'm kind of drawn to what I call these "ugly duckling" guitars or strange '60s flights of fancy and rather odd instruments—and also inexpensive instruments. I find the couple of swanky guitars I've bought from friends just don't work for me. They're too nice or something [laughs]. Then there's also my old Martin 00-17 acoustic, my old Taylor 12-strings from the '70s, and my Jaguars. I have a 1962 Jaguar that I bought in the '90s at Black Market Music for $300. I had it painted with a picture of [fashion model] Kristen McMenamy. I kind of adored her whole vibe at the time—I liked that she was older than all those other girls and just came along with this androgynous look. I played that on "Hummingbird" and some of the more country numbers because it has a nice twang. My 1969 Jaguar is my most "rock" guitar. It's silver with a mirror pickguard, and it has a Charlie Christian pickup in the neck position and a Seymour Duncan Antiquity wound especially to compete and blend with the Charlie Christian pickup in the bridge position [laughs]. It's hilarious, but it has this beefy sound because of the pickup configuration. It was an eBay guitar, and it was a complete mess. I had no idea it would be so good. I use that on rhythm parts where I need more gain. I also have some Jerry Jones electric 12-strings and baritone guitars, including a doubleneck baritone that I played on "You Never Know," the George Harrison tribute. There's a descending, diminished-chord slide part, and I solo on one neck and then play rhythm on the other, which is such a ridiculous solution I came up with to play that song more reverently to the record. But I joke that I don't know why I have so many electric guitars, since I could really get by with just the Jazzmaster and be perfectly happy.
How many Jazzmasters do you have?
I have three. The main one is a '59, and I have a spare onstage that's black—that's a '59, too. And then I have a '59 in Los Angeles.
What's the story behind your main '59 Jazzmaster?
The main one I bought from Mike Watt in 1995. I was playing a Jaguar for many years, and I started playing with Watt in '90, but even more in '94 when I recorded on his first solo record, Ball-Hog or Tugboat? I played my Jaguar, but I was fascinated with these Jazzmaster guitars after hearing Tom Verlaine of Television and Sonic Youth using these guitars. Also, I wanted the strings behind the bridge. It's funny, they were joke guitars when I was a kid, so I didn't really consider them—but I should have, because they were affordable. That's why Sonic Youth played them: they were cheap. When I realized the Jazzmaster had not just the different pickups but also a slightly longer string length, I thought, "Wow, that could really work." Then, I saw my friend Joe Baiza playing in Santa Monica, and Joe was playing this Jazzmaster instead of his usual sunburst Stratocaster. So I asked, "Joe, where did you get that guitar?" And he said, "It's Watt's." So I asked Watt about it, and it turns out he was lending it to Joe because Joe was getting his Strat refretted. We were about to go on tour, so I said, "You know, I think this guitar could be better for me. I could dig into it a little bit more and get more sound." Watt said, "Well, just take it on the road. And then when we're done with the tour just buy it from me, because I don't need it." He had kind of snaked it from J Mascis when he was on tour with Dinosaur Jr., or J had played it and didn't like it. So, I played it on tour, and at the end of the tour I got paid and bought it. I remember at the time thinking, "Ouch, it's 800 dollars." Now I think they're about six or seven thousand.

Why did you think the Jazzmaster's slightly longer string length could work for you?
It feels more solid and taut, which I like because I play pretty hard. I don't often like light or mushy setups because I tend to really dig in sometimes.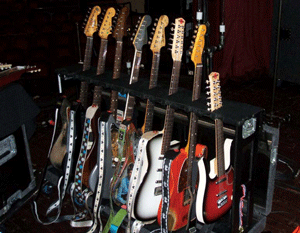 Cline's stable of live guitars: Jazzmasters, Jaguars, Bill Nash Tele-style, and Jerry Jones oddities. Photo by Anne Erickson
Why is having the strings behind the bridge important to you?
It makes the palette so much broader. I remember hearing that sound on Sonic Youth records, especially around that time when there was a lot of good detuned rock going on in the No Wave scene. If the bridges are set right, then I have some specific notes I can play behind the bridge, and it has a bell-like resonance. I can also really distort it. I can just rip behind the bridge and create the sound of tearing or horrible shrieking. I don't know why I like those kinds of sounds, but I do. Sometimes, just before a big chord, I like to swipe behind the strings and then hit the chord so it creates this splaying effect. It's just part of my sound. I'm lost without it. It's no fun to play other guitars for a whole night because I'm so used to being able to go to certain sounds like that.

Did you ever imagine that Jazzmaster would become your main guitar?
Not at all. I didn't realize at first that it was one of the best-sounding Jazzmasters. I used to just throw the thing around mercilessly. Then I realized it was a really great year for them and a great instrument. But you know, there's not that much original left on the guitar, because I've broken everything. It was painted black, but there's not much paint left on it. I've ripped it to shreds. I've actually gouged a gully behind the bridge from playing so hard. It does have the original pickups, tremolo and slapboard neck— meaning it's a big, thick piece of rosewood instead of veneer. It's got a beautiful sound.
Premier Guitar's maxim is "the relentless pursuit of tone." What do you think constitutes good tone?
It's just a personal choice. I think if you can manifest the sound you're hearing in your head, then you have your tone. It doesn't necessarily mean it's somebody else's idea of good tone. For example, I'm always trying to get rid of treble. I try to find some rich low-mids, and that's why I have this Tim Schroeder amp that I play right now. He designed it with that in mind for me. I find a lot of these class A, handwired, point-topoint amps are very, very treble-y, and I don't know if it's the speaker choices or what, but I cannot deal with the sound of those amps, personally. But somebody else can come along and play with a treble-y sound and sound fantastic. Everybody has a different idea about how they feel sound and music. I have a lot of pedals that give me certain tones, so that's the same pursuit. It's the same dream and vision: just trying to find things that satisfy what I'm hearing in my head.
Cline's pedalboard for Wilco shows. Photo by Anne Erickson
What's on your pedalboard right now?
The Wilco pedalboard is a little different from what I use for my own music in that it has a lot more distortion boxes. But the things I always use, in every kind of music, are a Boss volume pedal, the Klon Centaur overdrive, a Boss CS-3 compressor pedal that everyone laughs at me for using because they think it's bad and I love it, a Z. Vex Fuzz Factory, and my Electro-Harmonix 16-Second Digital Delay from the '80s.
Let's talk about Wilco. On the new record, there seem to be more layers. Would you say this is more of a studio record than previous releases?
Absolutely. I think that was Jeff's concept from the very beginning. He wanted to take the opposite approach of Sky Blue Sky, which is essentially live performances. The basics for Wilco (The Album) were recorded in New Zealand, and I wasn't even there.
You have a lot of killer guitar duels on your records now—as well as live. What do you like most about playing in a three-guitar band?
I just think it's a great sound. More than one guitar is always the best way to go. I think it's so attractive to me because I like the sound of the guitars slightly and naturally chorusing together. The timbre becomes much richer. In Wilco, Pat [Sansone] mostly plays Telecasters, and he uses the bridge pickup a lot and has more twang going on. Onstage, Jeff is playing some Telecasters but he's got his Gibson SGs up there and whatnot, too. And then I have my sound. I think the sound of all that together can be powerful. For example, on something like "Impossible Germany," when we have three electric guitars up, the potential for richness is exponentially greater. And somehow the arrangement works and we manage to stay out of each other's way. It was very carefully arrived at, but I don't think we knew it was going to be so successful. I think it maybe means we'll do more three-guitar things.
Is there any kind of music you play that might surprise people?
Well, I had a band for a while that wasn't supposed to play live and it was called Destroy All Nels Cline. There were four electric guitars, bass, and percussion. I also had plans for a band called Headstock, which would be kind of a hardcore, fast fusion, punk-rock kind of band with a lot of three-guitar songs. I don't know if I'll ever get that Headstock music written, though. I'm just so busy. But it's a total shred band.
Sounds cool. You should do it!
Yeah, I still wiggle my fingers around and do these shred-like things, because I think that's exciting. When I heard Jimi Hendrix or John McLaughlin or George Benson as a boy, I got really hyper listening to that prodigious technique, but only because it sounded like it meant something. It wasn't just a display of some gymnastic-like ability. But, I still hear a million notes in my head when I try to shred. Maybe it just appeals to my inner-13-year old [laughs]. I don't do a lot of shredding in Wilco. It's much harder and more important to play economically and play the right thing for the song. I feel my goal for Wilco is to be part of the orchestra. If there's a time to amp things up, then maybe the shred thing comes in handy.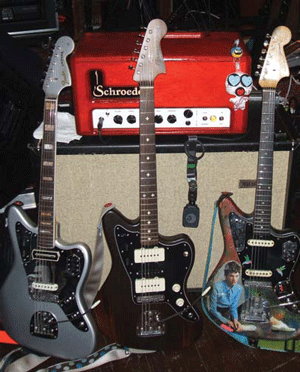 Cline's Schroeder DB7 amp, '69 Fender Jaguar (left), BilT Jazzmaster-style, and '62 Jaguar (right). Photo by Anne Erickson

How important is instinct when playing guitar?
I think that in music in general, and particularly as an improviser, it's crucial to trust in one's instincts. I think that one can hone those instincts with the knowledge that comes with studying theory or ear training and by just paying attention. It's about listening beyond your instrument. In other words, while you're playing, you're hearing everybody, not just yourself. I think if that's happening, then your instincts are razor sharp— and that's crucial to being a good improviser.
What's your advice for guitarists?
Well, if my life or experience means anything, it shows that persistence and patience might be the ticket to playing guitar or doing anything. I played music for a really long time. I wasn't really playing commercial music. I didn't try to "succeed." But my life is beautiful now. I'm making great music and I have great opportunities to play. Lots of people won't make it all the way down that road, and they'll give up—because it's hard. So, if I do have a message, it would have to be that if you really love sound as much as somebody like me, just hang in there.

Dying to know what's in Nels Cline's rig for the 2010 Wilco world tour? We've got the lowdown below.
Nels Gearbox Guitars:
Two 1959 Fender Jazzmasters with original pickups and a Mastery bridge designed by John "Woody" Woodland
Chambered, all-rosewood Jazzmaster-style guitar made by Bill Henss and Tim Thelen of BilT Guitars in Des Moines, Iowa
1962 Fender Jaguar
1969 Fender Jaguar with Charlie Christian neck pickup and Seymour Duncan Antiquity bridge pickup
Jerry Jones Neptune "Shorty" Octave 12-string
Jerry Jones Neptune 12-string with three pickups
Jerry Jones double-neck baritone
2009 Bill Nash Tele-style "He makes them out of kit parts and puts Lollar pickups on them, which are really good for Telecasters, and then he relics them."
Gibson BR-9 lap steel National lap steel
Amps:
Custom Schroeder DB7 built by Tim Schroeder of Schroeder Guitar & Amp Repair in Chicago
Marshall JTM45 2x12 reissue given to him by Jeff Tweedy
Effects:
Boss DD-3 Digital Delay
Boss VB-2 Vibrato Boss AB-2 2-Way Selector
Boss volume pedal Boss CS-3 Compression Sustainer
Crowther Audio Hotcake Zoom UF-01 Ultra-Fuzz
JAM Pedals Rattler
Fulltone '69 Fuzz
Fulltone Deja Vibe
DigiTech Whammy
Electro-Harmonix Pulsar Klon Centaur
MXR Phase 45
Z. Vex Fuzz Factory
The Last Temptation of Boost (made by Alan Yee in Memphis)
Original Electro-Harmonix 16-Second Digital Delay
Electro-Harmonix Deluxe Memory Man
Electro-Harmonix Holy Grail Reverb
Korg KP2 KAOSS Pad
Boss TU-2 Chromatic Tuner
Voodoo Lab Pedal Power 2 Plus
Mics & Cables:
Sennheiser e906 dynamic mic
Planet Waves instrument cables
Strings & Picks:
GHS .012s on all six-strings except the Telecaster, which has .011 D'Addario lights on 12-strings
Dunlop Ultex 1.14 mm picks
Straps:
Various custom designs from Souldier Straps
Couch Guitar Straps. "I've had neck and shoulder problems, and the Couch strap is vinyl so it seems to be a little more comfy."