The solo legend and lead guitarist comes clean on his beloved Jazzmaster, why he hates class A amps, and his 13-year-old inner shredder.

Nels Cline sums up his love for guitar simply and definitively: "I just love sound. That's the main thing I like about being in a rock band— the sound is surrounding me, and it's inherently exciting to me." That's a remarkable statement for a musician who has recorded professionally for nearly 35 years.

Born in Los Angeles in 1956, the self-taught Cline initially reveled in the sounds of '60s rock and jazz, and he lists Peter Frampton, Jeff Beck, and especially Jimi Hendrix as influences. The reason you're reading about him today is because he pursues experiment like few others, as evidenced most recently by the buzzing, queasy ambiance of "Thurston County" (off his 2009 release Coward) and the frantic, Latin rock-inspired soloing in "King Queen" off his brand-new Nels Cline Singers album Initiate.

Cline joined Wilco in 2004—and it's been his highest- profile gig by far—but he was already a prolific guitarist before that, with a discography of more than 100 albums. In addition to having two top 5 records with Wilco, he has put his lovingly detailed playing on releases by Mike Watt, Thurston Moore, and Quartet Music, among others.
Whether he's playing in Wilco or an avant-jazz side project, Cline melds rich, tone-color creations with slashing, climatic solos that are both fiery and beautiful. And a lot of that has to do with the fact that he's a bona fide pedal addict and gear guru. He sat down with PG before a recent Wilco gig to talk about his affinity for "ugly duckling" guitars, his secret passion for shredding, and why he'll never, ever put down his Jazzmaster.
Is it true Jimi Hendrix inspired you to pursue guitar?
Yeah—I was already thinking about it, though, because I was into The Byrds, and my twin brother, Alex, was listening to the Rolling Stones all the time. We were becoming rock 'n' roll obsessed, and we were buying records with our allowance every two weeks. When Are You Experienced came out, it looked incredibly cool, but we had bought records based on how cool they looked before and they weren't always great. But then I heard "Manic Depression" on AM radio—which was really amazing considering "Purple Haze" was supposed to be the single at that time—and that was the moment I decided it was going to be guitar forever. It was just the most magical moment.
Who are some of your favorite guitarists?
It's a huge list. Roger McGuinn from The Byrds, John McLaughlin, Jim Hall, Tom Verlaine. Many of them were influential when I was a boy or teenager, like Duane Allman and Steve Howe. I was really influenced by Peter Frampton when he was in Humble Pie. Also Robert Fripp, Wes Montgomery and, of course, Thurston Moore and Lee Ranaldo from Sonic Youth. I also think Jeff Tweedy is one of the most underrated guitarists. John Dieterich of Deerhoof and Jeff Parker in Tortoise are great guitar players. These are my friends, but I admire what they do. I'm just a music fan and a guitar fan. Jeff Beck and Jimi Hendrix were my main guys when I was 12 or 13, but I find myself drawn to Beck's playing now more than ever. I don't necessarily mean all his records; it's just his guitar playing is so phenomenal and innovative and expressive that I find myself thinking about it a lot, especially when I'm playing a rock song. I was also very much influenced by John Coltrane.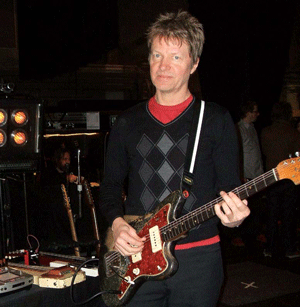 Cline and one of his prized 1959 Jazzmasters. Photo by Anne Erickson.
Was it a surprise when Rolling Stone named you one of 20 "New Guitar Gods"?
It was definitely surprising. I don't think I can take things like that seriously, but it was a fun thing to tell my mom when she was alive then. I don't think she could really wrap her mind around the whole idea of it, but she knew it was good.
Aside from Wilco, you always have plenty of solo projects going. Of all the projects and releases coming out in 2010, which are you most excited to see come to fruition?
Probably the new record by my trio, The Nels Cline Singers. It's called Initiate, and it's a double CD: one studio disc, and one live. The studio CD is a little bit different stylistically—a little more groovy—and I use my voice on some of the songs, which I haven't done before. And then there's the live CD recorded in San Francisco at Café Du Nord that's sort of our usual mayhem. So I'm excited about that, for sure.
Do you use the same guitars in both Wilco and your solo projects?
Pretty much. Oftentimes, I'm traveling and I can only bring one guitar. But sometimes I like to get kind of swanky. I did this record last year called Coward, and it's an overdubbed record of me doing everything. I used a lot of guitars from my home studio on that, so that was an opportunity for me to use things I don't normally use.
Sounds fun—which guitars did you use for that?
Well, Coward didn't really involve "swanky" guitars—just a lot of layers of mostly cheap ones, like Silvertone and Truetone acoustics. My '70s vintage Taylor 12-string that I bought new in 1978 was crucial to "Rod Poole's Gradual Ascent to Heaven," however, and it's pretty swanky! But my attempts to use my lovely 1960 Gretsch Tennessean or '66 Gibson Firebird with Wilco have so far been unsuccessful. Jazzmasters and Jaguars, plus oddities like Hopf and Magnatone guitars, seem to serve me better.
How many guitars do you own?
You know, I'm actually not sure, because I didn't used to own a lot of guitars before I joined Wilco. Jeff Tweedy is a terrible influence on me [laughs]. I might have about 45. Some of that is a necessity of duplication, because I spend so much time with Wilco in Chicago. But I live in Los Angeles, so I've had to amass amps, pedals and guitars in both places so I don't have to fly with all this stuff.
What are some of your standout pieces, besides the Jazzmaster?
I'm kind of drawn to what I call these "ugly duckling" guitars or strange '60s flights of fancy and rather odd instruments—and also inexpensive instruments. I find the couple of swanky guitars I've bought from friends just don't work for me. They're too nice or something [laughs]. Then there's also my old Martin 00-17 acoustic, my old Taylor 12-strings from the '70s, and my Jaguars. I have a 1962 Jaguar that I bought in the '90s at Black Market Music for $300. I had it painted with a picture of [fashion model] Kristen McMenamy. I kind of adored her whole vibe at the time—I liked that she was older than all those other girls and just came along with this androgynous look. I played that on "Hummingbird" and some of the more country numbers because it has a nice twang. My 1969 Jaguar is my most "rock" guitar. It's silver with a mirror pickguard, and it has a Charlie Christian pickup in the neck position and a Seymour Duncan Antiquity wound especially to compete and blend with the Charlie Christian pickup in the bridge position [laughs]. It's hilarious, but it has this beefy sound because of the pickup configuration. It was an eBay guitar, and it was a complete mess. I had no idea it would be so good. I use that on rhythm parts where I need more gain. I also have some Jerry Jones electric 12-strings and baritone guitars, including a doubleneck baritone that I played on "You Never Know," the George Harrison tribute. There's a descending, diminished-chord slide part, and I solo on one neck and then play rhythm on the other, which is such a ridiculous solution I came up with to play that song more reverently to the record. But I joke that I don't know why I have so many electric guitars, since I could really get by with just the Jazzmaster and be perfectly happy.
How many Jazzmasters do you have?
I have three. The main one is a '59, and I have a spare onstage that's black—that's a '59, too. And then I have a '59 in Los Angeles.
What's the story behind your main '59 Jazzmaster?
The main one I bought from Mike Watt in 1995. I was playing a Jaguar for many years, and I started playing with Watt in '90, but even more in '94 when I recorded on his first solo record, Ball-Hog or Tugboat? I played my Jaguar, but I was fascinated with these Jazzmaster guitars after hearing Tom Verlaine of Television and Sonic Youth using these guitars. Also, I wanted the strings behind the bridge. It's funny, they were joke guitars when I was a kid, so I didn't really consider them—but I should have, because they were affordable. That's why Sonic Youth played them: they were cheap. When I realized the Jazzmaster had not just the different pickups but also a slightly longer string length, I thought, "Wow, that could really work." Then, I saw my friend Joe Baiza playing in Santa Monica, and Joe was playing this Jazzmaster instead of his usual sunburst
Stratocaster
. So I asked, "Joe, where did you get that guitar?" And he said, "It's Watt's." So I asked Watt about it, and it turns out he was lending it to Joe because Joe was getting his Strat refretted. We were about to go on tour, so I said, "You know, I think this guitar could be better for me. I could dig into it a little bit more and get more sound." Watt said, "Well, just take it on the road. And then when we're done with the tour just buy it from me, because I don't need it." He had kind of snaked it from J Mascis when he was on tour with Dinosaur Jr., or J had played it and didn't like it. So, I played it on tour, and at the end of the tour I got paid and bought it. I remember at the time thinking, "Ouch, it's 800 dollars." Now I think they're about six or seven thousand.

Why did you think the Jazzmaster's slightly longer string length could work for you?
It feels more solid and taut, which I like because I play pretty hard. I don't often like light or mushy setups because I tend to really dig in sometimes.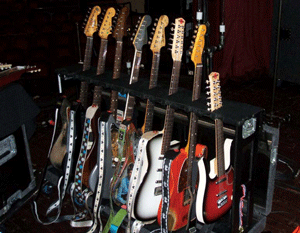 Cline's stable of live guitars: Jazzmasters, Jaguars, Bill Nash Tele-style, and Jerry Jones oddities. Photo by Anne Erickson
Why is having the strings behind the bridge important to you?
It makes the palette so much broader. I remember hearing that sound on Sonic Youth records, especially around that time when there was a lot of good detuned rock going on in the No Wave scene. If the bridges are set right, then I have some specific notes I can play behind the bridge, and it has a bell-like resonance. I can also really distort it. I can just rip behind the bridge and create the sound of tearing or horrible shrieking. I don't know why I like those kinds of sounds, but I do. Sometimes, just before a big chord, I like to swipe behind the strings and then hit the chord so it creates this splaying effect. It's just part of my sound. I'm lost without it. It's no fun to play other guitars for a whole night because I'm so used to being able to go to certain sounds like that.

Did you ever imagine that Jazzmaster would become your main guitar?
Not at all. I didn't realize at first that it was one of the best-sounding Jazzmasters. I used to just throw the thing around mercilessly. Then I realized it was a really great year for them and a great instrument. But you know, there's not that much original left on the guitar, because I've broken everything. It was painted black, but there's not much paint left on it. I've ripped it to shreds. I've actually gouged a gully behind the bridge from playing so hard. It does have the original pickups, tremolo and slapboard neck— meaning it's a big, thick piece of rosewood instead of veneer. It's got a beautiful sound.
Premier Guitar's maxim is "the relentless pursuit of tone." What do you think constitutes good tone?
It's just a personal choice. I think if you can manifest the sound you're hearing in your head, then you have your tone. It doesn't necessarily mean it's somebody else's idea of good tone. For example, I'm always trying to get rid of treble. I try to find some rich low-mids, and that's why I have this Tim Schroeder amp that I play right now. He designed it with that in mind for me. I find a lot of these class A, handwired, point-topoint amps are very, very treble-y, and I don't know if it's the speaker choices or what, but I cannot deal with the sound of those amps, personally. But somebody else can come along and play with a treble-y sound and sound fantastic. Everybody has a different idea about how they feel sound and music. I have a lot of pedals that give me certain tones, so that's the same pursuit. It's the same dream and vision: just trying to find things that satisfy what I'm hearing in my head.
Cline's pedalboard for Wilco shows. Photo by Anne Erickson
What's on your pedalboard right now?
The Wilco pedalboard is a little different from what I use for my own music in that it has a lot more distortion boxes. But the things I always use, in every kind of music, are a Boss volume pedal, the Klon Centaur overdrive, a Boss CS-3 compressor pedal that everyone laughs at me for using because they think it's bad and I love it, a Z. Vex Fuzz Factory, and my Electro-Harmonix 16-Second Digital Delay from the '80s.
Let's talk about Wilco. On the new record, there seem to be more layers. Would you say this is more of a studio record than previous releases?
Absolutely. I think that was Jeff's concept from the very beginning. He wanted to take the opposite approach of Sky Blue Sky, which is essentially live performances. The basics for Wilco (The Album) were recorded in New Zealand, and I wasn't even there.
You have a lot of killer guitar duels on your records now—as well as live. What do you like most about playing in a three-guitar band?
I just think it's a great sound. More than one guitar is always the best way to go. I think it's so attractive to me because I like the sound of the guitars slightly and naturally chorusing together. The timbre becomes much richer. In Wilco, Pat [Sansone] mostly plays Telecasters, and he uses the bridge pickup a lot and has more twang going on. Onstage, Jeff is playing some Telecasters but he's got his Gibson SGs up there and whatnot, too. And then I have my sound. I think the sound of all that together can be powerful. For example, on something like "Impossible Germany," when we have three electric guitars up, the potential for richness is exponentially greater. And somehow the arrangement works and we manage to stay out of each other's way. It was very carefully arrived at, but I don't think we knew it was going to be so successful. I think it maybe means we'll do more three-guitar things.
Is there any kind of music you play that might surprise people?
Well, I had a band for a while that wasn't supposed to play live and it was called Destroy All Nels Cline. There were four electric guitars, bass, and percussion. I also had plans for a band called Headstock, which would be kind of a hardcore, fast fusion, punk-rock kind of band with a lot of three-guitar songs. I don't know if I'll ever get that Headstock music written, though. I'm just so busy. But it's a total shred band.
Sounds cool. You should do it!
Yeah, I still wiggle my fingers around and do these shred-like things, because I think that's exciting. When I heard Jimi Hendrix or John McLaughlin or George Benson as a boy, I got really hyper listening to that prodigious technique, but only because it sounded like it meant something. It wasn't just a display of some gymnastic-like ability. But, I still hear a million notes in my head when I try to shred. Maybe it just appeals to my inner-13-year old [laughs]. I don't do a lot of shredding in Wilco. It's much harder and more important to play economically and play the right thing for the song. I feel my goal for Wilco is to be part of the orchestra. If there's a time to amp things up, then maybe the shred thing comes in handy.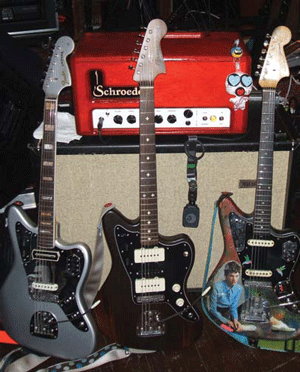 Cline's Schroeder DB7 amp, '69 Fender Jaguar (left), BilT Jazzmaster-style, and '62 Jaguar (right). Photo by Anne Erickson

How important is instinct when playing guitar?
I think that in music in general, and particularly as an improviser, it's crucial to trust in one's instincts. I think that one can hone those instincts with the knowledge that comes with studying theory or ear training and by just paying attention. It's about listening beyond your instrument. In other words, while you're playing, you're hearing everybody, not just yourself. I think if that's happening, then your instincts are razor sharp— and that's crucial to being a good improviser.
What's your advice for guitarists?
Well, if my life or experience means anything, it shows that persistence and patience might be the ticket to playing guitar or doing anything. I played music for a really long time. I wasn't really playing commercial music. I didn't try to "succeed." But my life is beautiful now. I'm making great music and I have great opportunities to play. Lots of people won't make it all the way down that road, and they'll give up—because it's hard. So, if I do have a message, it would have to be that if you really love sound as much as somebody like me, just hang in there.

Dying to know what's in Nels Cline's rig for the 2010 Wilco world tour? We've got the lowdown below.
Nels Gearbox Guitars:
Two 1959 Fender Jazzmasters with original pickups and a Mastery bridge designed by John "Woody" Woodland
Chambered, all-rosewood Jazzmaster-style guitar made by Bill Henss and Tim Thelen of BilT Guitars in Des Moines, Iowa
1962 Fender Jaguar
1969 Fender Jaguar with Charlie Christian neck pickup and Seymour Duncan Antiquity bridge pickup
Jerry Jones Neptune "Shorty" Octave 12-string
Jerry Jones Neptune 12-string with three pickups
Jerry Jones double-neck baritone
2009 Bill Nash Tele-style "He makes them out of kit parts and puts Lollar pickups on them, which are really good for Telecasters, and then he relics them."
Gibson BR-9 lap steel National lap steel
Amps:
Custom Schroeder DB7 built by Tim Schroeder of Schroeder Guitar & Amp Repair in Chicago
Marshall JTM45 2x12 reissue given to him by Jeff Tweedy
Effects:
Boss DD-3 Digital Delay
Boss VB-2 Vibrato Boss AB-2 2-Way Selector
Boss volume pedal Boss CS-3 Compression Sustainer
Crowther Audio Hotcake Zoom UF-01 Ultra-Fuzz
JAM Pedals Rattler
Fulltone '69 Fuzz
Fulltone Deja Vibe
DigiTech Whammy
Electro-Harmonix Pulsar Klon Centaur
MXR Phase 45
Z. Vex Fuzz Factory
The Last Temptation of Boost (made by Alan Yee in Memphis)
Original Electro-Harmonix 16-Second Digital Delay
Electro-Harmonix Deluxe Memory Man
Electro-Harmonix Holy Grail Reverb
Korg KP2 KAOSS Pad
Boss TU-2 Chromatic Tuner
Voodoo Lab Pedal Power 2 Plus
Mics & Cables:
Sennheiser e906 dynamic mic
Planet Waves instrument cables
Strings & Picks:
GHS .012s on all six-strings except the
Telecaster
, which has .011 D'Addario lights on 12-strings
Dunlop Ultex 1.14 mm picks
Straps:
Various custom designs from Souldier Straps
Couch Guitar Straps. "I've had neck and shoulder problems, and the Couch strap is vinyl so it seems to be a little more comfy."