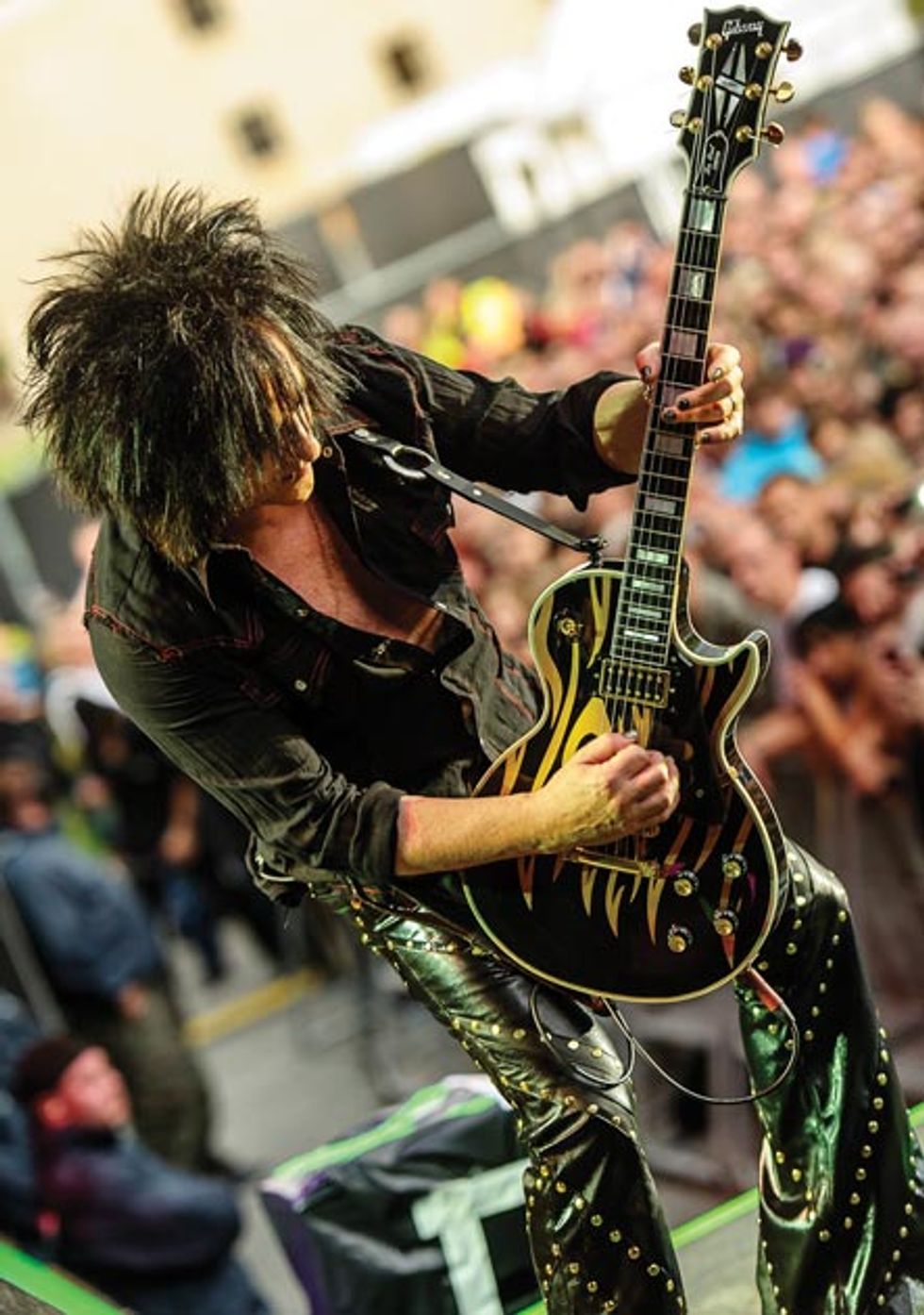 "I've been playing Les Pauls since I was a kid and I really like the feel of a substantial guitar with a thicker body," says Stevens. Photo by Charles Jischke.
What's the process like these days?
For his part, Billy usually works like a film director. He usually comes in with a vague lyrical idea and we sit down with a couple of guitars, come up with chords, and he then goes away to write. But this record coincided with his new autobiography [Dancing with Myself], so the songs had to be pretty much autobiographical. The concepts came first—the touchstones in his life that he wanted to elaborate on and set to music. As a writing partner, more than ever, I found myself caring much less about the expression of the guitar than the song.
Given that the album is autobiographical, did you bring any songs to the table, or did you just work with Idol's ideas?
"Ghosts in My Guitar" is one cut I brought to the record. It was interesting to write the lyrics to a Billy Idol song that was essentially biographical. I've known Billy Idol for 32 years, so I obviously know the subject matter very well. It was exciting to bring it to life with Billy Morrison, another cowriter [and backup live guitarist] on our little team who grew up in the same town as Billy Idol.
Was your recording process with Idol considerably different in the beginning, given how recording technology has evolved during the last three decades?
Actually, it's pretty similar on many levels. Our producer, Keith [Forsey], was a dance producer, and in our work together in the early '80s he was already cutting to a click track and moving bits around. This presented an interesting problem for us: It took forever to pick a drummer for Rebel Yell—to find someone who could keep time very precisely while having a sense of swing. Luckily we found Thommy Price. We heard him through the door while working at Electric Lady.
Obviously, the biggest change is that—working in digital—we have some flexibility with the arrangements. We can easily swap a chorus with a bridge or change the order of the verses or whatnot. But I'm adamant about not taking the same exact riff or part and just pasting it throughout the song for when it's repeated. A song really needs to travel—even in the smallest details—to tell a story.
One other thing is that I've now got a pretty extensive demo studio at home, equipped to record everything but drums. So I recorded some of the lead parts there, in a more relaxed environment where I could capture music whenever the inspiration struck.
YouTube It
Curious how Steve Stevens uses his collection of Gibson, Knaggs, Suhr, and Friedman gear on the road? Check out our Rig Rundown with him on the last Billy Idol tour.
What guitars did you use for recording Kings & Queens of the Underground?
I went over to England to record the album and didn't take that much—just several guitars. I play a fair amount of nylon-string on the record, and I brought a beautiful one made by Pedro de Miguel, knowing it might not be easy to find a good flamenco guitar while in England. I also brought my Knaggs signature guitar—the only one I had at the time—as well as a really good Les Paul goldtop reissue with a wraparound bridge, a Music Man Armada that has a chunk that sounds so great for rhythm, and a John Suhr Strat. It was so liberating to work with those few, select pieces, but for a little variety [producer] Trevor [Horn] had a bunch of amps and guitars for me to play—really nice acoustics and an old Barney Kessel, the same one used on [Yes'] 90125.
Tell us more about how things developed with Knaggs.
I shied away from having a signature guitar for many years after doing it with Hamer in the '80s. Then one day Peter Wolf, who I knew from the Hamer days, called and told me that I should really check out Knaggs, a new company from the former head luthier at PRS [Joe Knaggs]. They sent me a guitar, and I was really impressed with its workmanship, so I agreed to do a signature model.
Basically, I had the whole company at my disposal in making the guitar. They sent me another one of their models as a launching point, and I told them I wanted mine to be thicker and heavier. I sent them the dimensions of the neck from one of my favorite Les Pauls, and specified the Bare Knuckle pickups that I wanted. We went back and forth through about four designs before we arrived at the SS1 and agreed to make 99 of them. One of the conditions for the signature model was that part of the proceeds go to MusiCares, which helps musicians get assistance for drug and alcohol problems. So I was happy to help a very good cause, and at the same time support an American guitar company.
So many guitarists prefer lighter instruments these days. Why did you want yours heavier?
For one, I've been playing Les Pauls since I was a kid and I really like the feel of a substantial guitar with a thicker body. That said, I do have an 11-pound Les Paul that just isn't possible for me to play on the stage. By contrast, the Knaggs is actually light—around 8.1 pounds. Also, once you get into chambering—which is how many companies make a lighter solidbody guitar—a bit of hollowbody creeps into the sound, and there's nothing you can do when you start feeding back at higher volumes. It's not like you can just put foam in the f-holes to stop it.