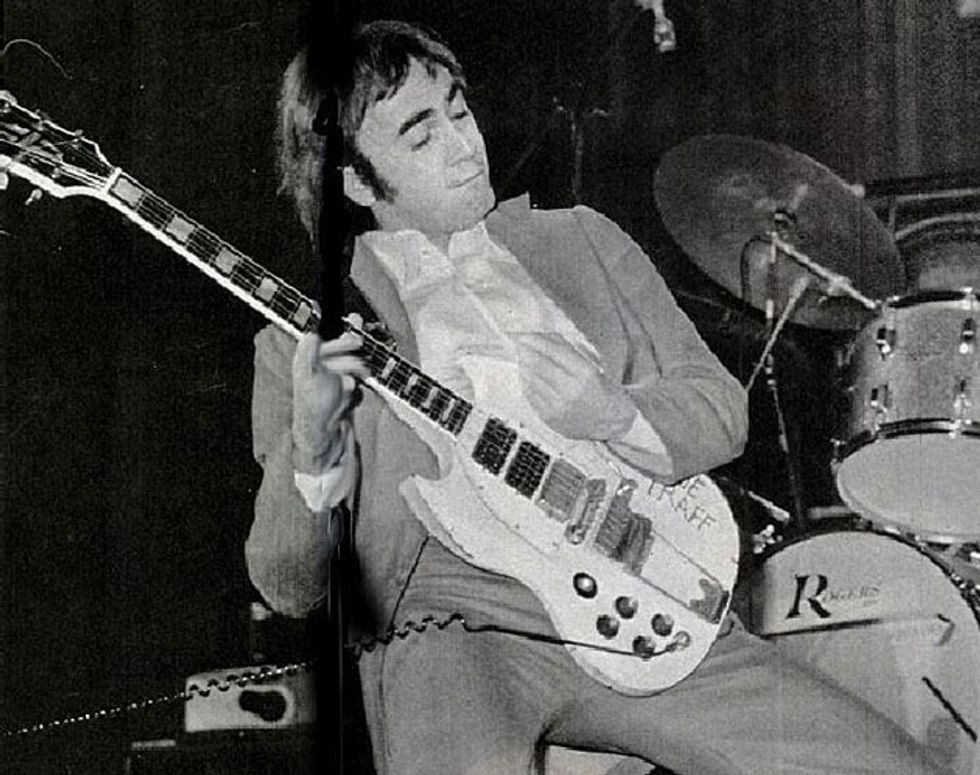 This white Gibson SG Custom was made lefty for Halsall by one of his roadies. Halsall wasn't the only guitarist to play a white lefty SG: Hendrix had one, too.
Mod Squad
As the guitarist in Patto, Halsall was a monster. He was so nimble that other musicians took notice. "I'm just a simple bloke," he told Melody Maker in 1972. "But I tend to freak guitarists out, put the willies up them."
But he wasn't just fast—his harmonic sense was different. He was a blues-based player, but he wasn't limited to minor pentatonic runs. He added extra notes, goofed with the tonal center, and left tensions unresolved. And in addition to the notes he chose, he had an eccentric sense of phrasing. Halsall played repetitive figures in unexpected places, took off on tangents mid-thought, and seemed addicted to the unpredictable.
Halsall started playing guitar as a mature and working musician. He already had the skills for making music: a solid sense of time, a trained and developed ear, and an understanding of harmony, chords, melody, and phrasing. He didn't think like a guitarist, and that made him different.
He also didn't listen to guitarists. "The only player I find myself listening to is Django," he told Melody Maker in November 1971. "I tend to listen to horn players and pianists, especially Cecil Taylor. I'd like to play guitar like Cecil plays piano." He admired Taylor's power, clarity, and precision, and he purposely wanted to incorporate that into his own playing. "I want to get the infinite power from guitar with his solid hand action," he said. "That is what I'm working on."
Patto's small but fanatical cult following was limited to London and a few towns in Northern England. They made a few radio appearances, too, until the BBC banned them. "They didn't show up for a radio session," archivist Barry Monks told Premier Guitar. "The BBC ban was for radio and television—and that had serious repercussions."
From its opening riff to the lengthy breaks between verses, the twisted tonality, and the abrupt ending, "Loud Green Song" stamped Halsall as a guitarist like no other. The playing is downright nasty.
Specifically, it meant that Patto never appeared on the Old Grey Whistle Test (the premier English program for "serious" rock), which hampered their ability to reach a wider audience. "An appearance on the Old Grey Whistle Test would have been a big deal for them," says Monks, who moderates a website devoted to the Halsall. "But it never happened."
At the time, it seemed the ban was just a minor setback. From 1971 to 1973, Patto were the next big thing. The New Musical Express said in January, 1972, "If the lip service paid to them from within the confines of the music business were sufficient, then Patto would be giving the proverbial elbow to more established purveyors of electric rock."
Patto signed to Vertigo (the progressive subsidiary of Phillips), released two albums, toured as the opening act for the Faces and Ten Years After, and gigged locally. Their madcap live shows were legendary, and their musicianship turned heads as well. "Guitar player Ollie Halsall is most definitely the most underrated guitar player in the country at present," Ray Telford wrote in Sounds in August 1972. "He is also no slouch on any kind of keyboard."
Patto's second album, Hold Your Fire, is a guitar tour de force. "The second you hear Ollie's flash lead guitar you are made aware of the fact that this is no neo-Cream imitation or anything of that kind, but an English rock band with distinctions far beyond those of mortal Americans," Jon Tiven wrote in his review in Fusion in July, 1972.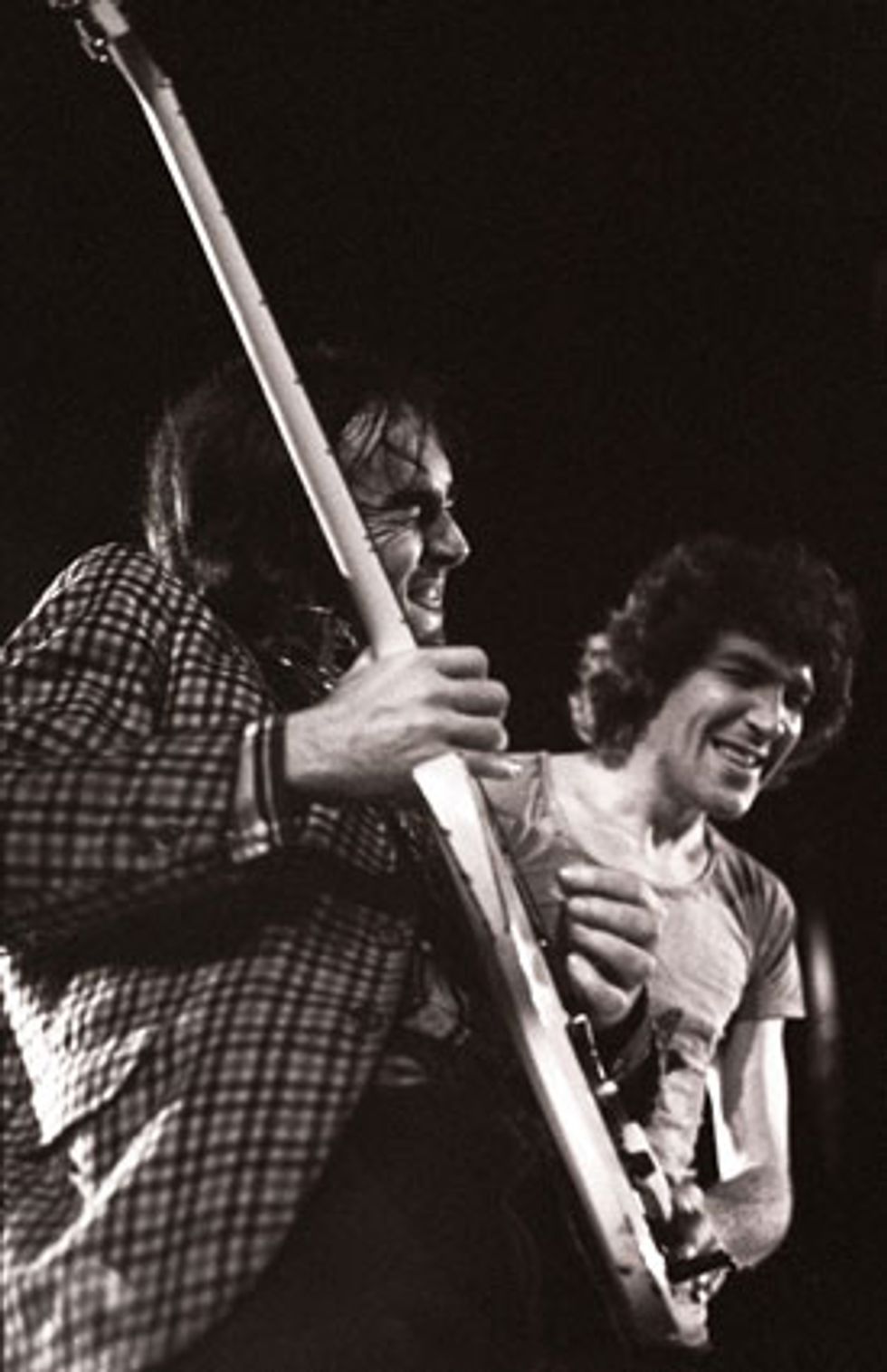 Ollie with Patto at the Hollywood Bowl in 1972.
Photo by ©John Greenleigh—flipsidestudios.com.
Hold Your Fire oozes great guitar playing, but the solo on "Give It All Away" is exceptional. Halsall let loose, and his solo encompasses the traits that defined his style: lightning speed, outlandish yet accessible.
It seemed success was just around the corner. Since Patto's strength was their live shows, their third album, Roll 'Em Smoke 'Em Put Another Line Out, recorded for Island Records, attempted to capture the magical spontaneity and lunacy of Patto in concert. Halsall plays piano—sans guitar—for about half the album, but his guitar playing on "Loud Green Song" more than makes up for it. To quote a reviewer for the website Julian Cope Presents Head Heritage, "When the Blues had a baby and they named it Rock 'n' Roll, even they, down-with-the-kids parents they were, could not have foreseen the teenage delinquency of Patto's 'Loud Green Song.' If you haven't heard Patto's 'Loud Green Song,' YOU HAVE TO HEAR PATTO'S 'LOUD GREEN SONG.'"
The song in question wails in sonic weirdness. From its opening riff to the lengthy breaks between verses, the twisted tonality, and the abrupt ending, "Loud Green Song" stamped Halsall as a guitarist like no other. The playing is downright nasty. It was raw, naked, unvarnished, and—for 1972—years ahead of its time. It took heavy metal another 10 years to catch up.
Patto toured the U.S. and Australia opening for Joe Cocker. They played the largest venues of their career and were an audience favorite. But in a case of bad timing, Island released Roll 'Em Smoke 'Em Put Another Line Out after the tour ended, and sales were weak. "You know, we absolutely went down a storm on that Joe Cocker tour—played almost every night, some of the biggest venues in the States," drummer Halsey told Ralph Heibutzki in an article for Ugly Things. "[The album] was released the week after we left—by that time, everybody's seen another two bands."
Patto returned to the same small English venues they'd played before they went on tour. The band went into the studio to record their fourth album, Monkey's Bum, but Halsall's heart wasn't in it. He walked out mid-session. The party was over.
Patto never found their audience. Starting as Timebox, they came from the same scene as the bands they toured with, but Patto evolved into something very different. They didn't write hits. They weren't a Top 40 band. They weren't a beefed-up blues band. Patto had more in common with the Mothers of Invention and Captain Beefheart. But L.A. is far from London, and no one made that connection.