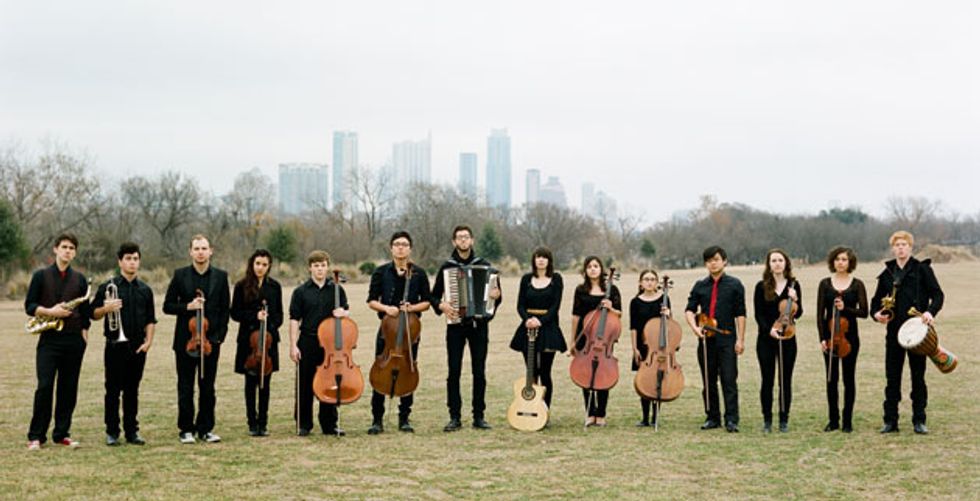 Mother Falcon
Comprised of as many as 20 musicians onstage at one time, Mother Falcon has been taking over the Austin scene for the last few years. I'd seen them perform before but––to be frank––they never quite blew me away until I heard them in a quiet room at St. David's Episcopal Church. Maybe it was the feeling of entering a sanctuary away from the franticness of 6th Street. Maybe it was the pleasant acoustics of the wood-paneled walls. Whatever it was, Mother Falcon swooned me with its haunting mixture of pop vocal melodies mingled with brass and woodwind instruments, a string section (cello, viola, violin, and double bass), acoustic and electric guitars and bass guitars, drums, keyboard, accordions, and lap-steel. What's remarkable about all this is how it adds up to an elegant conversation rather than a conglomeration of melodies.
Led by vocalist/multi-instrumentalist Nick Gregg (who often plays an Alvarez flattop), guitarist Claire Puckett (who primarily plays a single-cut nylon-string and a 12-string dreadnought), and accordionist/pianist Tamir Kalifa, Mother Falcon is banded by hints of eeriness, extreme dynamic changes, and an undertone of bubbly guitar riffs. One of my favorite things about the performance was simply witnessing how so many musicians worked together to deliver a cohesive and cinematically powerful sound.
---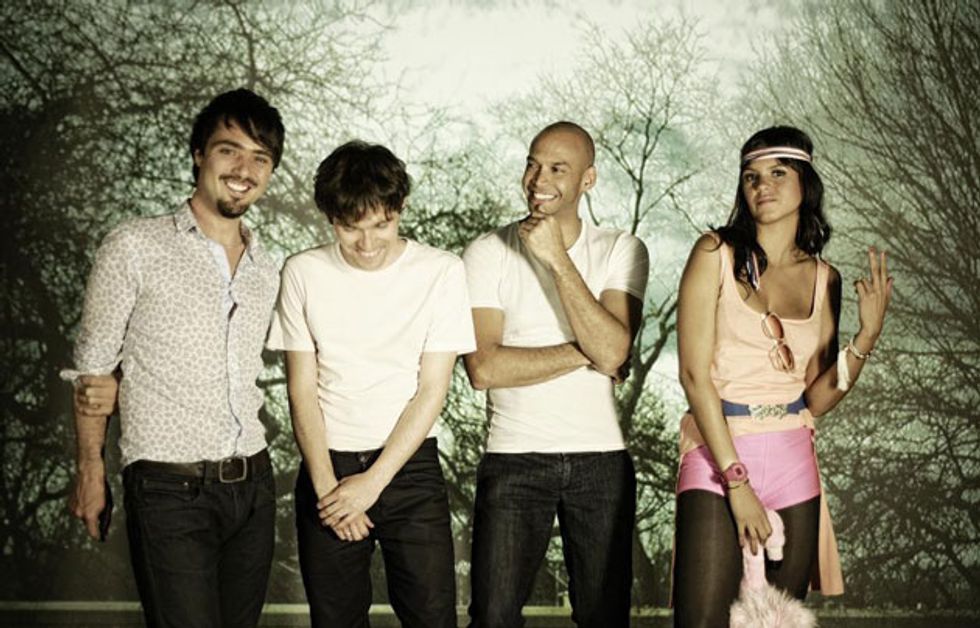 Bomba Estéreo
Founded in Bogotá in 2005, Bomba Estéreo likely has the biggest international following of any band on this list, and their 2015 SXSW performance definitely deserves mention. The compositions created by vocalist Liliana Saumet, guitarist Julián Salazar, bassist Simón Mejía, and their new drummer and percussionist (names were unavailable at press time) reverberate throughout your entire body. Song topics range from political to personal, and all are complemented by energetic beats, soulful bass melodies, and mesmerizing visuals.
Even at 1 o'clock in the morning, fans bounced into each other, screaming and singing along with Saumet while the rest of the band grooved on its mélange of cumbia, electronic, and pop sounds. The band fed off the crowd's energy, giving all they had right back to us. Quiet waves of intimacy would then fill the venue before things built back up to another adrenaline-fueled crescendo. Salazar, who primarily plays a Tele or Mustang through clean-toned Fender Twin or Super-Sonic combos, provides much of the band's cumbia influence, but his deft use of delay-soaked arpeggios adds a modern feel to the soundscape. Meanwhile, Mejía provides effortlessly solid, melodic bass lines while triggering a multitude of audio samples. If I could, I would see Bomba Estéreo a million times over.