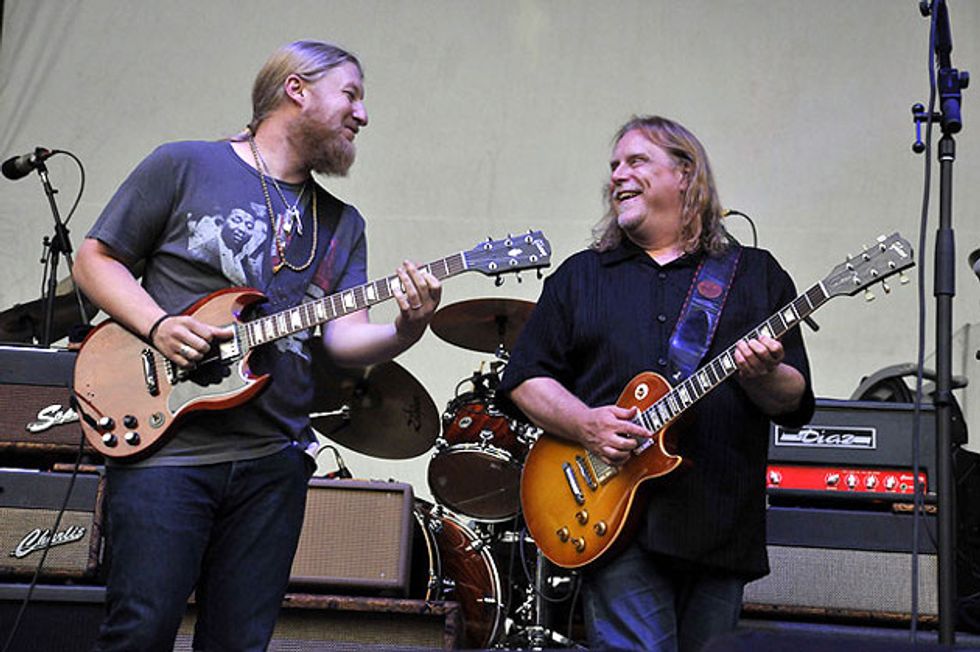 Haynes and Derek Trucks share the love onstage with the Allman Brothers in 2014. "The music means so much to all of us," says Haynes. Photo by Frank White.
The record is an obvious departure for you, but in what ways is it an extension of your work with Gov't Mule and other rock-oriented projects?
Each Gov't Mule record has one or two songs that are similar to these, and my solo performances on acoustic guitar have hinted at this kind of thing all along. Whatever the situation, the majority of songs I write start on the acoustic guitar. The lyrical inspiration comes first, then the rhythms and melodies begin to follow. That might be backwards from how others write. I've recently been making myself write the music first, to shake things up and not remain stuck in patterns.
How did you come to work with Railroad Earth?
We met a few years ago when they opened for the Allman Brothers at Red Rocks in Colorado. Later they joined me for a few songs at a festival in Maryland where I played a solo acoustic set, and they did the same for another solo set at the renovated Capitol Theater in Port Chester [in Westchester County, New York, where Haynes lives]. I always thought we had a great chemistry together, so I invited them—with a little more rehearsal and preparation this time—to record the album with me. They were perfect for it.
How did you present the music to the band?
For these recordings, we'd sit in the control room and I'd show them a song on acoustic guitar and sing it. I'd talk to them about what sort of instrumentation I thought would be nice, and then they'd play the song and write their own parts. I often had preconceived notions of the way I thought the songs would go, but things would change based on Railroad Earth's input, and also based on the way songs wanted to go after we'd recorded a few takes.
"Every record I've ever made, from the Allman Brothers to Gov't Mule, has been all about capturing a live vibe."

So you didn't share the songs with the group in advance?
I didn't. The songs were brand-new in the studio, and that was intentional. I wanted to capture the fresh energy that comes with hearing something and playing it for the first time.
Did you find yourself playing differently with an acoustic string band than in an electric group?
Yes. As I responded to what was going on around me, I found myself playing differently—and singing differently. I needed to come up with sounds that blended well with acoustic instruments, and I needed to respond in the moment to what Railroad Earth does naturally—often a sort of congregational call and response. I needed to adjust my playing to fit within the tapestry of their music.
What guitars did you use?
I used my 1961 ES-335, my Les Paul, and my D'Angelico New Yorker, one of the earliest reissues, which I've had for about 15 years. I strung it with flatwounds and dialed in a clean, jazz-like sound. This forced me to play differently than I normally do—no string bending, for instance. I've played that D'Angelico a lot throughout the years. I even used it on my last solo album, though that's more blues-meets-soul. As for acoustics, I played my Washburn signature, as well as three different Rockbridge guitars, a 1970s Guild, and an old Epiphone [a 1962 Triumph] that I borrowed from my tech.
Warren Haynes' Gear
Guitars
D'Angelico New Yorker reissue with stock mini-humbucker
Gibson 1961 ES-335TDC
Gibson Custom 1961 Warren Haynes ES-335 signature model
Assorted Rockbridge flattops
Washburn Warren Haynes WSD5249 signature model
Amps
Carr Mercury
1965 Fender Super Reverb
1963 Gibson Falcon
Homestead WH50
Effects
None
Strings and Picks
Assorted GHS sets
Dunlop Tortex .88 mm picks
D'Andrea 347 Delrin teardrop picks
Handpainted Dunlop 210 slide
Gibson Memphis recently made a beautiful signature model, a detailed replica of your '61 ES-335.
Yes. The good folks at Gibson copied my dot-neck—one of my favorite guitars ever—and they did a fabulous job. It looks just like my original guitar, with that deep cherry stain. The neck feels just the same, and the guitar sounds as close as you can get to one that's more than 50 years old.
Why is that ES-335 one of your favorites?
A lot of players think that the early '60s ES-335s aren't as good as the ones made in the late '50s, when they had beefier necks. But I think '61 is a great year for those guitars. I love the way the neck feels—it's flat but not too small. The old PAF pickups sound amazing, and so does that old wood—I love that on a vintage guitar. Even on a laminated hollowbody, you can sense the warmth it's earned from being broken in over the years.
You play a lot of slide and acoustic guitar on this record.
It was really fun playing as much slide as I did and refocusing on it. I played plenty of slide in the Allman Brothers, but not as much with Gov't Mule. I also enjoyed playing as much acoustic as I did on this record. It was a challenge for me to be a part of this sonic world, working with musicians who are used to playing acoustic all the time. I'm generally much more adept at recording electric guitars, and it was fun to do something completely different from what I normally do in the studio—all that acoustic work, not to mention the jazzy sounds of the 335 and D'Angelico through small amps.
Describe how you tracked your guitars.
For the electric parts, I had three close-miked amps set up side-by-side: a 1965 Fender Super Reverb, an early-'60s brown Gibson Falcon—that's where all the tremolo sounds come from—and a Carr Mercury that happened to be in the studio. The Carr had a nice, fat, warm sound. Later in the sessions I swapped it out for my Homestead. I always had three amps going at the same time, but could mute whichever ones I wanted to at any point.
For recording the acoustics I had an old Sony mic and a Neumann KM 184—the Sony on the body and the Neumann on the neck—and we pretty much used the same recipe the entire time.