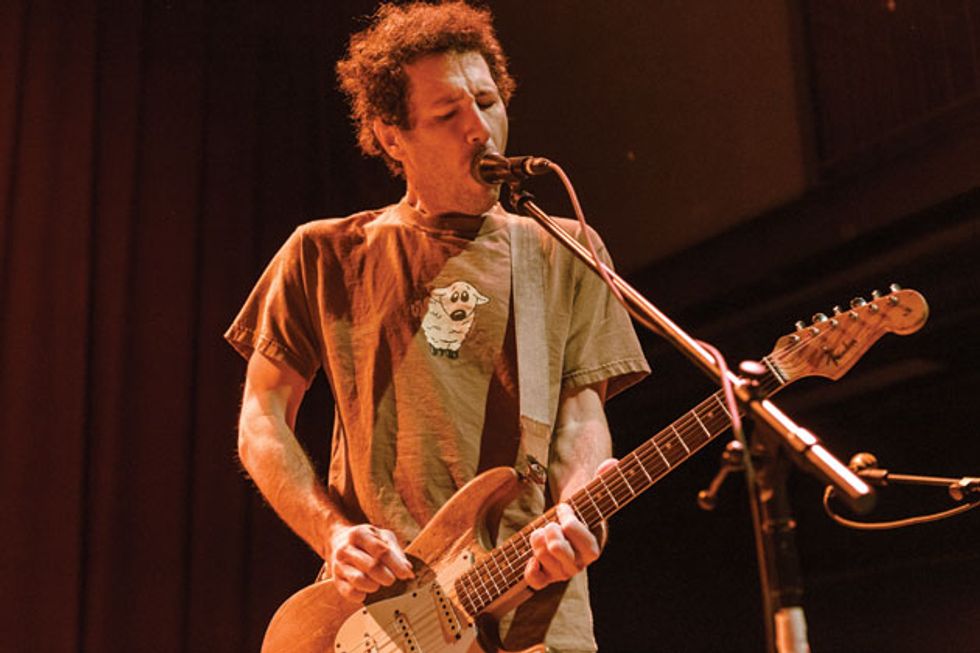 No relic job required: Ira Kaplan digs into his worn '60s Strat—his first ever electric. "It's the one I continue
to play today," he says. Photo by Matt Condon.
For 30 years, Yo La Tengo has been combining fuzz guitar freak-outs and gorgeous vocal harmonies to create sweet, somnolent pop served with an arid sense of humor. While many guitarists who were part of the '90s indie-rock explosion steered clear of lengthy solos, YLT's guitarist and singer Ira Kaplan embraces them. Equally at home throwing out a flurry of notes or bending a single tone into howling feedback and holding it for measures, Kaplan draws equally from downtown NYC minimalists and such Bowery hotshots as Robert Quine.
Though Yo La Tengo has a deep, eclectic catalog of original songs, fans have come to expect a few inspired covers in every live set. Released in 1990, Fakebook contained 11 such favorites, and now—a quarter of a century later—YLT has released Stuff Like That There as its companion.
We spoke with Kaplan about this new album, his first electric guitar and amp (both of which he still uses), what it's like to be content with aging effects, and his other covers project.
When did you first start playing guitar?
I had some folk guitar lessons when I was very young—before I was 10, for sure.My mom played guitar, so I grew up around it, and both my parents were folk music fans. The Weavers loomed very large in our household and community, and I'm sure Hootenanny was an influence on my parents. Both of them wanted their kids to take music lessons of some sort, and when I showed interest in the guitar, they encouraged me to take those lessons.
"I came from a real hippie town, so the long guitar solo was definitely a popular item in my circle of friends."

Did you identify guitar with a particular band you admired?
Like a lot of people my age, seeing the Beatles on The Ed Sullivan Show was a turning point. I started playing my nylon string acoustic with a pick, which beat the crap out of the wood. My mom had a pickguard put on it because I was just sanding it down, inadvertently, with the pick.
When did you get your first electric?
I bought a Stratocaster in the late '60s or very early '70s—it's the one I continue to play today. I wanted an electric guitar, and a neighbor told me about someone he knew who was selling a guitar and amp. Pre-internet, I somehow managed to determine it was a good deal. So I bought this Stratocaster and Vibrolux I use to this day. I don't know the exact year of either, but the Vibrolux is a blackface.
Who were your main electric guitar influences?
Oh god, I was never that person. I never tried to learn songs off records. I'd try to learn the chords off records, but the idea of learning parts—"Oh, I love this Jeff Beck song, I'm going to try to figure out what he's doing"—was so alien to me. I didn't even realize I was supposed to be doing it. I came from a real hippie town, so the long guitar solo was definitely a popular item in my circle of friends. Whether it was the Allman Brothers, the Grateful Dead, or Eric Clapton, I was soaking up all that.
That's surprising—I've always associated Yo La Tengo with a very downtown New York feel, in the vein of late-'70s bands like Television.
In the period I'm talking about, those bands didn't exist yet. The Velvet Underground existed, but I wasn't familiar with them until later. The first record of theirs I heard was 1969: The Velvet Underground Live, but I certainly didn't hear it when it came out. That album definitely caused a huge change in my listening habits.
Stuff Like That There is Yo La Tengo's second covers record, and covers have always been a big part of your live set. How do you pick them?
It just happens. I remember a show we played in Asheville, North Carolina, when there was a biblical rainstorm. I honestly didn't believe anybody was going to come out to that show, but a couple of people did. We thought well, let's make this day topical, so at soundcheck, we worked up three songs about rain. We've also played parties over the years and taken requests.
We draw up a list of songs we feel like doing again and then simply whittle it down. Both Fakebook and Stuff Like That There were similar in that regard. If I remember correctly, none of the covers on Fakebook were new to us when we recorded them, but in the case of Stuff Like That There, there are actually four or five songs we learned specifically for it. Once we'd mentally committed ourselves to making this record and started rehearsing, all sorts of ideas kept coming to us and we kept trying out different things.
You're already releasing covers as Yo La Tengo, so what inspired you to record a covers record under the band name Condo Fucks?
That wasn't planned. When I have time, I play with the A-Bones [a Brooklyn garage-rock band]. They were playing at a bar in Brooklyn we were fond of that was about to close, so we offered ourselves as the A-Bones' opening act. We weren't going to do a Yo La Tengo set, so we wanted to perform under a different name. We came up with the name Condo Fucks and picked 11 songs to cover that night. Then James [McNew, YLT's bass player] had gotten some new microphones or a Pro Tools update, perhaps. Whatever the reason, James suggested we record a rehearsal so he could practice. We ran through the set twice and recorded it. Listening back, we thought, "Wow, that sounds good, we should put this out." Once we came up with the title Fuckbook, we knew we had to release it.