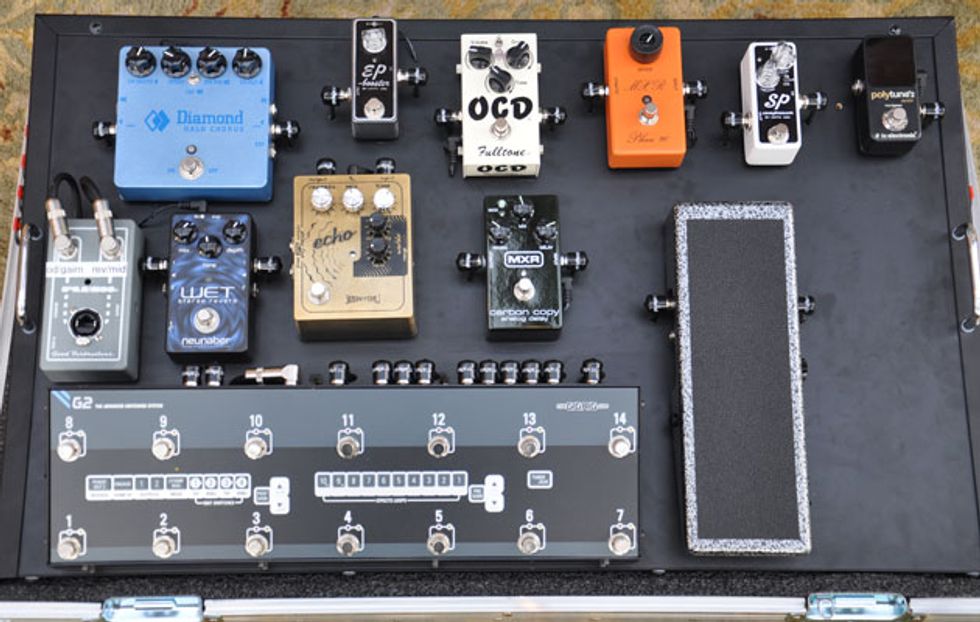 The pedalboard guitar tech Sean Haines assembled for Al Di Meola. Top row, left to right: Diamond Halo Chorus, Xotic Effects EP Booster, Fulltone OCD Obsessive Compulsive Drive, MXR Phase 90 ("script" reissue), Xotic Effects SP Compressor, TC Electronic PolyTune 2. Second row, left to right: Andy Fuchs custom TRS CAT-5 breakout box, Neunaber Wet Stereo Reverb, Skreddy Echo, MXR Carbon Copy Analog Delay, Hilton Pro Guitar Volume Pedal.
Bottom: GigRig G2 switching system.
Al Di Meola's Gear
Sean Haines, Al Di Meola's guitar tech in the early '90s, is currently an IT consultant for IBM. Last year he posted a pedalboard photo on Facebook that piqued Di Meola's interest and the guitarist asked to see the board. After playing through it, Di Meola was so impressed that he asked Haines to build him a duplicate.
"He loved it," recalls Haines. "He knew it could work beautifully on the new album, but more importantly, he wanted to take it on tour with him, which he's been doing. Al likes it because a lot of the effects run in the effects loop of his amp, which keeps the effects much cleaner. They're not going through the preamp of the Fuchs amp—they just hit the power-amp section. They have more of a hi-fi sound, which really appeals to Al."
Guitars: 1959 Gibson Les Paul Custom, 1965 Gibson Les Paul Deluxe, 1971 Gibson Les Paul Custom, Gibson Les Paul Custom with f-holes (signature prototype), Paul Reed Smith custom model, Gibson Les Paul (sunburst, date unknown), Conde Hermanos signature cutaway (nylon-string), 1982 Conde Hermanos full-body (nylon-string), Conde Hermanos 12-string (nylon-string), Signature model Ovation steel-string acoustic, Guild 12-string, 1948 Martin D-18
Amps: Fuchs Overdrive Super 100 through Feiten vintage 2x12 cabinet (for electric guitar), AER acoustic amplifier
Effects: Roland VG-88 V-Guitar System (for acoustic guitar)
Picks and strings: D'Addario EPS510 Pro Steels regular light gauge (.010–.046), D'Addario EJ44C Pro-Arté Classical (extra-hard tension), D'Addario EJ16 Phosphor Bronze EJ16 (for Ovation acoustic, .012–.053), D'Andrea extra-heavy custom picks