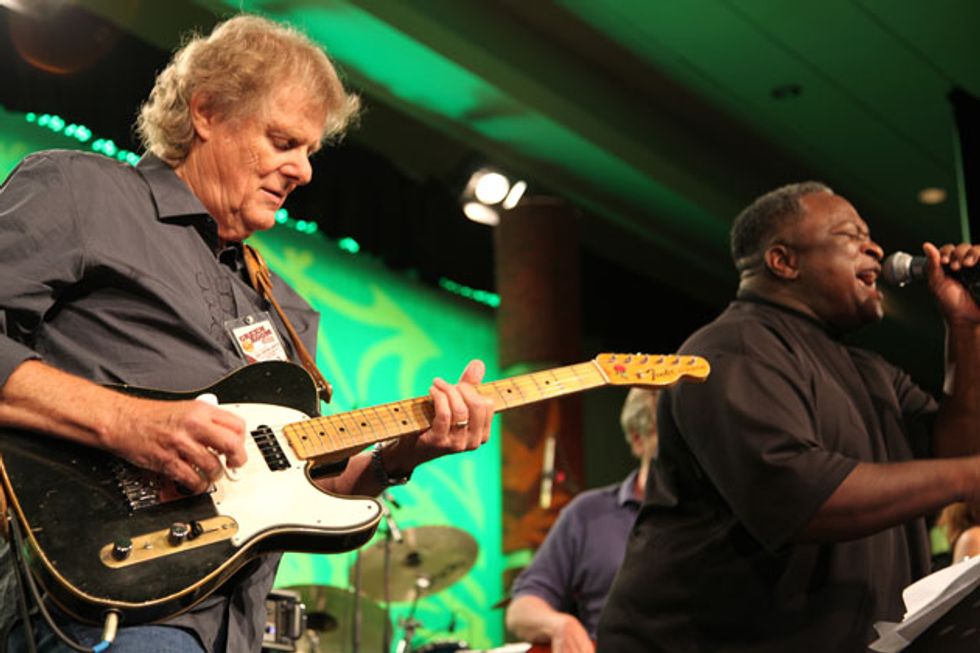 Legendary session guitarist Reggie Young plays his black '69 Fender Telecaster in Nashville at Summer NAMM circa 2009.
On the way to Jacksonville, Florida, a hurricane caused the two bands to be rerouted to Key West, where they took over a motel, played music, and waited out the storm. While there, Young got called to Memphis to record his first instrumental feature, a version of "Ebb Tide." "They thought it could sell because I was on tour with the Beatles," says Young. "I flew back, recorded it, and flew back to Key West."
A Bill Black tour was set for Europe, where the headliner was to be Billy J. Kramer. In order for the unions to allow Bill Black's Combo to play in Europe, a British band had to play in the United States. "We were the trade band for the Beatles," says Young. On the European tour, Young met Eric Clapton, who was playing with the Yardbirds. "Eric and I hit it off, because we were both blues players," Young says. "We spent many nights sitting around playing backstage."
The Sound of American
Back in the States, Young returned to Royal Studios. Unfortunately, it was difficult for musicians to get properly paid in Memphis, where producers would brag about getting a band for $15 a side, with no time limit. Young's agreement with Hi Records' owner Ray Harris was $60 for a 3-hour session, but the guitarist was usually paid $15 a side—no matter how long it took. Even when Young was actually paid the full $60, he would often have to kick back $30 to the producer. When Harris called one night and tried to cut the fee back to $10 a side, Young quit.
Fortunately, former Stax producer Chips Moman asked him to start doing sessions at Moman's studio, across town in a funky area of Memphis. The two talked about putting a studio band together and soon recruited Tommy Cogbill, Gene Chrisman, and Young's friend Bobby Emmons. The four-piece band began recording at Moman's place at 827 Thomas Street, which became known as American Sound Studio. They recorded a spate of hit records in surroundings that were far from fancy. "When Elvis walked in, he looked around and just said, 'Man'," recalls Young. "But we cut some of the biggest records he ever had: 'Suspicious Minds' and 'In the Ghetto.'"
Other hits cut there include Neil Diamond's, "Sweet Caroline," Merrilee Rush's "Angel of the Morning," and the classic Dusty Springfield album, Dusty in Memphis, to name just a few. Young remembers coming up with the riff for the intro to Springfield's hit "Son of a Preacher Man."
"I was just sitting there goofing off," he says. "It's sort of a Chet Atkins lick, because it uses an open string. They call them 'identifying licks.' That's what you used to do to make records sound different. It seems like nowadays there's none of that."
"I was playing more melodies than chord changes. I would pick hot, as they called it back then. When Elvis came out, a lot of little bands who could play three chords would have hit records."

Young and the Memphis Boys were literally instrumental in the sound of the Box Tops hits, "The Letter" and "Cry Like a Baby." Writer/ producer Dan Penn liked Alex Chilton's voice, but used Young & Co. to replace the rest of the band in the interest of expediency in the studio.
While working at American, Young met a guitarist who would greatly influence his style: Clarence Nelson. "We all stole him silly," says Young. "I know I did, and I think [Steve] Cropper did, too. He was James Carr's guitarist and they worked at American."
Young, who's cradling a guitar while we speak, demonstrates a low-string Clarence Nelson lick heard dozens of times on recordings by him and Cropper. You can hear Young employ versions of the lick on the verses of "Son of a Preacher Man" as well as the fade solo on "Drift Away." Cropper hits it for the opening of Otis Redding's recording of "Ol' Man River" and turned it into the signature riff of Rufus Thomas' "Walking the Dog" by moving it up an octave.
Another guitarist working at American was Bobby Womack. "He influenced me more than anybody," says Young. "We sat across from each other and each tried to see what the other one was doing. He would show me something, or get me to show him something. Just about everything I play today has some Bobby Womack in it. Not exactly like him though; you try to make it your own."
Young worked at American a little over five years, until Chips Moman felt that Memphis had dried up musically and moved his operation to Atlanta, Georgia. Moman built a new studio there but failed to reignite the Memphis magic. "One of the hardest things I ever had to do was tell Moman and the rest of the guys I was going back to Memphis," says Young.
As fate would have it, the guitarist traveled through Nashville on his way home, where he ran into David Briggs and Norbert Putnam. He'd met them doing sessions in Muscle Shoals back in1963, where Putnam was a bassist and Briggs a keyboard player. "They moved to Nashville and had a studio called Quadrafonic that was pretty hot back then," relates Young. "David said, 'How long are you going to be here? You want to work some?' I said, 'Yeah,' and have been working in Nashville ever since."
Nashville Cat
Young went back and forth between Memphis and Nashville for a while, but by 1972 was firmly established in Music City, living and working there full time. Putnam and Briggs used him on sessions for Joan Baez and Dobie Gray. When Gray's "Drift Away" became a hit, country acts began to ask for the guitar player who played the unforgettable parts on that record. Another classic Reggie Young "identifying lick" was the harmonized whole tone intro to Billy Swann's 1975 hit "I Can Help."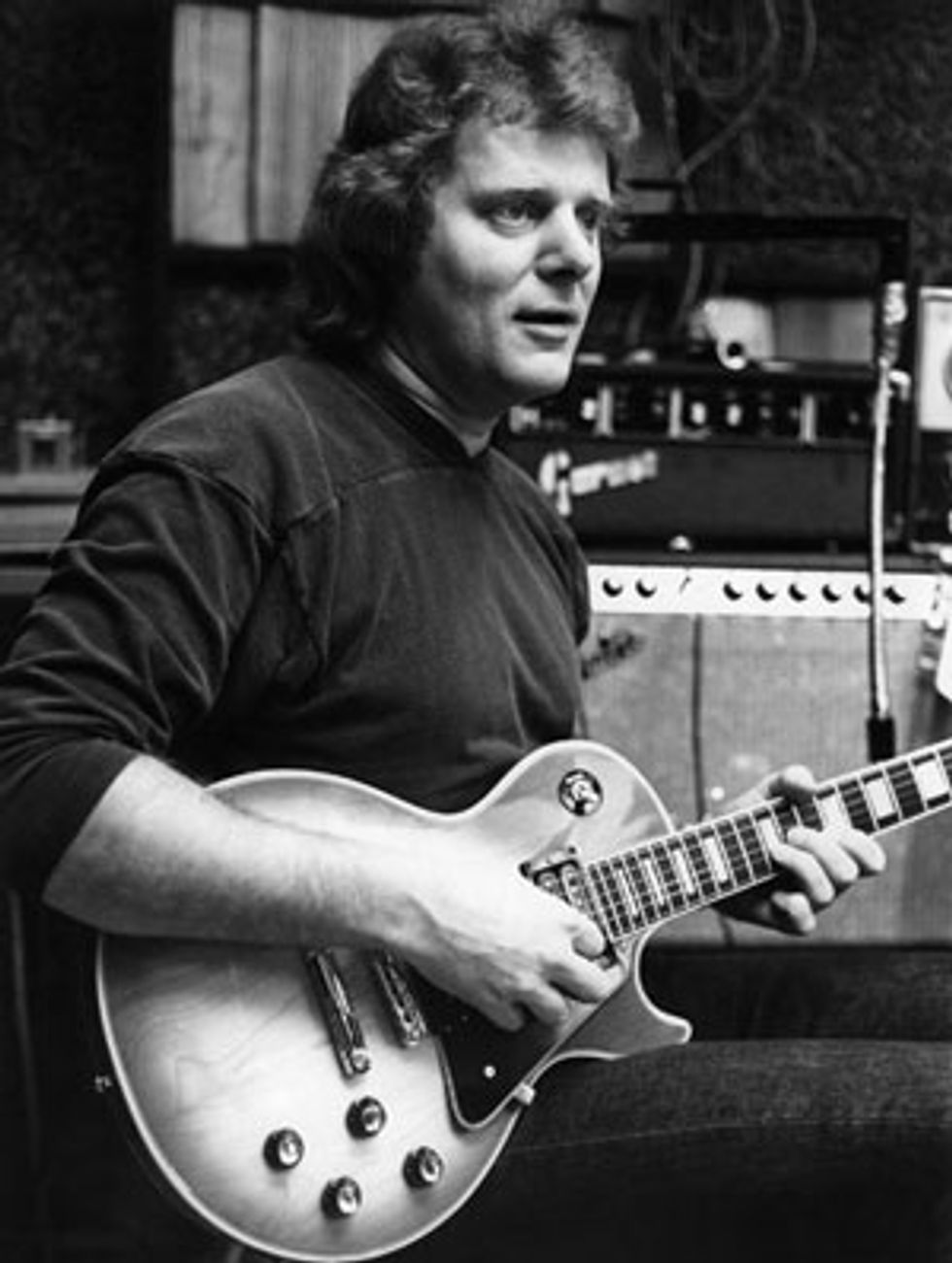 Throughout his career, Reggie Young has been known for his guitar introductions to hit songs, or, as he calls them, identifying licks. "That's what you used to do to make records sound different," he says. "It seems like nowadays there's none of that." Photo courtesy of the Country Music Hall of Fame and Museum
"I was just noodling around and [producer] Chip Young said it would make a good intro," he recalls. "I thought he was kidding. I said, 'Let me put a part with it to see what that sounds like.'"
Young found the working conditions in Nashville a vast improvement over Memphis. "They would set everything up for me. I would just walk in, sit down, and start playing," he says. "Three hours later I would get paid whatever the scale was." Soon after moving to Nashville in the '70s, the Memphis expat was earning double-scale and working three sessions a day. He was called to play with country legends like Waylon Jennings, Merle Haggard, George Jones, and Willie Nelson. Young also cut records with artists who are now considered Americana, like J.J. Cale, Tony Joe White, and Gary Stewart. In the '80s he added a new generation of country legends to the list of artists who needed the Reggie Young touch: George Strait, Reba McEntire, John Anderson, Travis Tritt, Clint Black, and Hank Williams Jr.
The '80s also saw the guitarist return to the road, backing Johnny Cash, Willie Nelson, Waylon Jennings, and Kris Kristofferson, known collectively as the Highwaymen. He helped them cut their self-titled record and they wanted him for a 30-day tour. "I lost money the first tour we did, although they were paying really well," says Young, who was still working a heavy session schedule. "We did the Highwaymen for about five years," he says. "When that ended, I was still doing studio stuff, but not as much because the business was changing. Then Waylon called me and said, 'Would you be interested in going out maybe two or three times a month.' We did his band, the Waymore Blues Band, for a couple of years, until he passed away."
Young worked sessions steadily through the '90s, but with the apocalyptic shift in the music business through downloading, streaming, and competition from other media, studio work has since slowed down. Still, as recently as last year, he was adding his 6-string magic to records by Martina McBride, Boz Scaggs, and others.
Young has a home studio but, as of yet, doesn't want to do remote sessions. However, the studio has seen action in creating his new solo record, Forever Young. "The basic tracks were done in Muscle Shoals with Chad Cromwell on drums, David Hood on bass, and Clayton Ivey on keys," he says. "I got it home and hated the guitar sound, so it stayed in the closet for a couple of years. Then, I got an engineer and we sat right in here while I redid the guitar parts. I had my Deluxe Reverb in the other room. I replaced everything I had on there. I talked to [saxaphonist] Jim Horn; he wrote the horn parts and we recorded them in the bedroom."
Young had some health issues early this year, which held up the release of Forever Young, but he is on the mend and hopes to have the album out soon. Forever Young lifts the guitarist's playing out of the background and sets his gorgeous tone, perfect time, and classic licks front and center. Listening to the opener, "Coming Home to Leiper's Fork," you won't hear anything that requires digit-twisting dexterity or shred-like speed, but each note sounds pure and soulful and lays perfectly in the groove. That said, you may find the hybrid-picked head to the aptly named "Memphis Grease" does take some fancy finger work. Throughout, as you hear licks you've heard through decades of American popular music, remember that this is the man who originally played more than his share of them. Here's hoping he will continue to enhance the musical endeavors of another generation of artists.