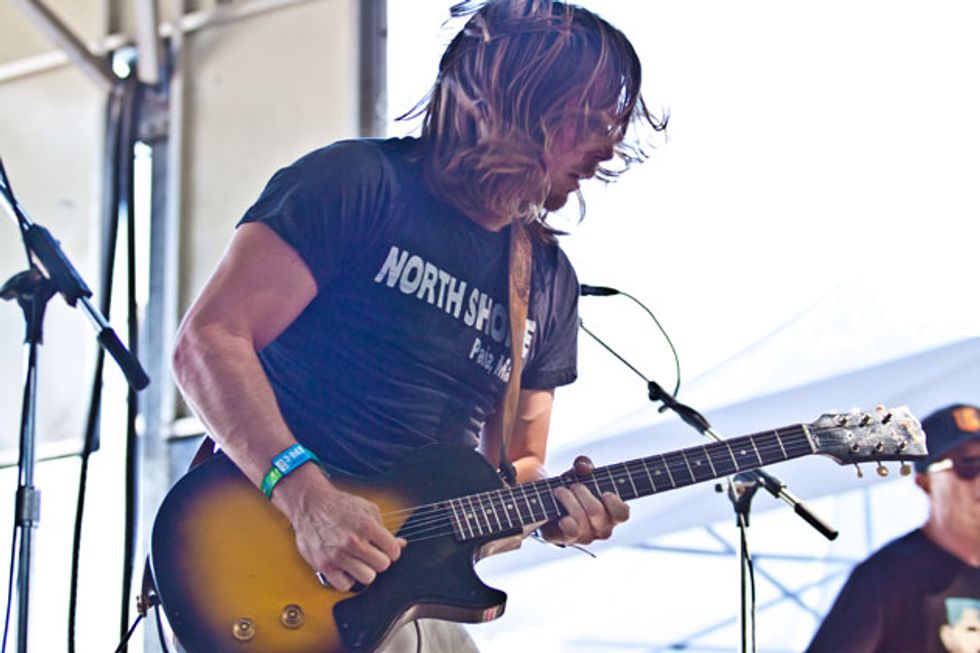 Lukas Nelson with his 1956 Les Paul Junior at Lollapalooza in 2013. Photo by Chris Kies
Musically, does he give you direction—tell you what to do—or just lead by example?
Just by example. He lets us be who we are and play how we play. He likes all our different styles—my brother's style, my style, and his style. We go together well and it really translates well at the show. We did a lot of rehearsing before we played with Neil—we learned all of his songs. We've played over 200 shows a year for the last eight or nine years, so we're pretty tight. We don't really rehearse that much when it comes to our stuff.
Has being around him taught you any cool new lessons about playing or performing?
There are definitely little subtleties that just get absorbed when you're around him.
Like what?
Well, I couldn't even explain it—and I probably wouldn't even if I could [laughs]. His attention to detail is really great. He's got the wall of sound, he's got his amps—and everybody knows what he does. He knows his gear, and I'd rather not sit and talk about his tone too much. I mean, I know he has. It's special to him.
"Sometimes if you just change one little chord to a minor or to a diminished, it just brings the song and the melody up to a whole other emotional level. I prefer simplicity, but I like to throw in a few things that are different here or there."

You play in your father's band as well. What are some lessons you've learned from him?
I learned everything from him. How to be a performer, how to be in front of a crowd, how to connect with a crowd. Mickey Raphael is his harmonica player and has been for forever. He's taught me a lot about being in a band—like when not to play. And then Aunt Bobbie [Nelson] has been playing with him for 40-something years. I mean, that's one of the greatest band's you'll ever see. It's simple and just pure talent.
I have to say, for me, it's less about the gear and more about the person playing. That's why I've never paid attention to gear, because my dad was more of a minimalist. He's got the same guitar he's been using for the last 45 years or longer [the famously worn Martin N-20 nylon-string that the elder Nelson calls Trigger], and he goes directly into an amp. He doesn't use any pedals or anything, and that's kind of what I've learned to be. It's more about what you put into the instrument—what you put into your performance—that really connects with an audience. I think most of the tone is in your fingers, rather than in the gear itself.
You mean how you put your personality into the instrument?
I do. I'm not a gearhead. I believe it's good to have a base of good equipment. If you went up there with a Squier or some kind of little guitar—a $200 guitar—then yeah, there would be a difference. But your tone comes from your fingers, how much time you put into it, and how much dedication you have to learning the subtleties of your instrument.
Lukas Nelson's Gear
Guitars
1956 Les Paul Junior
Late-'90s Fender Strat with Rio Grande bridge humbucker
Fender Strat

Amps
Magnatone Twilighter
Vintage Baldwin combo

Effects
MXR Preamp
JHS SuperBolt Overdrive

Strings and Picks
DR Strings (.011–.050)
Medium Guthrie Thomas picks

Do you find that you generally sound the same regardless of the gear you're using?
Yeah, I do find that. It really doesn't matter what pedal or whatever I'm playing. It's like how Billy Gibbons could play a tiny little Vox amp and still sound like Billy Gibbons. I think there is a lot to gear, but personally I believe most of it is just you.
There's definitely a heavy blues influence on the new record. Did you spend a lot of time shedding the blues when you were young?
Oh yeah, the blues are my first love. Like I said, I got into Stevie Ray Vaughan and Jimi Hendrix. I got into Albert King, Freddie King, B.B. King, T-Bone Walker, and Hubert Sumlin—all the old blues guys. I really love them.
Did you ever get to meet any of them?
I've played with Buddy Guy before on a couple of occasions. I love Buddy Guy. I've backed him a
few times—he's great. There is a video of me, him, Dad, Lyle Lovett, Kenny Wayne Shepherd, Doyle Bramhall II, and Double Trouble—or Chris Layton at least—and Mickey Raphael. We're all doing "Texas Flood," a tribute to Stevie Ray and a tribute to Dad at Austin City Limits.
You use a nice combination of open chords and barre chords.
I'm not one of those guys who wants to make the song complicated just for the sake of it being complicated. I prefer simplicity over complexity. Sometimes if you just change one little chord to a minor or to a diminished, it just brings the song and the melody up to a whole other emotional level. I prefer simplicity, but I like to throw in a few things that are different here or there. I really like a good melody.
Do you experiment with alternate tunings?
I do some stuff with alternate tunings, but I don't think I did with this record at all. I think it was all pretty standard, but tuned down half a step.
YouTube It
Lukas Nelson & Promise of the Real perform "Find Yourself" live from Jam in the Van at Willie Nelson's Ranch during the SXSW Heartbreaker Banquet in 2014
Do you do that for your vocals or for the tone on your guitar?
I started doing it a long time ago when I was using heavy, heavy strings. I was using .012s and .013s for a while, and then I went back down to .011s. I guess I just got used to singing in that key. But sometimes I go back to normal. I think the next batch of stuff we're doing is back in regular tuning.
What made you decide to use .013 string sets—Stevie Ray?
Yeah, I was listening to Stevie Ray and I wanted to get as close to him as I could for a long time—like a lot of guitar players do.
It must've been hard on the hands using those thick strings.
I think it worked them out good. Made them stronger.