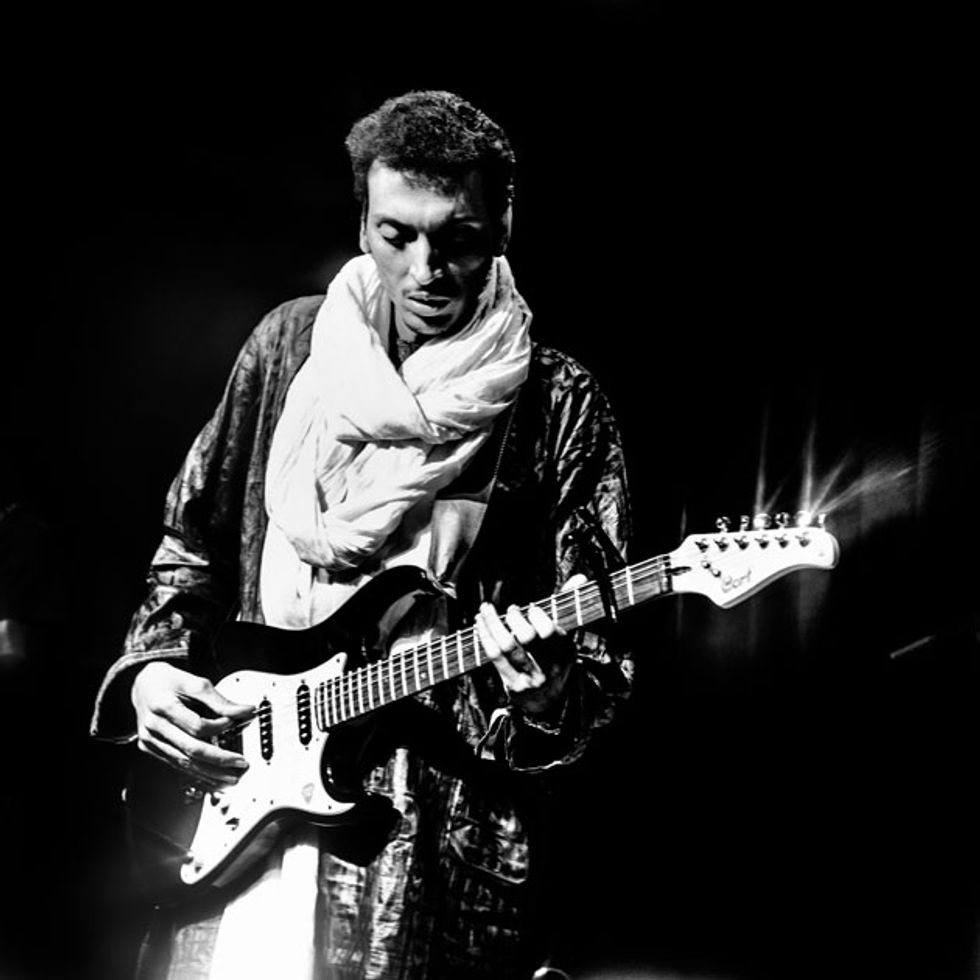 In Bombino's hands, his Cort KX-Custom electric yields athletic lines, kinetic grooves, and impressive choruses that Western ears immediately respond to. Photo by Vittorio Catti
"Akhar Zaman (This Moment)," from Bombino's new album Azel, is a rocking plea for the survival of the ancestral Tuareg culture.
They say that music is an international language, and this truism was recently confirmed when the guitarist Bombino decamped from his native Niger to Woodstock, New York, to make an album. Bombino speaks Tamasheq, Arabic, and French, but not English. He had to rely largely on musical gestures in recording the tracks on Azel, which was produced by Dave Longstreth of the avant-pop band Dirty Projectors.
Omara Moctar, aka Bombino, was born in 1980 in Agadez, Niger, to a Tuareg family. The Tuareg people are part of a nomadic Saharan culture with a history of staging armed uprisings against national governments. At the onset of the Tuareg rebellion that took place in Niger and Mali between 1990 and 1995, Bombino and his family fled to Algeria, and this is where his fascination with the guitar began.
Picking up a 6-string that visiting relatives left behind, Bombino learned to play by scrutinizing VHS and cassette tapes of rock guitarists like Mark Knopfler and Jimi Hendrix. At the same time, he studied formally with a master Tuareg guitarist, Haja Bebe, who gave him the nickname Bombino, meaning "the kid"—an acknowledgement of his precociousness.
It was only natural that, from his earliest days of playing, Bombino synthesized his own style from traditional Tuareg and Western blues and rock. The styles can sound quite similar, in large part due to their reliance on pentatonic scales and repetitive riffs, as well as a general earthiness.
"Using a pick is like taking an instrument that has five strings—your hand—and turning it into an instrument that has only one—the pick." 

Bombino toiled as a musician and herder until the late 1990s, when he retuned to his hometown to begin his musical career in earnest. His band, Group Bombino, played songs celebrating the heritage of the Tuareg people. But the Tuareg Rebellion of 2007–2009 ultimately dampened Bombino's plans. The Tuareg government banned guitars, which it considered symbols of rebellion, and, horrifyingly, some of Bombino's musical cohorts were executed, forcing him once again into exile.
In the middle of that conflict, filmmaker Ron Wyman heard a cassette of Bombino's music and became enchanted. After a year-long search, in 2009 Wyman tracked down Bombino in Burkina Faso, in West Africa, resulting in a break for the guitarist. Not only did Wyman decide to feature Bombino in a documentary about the Tuareg, Agadez, the Music and the Rebellion, he strongly encouraged Bombino to make an album. After returning again to Agadez following the end of the rebellion, Bombino recorded Agadez, which debuted at No. 1 on the iTunes world music chart and captured the attention of Dan Auerbach of the Black Keys, among other prominent rock musicians.
Auerbach recorded Nomad, Bombino's 2013 album, in his Nashville studio, adding a little Southern grit to the proceedings. And, similarly, Longstreth's imprint can be seen in the clever arrangements and the subtly experimental aspects of Azel. But both producers respect the heart of Bombino's music, which has so much to recommend itself to guitarists of all stripes—the athletic lines, kinetic grooves, and impressive choruses that Western ears immediately respond to.
Translated through his manager, Bombino told us about how he's reconciled the worlds of traditional Tuareg music and rock, how his pieces are born as improvisations, and why he'll never use a pick.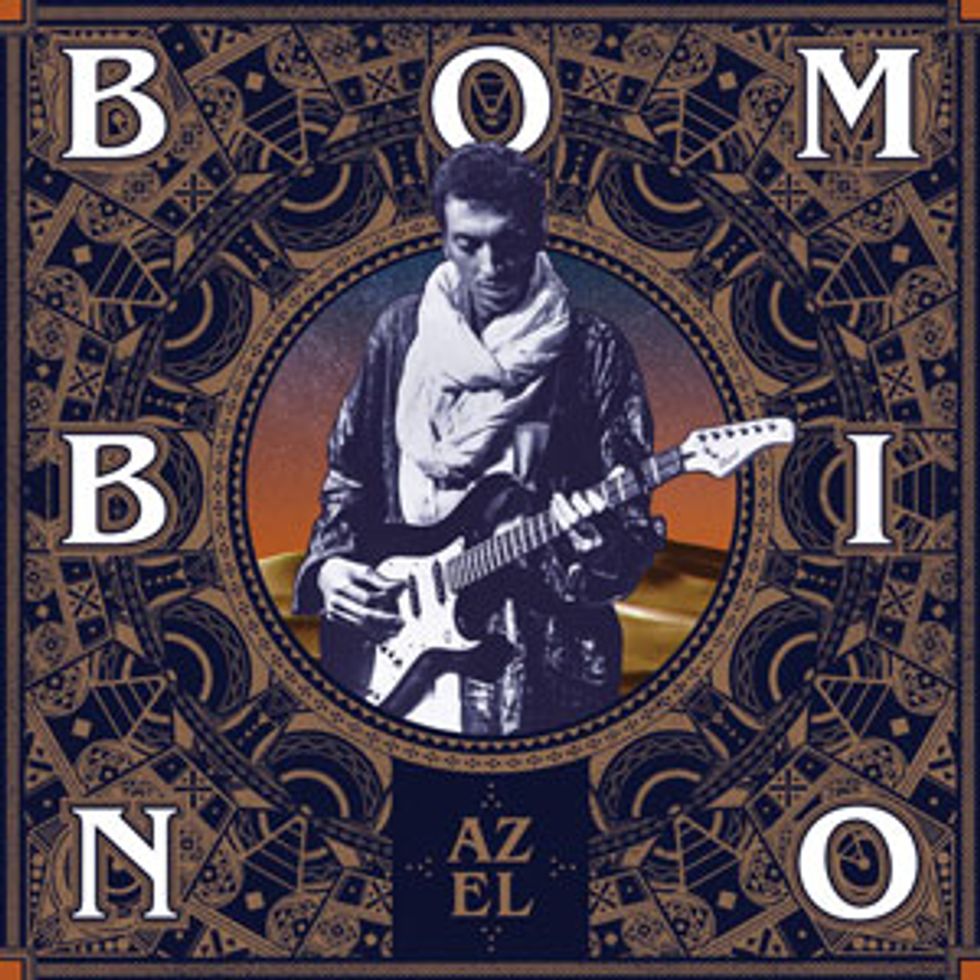 Factoid: Although anchored in Tuareg musical and lyric themes, Bombino's new album, Azel, was cut in Woodstock, New York, by an international cast.
Can you briefly describe your musical history and how you came to take up the guitar?
I discovered the guitar when I was about 10 or 11 years old and my older cousins would come by with their guitar. They would play it and I would watch for hours. It pulled me in and I became obsessed. Also, they would play cassettes and videos of rock stars like Jimi Hendrix and Santana, and this is how I discovered rock music. I decided at a young age that I would play the guitar as my job for the rest of my life.
Talk about the impact Mark Knopfler and other rock guitarists have had on your playing.
Well, first of all, guitarists like Mark Knopfler and Jimi and Santana showed me a freedom that was possible to achieve through music and, more specifically, on the guitar. I would watch videos of these guys as a child and my heart would fill with an excitement and a sense of freedom. All I knew was that I wanted to experience this feeling of freedom that I imagined they had. So I began practicing the guitar for hours and hours every day until I could mimic them very well and also developed my own style.
What have you taken from traditional Tuareg music?
From traditional Tuareg music, I have taken the base of all my music. The drum rhythms, the scales we use on the guitar, the clothes, the style of performance, the lyrics … all of this is based on traditional Tuareg music. Many of the songs I play are traditional Tuareg songs that I've adapted into my style, which usually means I'm playing them much faster than they are played traditionally.
Your articulations on the guitar are distinctly non-Western, and this is especially obvious on acoustic guitar tracks like "Igmayagh Dum (My Lover)." How did you develop your sense of articulation and phrasing?
This is not something I can tell you, as I do not know myself. All I know is that I play all the time and I play from the heart. My style is not my own; it is something I inherited from Tuareg traditional music and the great artists that came before me like [the band] Tinariwen and Haja Bebe. I learned this same style and mixed it with a Western rock style. But I don't read music or understand music theory or anything like that, so I cannot talk to you about my style as if I were a professor of music.