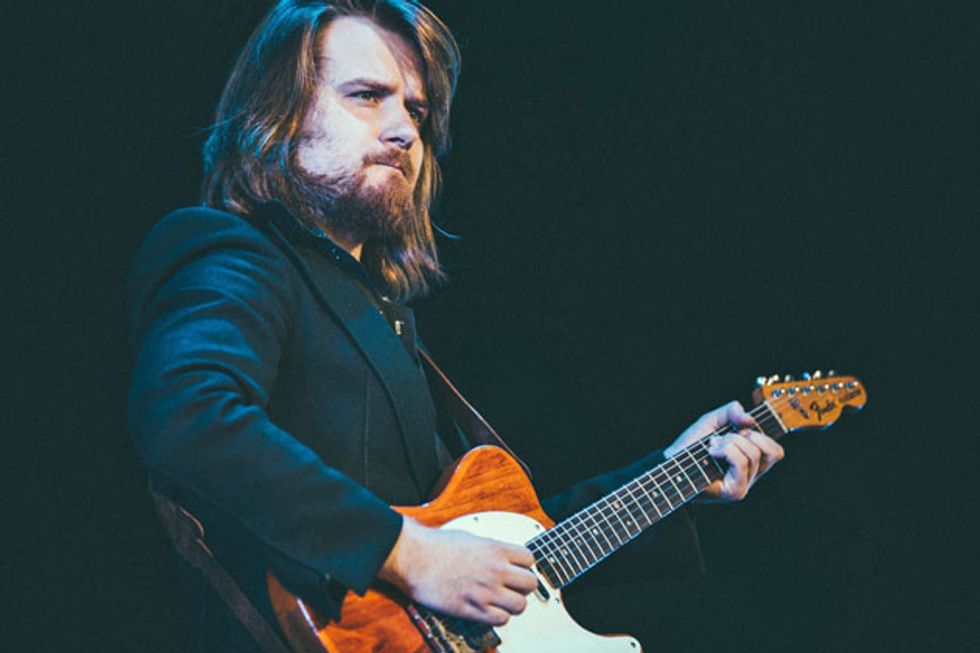 Joamets' main guitar is a refinished 1974 Fender Telecaster with replacement pickups his father purchased for him in Stockholm. Photo by Andy Sapp
What's the story behind your '74 Tele?
I got that guitar when I was 16 years old. In Estonia, we don't have vintage guitar stores. You might find something from time to time on Craigslist, but the Soviet Union really blocked anything concerning Western music and the instruments used to make it from coming into Estonia. My dad was a professional musician on cruise boats when I was a teenager, and had access to vintage guitar stores in Sweden, like those in Stockholm. I told him that I wanted a vintage Fender Telecaster, and he saw my '74 at a store, and it was much cheaper than they typically cost because it had been stripped and re-lacquered. It's a remarkable guitar. It's rare because most of the '70s Fenders I've played will give you back pain from the weight, but this one is naturally very lightweight and extremely resonant, and even moreso from when its previous owner stripped its finish. They tried really hard to get that thick lacquer Fender used in the '70s out of the grain, so that body is actually 2 to 3 mm thinner than a typical Telecaster. I've gotten very used to it and now regular Telecasters feel weird! My Tele isn't the most comfortable instrument to play, and it's really beat up, and the rosewood on the fingerboard is almost gone, but I've grown up with it and it's my partner.
There is some very cool guitar on "Keep It Between the Lines"—particularly the harmony in the bridge. What's going on there?
That's three different slide guitar parts harmonizing with each other. The seed for that idea came when we worked on the last record. When we tracked the solo on the song "Long White Line," Dave Cobb asked me to double my part at one point, but with slide—which gave it a very cool, natural chorus effect.
"If you start learning a new thing and make an effort and really put your mind to doing it—truly throw yourself into it—you start seeing progress, and progress is a really cool driving force."

I'm a huge fan of Queen and Brian May's playing and arrangements, and I've got a bit of a classical music background that helps with arranging that kind of thing, so the part you're talking about on "Keep It Between the Lines" is all of that coming out. The melody in the solo is also a nod to Rory Gallagher, and it kind of sounds to me like something Frank Zappa might have done—a little playful and fun.
There's some absolutely killer guitar playing on "Sea Stories." Could you tell me a bit about how that song was laid down?

At the time I came in to track, the band had recorded the tune without electric guitar—just keys, Sturgill's acoustic, and drums. Sturgill wanted both a slide guitar solo and a steel guitar solo, so he had me do the second section after Dan's solo. I played that part on my Fano PX6, which kind of looks like a non-reverse Firebird meets a Jazzmaster and is a very cool guitar. The Fano has a mod switch on it that's similar to the low-pass filter you'd find on a Gretsch, which does this weird thing that seems like it boosts the mids a bit. So I used the Fano in an open tuning—I believe it was tuned to E with a capo to put the guitar in F—with the mod switch on for that midrange honk.
I've read that you didn't have much in the way of country chops prior to joining Sturgill. Has moving to Nashville and working with him provided a crash course?
Yes, for sure. However, I will say that my father used to play country guitar and was actually involved with promoting and booking one of the first country music festivals in Estonia almost 20 years ago, so I've always been around that style of music. My father listened to guys like Redd Volkaert, Danny Gatton, and Albert Lee, so I was always around it and picked up stuff just by being there and hearing it so often.
YouTube It
This entry from A Sailor's Guide to Life is a slide guitar tour de force for Laur Joamets, who kicks his Songhurst Rock Slide into high gear on his Fano PX6 and wails for a full 60 seconds before Sturgill Simpson resumes control.
My early influences were bands like Deep Purple, and players like Jimi Hendrix and Stevie Ray Vaughan, but I was always really fascinated with guys like Danny Gatton and would learn his licks when I was younger. I just never had the chance to play that stuff in Estonia. So when I got the call from Sturgill, I started working on remembering all of the licks I learned listening to that music years and years ago.
I will add that while I wasn't ignorant to the style, country music is a genre that is just so deeply connected to the American culture that just listening to it and hearing the songs, and even playing them in Europe, doesn't really do it. You can't really get it until you've done it in America. You have to kind of be a part of it to truly understand the language and the lyrical content of the songs, and the spirit of that music, and the only way to do it is to live here. When you're driving in Nashville and put on AM radio and get a Merle Haggard song, to hear that coming through an AM radio ... well, there's something special about that. You can't have that experience in a post-Soviet Union Slavic country like Estonia.