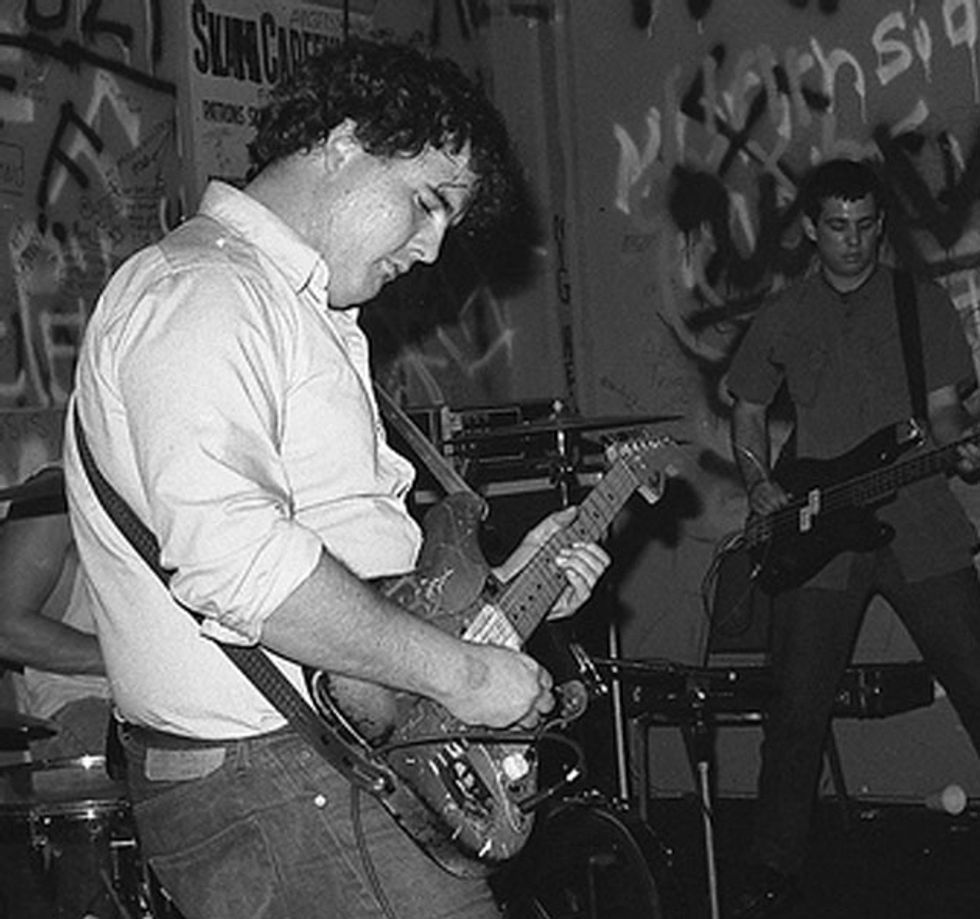 The story of the Minutemen is also the tale of the lifelong friendship of D. Boon and bassist Mike Watt, at right. According to Nels Cline, the two pals had their own "sovereign states. One was identified as 'treble' and the other as 'bass.'"
Photo courtesy of Mike Watt
Spartan Punks
"I Felt Like a Gringo," off their album
Buzz or Howl Under the Influence of Heat
, is quintessential Minutemen. It also encapsulates many of the qualities in Boon's playing. The song's primary theme is a unison odd-metered line, with hyper-fast funk comping under the vocals, and a guitar solo that starts with an extended quote from the Champs' 1958 hit, "Tequila." It eschews the standard verse/chorus formula and clocks in at under two minutes.
That minimalist approach applied to the studio, too. Their first full-length album, 1981's
The Punch Line
, was recorded at Media Art Studio in Hermosa Beach, California. "We had an old Tangent 3216 console, which, frankly, I thought was a great-sounding board," Spot says. "It wasn't considered the most state-of-the-art board, but for what I call 'gut-bucket music,' you could really get a good sound going to tape." The recording was quick, as was the mixing, and it required very little EQ. "At one point I realized, 'Wait a minute, these tracks don't need any EQ on them.' The rough mixes of the basic tracks on a cassette sounded incredibly good, and they were coming off the machine straight—no EQ, no nothing. I think there were one or two tracks that I needed to put a little compression on, and maybe something through an outboard EQ, but other than that, everything else was just a raw signal with no reverb or any kind of effects on it."
"The first records were kind of like gigs," Watt adds. "We even played them in order so we didn't have to spend money on sequencing."
But as simple as their approach was, they refined that even more. "
Paranoid Time
and
The Punch Line
were done on a 16-track machine," Spot says. "
What Makes a Man Start Fires?
was 24-track. But somewhere in that whole thing, Mike was grousing about the multitrack stuff. He was a guy who, kind of like me, was very much influenced by the jazz approach, where you go into the studio, do it live, and don't worry about any of that other stuff. I found a studio up in Hollywood. It was an 8-track studio, and the guy who owned the place said, 'If you really want to go for what you're describing, why don't you just do it live to 2-track?' And that was one of the best things I ever heard."
Playing for Change
Spot recorded the tracks for
Buzz or Howl Under the Influence of Heat
live to 2-track. They didn't use that approach for their next album, their magnum opus,
Double Nickels on the Dime
, but it was definitely done "econo"—a term the band coined and lived by.
"That record cost $1,100," Watt says. "Almost all that stuff is one take. D. Boon went back though and overdubbed some lead guitar. And it's 8-track. It's kick, snare, toms in stereo, bass, guitar, vocal, and then maybe guitar overdub. That's all the tracks."
"D. experimented with a few different guitars. His Fenders were his favorite. If his sound was rude with plenty of attack,
he was proud of it." —George Hurley

The overdubbed solos on Double Nickels, as well as on subsequent sessions, were done at the behest of Ethan James, the engineer and owner of Radio Tokyo, where the album was recorded. (James was also the keyboardist in a late-'60s incarnation of Blue Cheer.) Boon used a Gibson ES-125 for those overdubs. The guitar had a soap bar pickup in the neck position and he ran it through an Ibanez Tube Screamer. But other than on those overdubs, he almost never used distortion or effects.

By that point, Boon was using much better gear. "He had a Super Twin," Mascis says about Boon's amp. "It was a 180-watt Twin with six tubes, from the late '70s or early '80s."

"After his Bandmaster amp, D. Boon pretty much fell in love with Twin Reverbs," Spot says. "The Twin Reverb was what they would call a 'proper amp.' It was a silverface. It had a master volume control on it. His was a good one."

Boon's guitar of choice at that time was a Telecaster. He had at least three. "You can see him playing the first one when you open up Double Nickels on the Dime," Watt says. "It's black with a white pickguard. Then on that tour, 'Campaign Trail '84,' we played Canton, Ohio, and he got his rosewood Telecaster. After that we found his purple one. The purple one is the one he really liked."

"D. experimented with a few different guitars," Hurley says. "His Fenders were his favorite. If his sound was rude with plenty of attack, he was proud of it."

"D. Boon favored Telecasters, he used a lot of treble, and he sweated like crazy," Cline recalls. And that sweating caused electrical problems with Boon's guitars.
"We had a problem with sweating at gigs," Watt agrees. "It would soak the pickups and shut out all the high end, which, for D. Boon, was like, 'What? No high end?!'" The solution, eventually, was to use EMG pickups, which were sealed in epoxy. We took out the pickup—for a little while there was a Seymour Duncan blade pickup in there—and put in the EMG, so we wouldn't have to deal with the sweat. That fat one—the humbucker in the neck position—he hardly used that. He used that sometimes for sustaining when he wanted to play like Curt Kirkwood from the Meat Puppets, but he always used the bridge pickup."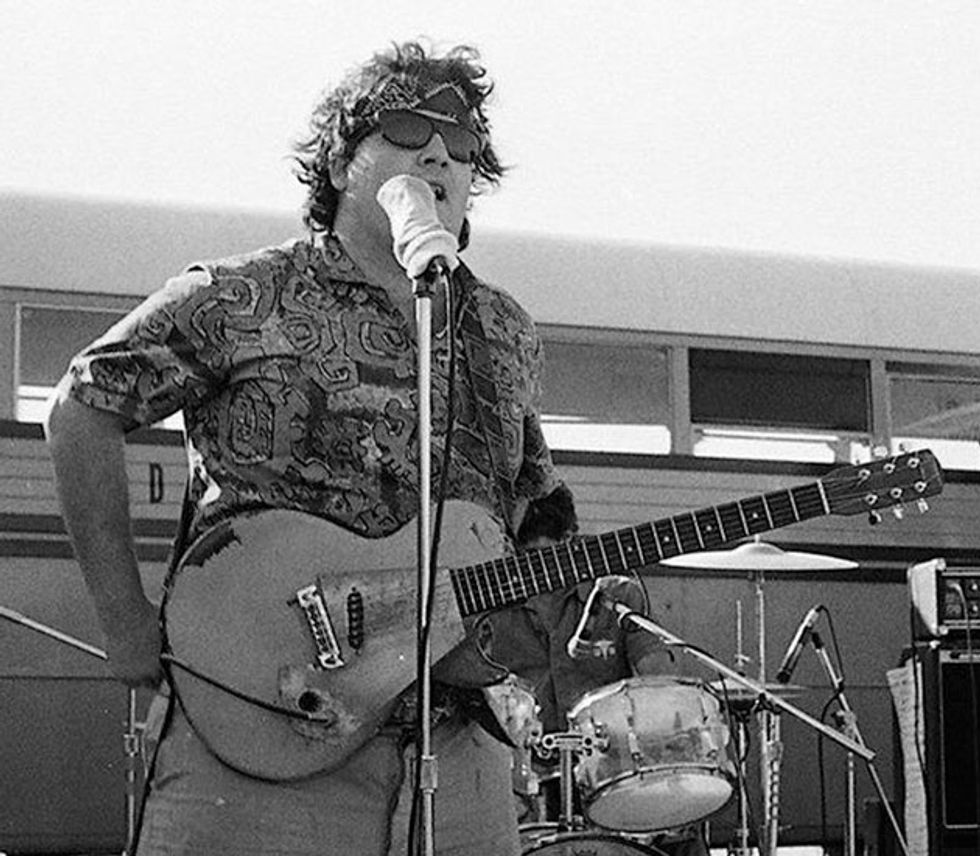 Boon was playing his Gibson Melody Maker during this 1983 gig. Note the sole, single-coil pickup in the bridge position and the aluminum pickguard, as well as the "customized" output jack. Photo courtesy of Mike Watt
Boon favored heavy gauge strings—usually D'Addario .012's—and gray .88 mm Dunlop picks. "He liked heavier strings," Watt says. "They stayed in tune better. More tone, more piercing. He got that from Randy Bachman."

Double Nickels showcases the full range of Boon's style. His hyper-fast, funk-style comping is in full force on songs like "West Germany" and "The Roar of the Masses Could Be Farts," and is often juxtaposed with drastically different sounds, like mellow jazzy chords, twangy solos, or unusual riffs.

"I think he was drawn to certain sounds and notes he thought were interesting or even jazzy," Cline says. "Hence his playing was rarely just pentatonic. He started on classical or Spanish guitar and as such, early on, he may have learned something about scales without actually knowing theory. He was hearing more than just a so-called 'blues scale.'"

The album also includes songs like "Corona," which plays off a Latin-influenced chord progression; "Jesus and Tequila," which is a great example of Boon's oddball phrasing; and a few covers including "Dr. Wu" (Steely Dan) and CCR's "Don't Look Now." The album's hit—if you could call it that—was "This Ain't No Picnic," which is one of the few Minutemen songs to use a standard verse/chorus formula.

The band continued to tour and returned to the studio twice more to record the EP Project: Mersh and the album 3-Way Tie (For Last). They had a successful run supporting R.E.M., performing their last concert of the tour in Charlotte, North Carolina, on December 13, 1985. But then, on December 22, 1985, Boon was thrown from the back of a van after the driver dozed off and lost control. He broke his neck on impact and died instantly.

And with that, the Minutemen called it quits. There was only one D. Boon. "That's a band that could only have been those three people," Spot says. "How each of those guys played and when they played had everything to do with how great they were."

"At heart they were punks," Cline adds. "Including, discarding, and challenging the notions of music-making, and expressing themselves as self-determined artists—not emulating the rock establishment and pining for general acceptance. They were mavericks and visionaries: passion and no pretension."

"People ask me, 'What kind of bass player are you?'" Watt says. "I say, 'I am D. Boon's bass player.' Almost everything I do comes from playing with that guy. D. Boon had a sincerity in the way he sang, the way he played, and the way he presented himself at a gig that really blew people away. I thought that was such a human quality—a fabric to bring us together without somebody having to have his boot on your throat. I was glad to be part of the human team with D. Boon."