Punk Tone's Mr. Clean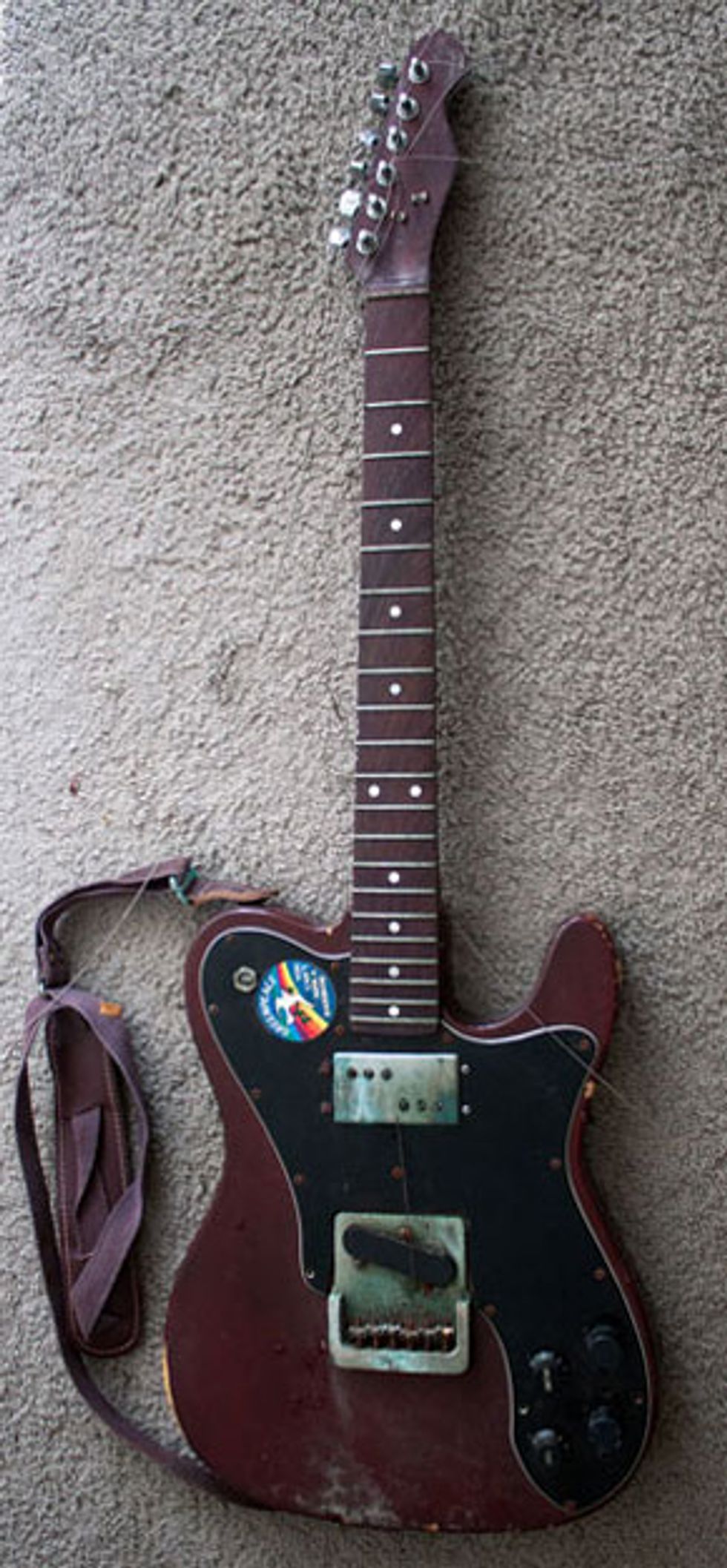 The toll D. Boon's sweat took on his instruments makes this Telecaster look like a battle-scarred warhorse. Note the sealed EMG pickup in the bridge position.
Photo courtesy of Mike Watt
D. Boon liked his tone one way: clean and bright as a freshly shampooed polar bear in a blizzard. His ingredients were essentially Fender or Fender-inspired, starting with a Melody Plus electric solidbody guitar that was made in Japan and acquired for a mere $15. By the time the Minutemen recorded their debut EP, 1980's Paranoid Time, he'd thrown together an S-style instrument from parts of now-forgotten origin. Than came the Telecasters—the model he played until his tragic death just four years later. He had at least three—each acquired as an improvement on the previous one, including the natural rosewood guitar he played on his final tour. The exception was a severely beaten single-pickup Gibson Melody Maker that he played in the band's early years, which he nonetheless made sound like a Tele—thanks in no small part to sporting just one single-coil pickup, in the neck slot.
Boon used zero effects, other than his imagination, to conjure the jolting, prickly riffs that branded his individuality as a stylist. And his amps, once he had the spending money, were a succession of Fenders—a Bandmaster, perched atop a rough-hewn mutt of a cabinet with two mismatched speakers, followed by a Super Twin, and then Twin Reverbs, which he revered for their cleanliness and loudness. He turned the bass and mids off, and jammed the treble up to 10, often making his notes sharp as a pirate's dirk.
His clean live tone marked him as different from most of the guitar players of the punk and post-punk years, and it was all the more astonishing for the precision of his lines—despite that fact that he almost constantly capered onstage while he riffed and soloed.
Éminence grise rock critic Robert Christgau summoned up the loss of this singular virtuoso in his review of the Minutemen's final album, 3-Way Tie (For Last), which was released the month that Boon died: "I tried to cut myself a little critical distance in the wake of a rock death that for wasted potential has Lennon and Hendrix for company … After seven amazing years, he was just getting started. Shit, shit, shit."