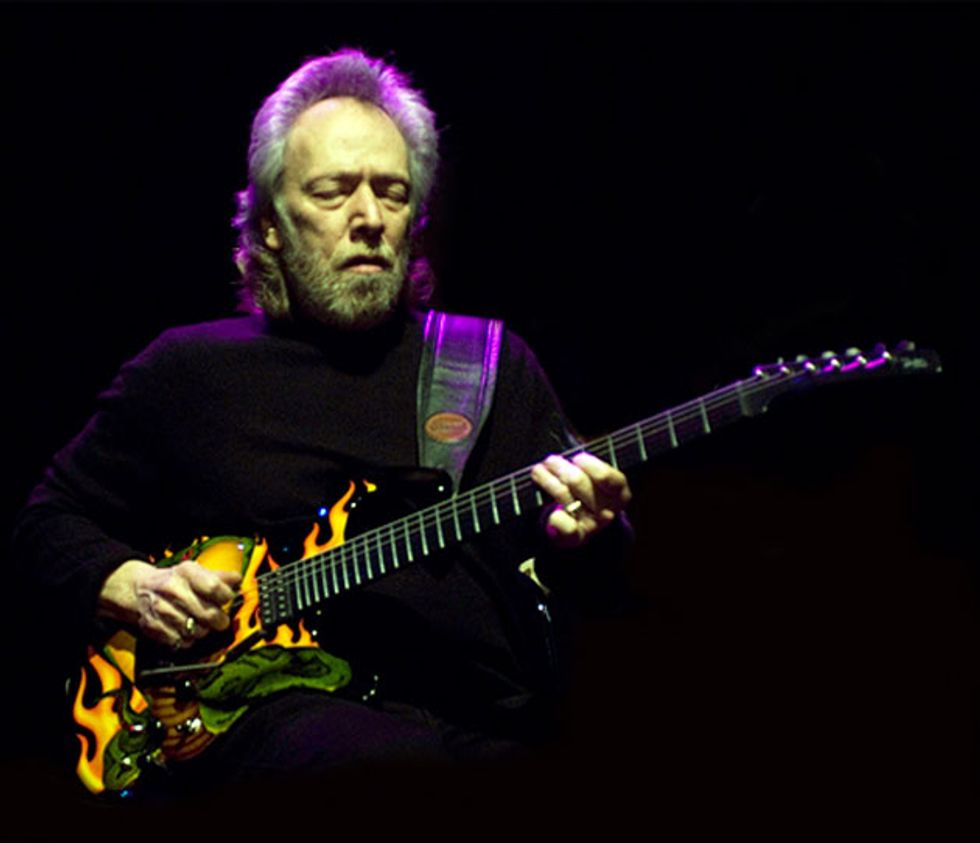 Live, Mandel employs modern stompboxes and a VG-99 to reproduce effects he created decades ago in the studio. His Parker Fly Mojo sports an aptly psychedelic finish—flames and a snakeskin-patterned lower bout.
Did you come up in the same Chicago scene as Mike Bloomfield, Paul Butterfield, and keyboardist Barry Goldberg?
Barry Goldberg and I played in a couple of groups together, including on Charlie Musselwhite's first record. I didn't know Mike Bloomfield well. We jammed a couple of times. We were all pretty much from the same era, playing a lot of the black clubs.
Early on, you covered tunes by saxist Cannonball Adderley and pianist Horace Silver. Was jazz a big influence?
I listened to all kinds of stuff back in those days and it would all have some influence. Even though I am primarily a blues-rock player, I still like jazz. I can do some within my style. I also like country. For a while I did nothing but country licks. I actually played with a country band for about six or seven months. Having those other influences mixed in makes my blues and rock playing better.
How do you do some of your more extreme string bends?
I have the action set where I can slip the G string or B string underneath the D and A string if I have to. That's the only way you can do certain bends or vibratos. I use .009-.042s, so my E, B, and G are light enough to push into the other ones.
You seem to both push and pull the strings.
I do every type of vibrato and bend you have ever seen. I have my Eric Clapton vibrato. There is the Albert King vibrato, which is pulled down. There's my Otis Rush vibrato, which is real smooth. When I first started playing blues, I spent lots of time perfecting those techniques.
What led you to seek almost infinite sustain?
I was trying to imitate horn, violin, synthesizer, harmonica, and steel guitar sounds. You get an idea in your head and you find a way to do it. Now, they have 500 different pedals to give you sustain, distortion, and fuzz. When I started we had to get it from an amplifier. We had to figure out the proper amp to use and the way to set it. When I did the Baby Batter record, I was using a Bogen PA amplifier. I took out one or two of the tubes, so it wasn't real loud, and fed it into a 12" speaker. To this day that is one of my best sounds. I did all kinds of crazy experimenting with different stuff. Now, I'm an expert on effects so I can consistently get the magic sound. Back in the day it was hit or miss.
"I do every type of vibrato and bend you have ever seen. I have my Eric Clapton vibrato. There is the Albert King vibrato, which is pulled down. There's my Otis Rush vibrato, which is real smooth."

You also experimented with backwards guitar sounds.
I started by flipping the tapes over. It's all in learning how to play to make the sound natural and make sense with what you are doing when you reverse it. You can't just reverse anything and expect it to sound good. Now I use certain effects that emulate the backwards sound.
Sometimes you sound like you are getting a reverse sound without effects.
I became able to sustain those notes to let them bend down and do all these weird little twists and turns that you get when you do the backward tapes. I was always emulating that sound.
Was 1973's Shangrenade the first time you really started two-hand tapping?
That entire record is tapping.
What led you to that technique?
When I was in the Pure Food and Drug Act, the other guitar player, Randy Resnick, did a little tapping. Others had done it before, but that was the first time I saw it. I just took it and did my own thing. Van Halen got the credit for tapping, but I was definitely the first rock guy to do it on a record. Nobody realized I was tapping on Shangrenade. They thought I was a jazz player with long fingers who was able to do these incredible intervals.
Tell us about the Rolling Stones' audition.
I was living in Los Angeles, when I got a call at 3 or
4 o'clock in the morning from Mick Jagger. I thought it was somebody goofing around, but after I talked to him a minute or two I could tell it was really him. He said, "I'd like you to come play on this record. We're in Munich, Germany. I want you to fly out tomorrow." The next day I got a ticket, took my stuff, and went there.
I knew at the time it was an audition, because Mick Taylor had just left. He wasn't part of the showmanship stuff. He didn't jump around and go crazy like Jagger. He stayed in the background and just played cool guitar. Jagger wanted me because, like Mick Taylor, I would play fancy guitar licks in the background and let them do their thing. Unfortunately I lost out to Ron Wood because Keith Richards wanted to keep the band all-English. Keith grew up with Ron and they were buddies. Still, I did come real close to becoming a Rolling Stone.
Harvey Mandel's Gear
Guitars
Parker Fly Mojo with DiMarzio pickups

Amps
Fender Hot Rod DeVille 4x10

Effects
Keeley Fuzz Head Keeley Compressor Roland VG-99

Strings and Picks
Dean Markley (.009-.042)
Dava medium picks

How had Mick heard of you?
We crossed paths somewhere when I was with Canned Heat. So, through somebody, he got my number.
How did the Snake Box set come about?
My manager, Timm Martin, from Out the Box Records, is also in charge of the Chicago Blues Reunion Band, which is Barry Goldberg, me, and some other Chicago players. He had a connection with Cleopatra Records and they made an offer.
Snake Pit is your first studio record in over a decade. Why now?
I guess people started getting interested in me lately because of my past notoriety and the illness that I was going through. Josh Rosenthal [of Tompkins Square Records] reached me through my manager and came up with the offer to do this record at Fantasy Studios. All the tracks were one to two takes live, but it was recorded with earphones in separate rooms. I did some conducting through the glass. The musicians were really good. Once I told them what to do, I could just sit back and play. Despite the fact that I have gone through a bunch of medical weirdness these past few years, I can play better than ever. That's the only thing I can still do in my old age. [Laughs.]
What pedals are you using these days?
I play through a Roland VG-99 and some Keeley pedals I keep on the side, like fuzz, delay, and compressor. The VG-99 is great because it has a million effects built in. I can sit there and create a bunch of my own patches, so I can have the perfect rhythm sound, the perfect Jimi Hendrix sound, and a perfect backward tape sound at the flip of a button. I use it mostly for the effects, through a Hot Rod DeVille 4x10. Sometimes I will run one of its amp model effects and still run it through an amp.
On "Buckaroo" there's a sound that is like a wah-wah, only not quite.
There is a ribbon controller on the VG-99 to modify effects parameters. I did that with my finger on the controller. I used it to filter the sound. It was the first time I ever did it, just for fun. It produces a tone you can't get with the regular wah pedal.
A lot of your tracks over the years resemble what they started calling "acid jazz." Many of those old acid jazz records ended up as samples on hip-hop records. Have your records been sampled?
Sure. They can take certain chords, a good beat with a magic rhythm, and do all kinds of crazy stuff with it. I know that has happened for sure.
Have you gotten any kind of remuneration from anyone?
Are you kidding?
How are you doing health-wise?
I have been over the cancer for the last couple of years, but have been limited because every four to six weeks I had to go for reconstructive surgery. One or two more operations and that will be done, and then I can concentrate on touring and performing. It's been like a never-ending nightmare, but now the end is finally in sight and I can concentrate on getting my full strength back. I would say in the next six months to a year, I should be back in full swing again.
YouTube It
Caught live in Lucille's restaurant at B.B. King's Club in New York City, Harvey Mandel is in top psychedelic form on his Parker Fly Mojo, conjuring his way through backwards guitar lines and vibrato-drenched riffs as he dips his toes into the traditional spiritual "Wade in the Water."