The virtuoso Gypsy-jazz guitarist pays homage to his two favorite players—Django and Angus Young—on his fiery new instrumental album, Sin City.
Though he's considered one of today's most accomplished Gypsy-jazz guitarists, Amsterdam-based Robin Nolan didn't grow up playing Django-inspired music and he doesn't come from Romani stock. In fact, jazz manouche wasn't even Nolan's first musical love. He only became enamored of the style as a teenager, when his father took him to visit Samois-sur-Seine—the city in north-central France where Reinhardt spent his final years. "Gypsy musicians have been meeting there for decades," Nolan says. "It's turned into a big festival now. The romance of seeing these guys with acoustic guitars, around a campfire—that's what got me, beyond all the shredding, which was really exciting as well. My father had played me Django records before, but I couldn't relate to it. Going to this festival and experiencing the music under the stars was completely different. That's what made it click for me."

While that Samois sojourn was the catalyst that sparked Nolan's passion for Gypsy jazz, he was already playing guitar by then. Like many youngsters, he was passionate about rock 'n' roll—AC/DC's music in particular. "Their wild lyrics, the instrumental hooks, the big power chords. It's all just massive," he says. For many guitarists who get into jazz, it's a natural progression to leave their gritty rock roots behind in favor of headier sounds. Most never look back. Nolan, however, is not like most. His new Sin City record showcases the AC/DC songbook, reimagined and rearranged, Gypsy-jazz style.
"Sin City is the realization of a lifelong dream for me," says Nolan. "My two favorite guitarists are Angus Young and Django Reinhardt. They turn me on in completely different ways. In the back of my mind, for many years, I've wanted to take AC/DC songs and do them in this style, instrumentally, with my trio."
"Django only had two fretting fingers. He had a lot of things going against him back in those days. That's where creativity is born."

Whether you're a fan of Django Reinhardt or AC/DC, or both—or neither—Sin City is an awfully fun ride. Nolan's arrangements are fresh and dynamic, the tunes (including "Hell's Bells," "Back in Black," and "Touch Too Much") are hook-laden and irresistibly catchy, and Nolan's trio swings like mad. The approach is playful throughout, yet never silly or campy. Nolan seriously loves Reinhardt and AC/DC, and it's clear that he enjoys the hell out of channeling them both through his own guitar.
The AC/DC catalog is pretty deep. How did you go about choosing tunes for Sin City?
It was hard. When you sit down and really listen to those songs, most of the melodies are basically blues. [Hums the melody from "Riff Raff."] When you put that on guitar, without lyrics, it sounds like any other blues thing. I really had to craft my arrangements to make them work in this genre.
How'd you do it?
A couple of ways. On several of the songs, I voice chords with the melody on the top, or play the melody in octaves. That gives the sound some real power, and yet I haven't gone too far away from the essence of the song. I wanted to make sure an AC/DC fan could recognize the song and also be sure that somebody who's listening and doesn't know AC/DC would dig it as well. We're not simply a cover band. I was trying to make the music deeper than that, so it can exist on its own terms.
In the end, I picked some of my favorites and some that naturally work well. There are 10 songs in all, including one that I wrote myself. It's sort of a mashup of Django's "Minor Swing" and AC/DC's "For Those About to Rock." It's called "For Those About to Swing."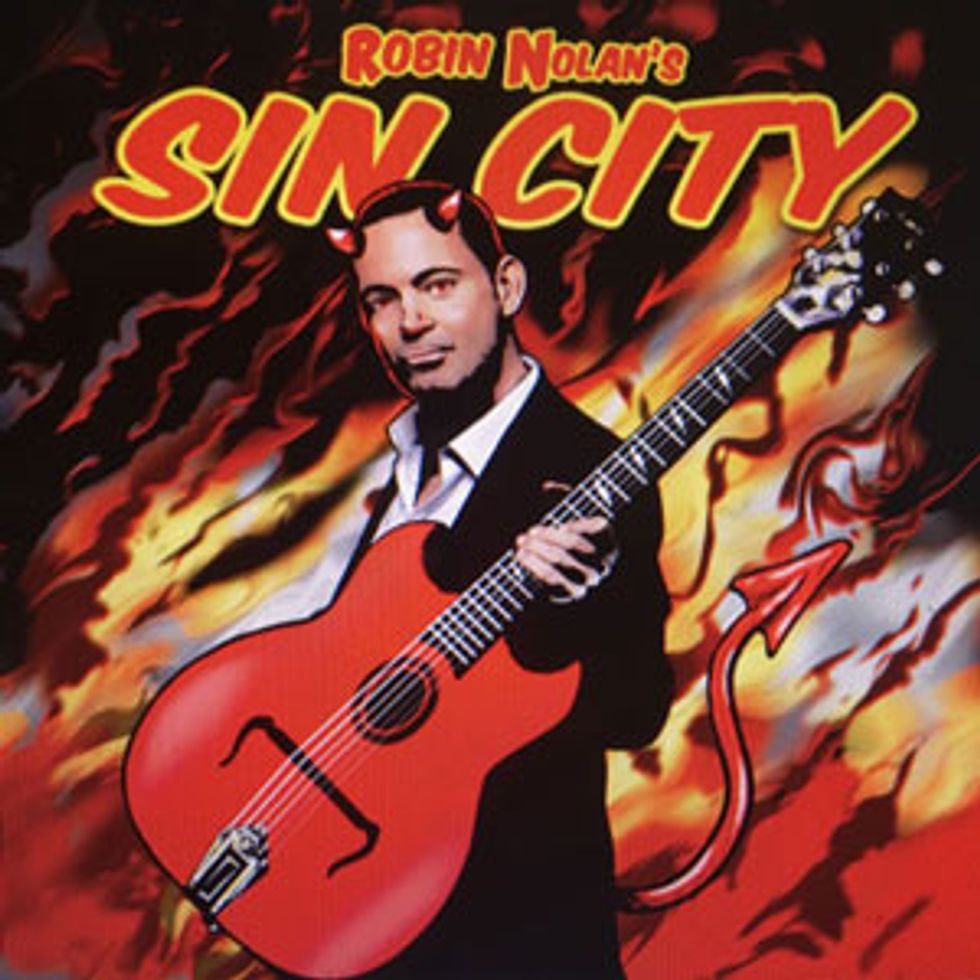 Gypsy-jazz technique collides with AC/DC songs on Robin Nolan's new trio album.
It's hard to imagine AC/DC songs without drums. How did you retain the energy?
With "You Shook Me All Night Long," the challenge was finding the right feel and the right tempo. We tried a Latin-type feel, and some other grooves. In the end, we recorded it as a medium-tempo swing song. Bluesy things like "The Jack" were more straightforward.
Did you play a different sort of guitar from the one you usually use for Gypsy jazz?
There's a luthier here in the Netherlands, where I live, named Leo Eimers. He's made guitars for me before. Interestingly, he had a similar idea to mine and wanted to build an acoustic guitar with some of the design features of a Gibson SG electric guitar—red finish, sharp double cutaway, and Gibson-style headstock. When Leo finished making it, he called and told me, "Out of everyone in the Gypsy-jazz community, you've got to be the guy to take this axe and make it happen." It's a great instrument. It looks different from any guitar I would usually play. We call it Djangus.
In terms of feel or sound, is it very different from other guitars you play?
It's similar. But when you hold it and look at it, you can't help but play a little differently.

I also want to mention that I'm currently working with a luthier in Israel named Edward Polak. He's going to make me a signature model, which will be coming out later this year.

While his guitar looks unique, Nolan sticks to the common practice of playing Gypsy jazz on Svarez Argentine steel strings, in .011–.046 sets. "They have a bright, fizzy kind of sound," he says. "The tension is different, too. It's more
like a silk-and-steel set."
For the Djangus guitar, are you using the same setup—pick, strings, and so on—that you use on your other guitars?
I usually use Argentine strings by Savarez, the French string company. They're the most commonly used strings for Gypsy-jazz guitar. They have a bright, fizzy kind of sound. The tension is different, too. It's more like a silk-and-steel set, though that's not exactly what they are.
You can spend fifty dollars on a pick if you like. Django, on the other hand, used anything he could get—bone, horn, shell, buttons from a jacket. Back then, guys would carve their own picks. Personally, I prefer to use a Dunlop pick—the purple one, 1.5 mm. It doesn't give at all.

Pickup-wise, in Djangus, I've got a Big Tone piezo pickup, which has a really strong signal. It can be a bit nasal sounding, a bit midrangey. It doesn't sound like Django's guitar but—through the AER amp I use—the Big Tone sound really suits this Sin City music.
"I do a lot of teaching and workshops. The first thing I say to students is this: The guitar doesn't matter. It's the player, the fingers."

Will you use that same pickup system for your signature Polak guitar?
I'm not sure yet. Amplifying these guitars is always a bit of a quest. There are lots of guys inventing new systems all the time—little microphones you can clip on, and so on. When it comes down to it, it's all about practicality. What are you actually going to do when you're on a gig? It's great to use a mic. If you're playing to a listening audience, that's no problem, but a mic's not so great when you're playing in a noisy club. There are also electromagnetic pickups you can slide on, which some players use. You can get nerdy about this stuff, if you want to. I try to not go there.

Being practical makes so much sense, rather than going down the rabbit hole of gear options.
I do a lot of teaching and workshops. The first thing I say to students is this: The guitar doesn't matter. It's the player, the fingers. Some of the best guitarists can play the shittiest guitars and make them sound beautiful—and vice versa. I don't want gear to get in the way. It's about the joy in the music. You could play a nylon-string. You could play with your fingers. So what? Django only had two fretting fingers. He had a lot of things going against him back in those days. That's where creativity is born.
Robin Nolan's Sin City Gear
Guitars
Leo Eimers custom Djangus model with Big Tone piezo pickup
Amps
AER Bingo Compact 60
Effects
None
Strings and Picks
Savarez Argentine New Concept strings (.011–.046)
Dunlop Delrin 500 1.5 mm picks
Just as in any niche, there are a lot of middle-aged guys with money in the bank playing this music. It's great to have a nice guitar and all the paraphernalia, but when you go to the Gypsy camps and see the guys playing there, it's not about that. It's about the music. I understand that way of looking at it.
Your brother Kevin plays rhythm guitar in your trio—just as Angus Young's brother Malcolm played rhythm guitar in AC/DC and Django Reinhardt was frequently accompanied by his brother Joseph. Is there something special about the brotherly connection in music?
For sure. Kevin is the easiest guy to make music with for me. We know how to talk with each other. We get each other. And he loves this stuff, too. That's the other thing—it's not like every guitarist in the Gypsy-jazz genre would be comfortable playing these kinds of rock riffs. He can cross over as well.
The Sin City record is brand new. Have you had much chance to play these songs live yet?
Occasionally, on gigs, I'll introduce one of these songs and it always goes down really well. "Whole Lotta Rosie" fits seamlessly into the set and people love the contrast. My message—what I'm trying to tell people—is that it's all just music. I'm trying to get people out of thinking in boxes.
Will you be performing the Sin City music at festivals this year?
That's what I'm aiming for—to book some shows and festivals and come out with this red Djangus guitar. It's really exciting to do that! It doesn't necessarily have to be a jazz festival or a Gypsy-jazz festival. We could play a rock festival, which would be fun and different.
It must be a blast to see your AC/DC-meets-Django dream come true.

My nature is that I'm never 100 percent happy. I would do it again, try to make it even better if I could—no doubt—but we had to record it at some point, just to get it going. Anyway, it feels good to put a stamp of our own on Gypsy-jazz music. These days there are so many great guitarists, you've got to do something original. I always tell students, if you're from a different country, bring some of your culture into this music.Don't just try to copy what the Gypsy guys in Paris are doing. You'll never be as good as those guys, really. In my own history, there's a little bit of rock 'n' roll. It seems that's what I can bring to it.
YouTube It
Craving something new and different? Watch the Robin Nolan Trio rework AC/DC's riff-rock anthem "Hell's Bells" into a manouche-inspired instrumental.
What's the best way to record acoustic guitar in stereo? X-Y? M-S? A-B? Or just plain old mono?
Not that I deserved it, but Santa was very kind this year. And by "Santa," I mean my father-in-law, Allan Malmberg. He's an ace recording engineer whose business, Opus One, specialized in classical recording. Allan was winnowing down his gear collection and he gifted us several superb mics. A merry Christmas indeed!

The bequest includes an AKG C 426 B, a great-sounding and ultra-versatile stereo mic. Among other things, it's perfect for comparing and contrasting various stereo-miking techniques for acoustic guitar.

Nashville Know-How
This isn't the first time Premier Guitar has covered this topic. One of my fave PG items ever is this Andy Ellis video in which Nashville studio pros Bryan Clark and Adam Fluhrer demonstrate several stereo miking techniques. Check it out! I'll wait.

I cover similar turf, but with one difference: Thanks to the stereo mic, I can compare the techniques without changing the instrument, the mic, or their relative positions. This provides a reasonably objective basis of comparison.
You don't need a stereo mic for these techniques—you can use any good-sounding pair, subject to a few limitations.

Note that you don't need a stereo mic for these techniques. You can use any good-sounding pair, subject to a few limitations we'll discuss.

SeX/Y stereo
In x/y stereo recording, two mics are positioned as close as possible to each other, with one angled left and one angled right at something like a 90-degree angle. That way the sound reaches the two mikes at nearly the same instant, minimizing phase problems. You set the mics to directional patterns (assuming your mic patterns are switchable). They can be cardioid, hypercardioid, or figure eight, all of which favor sound from straight ahead over sound coming from the sides.
Check out the two examples in Clip 1. (Headphones recommended.) First you hear both mics set to figure-eight patterns, and then both mics set to cardioid. The instrument is an old rosewood classical guitar strung with Thomastik-Infeld rope-core strings and tuned low.
The figure-eight mics produce a nice, fat stereo image, with some room color via the rear sides of the mics. The cardioid version has less stereo drama, but the guitar commands center stage with more impact and presence. Your choice might be a matter of how hard-hitting you want to sound, or whether the ambience in your recording room is worth capturing.

Mid vs. Side
Mid-side technique (m-s for short) can be bewildering at first, though Clark explains it well in the video. To further complicate matters, you usually don't hear the effect till after you've recorded it. But m-s recordings have two advantages: They always sound good when heard in mono. (Phase problems can arise with other techniques when summing to mono.) Also, you can change the stereo width after you've recorded.

The side-facing mic must be set to figure eight, so it hears equally from left and right. The front-facing mic can be cardioid, figure eight, or omni (you'll hear all three). After recording you must duplicate the side-mic track in your DAW, and then flip the duplicate out of phase with the original. (Some DAWs have a phase-reverse switch on the channel strip. Others—like my DAW of choice, Logic Pro—require a plugin.) Pan the side-mic tracks far left and right. If you solo these two tracks, you hear only silence. It's 100 percent phase cancellation. But if you start with the front-facing recording in the center and gradually raise the two side-facing tracks, a stereo image appears. (The louder the side signal, the more dramatic the stereo.) It's like magic—at least if you're not an acoustician.
Clip 2 starts with the forward-facing mic also set to figure eight for a nice, naturalistic stereo spread with a touch of room color. Then I switch the mic to cardioid for a more center-forward sound. Finally, you hear the front mic set to omni for a more diffuse and roomy effect. Again, your choice might depend on how much center impact you desire and whether the room sound is worth capturing.

To A/B or Not to A/B
What about just setting up two mics some distance apart and angled inward, as if they were stereo speakers? This A/B technique provides a realistic stereo effect, though the two sides can often be out of balance, like the left-heavy sound of Clip 3.
Conventional studio wisdom dictates at least three times the distance between the two mics as between the mics and the sound source, and that's what you hear first. After that I "break the law," arranging the guitar and mics so that all three objects are about 18 inches apart. This produces a warmer sound thanks to the proximity of the mics, though there's a slight loss of sparkle due to phase conflicts. Still, it's still an attractive and usable sound.

Mono Me
There are many appealing options here. For a solo guitar recording featuring this particular instrument, I'd probably go with the m-s arrangements with the front-facing mic set to cardioid (strictly a personal call). Or I might choose something a lot simpler: plain old mono, as heard in Clip 4.
Mono has advantages: ease of setup, no phasing issues, and, with some skill and luck, great sound. What it lacks is stereo—the topic of this article! Granted, I'm cheating a bit. While the other examples are bone-dry, here I've added light EQ, compression, and stereo reverb. But that's just to demonstrate that mono acoustic guitar need not sound flat and unappealing. Many, if not most, of the greatest solo guitar recordings were tracked in good ol' mono. (I covered mono acoustic guitar recording in
"Tracking Yourself on Acoustic" in the November 2014 issue
.)
I hope I've provided a clear overview of the options so you can zero in on the best technique for your needs the next time you take a walk on the stereo side.
Ten buffer options to help you maintain your core guitar-to-amp tone when running multiple pedals and cables.
If you are working with multiple pedals and/or long cable runs, you're also building capacitance that can suck the life right out of your tone. Luckily, this can be quickly remedied by placing a buffer device—like the 10 options here—in the correct spot in your signal chain.