Staff Picks: The Big Show
Pedal-steel guitarist Jonny Lam joins us in discussing which guitarists would make the best performers for the Super Bowl halftime show.
Pedal-steel guitarist Jonny Lam joins us in discussing which guitarists would make the best performers for one of the most-watched shows on the planet: the Super Bowl halftime show.
---
Q: Which guitarist would you like to see play solo at a Super Bowl halftime show?
---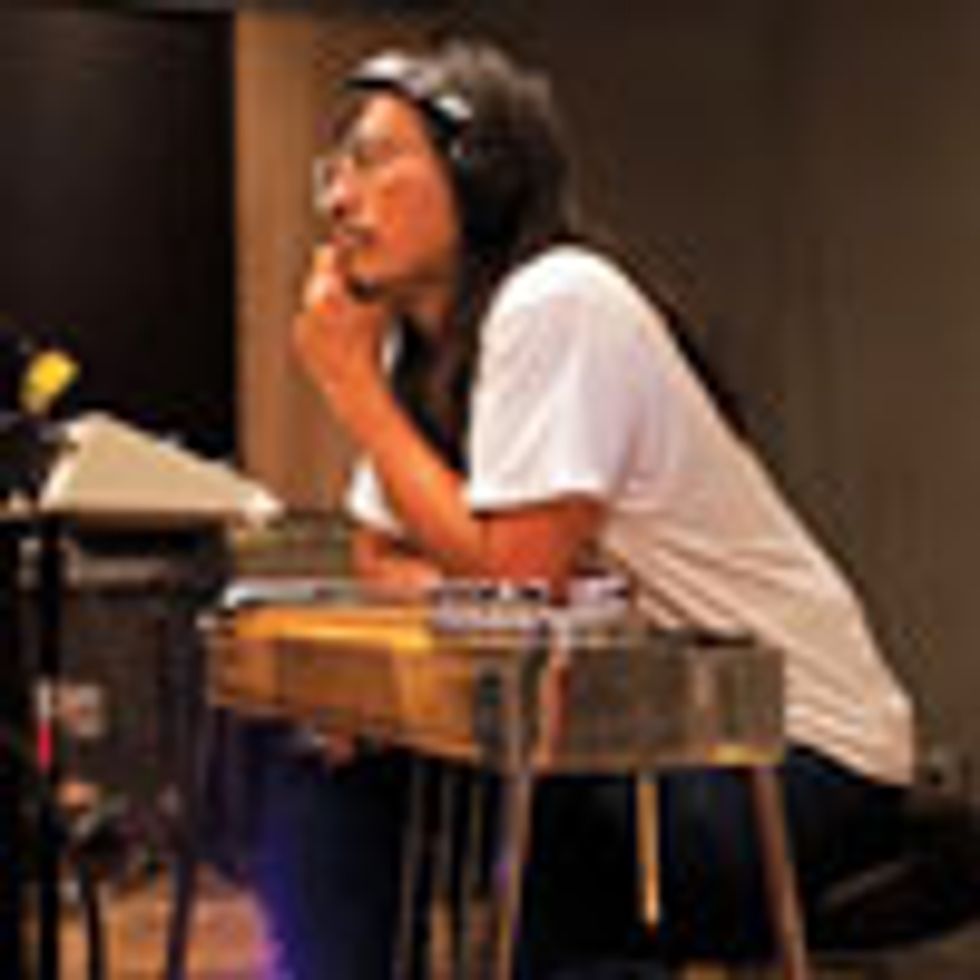 Jonny Lam — Sinkane, Atomic Bomb Band
A: Being that I've been revisiting many of my childhood guitar heroes lately, I would love to see Eric Clapton dust off his Marshall, grab his Gibson 335, and have a "woman tone" party during the halftime show. The first guitar solo I ever learned was Cream's "I Feel Free" and I've taken a lot of inspiration from that, along with exploring more Marshall-esque guitar tones. If not Clapton, then Yngwie Malmsteen! Though that would probably have to be the last Super Bowl ever.
Current obsession: George Benson! A genius, virtuoso, and absolutely unique player with impeccable articulation and incredible feel. His wild energy is really something else, and I love how recklessly he seems to play. He's just going for it, even though he might fall off the rails (he never does). There is such confidence in his seemingly endless lines and harmonic ideas. Man, he can really wail. (Party on, Wayne!)
---
Kraig Schwartz — Reader of the Month
A: Slash and Tremonti, with Myles Kennedy singing. I love Slash's greasy, slithery style of hard-rock licks full of soulful, rich tone. Tremonti's PRS with Mesa/Boogie sounds so sweet, and Myles has the best rock voice out there!
Current obsession: I absolutely fell in love with PRS guitars, the tone and attention to detail is second to none. I play a PRS Hollowbody II with a Mesa/Boogie TC-50. I discovered my Mesa/Boogie a few years back, and believe me, I went through a lot of amps before my search ended with a pot of gold at the end of the rainbow.
---
John Bohlinger — Nashville Correspondent
A: No one will ever top Prince's halftime performance, when he cued the clouds to open right as he launched into his "Purple Rain" solo. Nonetheless, I would love to see the original Van Halen crew slog through "Beautiful Girls," "Eruption," "You Really Got Me," and "Running with the Devil." Football is classic rock.
Current obsession: Strats, probably the most expressive guitar made. Five pickup combinations, a whammy bar, tone and volume controls. If you can't get it done with that, you can't get it done.
---
Rich Osweiler — Associate Editor
A: I love football, but for whatever reason, I loathe faux playing and lip-syncing so much I can barely watch the halftime show. Why not save some money and have a laser-light show or screen highlights from past games? With the exception of a couple pretty memorable performances, Super Bowl halftime is bio break and refill time for me since the commercials are so much more compelling. If I have to choose someone, I'll go with a member of Raider Nation so we have a presence this year. Carlos Santana!
Current obsession:Sin City. Gypsy jazz phenom Robin Nolan channels Angus Young on his latest release that's chock-full of AC/DC covers, and it's killer.
---
Luke Viertel — Production Coordinator
A: This may be a cop-out, but—Prince. Again. Prince's death was a big blow to musicians everywhere, especially those who support originality and the ability of music to push cultural boundaries. When I think of a modern player mainstream enough to play the Big Game, I know no one will be able to top the rainstorm epiphany that Prince left on that stage. I'd even accept a repeat performance via hologram. Perhaps a yearly tribute?
Current obsession:We're All Gonna Die by L.A. folk-rockers Dawes (produced by human-Swiss-Army-Knife Blake Mills). On the surface, it's a departure from their Americana roots. Further spins reveal the same depth of lyric and theme that made their previous records shine. I look for a big year from them in 2017.