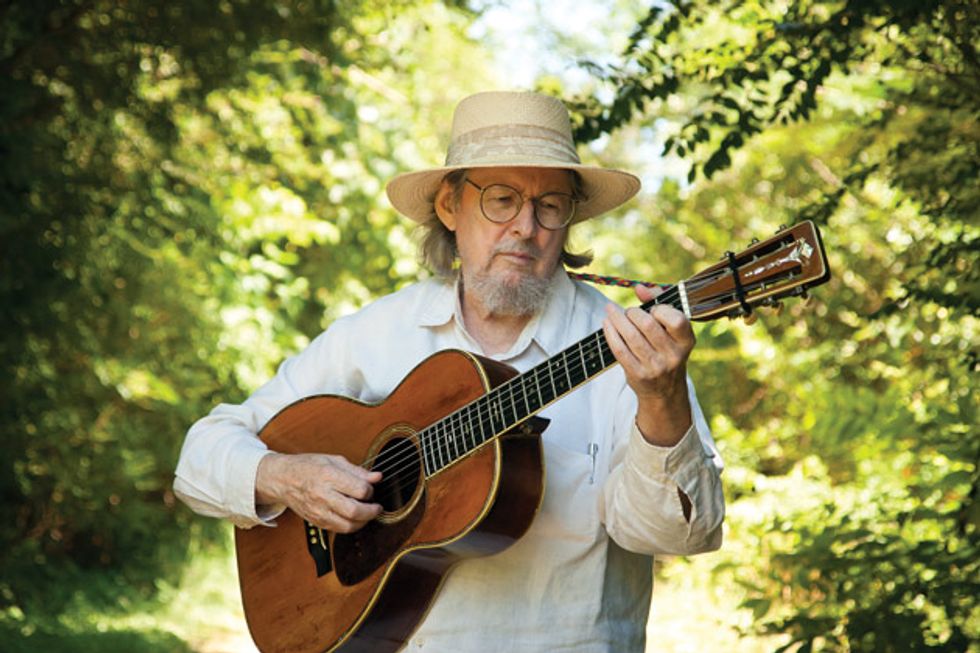 Blake is known for his masterful flatpicking. "I use the rounded edge of a teardrop pick more than I do its point. It just moves through the strings a little easier for me, and it's a warmer sound too." Photo by Gary Hamilton
On Norman Blake's new album, Brushwood: Songs & Stories, the acoustic music legend covers a lot of ground. Over the course of 17 songs and two spoken-word tracks, he shines a light on fascinating lesser-known historical figures, empathizes with the plight of the poor and downtrodden, provides some pointed and timely critique of our current political climate, and takes on Wall Street and the NRA. And as always in the world of Norman Blake, there are train songs.
But what may be Brushwood's greatest accomplishment is evident within the first 23 seconds of the album, before Blake has uttered a single word. He fingerpicks an elegant intro to the opening track, "The Countess Lola Montez," and at the 13-second mark, he effortlessly slurs and sweeps through the sort of split-second flurry of notes that makes aspiring guitarists hit rewind countless times, and leaves transcribers scratching their heads as they struggle to notate it. It's a beautiful musical embellishment by any measure, but what's most astounding about it—and the album as a whole—is that Blake was 78 years old when he recorded it. He turned 79 on March 10.
Never mind that over the past few years he's been a more prolific songwriter than at any time in his six-decades-plus-long career. Between Brushwood, released in January, and Wood, Wire & Words, released in early 2015, Blake has recorded 29 new songs that he wrote or cowrote with his wife and longtime collaborator Nancy Blake. This is all material he wrote after suffering a transient ischemic attack (often referred to as a mini-stroke) in 2012 at age 74. In fact, Blake credits that medical emergency with lighting a fire under him and providing a sense of creative urgency.
Not that Norman Blake has anything left to prove. By the late 1970s, he'd already garnered what most would consider a lifetime's worth of laurels. He'd been a fixture in Johnny Cash's band for a decade. He'd released several acclaimed albums of his own—among them Back Home in Sulphur Springs, The Fields of November, and Whiskey Before Breakfast. He'd left his mark on several of the most significant musical touchstones in the history of American roots and popular music: Bob Dylan's revelatory Nashville Skyline, John Hartford's groundbreaking Aereo-Plain, and the Nitty Gritty Dirt Band's roots-music masterpiece Will the Circle Be Unbroken. And he'd already amassed plenty of other credits, recording with Tut Taylor, Doc and Merle Watson, Earl Scruggs, Joan Baez, and Kris Kristofferson.
Yet Blake has never shown much interest in slowing down. He's now recorded about three dozen albums, including a couple of acclaimed duet projects with bluegrass icon Tony Rice. He played on Bill Monroe's 1981 album Master of Bluegrass. And T Bone Burnett, a huge fan of Blake's, called on him to play on the O Brother, Where Art Thou? soundtrack, including a stirring instrumental version of "I Am a Man of Constant Sorrow." Burnett also tapped Blake for the Cold Mountain, Walk the Line, and Inside Llewyn Davis soundtracks.
Despite his storied career, Blake has never quite received the recognition many of his peers have. "Doc [Watson] was a revelation," says renowned bluegrass multi-instrumentalist Tim O'Brien. "He was a real great entry into bluegrass because it was just easy access, the sound of it, his voice and everything. Norman was a little more a connoisseur's version of that. The record Back Home in Sulphur Springs was kind of mind-blowing. It wasn't bluegrass, it wasn't old-timey. It was very old-sounding music, but it just had this ... it was very artful. He always had a real integrity with that. Just a sense of who he was, and his place in time. He was really strutting his stuff back in those days."
"I don't think I ever wrote as much in one spurt as I did in the last two or three years."

Bluegrass guitar giant Bryan Sutton first became aware of Blake through the duet records with Tony Rice. "My initial response to Norman wasn't as deep as it is now," Sutton says. "I was a teenager and was a little more blown away with the fireworks of Tony Rice. But as I've grown more into a songwriter and a big-picture kind of guy, and as I got more into the stuff that Norman did in the early days with John Hartford, that just opened up this whole other level of appreciation and recognition of how his musicianship ultimately wins."
One thing that stands out on Brushwood is the contrast between the old-time music and the very current subject matter of many of the songs. It's not often you hear such traditional-sounding acoustic music that references social media, Wall Street, the Koch brothers, and climate change. But Blake clearly feels compelled to sound the alarm, and nowhere is this more evident than on "The Truth Will Stand (When This World's on Fire)." After calling out "fascist politicians and war profiteers," Blake sums up the state of our nation simply and effectively: "Now wealth and power are ruling our nation/the billionaire brothers and the blood-stained NRA."
Other songs that address similar issues include "High Rollers," which takes a hard look at the world of the super-rich; "The Target Shooter," a direct rebuke of the NRA and the culture of gun obsession; and "How the Weary World Wears Away," one of the album's highlights, in which Blake takes aim at greedy developers, climate-change deniers, and the like.
There's plenty of lighter fare too. On "Bunk Johnson (Trumpet Man)," Blake shares the tale of a relatively obscure but colorful character from the early days of New Orleans jazz, over a buoyant ragtime groove. "Cripple Charlie Clark" is a moving recollection of a musician Blake played with when he was "just a shirt-tailed boy."
"Waitin' for the Mail and Social Security" may be the most stirring song on Brushwood. Blake ties together many of his passions—storytelling, trains, old-time melodies, giving voice to those who've been crushed under the wheels of progress—as he paints a vivid portrait of an elderly man marking time and reminiscing about what was once a thriving railroad town.
Though Blake's guitar work shows few signs of age, his singing voice is clearly that of a man in his 70s. But that only makes the music more affecting, and it's appropriate, since one of the defining aspects of Blake's career has been his unrelenting dedication to being honest, real, and true to the moment, while refusing to follow trends or succumb to commercial considerations. In fact, all his Brushwood performances were recorded in one take, with Blake singing and playing guitar at the same time. He did some violin overdubs, and his wife Nancy added some lovely backing vocals on several tunes.
Premier Guitar recently spoke with Blake, who was at his home in Rising Fawn, Georgia. He discussed the new album, the state of the nation, and 12-fret guitars (instruments with necks that join the body at the 12th, rather than the 14th fret). He also shared the surprising saga of his experience recording Will the Circle Be Unbroken.
For your most recent two albums, you wrote 29 songs and two spoken-word pieces. You are in your late 70s now. Where did that burst of creativity and inspiration come from?
We spent a lot of time on the road playing, my wife Nancy and I. There was less time to feel creative. We were just working too hard.
We stopped touring in 2007. We're getting older and everything, and wanted to come home. We've always had a place here on the farm. I suffered a little medical thing there about four-and-a-half years ago. After that, it just turned out that way, that I started writing all that stuff. I'd written, of course, earlier on in my career. I guess I just opened in that direction when I had less to do as far as roadwork and all that. And maybe the medical emergency kind of cleared my head into a different direction.
Were there other periods in your career when you had been that prolific as a writer?
No, I don't think I ever wrote as much in one spurt as I did in the last two or three years.
Obviously, these songs were all written before the election, but they seem even more relevant now. I hear "High Rollers" and I think of our current president.
You can speak freely. You're not going to offend me. There's nobody that's more against him than I am. You're talking to the choir here.
"The Truth Will Stand" seems to address today's political situation.
My wife and I are both politically aware, and we're Democrats, what they used to call "yellow dog Democrats"—we would vote for a yellow dog before we'd vote for a Republican. I'm totally against what has happened. My wife and I both think it's the worst thing that's happened to this country in quite a long time. I'm appalled by it. We don't have enough time. The phone line would burn up before I said everything I wanted to say about it.