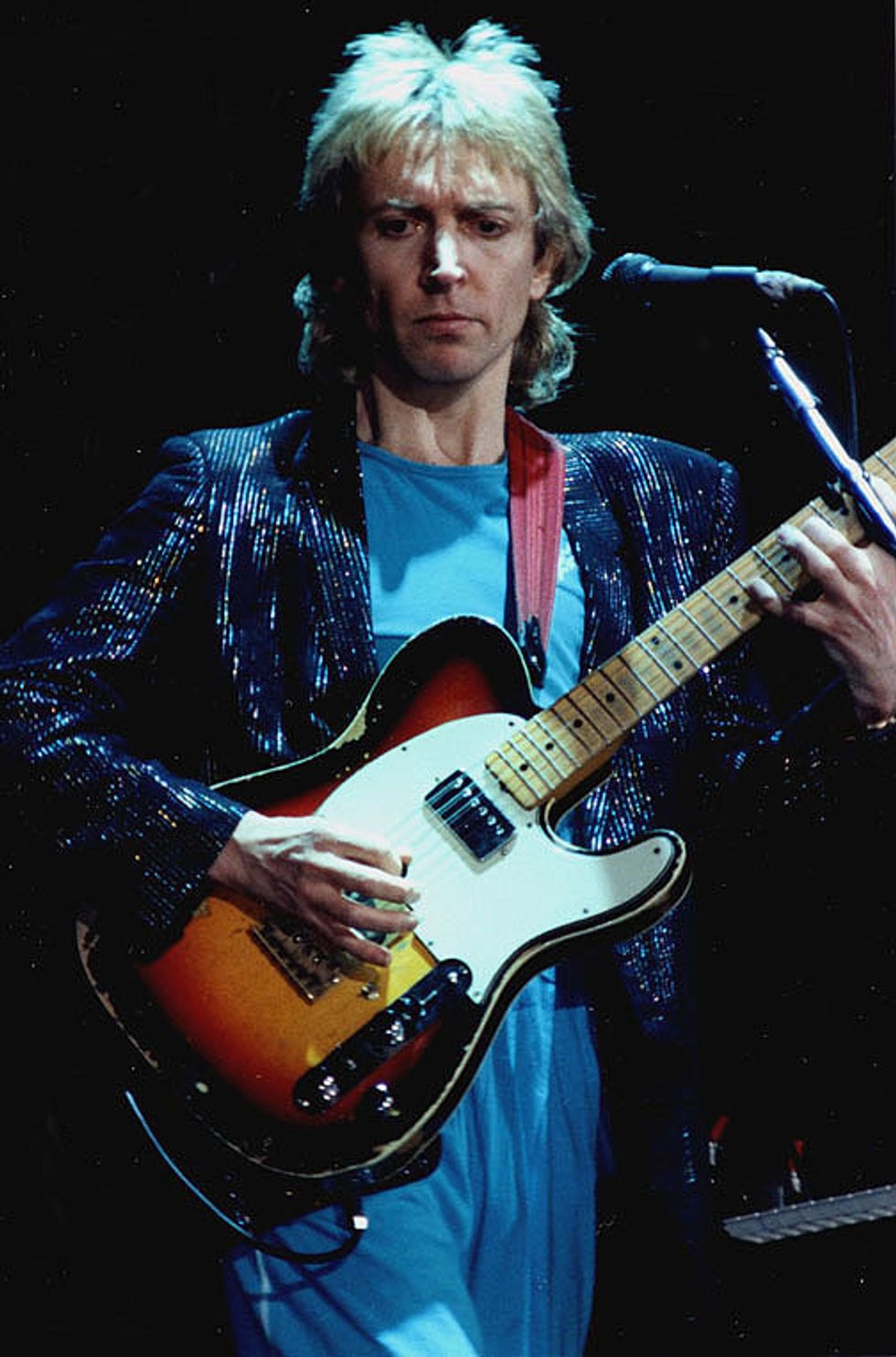 With the Police in 1982, Summers plays the 1961 Fender Telecaster that became his signature instrument during the band's initial run. He bought it for $200 and used it to play on "Roxanne," "Message in a Bottle," and more of the group's early hits. Photo by Frank White
You describe the layering process and listening to your work to see how it evolves as you record it. Would you say that you use the studio as a compositional tool?
Well, it is, totally. The whole studio's like a giant paint box. Sometimes I'll walk around and go, "Oh, wait a minute. What's that thing?" You know, some weird instrument. "Let's try it out. Maybe that will give us something." It's very much like that.
Andy Summers' Gear
Guitars
• Fender Custom Shop Stratocaster Masterbuilt by Dennis Galuszka
• Fender Custom Shop Telecaster Masterbuilt by Dennis Galuszka
• 1958 Gibson ES-335
• Gibson ES-336
• Gibson Les Paul Standard
• Gibson SG Standard
• Collings 360 ST
• Collings I-35 Deluxe
• Steinberger bass guitar
• Fender Precision bass
• Guild acoustic bass
• Manson Sandpiper steel-string
• José Marín Plazuelo flamenco 

Amps
• Assorted Mesa/Boogie amps and cabinets
• Roland JC-120 
• Fender Vibroverb

Effects
• Boss CE-3 Chorus
• Boss CE-300 Super Chorus
• Boss VB-2 Vibrato
• Caroline Guitar Company Météore Lo-Fi Reverb
• Catalinbread Belle Epoch Tape Echo
• DigiTech Whammy
• EarthQuaker Arpanoid polyphonic pitch arpeggiator
• Electro-Harmonix Superego Synth Engine
• Eventide Eclipse multi-effects unit
• Eventide H9 Harmonizer
• Fractal Axe-Fx II XL+
• Klon Centaur
• Lexicon PCM-70 Digital Effects Processor
• Mad Professor Golden Cello overdrive/delay
• MWFX Glitch error-inducing effect
• MWFX Judder sampler/repeater
• Paul Trombetta Design Rotobone overdrive
• Red Panda Particle granular delay
• Red Panda Raster delay/pitch shifter
• Roland VG-99 multi-effects unit
• TC Electronic Dark Matter Distortion
• TC Electronic Ditto Looper
• TC Electronic Ditto X2 Looper
• ZVEX Instant Lo-Fi Junky

Strings and Picks
• Assorted D'Addario sets
• Dunlop Tortex 2.0 mm

With so many tools available—and with what sounds like so many different sounds in your head—how do you know when to let go of a composition?
These things take time. Some days you get three great sets of ideas in one afternoon. It really has to do with perspective. You can't just sit on a track and hammer away and think you're going to get it. Sometimes it's just like, "Okay, that's enough for today. Let's do a different style. Let's do another track." And then let that one go for a few days, and come back, and you hear it clearly because you haven't listened to it for a few days. That's a very important part of the process. It's perspective that can only be obtained by stopping listening for a bit. Then you come back, focus in it, put up that track and get it instantly. "Okay, I know what's wrong with it now." It's a very creative process, but you have to be vulnerable and ready to know when you feel it: when's the right time to play solos, when's the right time to just do sort of construction work, if you like.
On the whole, the record seems to transcend labels. Is that intentional?
I don't think I'd say to myself, "Okay, we're going to avoid all labels." That's just the way it comes out. This is my music, I don't think it's ... The message I got when I was growing up was that my music was not rock; it was jazz. As a kid, I was a complete jazz freak. Later, of course, I played in a rhythm-and-blues band and, obviously as you know, I played in rock bands. So, it goes on. All sorts of music are interesting. It doesn't matter if it's heavy metal or Albanian folk music.
The music I make comes from a variety of places, having done it such a long time. And one of the reasons that comes out, I think, is a sort of avoidance of anything generic. That's clearly what this record and the previous one are about. They're avoiding standard stuff.
It's like pure music that speaks for itself. Music should come at you; you should be drawn to it. That's what great music is. It's not going to knock you out. It's just there. That's the subtle, sophisticated place to get to.
You've talked a couple of times about being a real musician. What do you think it takes to be a real musician playing at the highest level?
It can take your whole life. Just like any of the arts, you can learn things to a degree, and there's nothing wrong with that. It's wonderful to be engaged in ceramics, watercolors, violin, or whatever on the weekends.
But the greatest musicians always have the most innate feeling for rhythm and time. After that, you've got to be able to play great solos, phrase well, and do interesting timing—change the time, playing in and out of the time. This is what makes a great musician more than anything else. If you don't have that, you're never going to be that great.
You recently played solo guitar to some of the photographs you've taken around the world. How do your photos and travels inform your music?
Well, I have sort of sub-career as a photographer and have done over 40 shows at this point. I'm just about to put out another book. I'm very interested in the world and have traveled everywhere. I've been to Africa, all over Asia several times, and I think I might trek to China again this fall.
I think the two things inform one another. As an improviser, getting ready to just kind of get in there and react in the moment was very helpful for me in terms of photography when I was out in the world shooting. And I suppose in any media that I get involved in creatively, I listen for the condition of music.
YouTube It
Andy Summers improvises on a Gibson ES model at the Grammy Museum in Los Angeles, standing before a shifting collection of his photographs. You can hear a variety of delays, loops, reverbs, and modulation effects in play.