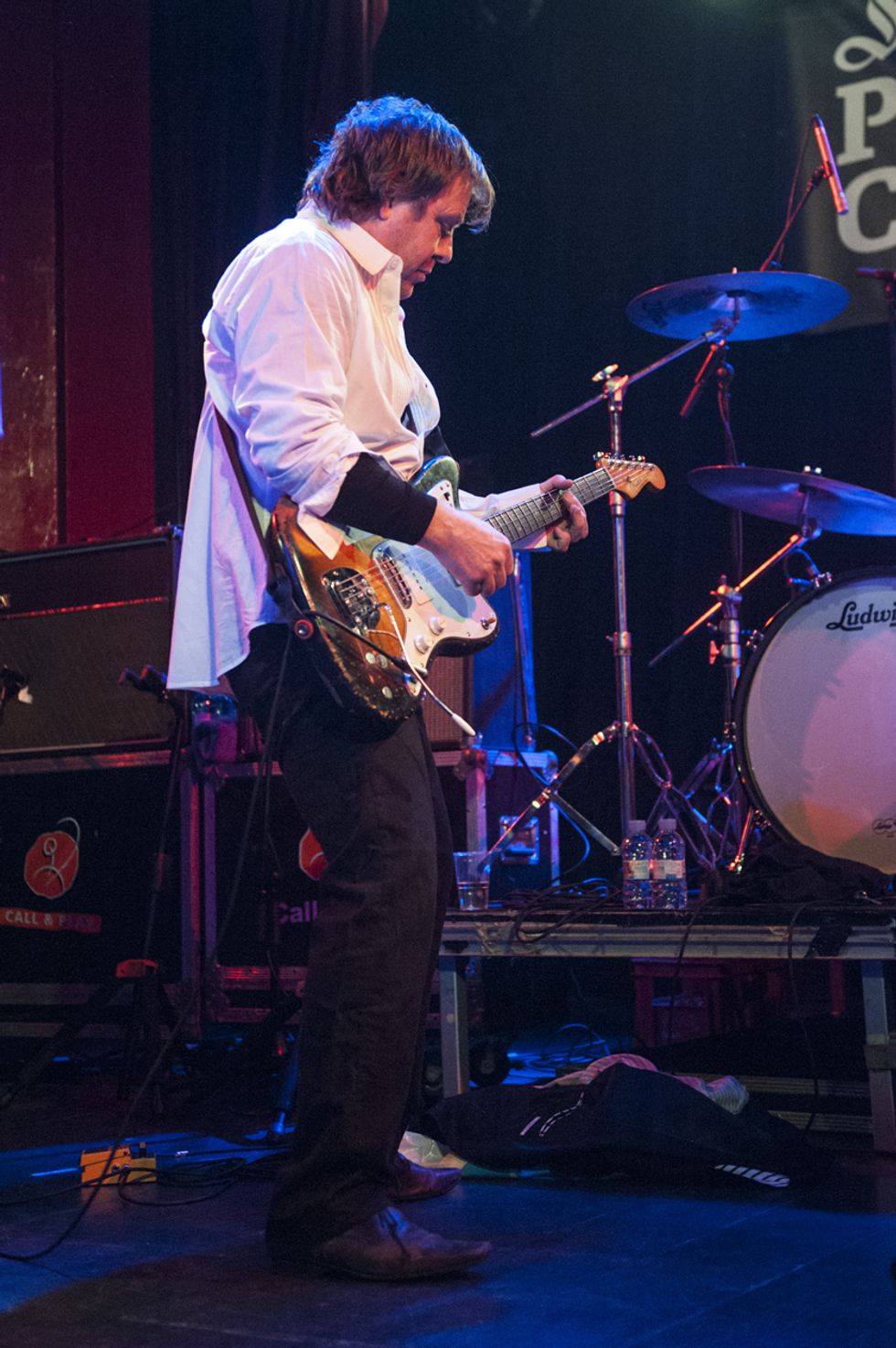 Prickly single-coil pickups have been an essential element in the post-punk guitar sound. Although he started the band with a Rickenbacker, the Pop Group guitarist Gareth Sager plays a Fender Jazzmaster, among other instruments, today.
Photo by Jordi Vidal
The Pop Group's Gareth Sager
The Pop Group, from Bristol, were punk, funk, and not afraid of the avant-garde. Their first album, Y, was released in 1979, and time hasn't mellowed its vibe. It's still a jarring, dissonant, glorious mess and a fantastic showcase for guitarist Gareth Sager's self-described "rhythm racket." Sager uses an assortment of guitars—although in the early years his guitar of choice was a Rickenbacker—but, as he discusses below, the actual instrument is immaterial. (In fact, he's recently recorded a solo piano album at Abbey Road, for October release.) Sager's credo is, your tone's in your fingers
.
What's your background?
Gareth Sager:
I was taught piano from about 5, so I had a pretty strong—being able to read the dots—musical background. I was at quite an advanced music school, so I did learn about Stockhausen and John Cage and people like that when I was about 14 or 15. We used to listen to Tonto's Expanding Head Band and things like that in music class. Unbeknownst to me, that was all really useful later.
But I was like most kids in Britain. I heard music on the radio and I read the
NME
and
Melody Maker
. There was a little gang of us that went to all the gigs that came to town. I saw Rod Stewart and the Faces when I was 11. That was a good start. Believe it or not, I had a few clarinet lessons, but in the interim, everybody I knew was picking up guitar—this is the early '70s—but I never did. There was a Spanish guitar in my house. You know those—the action was so high I thought it was physically impossible to play. But slowly I got more into it. Then when punk happened in 1976, this band called the Cortinas—it was formed by guys from the school I went to and the school [Pop Group vocalist] Mark Stewart went to—got pretty successful very quickly and they were playing the Roxy club, which was the premier punk club up in London. I'd go up and watch that and it was that classic case of punk that if your mates can do it, then you think you can do it as well. The very first guitar I bought was a Burns, and the body was so small that the machine heads weighed it down, so you would have to lift it up with your left hand [
laughs
].
Were Burns guitars cheap and easy to find?
Sager: It was really cheap. It was £60. And even at that I had to borrow the money off some girl to buy it [laughs]. I've still got it, actually. It literally looks like a palm tree with a bit of fencing on it.

Some people you'll talk to, all they talk about is guitar players they love. I just loved music, really. I loved what bands sounded like and that sort of thing. Probably the first real guitar player [to interest me] was Wilko Johnson from Dr. Feelgood. His uniqueness of what he did with the guitar just knocked me sideways. I mean, I didn't know anything about the guitar. He just seemed to make a different sound out of it from what everybody else was doing at the time. He's become a very good friend since, so that's quite interesting to be able to tell him. He had no idea what a big influence he was until about 20 years ago. He influenced all of the punk players for certain.
"On lots of the early stuff, we would be like blues players and we'd change on the 7th bar or the 5th bar instead of making it all 8s and 12s and 16s and all that. That is a very simple thing to do that throws music straight away."—Gareth Sager
Before we had the Pop Group, all the people I hung out with really loved funk. The super heavy funk was coming in then, whether it was the Ohio Players, the Fatback Band, or early Kool & the Gang before they went sort of mellow.

Were those funk groups coming over to England?
Sager: I saw Parliament-Funkadelic in 1978, when we were making the first Pop Group album. That was the Mothership Connection tour, which was absolutely fantastic and they were absolutely wild. I saw all the first lot of punk bands, too: the Clash, and Subway Sect were a really important band. They had a really unique guitar sound. They were much more anti rock 'n' roll than the Pistols or the Clash or anything. They didn't wear their guitars between their legs. They had them really high up. They played really minimal chords. Seemed to be their only reference point was White Light/White Heat by the Velvet Underground. They were really fantastic and they had no interest in being glamorous or anything like that. They had this incredible rough style of playing guitar, and I took to that. Other influences would most definitely be Television's "Little Johnny Jewel" and the first Richard Hell and the Voidoids album, Blank Generation—Robert Quine's playing on it. But the real thing about me, as opposed to any other guitarist you'll talk to, is I never learned anybody else's music. I never learned a Beatles' song or anything.
You can hear that funk influence in your playing. Did you spend time developing those chops?
Sager: There are two guitars in the Pop Group, and John Waddington, the other guitarist—he hasn't stayed in the music business as long as me—had a much purer funk thing than me. Mine is much more fucked-up funk, whereas he's playing very much as near as you can to Chic or something. It's a mix of the two of us and I can't take credit for stuff he's done. People might think it's me, but no, it's him.

My thing was to have this, "rhythmic racket." It was important to me that there were no rules. The whole concept to me was to use anything you can to be the most effective you can when it's possible.

Some of the classical composers you mentioned did that.
Sager: Oh, 100 percent. There's nothing new. I just developed my own individual voice. It's no better than anybody else. It's just me and you can hear when I'm playing it. The conceptual stuff I got from John Cage was enormous. That really was the thing that allowed me to ask something like, "What's wrong with hitting the guitar with a bottle?" All noise can be created into music if it's arranged in whatever way you feel possible.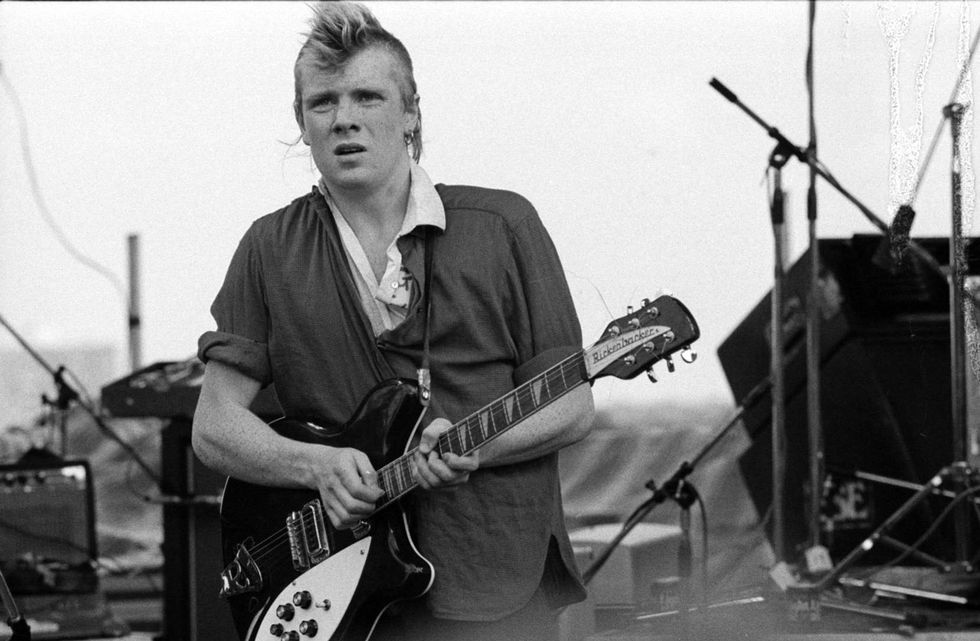 Gareth Sager plays with the Pop Group at Alexandra Palace in 1980, one year after the band's debut album, Y, was released. "We did our first album with Dennis Bovell, who was the only really true British dub master," says Sager.
Photo by Paul Roberts
That's interesting, because the first wave of punk definitely owed a big debt to old time rock 'n' roll.
Sager: When I heard the first Sex Pistols' single "Anarchy in the U.K.," it literally sounded like Hawkwind and I was so disappointed. I'd heard these things from New York, like Television, the first Patti Smith single, "Piss Factory." [Editor's note: It's the B-side. The A-side is "Hey Joe."] They had something really experimental, something really interesting, a whole new angle, like a whole new world, really. And then the British stuff, obviously, was incredibly influenced by the Ramones, but as Steve Jones says, really they wanted to sound like the Faces. Glen Matlock, the original bass player from the Sex Pistols, plays in the Faces now. What inspired the Pop Group, and me in particular, was that the first lot of punk rock was, "Go out and do your own thing," but then became incredibly formulaic, which seemed worse than what was there before really.

Talk about your tone. What gear did you use?
Sager: I had a hollow Rickenbacker, about 1971. What's unbelievable is I can't remember what amp I was playing.But that brings me back to my real point: It was always important that whatever guitar you played through whatever amp, you could sound like yourself. You didn't panic if you didn't have the right amp or you didn't have the right guitar. You were still able to sound like yourself.

Are you saying the essence of your tone is really in your fingers?
Sager: It is really in my fingers. In the fingers, and probably for the Pop Group the one little X-factor was that I always used a triangular bass plectrum.

How about chords. You weren't playing power chords. How did you come up with your voicings?
Sager: I just made them up. I'd never looked at a chord book or anything like that. There is a lot of dissonance from early Pop Group stuff.

But you had a music background. You knew what you were doing.
Sager: Of course, I had the background. I understood you can play a 13th with a second there. People have got to tune their ears into it. It's not the Beatles.

Using that dissonance as well as a lot of feedback created a lot of interesting sounds.
Sager: In lots of ways, I would love to get back to that. I've tried as much as I can to keep that naïveté in every record I've done. That is the real beauty of music. It brings a freshness to stuff, where you're not dependent on the rules. Obviously, I do appreciate great harmony and stuff like that. Down the years, I've got more interested in that area, to be honest. I was probably going very much against that in the early Pop Group stuff. But you have to develop as you get older. There's nothing worse than these awful people that are still playing what they played in 1981 or something.
YouTube It
Sure, they're lip-synching, but decent live footage of the Pop Group at their inception is impossible to find—and this performance of "Where There's a Will" is every bit as anarchic as their fractured funk/dub sound.
Were you were consciously working to obliterate the standard song form?
Sager: The great thing was we really didn't know how to write songs. I knew how to write classical music. You'll find lots of our stuff is in funny 16-bar patterns that I'd written classical music in and not adhering to what a pop song was meant to be about. I didn't know what a middle eight was—that sort of thing. I just knew you have another bit here and then you put another bit there. Invariably we'd start with a chorus as well, which is a quite amusing thing about the Pop Group. The good thing is that on lots of the early stuff, we would be like blues players and we'd change on the 7th bar or the 5th bar instead of making it all 8s and 12s and 16s and all that. That is a very simple thing to do that throws music straight away.

How did you communicate that with each other?
Sager: Because we didn't know any better, we just felt where it changed. We learned it together so we all changed at the same spot. But that was quite funny when we came back to learn the stuff again when we reformed. When we were counting out we'd go, "Shit, it changes on the 9th," which made the drummer very annoyed.
Did the band improvise as well?
Sager: You had a solid song structure, but over the top of it you had somebody like myself who was just improvising and never doing the same thing twice.

Other bands, like Joy Division or Gang of Four, were more song focused.
Sager: They were more traditional rock. I think Joy Division took a great deal from the very early Pop Group. We had a song called "Colour Blind," some early demos, but we moved on from that. To their credit, Joy Division picked it up and made a success out of it. But because we were so into black music, we just wanted to show our influences from reggae and funk and everything as well. So as soon as we could, we would "play on the one," or what we thought was the one [laughs].

How big an influence was dub?
Sager: Bristol has a very big West Indian community, so we heard dub pretty early on. Particularly our lead singer, Mark Stewart, he was a really proper big dub fan from a very early age. The minute I heard any Lee "Scratch" Perry or that Super Ape album … you have no idea how these things are being done, so it sounds like a magical entrance to a new universe.

We did our first album with Dennis Bovell, who was the only really true British dub master. Straight away, I was learning from the only master around. That's how I started, with a guy like that at 18 years old. It was making the whole mixing desk feedback on itself and dubbing it up, so that was normal for me.
---
---