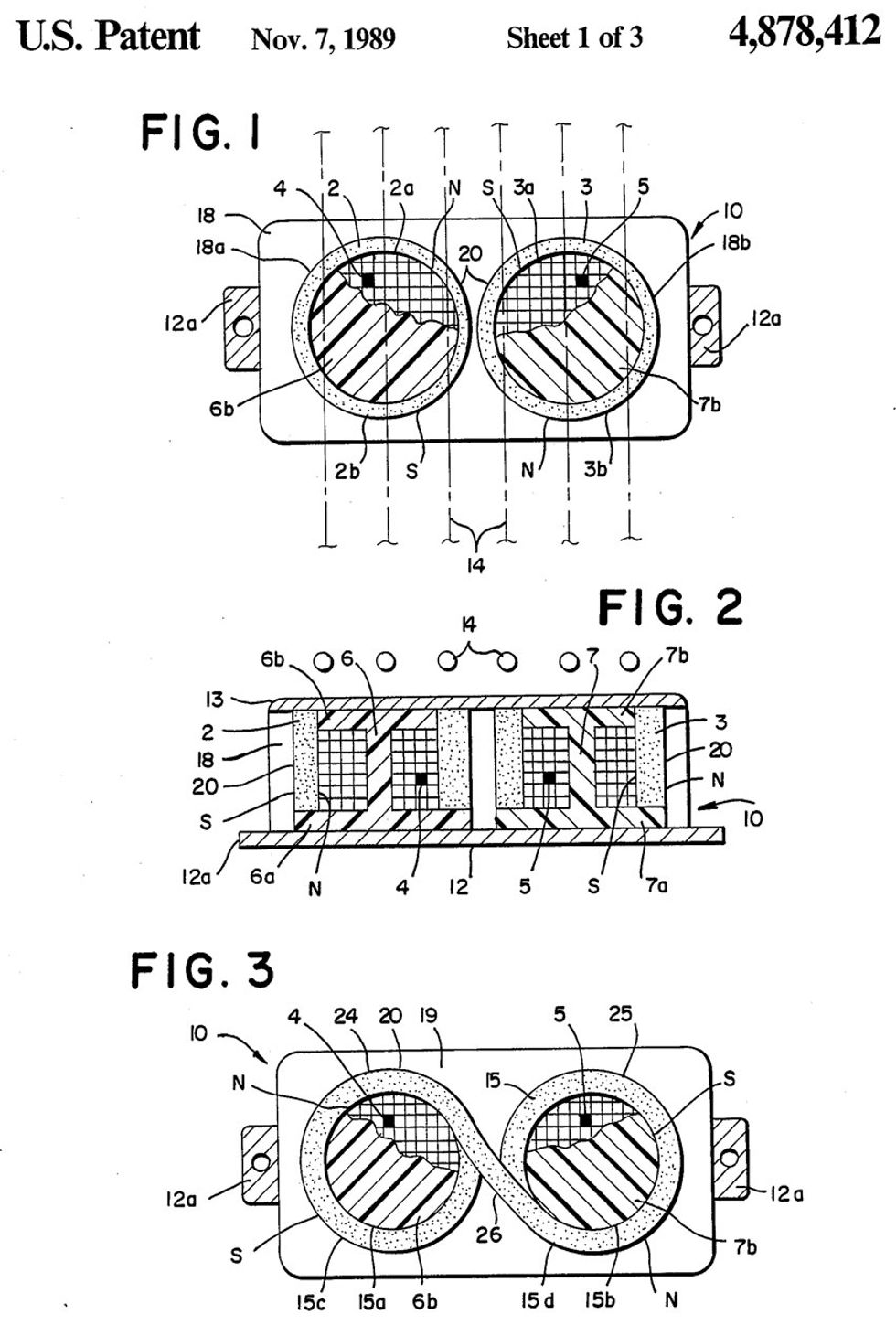 Promising low manufacturing costs and easy shaping thanks to their "rubber-like plastic" nature, these pickup magnets didn't get their day in the sun.
We'd all like to believe that, at least once in our lifetimes, we'd had a clever idea. I know I wish I had. Some have actually acted upon their flashes of genius and made the world a little better for it. (I'm still trying to live down the 5-neck guitar, but in all fairness, it wasn't my idea.) Over decades prowling trade-show floors, I've witnessed the debut of pure brilliance as well as the folly of unchecked self-indulgence. Also, inventors often send me briefs on their creations for consideration. In no particular order, other than the way I found them in my desk-drawer archives, I'd like to share a few items that never saw the glory their inventors hoped for. Disclaimer: Patents are all public record.
---
Flexible pickup magnets
Title:
Electromagnetic pickup for a stringed musical instrument having ferromagnetic strings and method.
Patent Number:
4,878,412
Filing date:
1/9/1989
Inventor:
Martin H. Resnick
Excerpt: "It is a primary objective of the present invention to provide a new and improved sound pickup for a stringed musical instrument having low material cost, fast and easier assembling, all components lending themselves to be formed and fabricated utilizing a basic inexpensive production and tooling setup."
What Marty basically has here is a pickup using a flexible, plastic magnet (Fig. 1) that can be shaped and squeezed into various shapes. One of the side benefits is the design's purported ability to reduce "squealing," which the inventor blames on the iron core used in conventional pickups. The cover letter from Mr. Resnick's attorneys notes that he has "an M.F.A. from Ohio University," so I have no reason to doubt him. The patent application drones on for a dozen pages citing the usual prior art and exalting the benefits of using refrigerator-magnet material as the basis of your tone. The patent-application drawings are pretty cool looking, though, and it is worth noting that rubberized or plastic magnetic material was used in many of the gold-foil pickups of the 1960s.
---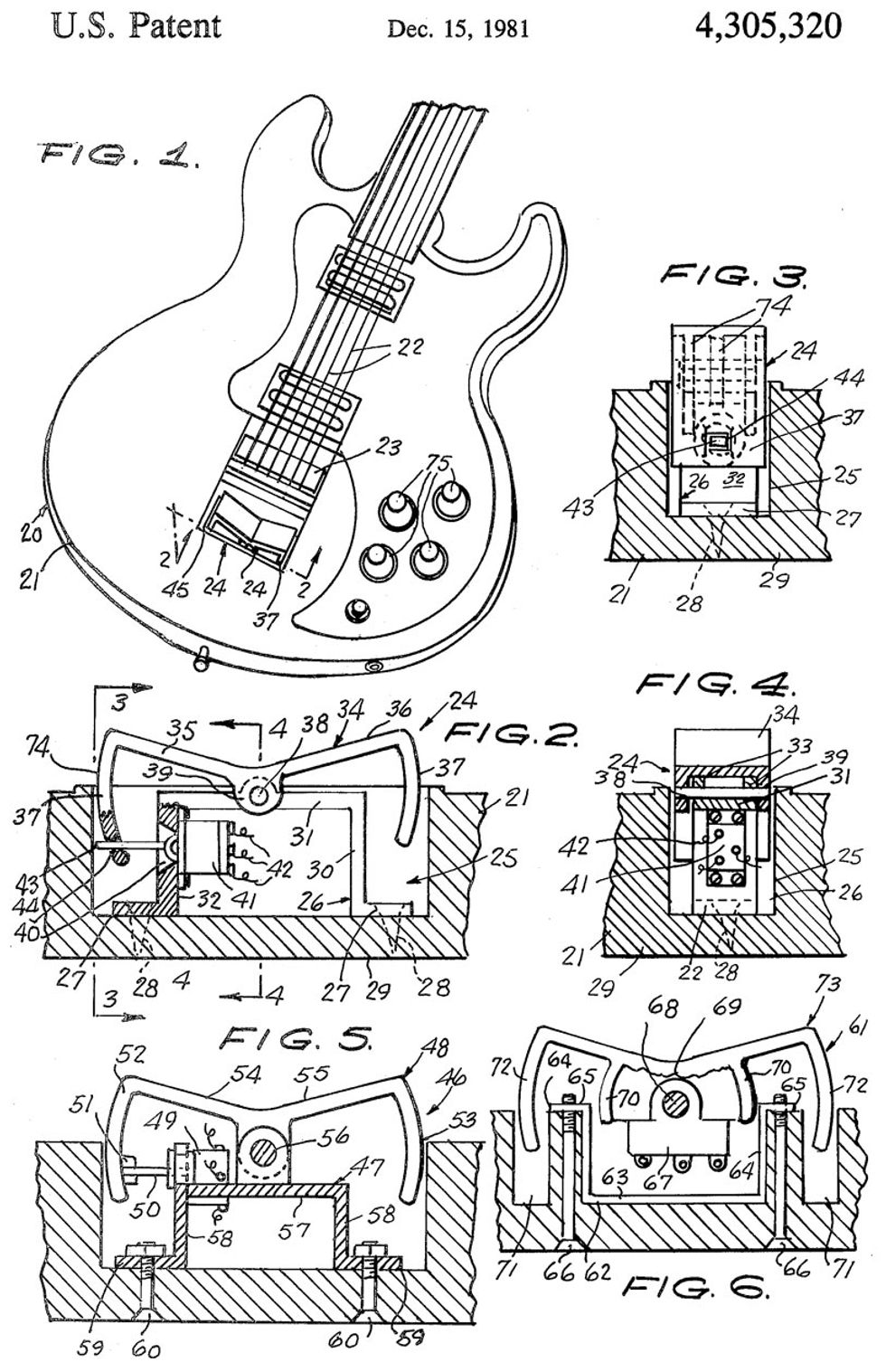 Patented by music-industry giant Peavey, this pickup selector switch could have eliminated excuses for not being in the right position for that botched solo.
Giant Rocker Switch
Title:
Selector switch.
Patent Number:
4,305,320
Filing date:
9/29/1978
Inventor:
Hartley D. Peavey
Excerpt: "The primary object of the present invention is to provide a selector switch for electric guitars that provides a more convenient and efficient method of switching to various other pick-ups for the guitar. Still another object of the present invention is to provide an electric guitar selector switch mechanism that is simple and inexpensive to manufacture and install and which is efficient to use."
Dude! Hartley Peavey invented the big-ass switch (Fig. 2)! You have to Google this patent to appreciate how cool it is. The idea here is that if the switch is big enough, you can look at it to determine which pickup is on. The switch (roughly the size of a stop tailpiece) is positioned directly behind the, um, stop tailpiece. I have nothing but respect for Peavey, and his legacy is secure even though this didn't catch on. In fairness, the president of a company always gets his or her name on the patent.