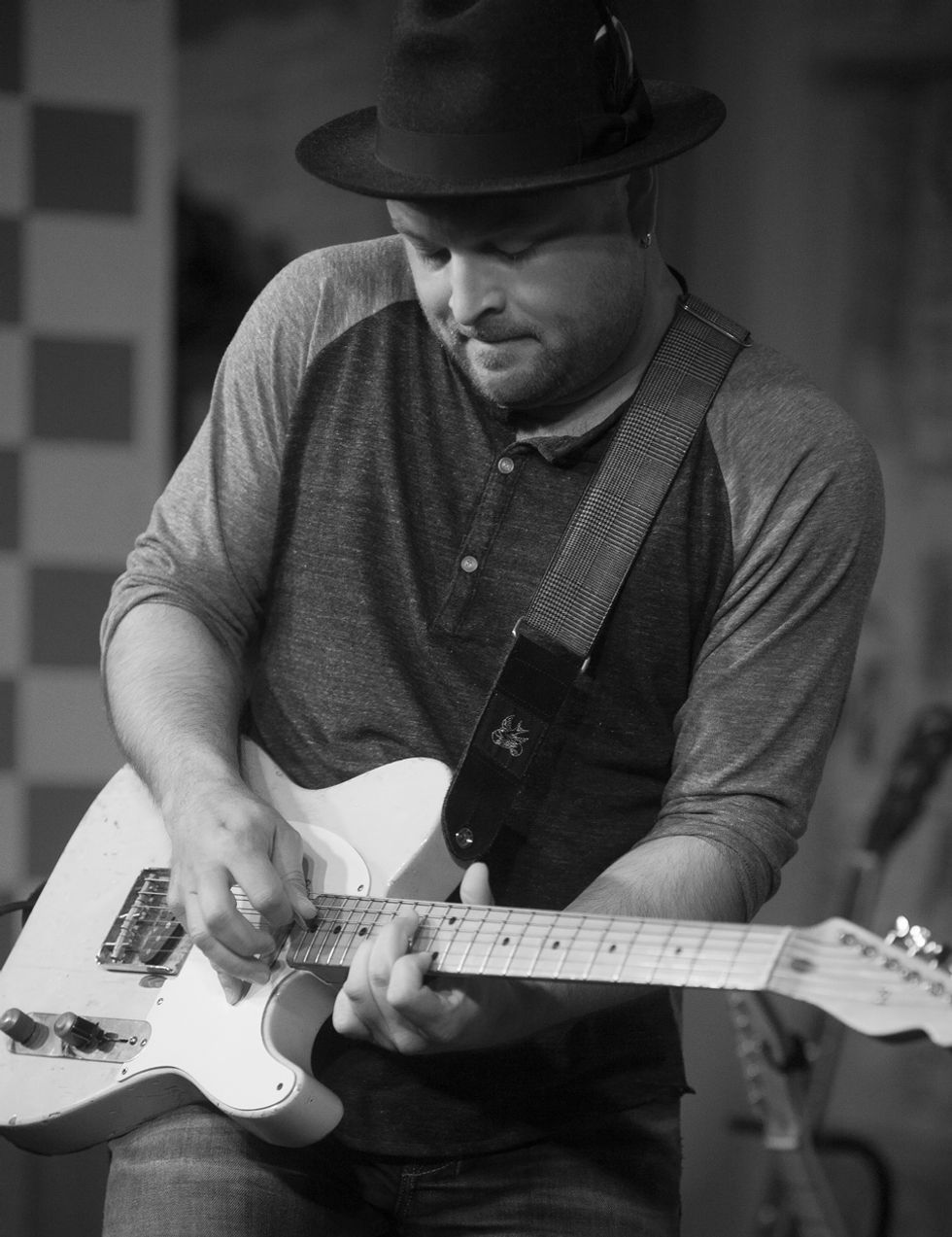 "All the alternate picking stuff from bluegrass helped with electric guitar," Trapp says. "The hybrid picking didn't come in until I started playing electric. I got turned on to Danny Gatton and started learning from videos." Photo by Steve Harman
Known as a master of the Telecaster, Trapp has played a T-style instrument by local luthier Floyd Cassista since his Don Kelley days. "My Floyd needed a refret, but after the refret it got weird, so I didn't play it very much on this record," he says. "I played a Tele-style parts-caster with Ron Ellis pickups that I don't have anymore. It had an enormous neck, which is part of the reason it sounded good. Now I've got a couple of Russ Pahl Teles, which are awesome.
"All the slide was on my Teisco. With big flatwound strings tuned to open D, it's automatically pretty nasty sounding. It's got four pickups and a vibrato arm. I found this Ry Cooder-ish out-of-phase tone on it. There are little selector buttons, but you've got to be careful because if you bump the switches they will move in the middle of a song. I think it did that on 'I'm So Lonesome I Could Cry.'"
Trapp's sound tends toward warm and clean. It's an unforgiving tone that, in the hands of a lesser player, would easily reveal any sloppiness. "I want the notes to be articulate, probably because I didn't grow up playing rock," he explains. "I'm usually a blackface Fender guy and I used a few on this record, but mostly I used a Bogner Goldfinger 54 Phi amp. There are two 6L6s and two 6V6s that you can use separately or combine for different power settings, from 9 to 66 watts. It has a 2x12 open back cabinet. It's a small head with a sweet top end and a great reverb. I hate playing through a dry amp. I'll always use reverb and delay as I'm tracking. I used the Strymon El Capistan tape-type delay a lot, although lately I've been using their Brigadier. It's more present, not so dark."
"Mickey Newbury was there one night, drinking tequila out of a pint bottle, smoking a cigarette, with his nose hooked up to an oxygen tank. Those fellas were hard-core."
Although he rarely plays acoustic live with his own band, his adeptness on that instrument is also displayed on Life After Dark. "I played my 1955 Gibson J-50 on 'Crossing the Bridge,'" says Trapp. "On 'Leiper's Fork,' I played the J-50 along with a Collings OM and my Sim Daley mandolin. Daley used to work for Gibson, and then started building his own mandolins. I've had that one since probably 2005."
The sleep until noon, drug taking, rock-star guitarist is largely a thing of the past. Making a living as a musician in the 21st century requires diversification and hard work. With James Brown departed, Guthrie Trapp may have inherited the mantle of "hardest working man in show business." There is the session work, the video lessons, the music school, promoting the pedal, and his steady Facebook and Instagram posts. And we haven't even mentioned his "Trapped Above Ground" radio show (currently on hiatus) on Acme Radio, the internet broadcast affiliate of the Broadway club where he's got a weekly gig. And that's when he's not touring with John Oates—a relatively recent addition to his list of notable employers.
Trapp epitomizes the modern 6-string hero: technically spectacular, diversified, and social-media savvy. His two solo records reveal a player capable of venturing in numerous directions, which begs the question: Where will he go from here? "For the next record I'm going to work with a producer who can help me dial in some cool stuff," he says. "Since this one was more song-oriented, the next one might just be a balls-to-the-wall, self-indulgent, guitar record."
Guthrie Trapp digs into his Floyd Cassista T-style onstage at Nashville's Station Inn, supporting singer-songwriter and resonator player Jimmy Stewart. Trapp's solos showcase his country side. And that's longtime Johnny Cash bassist and frequent Dan Auerbach collaborator Dave Roe on bass.