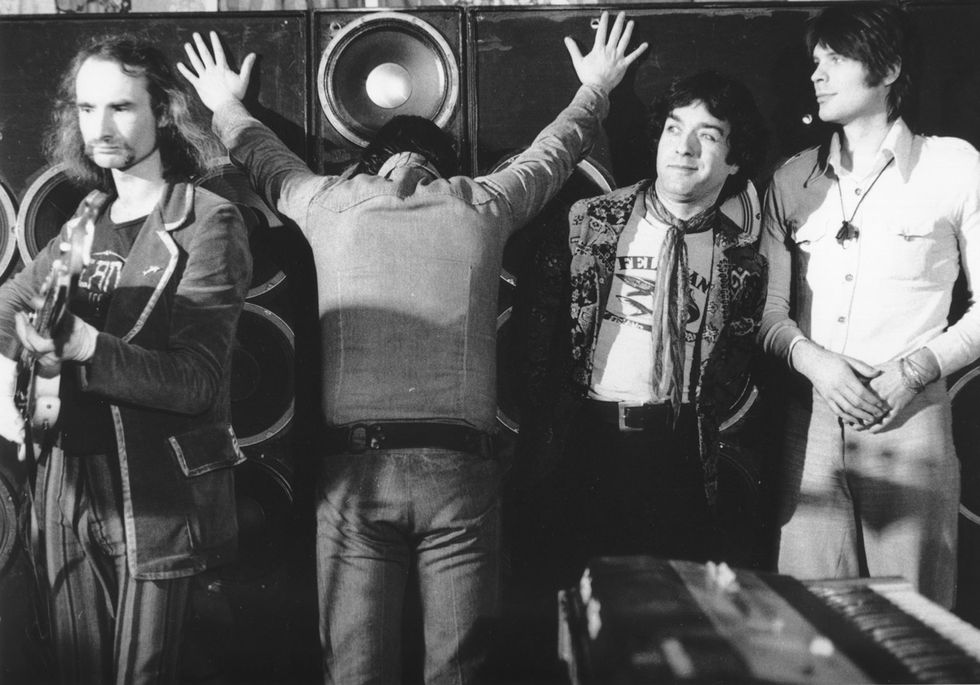 During their early days, Can exclusively used amps made by the Farfisa company of Italy. Later, they built a wall of amplifiers—partially visible here—that they transported to concerts, although guitarist Michael Karoli also
played a Fender Twin. Photo courtesy of Spoon Records
After that first performance, Can took up residence at Schloss Nörvenich. There, they recorded their debut album, 1969's Monster Movie, which featured American vocalist Malcolm Mooney, and established the hallmarks that defined their sound. (Monster Movie also featured one of the band's best-known tunes, "You Doo Right," which was the result of a six-hour jam, edited down to 20 minutes for the album. Thin White Rope, the Geraldine Fibbers, and other edgy rock outfits have covered the song.)
The first of Can's hallmarks is what the band called "instant composition," which didn't mean jamming—although they did jam for hours at a time. It meant using disciplined jam sessions to discover ideas for future improvisations. They reworked those ideas with every performance, so their music was always evolving.
"We started from nothing and tried to find something," Schmidt says. "If there was something coming up, you felt it. If there was something really nice, we repeated it, maybe, but every time we repeated it, it became quite different. It was never like a written piece that we rehearsed."
That concept applied to concerts, too. "We never played the pieces live as they were on the records," Schmidt continues. "We totally invented the music on the spot. We used themes and melodies, but it might have happened that the singer was singing one song while Holger was playing a bass part from another piece and I was making sounds. Sometimes three or four pieces appeared in a new improvisation and disappeared."
"There was a structure or a basement for the pieces, but other stuff was improvised," says Damo Suzuki, the band's second and best-known lead singer. "I was stoned enough and I did some different things. We didn't talk about which songs we played. We never spoke about that stuff. Before the concerts, there was no meeting about the music. Every concert was like that—we didn't run over anything ahead of time."
"There was a structure or a basement for the pieces, but other stuff was improvised. I was stoned enough and I did some different things. Before the concerts, there was no meeting about the music." —Damo Suzuki
Instant composition was still a defining principle 10 years on. "Spontaneity was the hallmark of this unique band," says Rosko Gee, who worked with Traffic, Johnny Nash, and many others. Gee played bass on three Can albums in the late '70s, after Czukay switched from bass to what could best be described as "samples." "Each individual had more than enough character to lead. There were no constraints on me and, of course, with such a drummer, it was easy to groove. If you could imagine taking a whole year to decide on the material for an album, then the process was indeed thorough."
In the studio, instant compositions morphed into edited pieces. Can had the luxury of a home studio, which was a rarity for the times. Although it was primitive, they had enough recording gear to cut all their early albums at Schloss Nörvenich. Czukay doubled as the band's sound engineer and editing was his responsibility.
"It was done with a razor blade, tape, and paste," Perfect Sound Forever's Gross says. "Compared to what you can do digitally, it was painstaking insane stuff that took a long time, but these guys were dedicated. It was the same thing that some of the early tape composers, like Stockhausen, did."
Can's setup was minimal, even by the standards of the late '60s and early '70s. "The first five records were recorded with two Revox stereo [reel-to-reel] machines," Schmidt says. "You could only do one overdub and then the quality would suffer too much. We recorded on one Revox, and then, if we wanted to do some overdubs, we overdubbed from one machine to the other. And that was it. There was no mixing. When we played, the mix had to be perfect. Everybody was responsible for the balance. What he heard in his earphones would have been already the final mix. It was a good education to listen to each other."
"It was quite primitive at the castle," Suzuki confirms. "We only had two tape recorders and not many channels. It was almost like one or two microphones for recording the whole thing. My vocals went straight to machine. Holger was playing and doing the technical things as well."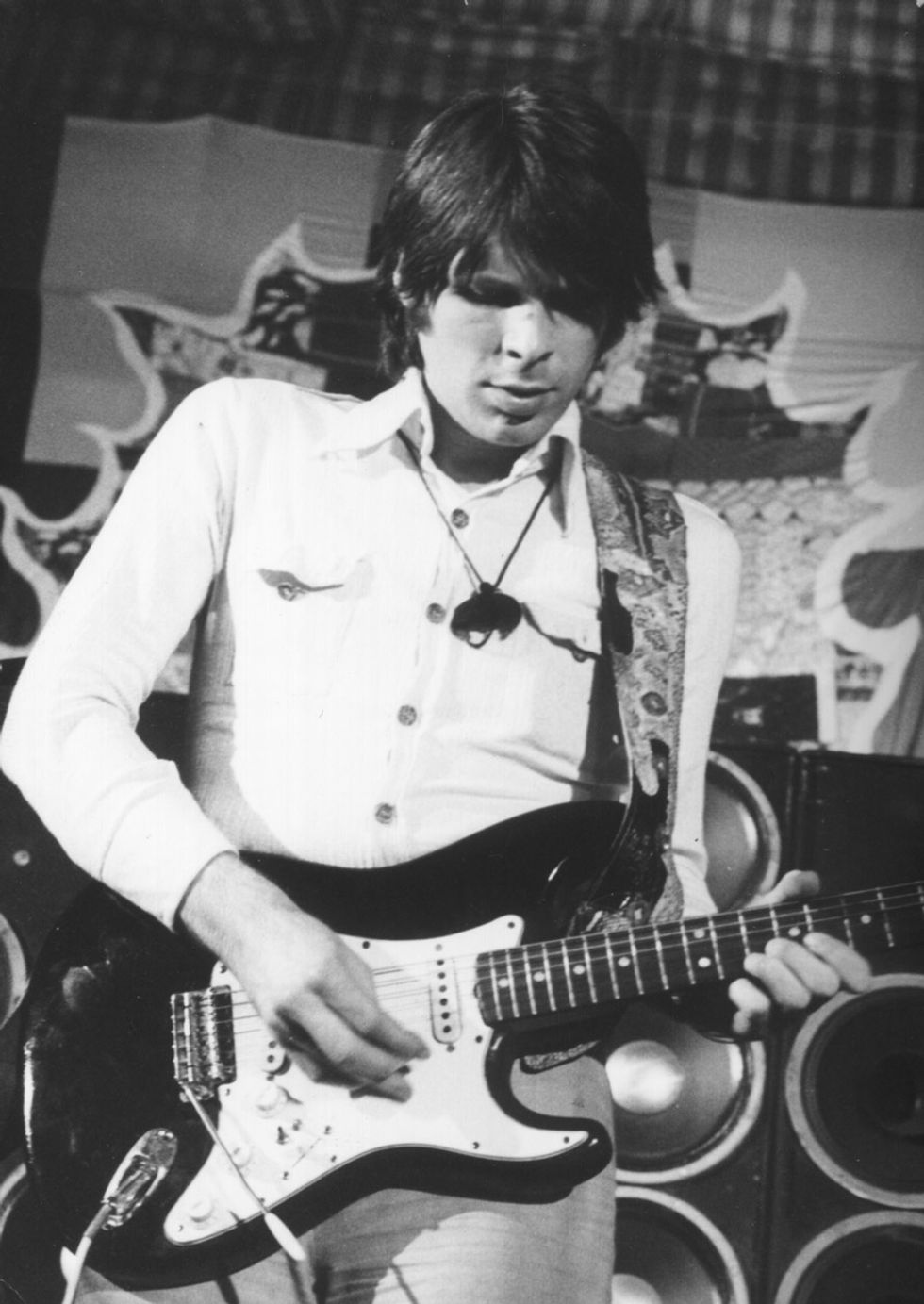 comfortable with the chicken-scratch rhythm of James Brown's Jimmy Nolen as he was with atonality and dissonance. His guitar of choice was a Fender Stratocaster. Some of his instruments were customized with an onboard ring modulator. Photo courtesy of Spoon Records
Can recorded the tracks that became the 1970 album Soundtracks at Schloss Nörvenich. Most of the music was taken from work they had done for films, which, Czukay is quoted saying in interviews, was how they paid their bills in the early years. Soundtracks was the first album to feature Suzuki. Then, in 1971, Can recorded what many consider their magnum opus, Tago Mago.
Can, Squeezed into One Can
Tago Mago captures everything great about Can. It's a double LP chock-full of lengthy, sprawling grooves, instant compositions, radical tape edits, moody soundscapes, and tongue-in-cheek weirdness. The first disc is especially groove-centric and features, as all of side two, the 18-minute-plus "Halleluwah." Disc two is more spacial and avant-garde—a testament to Czukay's early experiments with tape editing and using radio sounds.
Tago Mago is also a stellar example of Czukay's bass playing. He usually favored a short-scale Fender Mustang, although you sometimes see him pictured with a Fender Jazz, and he often performed minimal, repetitive, ostinato figures in the instrument's middle and upper registers. His style had evolved from his note-ier playing on Can's earlier records, and complimented drummer Liebezeit's busier, although similarly repetitive, style.
"It went together with Jaki's drumming," Schmidt says about Czukay's band-centered approach to bass. "Sometimes the bass drum had more of the function of the bass than the bass itself. Sometimes his bass playing was symphonic, like a huge bass figure in a classical piece. But sometimes he played it very sparse, very few notes, which he repeated throughout the piece. Sometimes Holger played a riff of three tones—it had no harmonic changes, nothing—and that was very important for Can, this kind of minimalism. It was the influence of James Brown."
Czukay also sometimes wore gloves when he played bass. "When we made film music, I once took him with me into the editing room," Schmidt says. "At the time, there was no computer, there was still tape, and they were working with these white gloves because this tape was very poisonous. He got fascinated. But it was more of a joke. It was just show, because it looked strange." Suzuki adds, "I don't know, maybe he didn't want to damage his fingers or something. Or maybe he wanted to eat sweets and have a coffee in the other hand. I don't know why he had white gloves on."