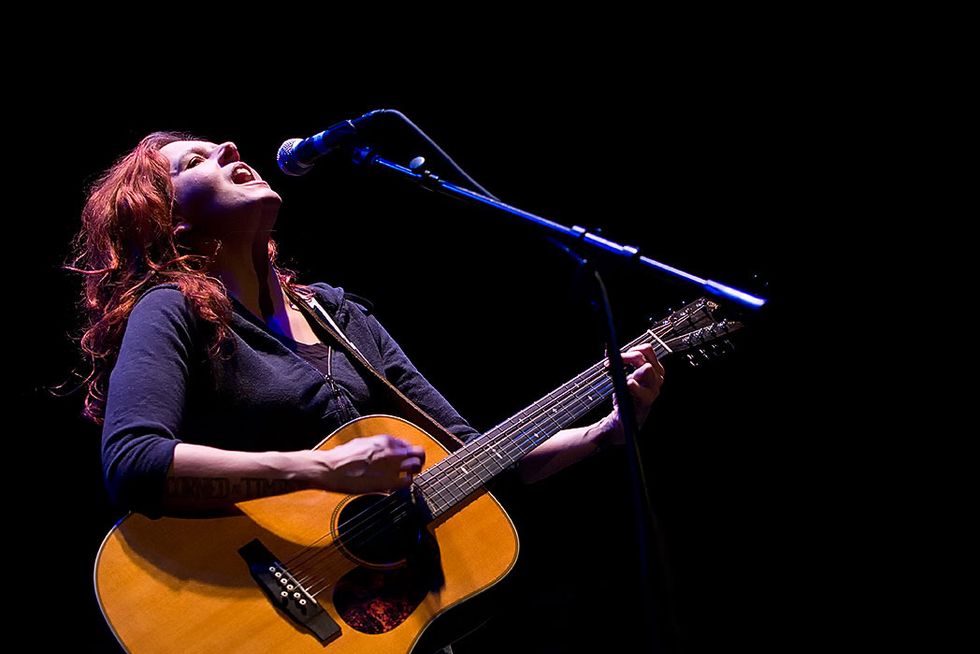 Though she says she's not currently looking to add to her extensive collection of tenors, Case says she'd make an exception for an instrument similar to this weathered vintage Martin 5-17T. Photo by Tim Bugbee
Does the songwriting process typically start on guitar for you?
Probably 30 percent of the time it does, but usually I have lyrics first and thenI'll play guitar and find things that work. I'm at a point where my regular 6-string guitar work relies on different tunings to find new ideas. I can't recall what it is off the top of my head, because it's one that Laura Veirs made up that we call the "supermoon" tuning after a track from the Case/Lang/Veirs album. It makes a gorgeous sound that makes really pretty voicings of things easily, and I used it on a track on this record called "Oracle of the Maritimes."
How did songwriting collaboration impact this record, particularly cowriting with your New Pornographers bandmate Carl Newman for the first time, and bringing Björn Yttling [Peter Björn and John] into the mix?
Björn coproducing six songs on the record was so awesome and liberating. It felt so good to give someone you admire as I do Björn some stem tracks and ask, "What sound do you think is the next step on this?" It was so exciting and liberating to not make those decisions. I wanted to break myself out of my habits and learn new things, and especially after collaborating with k.d. [lang] and Laura. I've always collaborated with people, but that particular project was different in that we were three singer-songwriters who are completelyin charge of our careers and make our own decisions typically, and we came together to write a record from the ground up, democratically, with a third of a vote each in what happens. That was a very scary thing to do, coming from a place where I've always had veto power. There were moments that were uncomfortable, but when we looked back after the record was made, we were all so happy about how it turned out. I learned how to relax and let go, and I found it often served the song better. When you're loose and do some free-falling, rather than pushing in the direction you already know, it can often give a track the change it needs.
"One of my favorite guitarists was Pops Staples … Pops left huge spaces between the notes and let the electronics and sound of his Jazzmaster ring out and carry things, and that sound and idea is so beautiful to me!"
Trusting others is something I've always done with the New Pornographers, because I don't write songs in that band—I just show up and do what they want me to do. I might make up my own harmony parts, but for the most part, Carl and Dan [Bejar] are the songwriters. The Case/Lang/Veirs thing was the first time I really let go on songs I helped write. It really reminded me that collaboration often involves relinquishing your total say, but it was really a great learning experience and it applied well to the solo record. I just didn't want to make the same thing again, and at a certain point it's good to go, "I need to learn a little bit here." A really important thing about that trust and the free fall is that you do that after you've done a lot of research. It's not something I did capriciously or without having done a lot of exploration. There's a point where you go, "I'm working with people who know what they're doing … I'm working with people responsible for music I love." It makes it a lot easier to let go when you stay aware of that.
You've amassed a pretty incredible collection of tenor guitars, including an extremely rare '50s Gibson Les Paul Special tenor, and the '59 Gretsch Duo Jet tenor that once belonged to Ry Cooder. Are you still hunting for new ones?
I basically have a moratorium on buying any more tenor guitars. If I find a good backup for one of my tiny Martins, I might, but I don't needany more. I haven't stretched out into anything new in the guitar world, but I have brought in different amps and more effects than I usually use. There's another role as a guitarist that I've started really loving, which is making a soundscape—operating as a noisemaker and adding textures. It's almost like playing the guitar like it's a synthesizer. Not necessarily making a drone, but adding a standing wave of sound that goes through a song. There are a lot of songs on the record that have stuff like that, and I've been really enjoying the Cramps-inspired Human Fly fuzz made by Tym [Guitars] in Australia.

Guitars
Martin Roger McGuinn Signature HD-7
1959 Gretsch Duo Jet Tenor
1950s Gibson Les Paul Special Tenor
1967 Gibson SG Special Tenor
Amps
1970s Garnet Revolution II
Carr Rambler
Effects
Strymon Flint
Tym Guitars Human Fly
Crowther Audio Hot Cake
Strings and Picks
Various D'Addario custom string sets
Dunlop Tortex .73 mm picks
I use that in conjunction with the Crowther Hot Cake, which I think is funny because one's from Australia and one's from New Zealand, so I call it my ANZAC set up [after the acronym referring to soldiers who served together in the Australian and New Zealand Army Corps]. I've also got a really great reverb now by Strymon called the Flint, which is the first digital reverb I've ever preferred to an amplifier. I've been lovingthat thing, and I've never ever liked a reverb pedal in my life. I also use the onboard reverb on my Carr amp.
You're also a big fan of vintage Garnet amps, which seems fitting, as you're recognized as an honorary Canadian. How did you get into those?
Reid Diamond from [Canadian instrumental outfit] Shadowy Men on a Shadowy Planet played Garnets, and [Toronto-based country band] the Sadies were also really into those amps. When Reid passed, I bought a couple of his amps. I gave one to a good friend and I kept one of them. I actually got to meet Gar Gillies [founder of Garnet Amplifier Company] before he passed away. I went to his shop and said hello and he was so sweet—he gave me a speaker! He had this awesome little shop in Winnipeg. He used to make pedals and amps for Randy Bachman of BTO [Bachman-Turner Overdrive], and he was still making the pedals and fixing guitars and amps for Winnipeg locals when we met. He had this really great old hospital gurney that he would roll the sick amps around on. He was such a sweetheart, I'm so glad I got to meet him before he passed away.
Which model do you have, and what do you like about it?
I have a Revolution II. They sound completely different from other amps, but it's hard to explain what it is. I don't tour with mine, because I don't want to screw it up—it's a studio-only amp. I tour with the Carr because it's a lot more hearty.
What is it about Jon Rauhouse's playing that's made him the right guy for you for so long?
He's just so great and excited and ready all the time. "What do you wanna play, babe?!" That's the first thing he says to me every time we get onstage. Jon really is a greatplayer, and there aren't that many pedal-steel guitarists out there—and even fewer that are still trying to learn new things about the instrument. For the most part, they're a dying breed, which is a horrible thing to say. But it's great to work with someone carrying the torch for that instrument. Jon is someone who still does research and seeks out pedal-steel music that he hasn't heard. Rauhouse really lives for it.
There are some very cool, prog-rock kind of structures on Hell-On, like "Curse of the I-5 Corridor" and that closing scene switch-up on "Pitch or Honey." Is that a world you consciously pull from?
I love prog—I've always loved prog! If you're a storyteller and you want to be more linear, prog is your friend. Mathematically, I know nothing about prog, and I'm not as disciplined as most prog musicians. But I'm a huge fan of it. I love King Crimson, absolutely love them!
Based on your sound, some people might be surprised by that admission.
There's this weird idea that country music can't evolve or change, and people get very touchy about progression in country or bluegrass—they don't welcome new things. Country music is a truly great art form and its umbrella covers a lot of other things. It's not onething, so I don't know why people try to force it to be one thing. It can still grow—it's not like there isn't room for that! There's this "the song goes with my outfit" nostalgia thing that doesn't work out, and I'm not interested in that.
Armed with a vintage Gibson tenor guitar, Neko Case performs one of her classic tracks, "Deep Red Bells," live onAustin City Limitsas Jon Rauhouse provides a stunning pedal-steel countermelody to her lead vocal.
---